My wife and I have been involved in the swinger lifestyle for several years now. One of our favorite tools is the use of Adult Friend Finder (AFF). In this Adult Friend Finder review, we will answer the question, "Is Adult Friend Finder legit or a scam?"
In general, Adult Friend Finder is a legit adult dating website for the swinger lifestyle community. While there are some fake users on the website, most users are legitimate people. Additionally, AFF is legit in that they do not sell your information and do not make inappropriate charges.
So let's take a look at Adult Friend Finder and how swingers can use it to meet other like-minded people. In this AFF review, we will cover what AFF is, how to use AFF, is AFF legit, Adult Friend Finder charges, and our Adult Friend Finder experiences.
Our Overall Adult Friend Finder Review
Our overall Adult Friend Finder review is that we find AFF to be an excellent website for swinger lifestyle dating. AFF is advertised as an adult dating website but it is very heavily used by the swinger community to make connections with other swinger couples.
We have used AFF on many occasions to meet other swinger couples in our area. We will connect with these couples using Adult Friend Finder, chat with them using AFF messaging, and eventually meet with them in the real world. We have met several swinger couples that we eventually played with this way.
Additionally, we have met many other couples and single men that have used AFF to find swinger hookups in their area. We have actually even met one lovely single lady (unicorn) that actually uses AFF to meet swinger couples (this is not common).
We find that Adult Friend Finder is much more visually orientated than any of the other swinger hookup websites. People tend to post more pictures of themselves (mostly naked) on AFF. Profiles are extremely important but of course, your eyes are drawn to all of those pictures.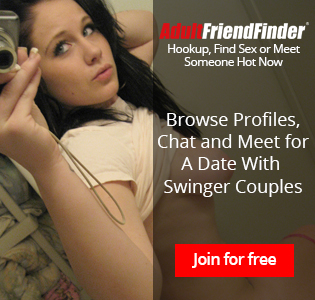 Adult Friend Finder is very useful if you live in a rural area as we do. The search options, pictures, and messaging functions of AFF make it very easy to find potential swinger matches that are close to your area.
We have been members of AFF for a couple of years. During that time we have had no issues with AFF. Our information has been secure and Adult Friend Finder has treated us very well.
Of course, there are some negatives to AFF. As we will discuss in the pricing section, there is a cost to fully using AFF. You can join for free and many users stay at that fee level. But to unlock all of the features and have that ease of use there is a cost.
Another negative is kind of tied to the Adult Friend Finder legit question. While most users on AFF are legit, there are some fake users on this site just like you will find anywhere. Check out our Is Adult Friend Finder legit section for information on real and fake AFF users.
The positives of Adult Friend Finder far outweigh the negatives. Our overall AFF review is that this website is a great resource for swingers looking to make a connection with other swingers in their area. We have personally used AFF to meet some other great swinger friends.
What is Adult Friend Finder?
Adult Friend Finder is an adult dating service website. AFF users complete profiles and add pictures to their accounts. Users can then search for other users by using a search interface. The big difference between AFF and most other dating sites is that most AFF users are swingers and swinger couples.
AFF has a great search feature that lets you look for swingers in whatever area you want to look. You can search by who is online right now, members near you, recently joined members or any number of parameters. Below is an example of a simple search, you can greatly expand your search inputs.
By using all of these search functions, you can really find some people that will fit into what you are looking for in the swinger lifestyle. If you a looking for a single guy for some MFM action just put in that you are a couple seeking a single man. You will get a lot of results on that search.
Once you do your searching, you can take a look at the users that come up in the search results. Check out the profile, look at the pictures, and see if they pique your interest. If they do, send them a message and see if you can start up a conversation.
The messaging is where you really need to shine. You need to show that you are interested and let the other person(s) know why they should be interested in you. Just like everywhere in the swinging world, the more outgoing you are the better your results will be.
In addition to messaging, you can interact in other ways with other members via their profiles. You can send a flirt, send a friend request, put them on your hotlist, or comment on their sexy photos.
There are a ton of other features on Adult Friend Finder. As a swinger, I usually am in it just for the messaging but there is so much more. There is an IM function if you are going to be online for a while and are interested in just chatting.
Another big function is the webcam function. If you like to put on a show, you can set up your webcam for others to see you in action. You can also watch others put on a show for you. Some of these are other members and some are professional models.
Adult Friend Finder also has a blog section, a stories section, different communities that you can join, an online magazine, sexual academy courses, and contests. It is easy to get lost here for hours on end.
Is Adult Friend Finder legit?
Adult Friend Finder is a legit website and I have never run into any problems with them in all the time that I have been a customer. They have my credit card info as I am a gold member and I have not had my information compromised.
I feel that your information is as safe with Adult Friend Finder as it is with any other legitimate website. I have found them to be responsive on the few times that I have had questions. They do respond to their email questions.
Like all dating websites, many member profiles may not be legit. There are single women profiles that are escorts, couple profiles that are really single guys, and all kinds of other fictitious information. That is why you need to use some common sense.
If the profile looks like the woman in the picture above and she is single and into middle-aged married men with dad bods, there is a good chance that it is a fake profile or an escort.
If you are going to meet someone from Adult Friend Finder, please be sure to do it in a public place. We have never had a problem but you never know for certain who you are meeting. Always put your safety first.
Message back and forth before meeting someone. If they are not what they claim to be, there will often be signs of it. Be very clear about what you are looking for and be clear that you will walk away from anyone that is lying to you. That will often end a conversation but that is a good thing in this case.
There are also models on AFF that put on shows for points (more about that in the Points section). Most of these are clearly labeled as models so it is legitimate. They are just there to entertain you and are expecting point tips from you. You will get a show but they are not going to hook up with you.
So as long as your expectations are realistic and you use common sense you will find AFF legit.
How Much Does Adult Friend Finder Cost?
Adult Friend Finder is free to join but you do have to pay in order to access many of the features. With the free membership, you can create and post your profile, have limited access to other member profiles, and use the instant messenger system to communicate with other members that are online.
The big issue that you run into with the free membership is that you can not send and receive messages from other members or access their full profiles. So if you see someone interesting, you can only IM them if they are online and not just leave them a message.
The price of a gold membership is $24.46 per month when you do a six-month subscription. This is a little higher than I would like but you get so much out of Adult Friend Finder. I would suggest joining for free, checking it out, and making sure it is for you before paying for a membership.
To be honest, it is a lot easier to meet others and navigate the system with a gold membership. The cost of gold membership to AFF is definitely worth it if you are going to be actively seeking swinger hookups in your area. If you are not actively seeking hookups, then the membership is not worth it.
AFF Demographics
You will find that all ages, races, sexes, sexual preferences, and relationship statuses are found on Adult Friend Finder. That being said there are some trends that you will find.
Swinger couples tend to be middle-aged between 35-60 years old. The men are straight about 80% of the time and bi-sexual 20% of the time. The women in the couple are straight about 20% of the time and bi-sexual about 80% of the time.
Single males tend to be younger than couples with an age range of 20-50 years old. Single women (be wary of these profiles) seem to range from 20-50 years old as well.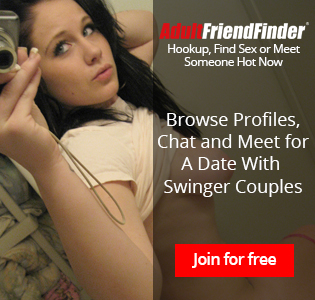 The swingers on AFF tend to be mostly white but the racial composition is usually somewhat in line with the area that you are checking on.
I find that most users claim to be college educated and the ones that I have met have fallen into that category.
The one thing that you can count on is that most AFF users are 100% horny and are looking for something to turn their crank.
What is Up With AFF Points?
One of the things that I did not understand when I first started with Adult Friend Finder was the points. If you are a normal swinger couple like my wife and I are, the points really do not matter at all but it still drove me nuts.
Basically, you receive a few free points by completing your profile, uploading pictures, and other similar activities. You can buy additional points from AFF as well. Currently, it is $10 for 1000 points.
You can then use these points to buy certain special features in AFF like read receipt notifications, membership upgrades, sex toys, and even redeem them for cash. The current redemption rate is $100 for 50,000 points.
There are a couple of ways people can get free points. You can send other members some by gifting them the points from their profile screens. This is seen as a nice gesture and we have done this a couple of times.
The main way users get free points is through tips. There is a tipping button that people can use if they are watching you put on live webcam shows. Many of the live models make a living from the point tips they make during their webcam shows.
So the points are valuable to free members because they can use them to more fully participate in AFF more. The other use for points is that you can sell them back to AFF. Professional models and other sorts of professionals (escorts) can collect points from AFF members and get some money from selling them back.
So the basic uses of AFF points are for free members to access full membership features for free and for professional models to earn money by putting on shows for other AFF members.
You can fully participate in Adult Friend Finder without even using the points. As swingers that are interested in other swinger couples, we basically never use the AFF points.
Adult Friend Finder Negatives
We are big fans of Adult Friend Finder and think that it is the best way to meet up with individual swingers, especially in rural areas. However, there are a few negatives to AFF.
The first negative is that AFF is kind of pricey. It is what it is. You can check it out on the free version and you will quickly see why AFF is so valuable in making swinger connections. If you are more patient than we were then maybe you can get by on the free version but I know we really wanted the gold membership to make things easier.
The second negative is that AFF has a ton of single guys on it. As a swinger couple, you will be contacted by single guys all the time. The good news is that it is only messages and you can just ignore them.
The only other negative was the learning curve of figuring out AFF. Like all online swinger websites, you can't take it personally if someone stops talking to you or ignores you. Lots of times, people just have a life that gets in the way of their fun times.
Our Adult Friend Finder Experiences
In the time that we have used Adult Friend Finder, we have met up with several other swinger couples that we have met through AFF. We check our area for couples with similar interests and then check out their profiles. If they sound like a potential match, we will message them.
In the last year, we have messaged and arranged to meet eight couples using AFF. We probably could have set up more meetings but we are only free once every four to five weeks. We always do our first meeting in a public bar or restaurant.
If we hit it off at the first meeting, we will set up a second meeting with some sort of play scenario possible. We will usually meet up at a hotel and go out for the night. If everything goes great again, we will come back to the room and play together.
We have also gone to houses on the second date to meet up. If we go to a house, we will usually have drinks and conversations to see where that leads.
Of the eight couples we have met up with, we have gone on second dates with six of them. All of the second dates have led to some sort of play. It is sometimes side-by-side play, soft swap, or even full swap. We had tons of great sex playing with these couples so luckily I had kept up with my Phoenix device for my erection quality.
If you message back and forth a lot before meeting up you can be pretty sure that there will be a connection.
When To Use Adult Friend Finder Alternatives
There are some times when Adult Friend Finder may not be the best swinger website for you to use. As I said, we use it a lot because we live in a rural area.
If you live in an area that has a lot of swinger clubs or swinger resorts, you may be better off using SLS (SwingLifestyle). SLS is definitely geared towards swingers that are attending club events and other types of organized parties that you do not find in rural areas.
While you can use SLS to meet individual swinger couples like AFF. We find the AFF interface to be much easier to use in finding these individual couples.
However, SLS has the best club listings that are organized by state. You can find local clubs and the events that they will be hosting. Once you find an event you will be attending, SLS lets you put yourself on an attending event list.
You can use this list of event attendees to make swinger connections with other swingers before going to the event. This can be a great way to meet other swingers and get a head start on a fun evening.

SwingLifeStyle.com
Adult Friend Finder Review Final Thoughts
Adult Friend Finder is a great resource for swingers that are looking to hook up with other swingers in their area. AFF offers the best interface to search for and find swingers with the same interests that you have. AFF then makes it so you can easily message these people and make your play connections.
The big drawback to AFF is the price of gold membership. This gold membership is really needed in order to really enjoy AFF and get the most out of it. Luckily, the free membership level does give you enough that you can check out AFF and make sure it is for you before paying.
If you are a swinger or swinger couple that goes to clubs and resorts every weekend, then you probably don't need AFF. But if you do not live close to a club and want to make more local connections for swinger fun, then you really should give Adult Friend Finder a try.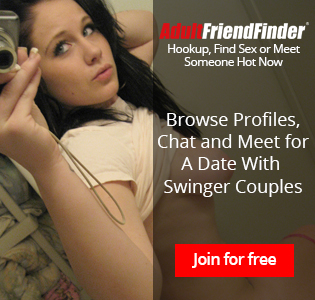 Some Other Great Swinger Resources
Just some quick resources that I think you may find helpful if you are into the swinger lifestyle:
Check out our Swinger Resort Reviews for some great swinger spots to visit.
Check out our State by State Swinger Guides for what swinger clubs and resorts may be near you.
Check out our resources for Male swingers. Our top guide for erection quality can be found here. Our guide to Swinger Penis Size Insecurity can be found here.