My wife and I have been visiting swinger lifestyle resorts for years. We have checked out swinger resorts in the USA, the islands, and Mexico. With all of those travels, we have found that some of the best swinger resorts are right here in the USA. With that in mind, we offer this Caliente Resort review.
In general, the Caliente swingers resort is one of the top swinger destinations in North America. It is the biggest and most luxurious swinger lifestyle resort that we have been to in the USA. The scenery, amenities, and swinger lifestyle options will remind you of the big resorts in Jamaica or Cancun.
So now let's take a look at what the Caliente swingers resort has to offer. There is a current 2023 situation at the Caliente swinger resort that you should be aware of before visiting. If you are a man that is new to the swinger lifestyle be sure to check out the Important Note To Male Caliente Swingers section.
The Overall Caliente Resort Review
The Caliente Resort is our favorite swinger lifestyle resort to visit in the USA. The resort is just beautiful and well-maintained. When you visit here you feel like you have made a tropical escape. In a nutshell, the Caliente swinger lifestyle resort earns an excellent ranking for its overall appeal.
The resort has a really great sexual vibe, especially after dark. If you are new to the lifestyle, you can find different levels of intensity and different activities going on in different areas. This makes it easy to find an area where you are comfortable.
If you are still feeling things out, you can hang out by the incredible lagoon with a waterfall. This area is clothing optional but does not see a lot of sexual activity.
If you feel more adventuresome you can go up to the conversation pool or hot tub on the upper deck. After dark and sometimes before that, this becomes a sexually charged area with people interacting in all types of manner from chatting all the way to sex.
The adult playroom is the area if you are looking if you just want to see or participate in all kinds of sexual activity. You will be amazed by how this area of the resort is professionally run and maintained. You will find that this helps you to let go.
What we found to be the best about the Caliente Resort was just how professionally run the facility was. Everything was well-maintained and clean. There was always plenty of staff around. So while they did not interfere with your fun, you felt like this was a safe environment to relax and have fun.
The one negative that we have found for this top Florida swinger resort is that it can be a little pricey. By the time you take into account the rooms, meals, and drinks, you can easily be paying $400-$600 per night for a couple.
Even just visiting for the night without staying over will run you a couple of hundred dollars. This makes the Caliente swingers resort much more expensive than the other swinger resort alternatives in the area. You may even find that a trip to a top getaway resort like Hedonism is even cheaper for a vacation.
2023 Caliente Swinger Resort Update
Unfortunately, the playrooms at Caliente Swinger Resort have been shut down for several weeks and there is no sign of them opening any time soon. When asked about when these playrooms are going to be reopening, the only official answer is hopefully sometime soon.
I was told unofficially by a staff member that they had completed an expansion of the playrooms in 2022. When the expansion was inspected by a county official, they shut the playrooms down due to a permitting issue.
So now the Caliente swinger resort playrooms have no opening date in sight. Hopefully, they will open soon but there is no guarantee of this.
On our February 2023 trip to Caliente, we found this lack of playrooms to be a real issue. They are allowing for some play to happen on the upper deck conversation pool and hot tub areas but this is just not the same. There is not great group play as we had seen on prior trips to this resort.
I hate to say anything negative about this resort because this is not their fault. But this lack of playrooms was a big factor for us. If you really enjoy the playroom scene, we suggest that you check out the close by Paradise Lakes Resort.
If you have not been to Paradise Lakes recently, it has a totally different feel than it did a couple of years ago. Paradise Lakes is totally swinger-focused now with multiple playroom areas.
We do still suggest checking out the Caliente swinger resort but this issue seriously affects it. On our next trip, we plan on staying at Paradise Lakes and taking a day trip to Caliente.
The Caliente Swinger Resort Facilities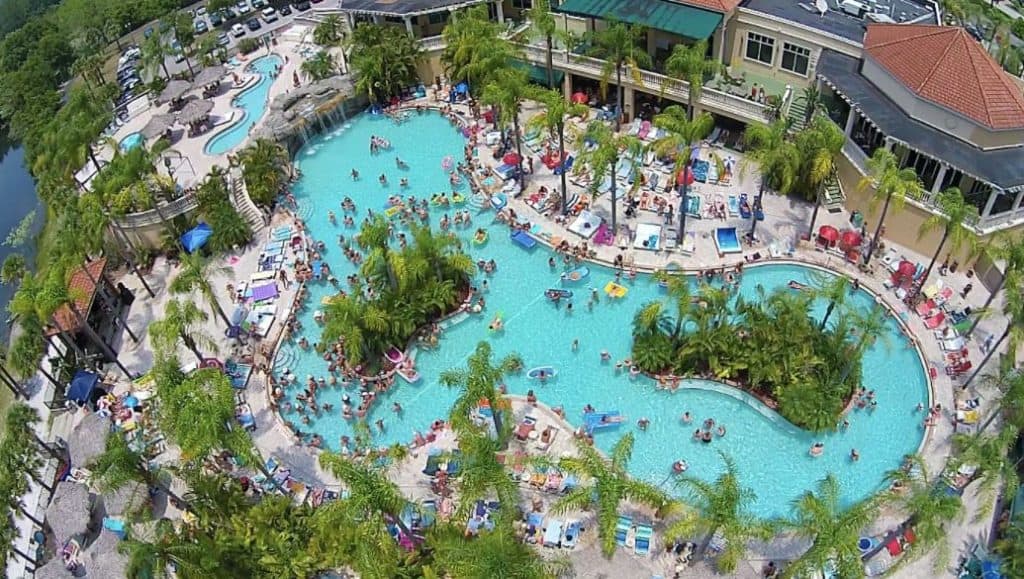 This clothing-optional top Florida swinger resort has a ton of amenities. It is a great sport for people new to the swinger lifestyle and for those that have a lot of experience.
In general, you will find that the Caliente's rooms and facilities are much newer and in better shape than what you will find at any of the other Florida resorts.
The Caliente's Amenities include:
Dining Room
Tiki Bar
Sauna
Oversized Hot Tub
Pickle Ball/Tennis Courts
24 Hour Gym
2 Water Volleyball Pools
Oversized Conversation Pool
Sand Volleyball Courts
Sports Bar
Yoga Room
1/4 Acre Lagoon Pool with Waterfall
Tiki Pool
Outdoor Showers
Gratto Bar
Steam Room
Dining Room
2 Mile Walking Trail on Property
The Adult Playroom
The Caliente Resort definitely throws off the swinger lifestyle vibes. The conversation pool and hot tub on the upper deck are full of people seeking to make new friends after dark. This may be a little overwhelming if you are new to the lifestyle but there is no need to be afraid.
The Caliente does a great job of keeping everything under control. There is helpful staff and security all over the place and people do not step over the line. People will approach you and say hi but they will also leave you alone if you do not show interest.
You literally feel like you are at some upscale tropical resort while staying at the Caliente. Our review score for the resort amenities at the Caliente Swinger Lifestyle Resort is that they are excellent.
Florida is the best place in the USA for swinger lifestyle resorts. If you are interested in seeing all that they have to offer check out Top 5 Florida Swinger Lifestyle Resorts.
The Caliente Resort Playroom
The adult playroom at the Caliente swingers resort is the center of the swinger lifestyle fun at the Caliente. There are a number of ways that you can have fun in this nudity-required area.
This playroom is extremely busy on weekends but it is a great deal of fun.
When you enter the playroom area there is a locker room area where you will take off your clothes and store them while you are visiting. Attendants will check you in and explain how the playroom works to you. You are given towels that you can wear while in the playroom if you desire to do so.
How the Caliente Playroom Works
Once you enter the Caliente playroom area, there is a seating area where you can sit and chat with other couples if you want. This seating area also has a large window that looks into a room with a large bedroom area. Couples or groups can put on a show in this room if they are into that.
There are a number of rooms with one or two beds in them. These rooms have curtain doorways that you can use for your privacy.
The general rule for occupied rooms is that if the curtain is all the way open then it is ok to enter the room and watch or even start using the other bed. If the curtain is partway open, it is ok to look in and watch but do not enter. If the curtain is closed then keep on moving.
In all areas of the Caliente playroom, you can not ever touch or join anyone without being asked to join. In our visits here we have always seen this rule observed and the staff would immediately kick you out if you broke this rule.
There is also a large group area with multiple separate beds. This is another area where you can either watch or put on a show for other couples.
The best part of the playroom at the Caliente is how clean and well-kept the facilities are. The staff cleans up immediately after a bed is vacated and you feel like you are in a clean and safe environment. My wife is very much a clean freak and this is the one playroom where she feels comfortable at all times.
The Sex Scene at the Caliente Swingers Resort
The sex scene at the Caliente swingers resort is not limited to just the adult playroom. The outside resort area is all clothing optional but sexuality does not stop with that.
The upper deck conversation pool or hot tub is meant for those seeking a little fun. After dark and sometimes before that, this becomes a sexually charged area with people interacting in all types of manner from chatting all the way to sex.
If you are looking to meet up with some people for fun back in your room then this would probably be the place to meet them.
While the Caliente playroom is the main area for public sex at this top Florida swinger resort. Sometimes the action in this upper deck area can be just as wild. You may not want to venture up here at night if you are on the timid side.
Our review score for the swinger amenities and resources at the Caliente Swinger Lifestyle Resort is that they are excellent.
Our Swinger Experience at the Caliente Resort
We spent three evenings at the Caliente Resort and had some great swinger experiences each and every night. We had a great time and both of us left completely satisfied with our trip.
To get the mundane aspects out of the way. We found the restaurant service to be great and we enjoyed our evening dinners. There were multiple bars located at the resort so it was fairly easy to get your drinks whenever you wanted.
Now I want to dive into a little bit more of the details of what a couple might expect for swinger action at this top Florida swinger resort. To set things up. We are your common middle-aged married couple. She is pretty hot and I am definitely a dad-bod type of guy.
Neither one of us are extremely outgoing but we can be talkative once we are engaged. We found that there were a lot of friendly couples at the Caliente Resort to talk and laugh with.
Our First Swinger Experience at the Caliente Resort
The first time we visited the Caliente Resort was fairly early on in our swinger life. We had not played with any other couples and had just got comfortable being naked around other couples at resorts.
We had heard a lot about the Caliente Resort and were looking forward to checking it out. The night we went was an animal theme night. There were a lot of sexy couples dressed in animal costumes that were fairly intense.
We started out by taking in the music and dance floor area. As the night wore on and we gathered a little liquid courage, we decided to try out the Caliente Resort playroom.
We started out by having sex in one of the individual rooms with the curtain partway open. Quite a few couples stopped by and looked in on us. I remember the thrill of seeing another couple touching each other in the doorway as we fooled around on the bed.
At this point, it seems so tame but at that time it was totally wild for us and so exciting.
Later on that night, we went to the group playroom. We ended up on a bed with another couple on the bed next to us. This turned into a major new experience for us.
We started out with my wife performing oral sex on me while we watched the other couple doing the same. After exchanging a few looks with the other couple, we ended up swapping partners for oral sex. This was our first soft-swap experience.
At that time, I never thought that we would actually dare to go that far but it was so easy at the Caliente playroom. The Caliente Resort playroom was so clean and safe feeling. My wife was so relaxed there. It was just a great experience for a new couple.
Our Second Visit to the Caliente Swingers Resort
The second time we visited the Caliente swingers resort we stayed for two nights. On the two nights, we had quite different swinger experiences.
Once again, we found that the cleanliness and professionalism that we encountered at the Caliente Resort increased our comfort level. This is extremely important to my wife. She really likes feeling like she is in a high-class place. It helps her to relax and let lose a little bit.
On our first night there, we did something for my wife. While at the conversation pool area on the upper deck, we met a guy that she found really attractive. He started a conversation with us that led to a lot more.
She ended up performing oral sex on both of us at the conversation pool. As things progressed we ended up going back to our room. Both of us guys had a great night doing everything that we could do to pleasure my wife. She says that she still thinks of it as one of the best times she has ever had.
On our second night of this stay, we met another couple at the hot tub on the upper deck after dark. We had a great night of talking and laughing. The night progressed with some touching and soft swapping in the hot tub.
Eventually, as things heated up, we ended up going to the Caliente Resort playroom to continue things. We found an unoccupied room in the playroom and had a side-by-side swap behind closed doors. Once again, it was another fun night at the Caliente swingers resort.
Accommodations at the Caliente Resort
There are a number of accommodation options at the Caliente Resort. All of these options are usually of a much higher quality than what you find at most other swinger lifestyle resorts.
The hotel rooms have king-sized beds, mirrored ceilings, microwaves, a mini-refrigerator, and a balcony overlooking the resort.
There are also one-bedroom and two-bedroom condos available. These are more spacious than the hotel rooms and have fully equipped kitchens.
The third option is the Casitas which are like small modular homes with full kitchens. These tend to be further away from the actual resort than the other accommodations.
Our review score for the accommodations at the Caliente Swinger Lifestyle Resort is that they are good.
Pricing at the Caliente Resort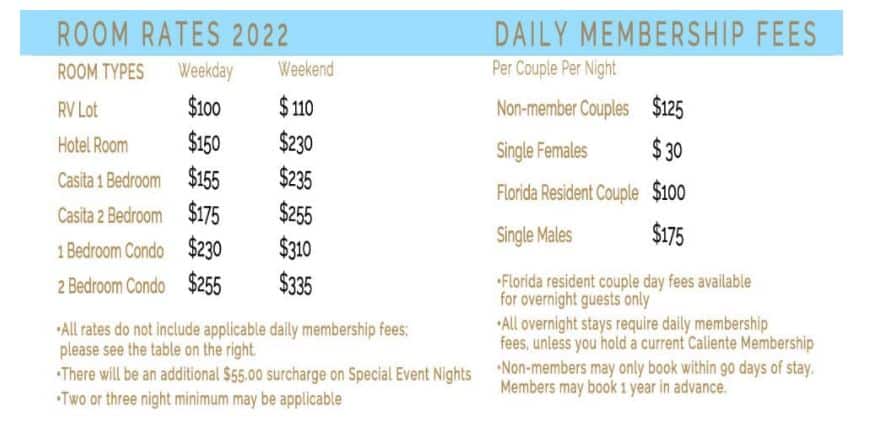 The accommodation pricing at the Caliente Resort is a little pricier than the average for Florida swinger lifestyle resorts. The prices are all listed in the table above. Of course, the cheapest way to stay at the resort is to find another couple to share a 2-bedroom unit with.
You can also save some money on your accommodations if you take the membership tour. I have not done this personally but it is listed on their website as a "1-hour relaxed club membership introduction over a complimentary breakfast, or lunch".
The day passes which are not included in your accommodations are $125 per day for a couple. You can money on this if you do partial day passes. We usually did the after 6 p.m which was when all the action was happening. These passes can be as low as $27 for a couple after 6 on a weekday.
We found that the food and drinks at the Caliente were moderately priced. Things were not cheap but not as expensive as you might think. You can get a meal for around $20 and a mixed drink for around $10.
Our review score for the pricing at the Caliente Swinger Lifestyle Resort is that the prices are somewhat high.
The Average Age, Body Type, Penis Size, and Sex at the Caliente Resort
We found that the average age at the Caliente Resort was a little younger than what we had encountered at some of the other resorts. While the age range was all over the place from the twenties to the sixties, the average age on weekends was probably in the mid-thirties.
The average body type at the Caliente Resort also tended to be a little more on the fit side than some of the other resorts. This may be due to the younger age range. Once again, all of the body types were here so you do not need to worry about standing out no matter what your body type is.
There was a good mix of the sexes at the resort. We would say that approximately 60% of the guests were men and 40% were women.
Another question that is commonly asked is about penis size at this type of resort. A lot of men are concerned about this prior to their first visit to a place like this.
If this concerns you, the good news is that it is not a big deal to most people. The bad news is that penis size at this type of resort tends to be bigger than what you find in the general population. Basically, it seems that men with bigger penises are more comfortable showing them in public.
To learn more about this issue, you can check out Penis Size at Nudist Resorts for more information.
Where is the Caliente Swingers Resort Located?
The exact location and contact information for the Caliente Resort is:
21240 Gran Via Blvd
Land O Lakes, FL. 34637
813-996-3700
https://calienteresorts.com/
This top Florida swinger resort is about a 1/2 hours drive north of Tampa and the Tampa Airport (TPA). It is also less than an hour's drive from Clearwater Beach. Nearby attractions include Busch Gardens, The Florida Aquarium, The Lowry Park Zoo, and Raymond James Stadium (Tampa Bay Buccaneers).
The Tampa Bay area is considered by many to be the nudist capital of the United States. There are several other nudist resorts and attractions in the area of Paradise Lakes. These resorts include Lake Como Co-Op Inc, The Woods RV Resort-Clothing Optional, The Island Group, Inc., Riverboat Club Inc, and Paradise Lakes Resort.
Meeting Up With Caliente Swingers
There are a couple of online sites that Caliente swingers use to meet up with other swingers. These sites are SLS (SwingLifestyle) and AFF (Adult Friend Finder). We use these sites to meet the couples that we hook up with at the swinger clubs, swinger resorts, and sometimes just on our own.
What we actually do is make some connections ahead of time before going on our trips. This helps to increase our chances of finding a nice compatible couple when we go to the resort or club.
SLS (SwingLifeStyle)

SwingLifeStyle.com
SLS is by far the biggest and most popular website for club and resort events. This is the website where Tennessee swinger groups posts all of its events. You can connect with other members that are going to these events ahead of time.
This website is free to join and check out but you will need to upgrade to use all of the messaging functions. SLS (SwingLifestyle) is a must for swingers that will be attending events and is the number one site I would recommend.
Adult Friend Finder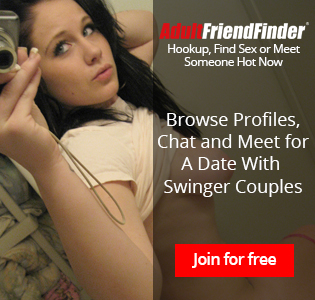 Adult Friend Finder is quite different than SLS (SwingLifestyle). It is more geared toward making individual connections with other swingers and not toward meeting others at events or clubs. AFF users tend to post a lot more public pictures. We use AFF to set up one on one swinger dates outside of events.
Important Note To Male Tennessee Swingers
When my wife and I first started in the swinger lifestyle, we found all kinds of articles dealing with the fears and insecurities of women but very little for men. I found that with many swinger couples the woman has the confidence and the swinger drive while the man has major worries that hold him back.
1. Erection Quality in the Swinger Lifestyle
Having fun in the swinger lifestyle is hard when you are worried about maintaining your erection. This was a problem that I had at one point. The libido was there and I wanted to perform but I could not get the erection that I needed.
If you have any concerns about erection quality, check out this article on at-home acoustic wave therapy. This type of revolutionary treatment has been used by the Hollywood elite for years. The Phoenix Device let me get rock-hard erections that gave me the confidence for the swinger lifestyle.
Penis Size and the Swinger Lifestyle
Like many men, I had always been worried about my penis size. When my wife wanted to get involved in the swinger lifestyle, my penis size anxiety increased.
Check out The Truth About Swinger Penis Size for information on this delicate subject. What is the average swinger's penis size, does penis size matter to swingers, how to make your penis appear bigger, and how to make your penis bigger (yes, this is scientifically possible with a little catch).
The Swinger Inferiority Fear
This fear had a lot to do with the previous two issues but I was very worried that my wife would find me sexually inferior after dabbling in the swinger lifestyle. Would my jealousies and insecurities get in the way of our having a fun time?
Read Male Swinger Insecurities for the story of how I overcame these fears.
Nearby Resorts Related Articles
The following articles are on additional Florida swinger lifestyle resorts:
2022 The Rooftop Resort Review