My wife and I have been visiting swinger clubs for some time now including all of the Providence swinger clubs. With all of our experiences, we offer this Choice Social Club review and answer the question "Is the Choice Social Club worth a visit?"
Choice Social Club is the best New England swinger club according to SwingerLifestyleGuide. This Providence swinger club offers an upscale swinger lifestyle experience for couples in this area. This club offers a good selection of adult playroom options, dancing, bars, BDSM facilities, and more.
So let's take a look at this great swinger club in this Choice Social Club. A visit to Choice Social Club is a unique experience in the usually swinger-repressed New England area. Also, if you are a man that is new to the swinger world be sure to check out an Important Note To Male Choice Social Club Swingers.
Our Overall Choice Social Club Review
In our overall Choice Social Club review, we give this Providence swinger club an excellent score. We found Choice to be the best swinger club that we have attended in the New England area. This club had a really good upscale feel to it that my wife and I both appreciated.
If you are a swinger in the New England area, we really recommend that you take at least one trip to this Providence swinger club. This 8,000-square-foot on-premise swinger club features a BYOB bar, a large dancefloor, 14 playrooms, specialty-themed playrooms, a group playroom, and a BDSM area.
Choice Social Club is open on Saturdays from 9 pm to 2 am and each night has a specialty-themed event. The club is open to couples, single women, and single men but they keep the ratio very balanced so single men attendance is select and limited.
On our visit to Choice, we found that they had a young and good-looking crowd that was very open and friendly. New visitors will have no problem making friends at this club.
We found that the play opportunities were plentiful at Choice Social Club. It was easy to make new friends and have new swinger experiences at the club.
We only found a couple of negatives with Choice. First, the Club looked a little run down on the exterior due to the industrial neighborhood that it was in. Once you got inside(through the red door), it looked great on the inside.
The second minor issue was that the event fees at Choice are slightly higher than the other local club, but Choice more than makes up for that with all that they offer.
We definitely will go back to Choice Social Club again on our next trip to the Providence area. In this Choice Social Club review, we will look at a lot more things like club location, club demographics, club pricing, club playrooms, club alternatives, and more.
Make sure to add Choice Social Club to your swinger to-do list.
The Choice Social Club Playrooms
Choice Social Club has 14 different playrooms that are spread out across the club. Many of these playrooms have different themes and were very well maintained. We found that the playrooms stayed very busy for most of the night.
There was one big group playroom (orgy room) that a lot of swingers used. This room had multiple beds in an L shape with a couple of couches facing them. There was also a viewing area so that people could watch what was going on in the area.
We found that this room stayed busy all night long but not a lot of interaction between the couples using the room. It was mostly couples that were doing side-by-side play and a little voyeurism. But there was something going on all night long in this room.
Some of the other popular rooms included a voyeur room with a one-way window so that you could be watched without seeing those watching you. There was a massage room, a schoolroom theme, a blacklight room, and a glory hole room.
Most of these rooms had one bed in them with the exception of the group room and one room that had two beds in it.
When using any of the single-bed playrooms, you have a couple of privacy options. If you close the curtain or door, no one is supposed to disturb you or look into the room. If you put the plastic chain across the door, people are welcome to look in and watch you.
If you leave the door open and unchained, people are allowed to come in, watch, and ask to join if they want. It is important to note that people can not just join in no matter what, it is always required to ask for permission no matter the situation.
We were impressed that the staff at Choice Social Club kept up with cleaning the rooms. When you were done using a room, you would pull up the sheets and the staff would change the bedding.
Choice Social Club BDSM Amenities
Choice Social Club has an area for BDSM activity. On the night that we were at the club, this area was closed because the club was sold out and they had set up another bar in this area.
On most nights, Choice has the St Andrews crosses, the BDSM saw horses, and more for BDSM play. The glory hole was also in this area.
Our Swinger Experience at Choice Social Club
We had a great night when we visited Choice Social Club. It was a busy night for the club and slightly crowded so we were glad that we had already used SLS (SwingLifestyle) to make some connections with some other couples that were going to be there.
We really hit it off with one of the couples and spent most of our night talking and flirting with them. I think we probably could have made some other connections that night if we had not already prearranged to spend time with that couple from SLS.
We eventually ended up in one of the one-bed playrooms (the multiple-bed playroom was taken) and had a fabulous soft swap with that couple. Later that evening after the other couple had left, we ended up going to the group room.
My wife started giving me a blowjob on one of the couches (Thank you to the Phoenix Device for giving me the erection quality for multiple erections even after ejaculation). We had one of those rare occurrences when a Unicorn came over and decided to join in.
She ended up helping my wife for a bit and then both of us went to work on her. Everything stayed oral but it was a fabulous experience. Additionally, we drew quite a crowd to watch this one.
Overall, just a fabulous night.
Choice Social Club Prices and Membership
There are a couple of components to Choice Social Club pricing. There is a membership fee and an individual event fee that you need to pay. We found that the prices were pretty much in line with what we had found at other clubs in the area.
Choice Social Club Membership
Prior to attending your first event at Choice, you need to apply for membership at Choice's website. The membership application form is fairly basic. Once you submit the form, you will receive an email from Choice explaining the remainder of the process.
We did the couple's membership. Once we had submitted our application, we received an email instructing us to call the club so that they could talk with us briefly before attending our first event. I believe that they are basically confirming that you are a couple with a man and a woman.
I believe that the single-female application process is similar but the single-male application is more difficult. Choice really tries to maintain an even male/female balance so the male applications can sometimes take a long time to process so that there are not too many men. They currently say that there is a 3-4 month backlog on single male applications.
There is a complimentary trial membership for your first visit so you do not have to pay for a membership right away. Once you decide that Choice is for you, you will have to pay for your membership on your second visit.
The actual membership fees for a couple are $45/year for a basic membership and $250/year for a premium membership. The premium membership gives you discounted admissions to individual events and is worthwhile if you go to the club a lot.
For single women, the membership fee is $40/year. For single men, the membership is $100 for the introductory 3-month membership and $250 for the basic yearly membership after the introductory membership.
You pay for your membership at the club and they do actually take credit cards for the membership fee as well as cash.
Choice Social Club Event Pricing
Once your membership application is approved you can attend your first event. You can find their upcoming events on their website and make your event reservations there.
When you attend the event, you can pay at the door using either cash or a credit card. A typical event is $90 for a couple, $100 for a single man, and $5 for a single woman.
If you consider the savings that you can get from the BYOB bar, this can make for a fairly affordable night out for a couple or single woman.
Choice Social Club Demographics
We found that the Choice Social Club demographics were less diverse than what we have encountered at some other clubs. This is not meant as a negative and the club is open to all. I think that the club was just representative of the Providence swinger community.
The Providence swingers at this club were around 90% couples, 5% single men, and 5% single women. I would say that the average age was 35-45 years old. Some were in their 20s and the oldest was probably in their late 60s. There were fewer older swingers than we had encountered at other places.
We found the crowd at Choice Social Club to be very good-looking. For those that always ask, we found that the men that were naked at the club tended to have much larger penises than what is found in the general public. Check out The Truth About Swinger Penis Size for information about swinger penis size.
Where is Choice Social Club Located?
Choice Social Club is located in Providence, RI. It is located in an industrial neighborhood and I do admit that I was a little worried about the location when I first checked it out from the outside. Once you get inside, you will be pleasantly surprised by how the appearance changes.
The actual location and contact information for Choice Social Club is:
Choice Social Club
57 Porter Street
Providence, RI
(401) 274-3700
https://www.choicesocialclub.com/
You will recognize the club from the outside because of its famous red door. Providence swingers can contact Choice Social Club through their website and they respond within a day.
We found that there were not much for hotels near the club. There were no hotels within walking distance and the ones within a couple of miles were fairly expensive. We ended up staying in East Providence. We were able to find a couple of hotels there for under $200 per night.
Additionally, we found that it was hard to get a Saturday night Uber in Providence but were able to get a regular taxi at a reasonable rate. We ended up using Big Daddy Taxi (401-274-1101) and they were able to pick us up pretty quickly.
Choice Social Club Alternatives
There are not a lot of swinger clubs in New England but there are a few alternatives to Choice Social Club. You can check out club options in the neighboring states of Massachusetts and Connecticut.
Additionally, Providence swingers also have a club called Electricity Social Club. ESC was a good club to visit as well but we did not find it to be as nice as Choice. ESC does offer a different experience as you will encounter a lot more single men at this club.
Check out our Electricity Social Club Review for more details.
How the Choice Social Club BYOB Bar Works
One question that many people have about going here is about how the Choice Social Club BYOB bar works. When you check into Choice Social Club at the front desk, you give the lady your alcohol. They will label your alcohol with your membership number and send it on to the bartenders.
When you go to the bar, give the bartender your membership number and tell them what you want for a drink. They have all of the standard mixers like Coke, Sprite, orange juice, cranberry juice, and more. Choice provides the cups and ice for the drinks as well.
There is a tip jar for the bartenders. Personally, I just drop $20 in the tip jar at the beginning of the night and the bartenders were just awesome all night.
This whole BYOB system saves you a ton of money over the course of an evening. At a normal cash bar, it is easy to spend at least $100 for a couple so this makes for an affordable evening.
At the end of the night, you can pick up any remaining alcohol that you have on the desk on your way out if you want it.
Meeting Up With Providence Swingers
There are a couple of online sites that Providence swingers use to meet up with other swingers. These sites are SLS (SwingLifestyle) and AFF (Adult Friend Finder). We use these sites to meet the couples that we hook up with at the swinger clubs, swinger resorts, and sometimes just on our own.
What we actually do is make some connections ahead of time before going on our trips. This helps to increase our chances of finding a nice compatible couple when we go to the resort or club.
When we went to Choice Social Club, we used SLS to make some friends ahead of time. We signed up as attending the event on SLS and started communicating with other SLS members going to the event. We ended up spending most of the night and then playing with one of these couples.
SLS (SwingLifeStyle)

SwingLifeStyle.com
SLS is by far the biggest and most popular website for club and resort events. This is the website where Choice Social Club posts all of its events. You can connect with other members that are going to these events ahead of time.
This website is free to join and check out but you will need to upgrade to use all of the messaging functions. SLS (SwingLifestyle) is a must for swingers that will be attending events and is the number one site I would recommend.
Adult Friend Finder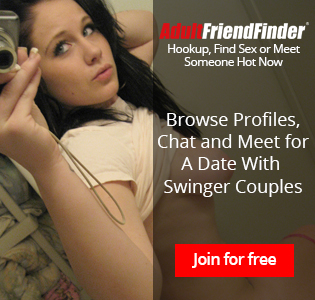 Adult Friend Finder is quite different than SLS (SwingLifestyle). It is more geared toward making individual connections with other swingers and not toward meeting others at events or clubs. AFF users tend to post a lot more public pictures. We use AFF to set up one on one swinger dates outside of events.
Important Note To Male Choice Social Club Swingers
When my wife and I first started in the swinger lifestyle, we found all kinds of articles dealing with the fears and insecurities of women but very little for men. I found that with many swinger couples the woman has the confidence and the swinger drive while the man has major worries that hold him back.
1. Erection Quality in the Swinger Lifestyle
Having fun in the swinger lifestyle is hard when you are worried about maintaining your erection. This was a problem that I had at one point. The libido was there and I wanted to perform but I could not get the erection that I needed.
If you have any concerns about erection quality, check out this article on at-home acoustic wave therapy. This type of revolutionary treatment has been used by the Hollywood elite for years. The Phoenix Device let me get rock-hard erections that gave me the confidence for the swinger lifestyle.
Penis Size and the Swinger Lifestyle
Like many men, I had always been worried about my penis size. When my wife wanted to get involved in the swinger lifestyle, my penis size anxiety increased.
Check out The Truth About Swinger Penis Size for information on this delicate subject. What is the average swinger's penis size, does penis size matter to swingers, how to make your penis appear bigger, and how to make your penis bigger (yes, this is scientifically possible with a little catch).
The Swinger Inferiority Fear
This fear had a lot to do with the previous two issues but I was very worried that my wife would find me sexually inferior after dabbling in the swinger lifestyle. Would my jealousies and insecurities get in the way of our having a fun time?
Read Male Swinger Insecurities for the story of how I overcame these fears.