My wife and I have been exploring the swinger lifestyle for a few years now. We love visiting new resorts and clubs. Recently we visited Club Sinz on the North Shore in Massachusetts. In this Club Sinz review we are going to answer is Club Sinz a good spot for Massachusetts swingers?
In general, Club Sinz is one of the top swinger clubs in New England. Unfortunately, the options for Massachusetts swingers are very limited so there is not a lot to compare it with. Swingers can have a good time at Club Sinz but there are a few drawbacks to attending this Massachusetts swingers club.
So let's take a look at what this Massachusetts swingers club has to offer. We will look at the club itself, the crowd, the sex scene, how to hook up, and our overall Club Sinz review. Additionally, if you are a man that is new to the swinger lifestyle be sure to check out the Men's Swinger Concerns section.
What is Club Sinz?
Club Sinz is a Massachusetts swingers club that is located in Salisbury which is on the New Hampshire border. Club Sinz is intended to be a place where couples in open sexual relationships can meet other like-minded couples. This club is open to couples and single women only. No single men are allowed.
Club Sinz is located inside the Ten's Show Club building. Ten's Show Club is an upscale strip club and it provides a good backdrop for this Massachusetts swingers club. Club Sinz is located on the second and third floors of this building.
The actual address and info for Club Sinz are:
11 North End Blvd
Salisbury, MA 01952
https://www.clubsinz.com/
Club Sinz is officially an off-premise swingers club. This means that there are no playrooms for on-site sex between swingers but there are still some on-site opportunities for play.
Club Sinz has on-site parking and a full-service bar. The club plays a mix of classic rock and modern dance music. Music noise levels are at a level that you can still carry on conversations in the club.
There are two main floors that make up Club Sinz. The 2nd Floor and the Third Floor (the first floor is Ten's Show Club).
The Club Sinz 2nd Floor
This is the main floor of Club Sinz. This floor has the full-service bar, the dancefloor, the main seating lounge area, the "talk" room, restrooms, and a smoking balcony.
The night we were there the full-service bar only had one bartender so the line could get fairly long at some points. There was seating around the bar and a lot of couples did socialize in this area.
The dancefloor was probably around 20′ by 20′ and had decent lighting set up. At various points in the evening, there was a lot of sexy dancing going on.
The main lounge area consisted of around 50 seats and around 20 or so tables. This allowed groups and new acquaintances to get together to talk and flirt.
The "talk" room was very interesting. This was a small room area with four love seats. The stated purpose is for couples to meet up and have intimate conversations. To find out more about the "talk" room check out the sex scene section below.
The smoking balcony was an outside balcony with seating. This was utilized for smoking during the night.
The Club Sinz 3rd Floor (The Loft)
The 3rd floor of Club Sinz is also known as The Loft. This area overlooks the first-floor high-class stripper club known as Ten's Show Club. You can sit in this area and look down onto the stage of Ten's and see the lovely ladies put on their performance.
This area also has a pool table, a giant Jenga set with some unique sexy rules, a dancing cage, and additional seating.
What was the Crowd Like at Club Sinz?
We found that this Massachusetts swingers club had a pretty good crowd mix. On the night that we attended, there were probably around 120 people at the club. Most of these were couples but there were a couple of single women mixed in.
The average age of the Massachusetts swingers attending Club Sinz was probably in the 40-45 range. We saw some that looked as young as in their twenties and some in their sixties but most were mid-thirties to mid-fifties range.
Like most swinger clubs and resorts, you will find all body types at Club Sinz. But on average, I would say that the Massachusetts swingers here were a little more fit than the average population.
The crowd was very friendly but it was not necessarily easy to meet new couples at this club. A lot of the couples appeared to be regulars and would split off into groups. There was nothing done for mixer activities.
My wife and I have been doing this for years but are still not what you would consider outgoing people, especially in new settings. We did find it a little difficult to strike up conversations with other couples at this club.
Luckily we had utilized SLS (SwingLifestyle) to set up some connections prior to attending the event.
What is the Sex Scene at Club Sinz?
As stated above, Club Sinz is an off-premise swingers club. So there were no playrooms for onsite action but we did see some sexy action at the club.
We saw plenty of sexy women at the club go topless in the dancefloor area. There was some touching going on in this area as well but no actual sexual contact.
The "talk room" area did have some sexual action. We checked out this room on multiple occasions during the night. While not an official playroom area, this room does offer some privacy that some people take advantage of.
We saw a few couples fooling around in this room. We also found another couple that did some side-by-side oral play in this room. There were also a few couples where the ladies did some bisexual kissing and touching in here.
So while not as fun as actual playroom sex, there was still some fun to be had here.
Is Club Sinz the best spot for Massachusetts Swingers
Sinz is the best Massachusetts swingers club available. It is actually the only true swingers club in Massachusetts.
The only other options that are available to Massachusetts swingers are events put on my Massachusetts swinger groups or to travel to some of the Rhode Island Clubs like the Electricity Social Club in Providence.
Social Networking (Hooking Up) for Sinz Events

Every night that Club Sinz is open, they put on a themed event for Massachusetts swingers. You can find a list of these events on SLS (SwingLifestyle). If you are unfamiliar with SLS check out What is SLS (SwingLifeStyle) and Why Do Swingers Need It section below.
Once you click on an event in SLS (SwingLifestyle) you can set yourself as attending the event and also see a list of other SLS users attending the event (see the picture below). This means that you can message the others that are attending the event and they can message you.
Using SLS (SwingLifestyle) was how my wife and I made a connection with another couple that we met up with at Sinz. This lets you break the ice ahead of time and find a few people to meet. I know we sometimes have a hard time starting conversations in person and this definitely helps.
We definitely hit it off with this couple and we had a seriously fun "talk" in the "talk" room. This fun carried over to our hotel room at the end of the evening.
Using SLS (SwingLifestyle) is the best way to make connections before going to Massachusetts swingers clubs.
How Expensive is Club Sinz?
In order to attend events at Club Sinz, you need to have a membership. A basic membership that allows you to basically purchase tickets to events is free.
Gold membership gives you discounts on ticket purchases, social networking availability, discounts for your guests, and free entry for female guests. Gold membership is $149/year for a couple.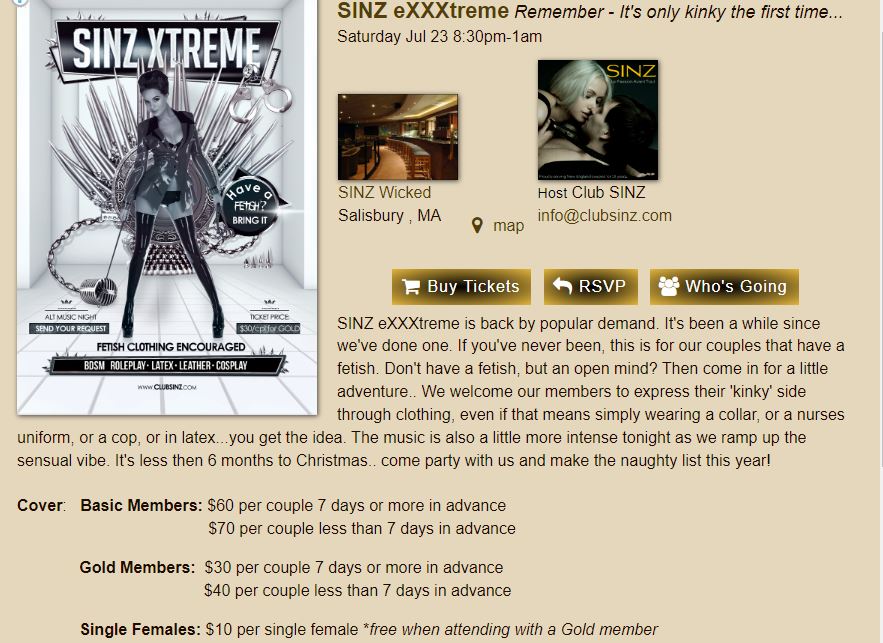 Events generally occur on Saturday nights and you do need to pay in order to attend. In general, the cover fees for the events are $60 for couples more than 7 days in advance and $70 less than 7 days in advance for basic members.
For Gold members, the cover fees are $30 for couples more than 7 days in advance and $40 for less than 7 days in advance. The cover for single women is$10 for events.
Parking is free which is a bonus that can be important. When we visited we found that getting a taxi or UBER at closing time was basically impossible. It took us an hour to get a ride back to our hotel.
Club Sinz does have a full bar that can be rather pricey. Mixed drinks ran $10-$15 and beer was close to $10, It is really easy for a couple to run a bar tap in excess of $100. This can make the night rather expensive.
Additionally, it is rather expensive to stay over in the area to attend the fun at Club Sinz. A cheap hotel in the area will run you close to $250/night and that is a two-star hotel type stay.
So between entry fees, drinks, hotel, and UBER to get back and forth, the night at Club Sinz was a $500 night for my wife and me. I found this to be rather expensive.
Our Overall Club Sinz Review
In general, our Club Sinz review is that this club is worth a visit. While not as much fun as a major resort like Hedonism or the major Florida swinger resorts, this club is an oasis in the swinger desert that is New England.
This club offers the opportunity for Massachusetts swingers to network with other swingers and make connections. While not an on-premise swinger club, there are some opportunities to have some swinger play at this club.
We had a pretty good time at this club even though the play options were fairly limited. The music was good, the crowd was good-looking and friendly. Visiting Club Sinz is a great way for Massachusetts swingers to meet up with other swingers.
These connections can lead to even more fun outside of the club.
The one major drawback that we found was the cost of attending Club Sinz. The fees were not cheap but reasonable. The drinks were pretty expensive and the area hotels were very expensive.
If you are looking for a swingers club in the New England area with more opportunities to play on-site you can check out the Electricity Social Club in Providence, Rhode Island. This is only a little over an hour's drive from this area.
What is SLS (SwingLifeStyle) and Why Do Swingers Need It

SwingLifeStyle.com
SLS is by far the biggest and most popular website for Massachusetts swingers. There is just a ton of information available on the site. You can search for local events and search for local swingers. There is just a ton of information here.
This is the website where most Massachusetts swingers and Massachusetts swinger groups post all of their events. You can connect with other members going to these events ahead of time.
This website is free to join and check out but you will need to upgrade to use all of the messaging functions. SLS (SwingLifestyle) is basically a must for swingers that will be attending events and is the number one site I would recommend.
Men's Swinger Concerns
You will find a ton of articles out there addressing the concerns of women about enjoying the swinger lifestyle but very few about the concerns of men. I remember the concerns that I had before entering the lifestyle and how little information I found about how to seriously treat these concerns.
So whether you are looking at making your first visits to Maine swinger clubs, Maine swinger resorts, or even events by Maine swinger groups, you should address your concerns.
Fears of Seeing your Partner with Another Man
Ok, this is a big one. We all have that fear of what if she just enjoys it too much. What if she decides that I am inferior to someone else or that I am just not that good.
We all have these fears initially but as men, we just put too much into it. For women as well as men, being turned on is more about the mental aspects than the physical aspects. So her enjoyment will have more to do with the situation than with the other man.
What she will remember is that you had the confidence and concern about her enjoyment that let her have the fun. Do not let your jealousy or self-doubt get in the way of her enjoyment. If you can do this, she will associate her enjoyment with you.
If you can't do this then maybe the swinging lifestyle is not for you. Being a swinger is more about bringing pleasure to others than bringing pleasure to yourself.
Erection Quality and the Swinger Lifestyle
A really big thing that really bothered me before joining the swinger lifestyle was erection quality. I suffered from fairly severe erectile dysfunction and I was not comfortable becoming a swinger when I was such a poor performer in my eyes.
First of all, you can be a successful swinger even with poor erection quality. It is common for couples to be soft swap only (meaning no penetrative sex). We all know that oral sex can be the best experience and that there are tons of new things to explore without having to get a firm erection.
That being said poor erection quality can be a major problem. It can indicate other serious health conditions, so be sure to see a doctor as it could save your life. Additionally, I know from personal experience that erectile dysfunction takes a huge mental toll on a man.
I could not get over this in order to enjoy the swinger lifestyle. I knew that my wife would love me no matter what but I couldn't mentally deal with the thought of her getting nailed by another guy while I couldn't even get it up.
I tried everything to treat my erectile dysfunction including prescription pills, supplements, and even prescription injections (ouch!!) with little success. When I was about to give up, I finally discovered acoustic wave therapy with the Phoenix device.
This device utilizes patented FDA-registered tech and it just worked for me when everything else had failed. If you want to have amazing quality erections again, don't give up without trying the Phoenix. It gave me the confidence to embrace the swinger lifestyle.
Penis Size and the Swinge Lifestyle
Another big concern that men have is that they will not measure up to other men when it comes to penis size. First of all, men put way too much thought and worry into the penis size issue. That being said, I am not going to be like everyone else and just dismiss the issue. It can be a valid concern on the part of men and it is unfair to just say don't worry about it.
Most women do not put penis size at the top of their lists when picking a sexual partner. They are usually much more concerned with looks, physique, sense of humor, and overall personality. But studies have shown that penis size is a factor for many women when picking sexual partners.
Additionally, if you start participating in the swinger lifestyle, what you encounter is probably not going to make you feel better about your penis size. To find out more about this check out the article Penis Size at Nudist Resorts for more information.
You have two options if you have these worries about penis size. The first and best option is to just try to get over it. It is not a major factor for most women and your partner is not going to leave you for a bigger penis. Your self-confidence is much more important than a huge penis.
If you can't get over it, there is actually a way to increase your penis size. No matter what anyone says, this has been proven in scientific research papers. This is not through the use of magic pills, lotions, or any other quick and easy fix.
The use of penis traction devices is the only way that works but it takes time and effort. To be clear, you will not double your size of anything close to that. If you put in months of effort, you may gain about an inch of length and some girth.
To find out more about penis traction devices be sure to read Do Penis Traction Devices work? This article contains information about the devices, scientific studies about the devices, and my personal results using the devices.