My wife and I have had fun at swinger spots in New England. We have had a wonderful time checking out these spots and playing in this state and across the country and we love sharing our stories. That leads to the question, what is available for Connecticut swinger clubs and Connecticut swinger resorts?
Connecticut swingers do have a few lifestyle options available. These options include a swingers club and some swinger groups. Some additional options are open to swingers in Connecticut including clubs in nearby states and some excellent online options.
So let's take a look at what is available for Connecticut swingers. We will look at Connecticut swinger clubs, Connecticut swinger resort options, and additional swinger options. If you are a man that is new to the swinger lifestyle be sure to check out the Important Note To Male Connecticut Swingers section.
Connecticut Swinger Clubs
Swinger clubs provide a great opportunity for swingers to meet up with and play with other locals in the lifestyle. Luckily there is a Connecticut swinger club that has recently reopened and provides this fun opportunity.
Our favorite swinger clubs offer on-premise play as the Leisure Time Club does. This means that you have the chance to not only meet other Connecticut swingers but to play with them right at the club. This has some obvious benefits.
If you are a local swinger, we highly recommend checking out this club. While a club like this can be pretty wild, it is a no-pressure environment. If you are new to the lifestyle, you can stop in and check everything out without anyone pushing you to do anything.
In addition to this Connecticut swinger club, there are some other nearby clubs in Massachusetts, Rhode Island, and New York that you can check out. We suggest checking out all of the clubs near you as you will meet a bunch of fun people and can make a bunch of little getaway weekends.
Leisure Time Club
355 Zion St,
Hartford, CT 06106
(860) 951-6243
http://leisuretime-club.com/
Leisure Time Club is a 21+ Connecticut swingers club that is open to couples and single ladies only. This club is open on Saturdays from 9 pm to 2 am and occasionally for special events.
This club has a BYOB bar with bartenders. When you come into the club, you give your alcohol to one of the bartenders. They will mark it with your name and they will serve it back to you through the evening with free cups, ice, and mixers. Always tip your bartenders at these swinger BYOB bars.
I remember that we were a little leary of these BYOB bars when we first started visiting swinger clubs but they are actually great. We have all spent a ton of money at regular full-service nightclub bars. These BYOB bars really help to make your night out affordable.
Leisure Time Club offers a bunch of amenities for swingers that we love. This three-floor facility offers a dance floor with a sound system and lighting, a live DJ, a stripper pole, lockers, sex chairs, BDSM equipment, group showers, and five playrooms with multiple themes.
We love the way that they do the playrooms at the Leisure Time Club. They are all geared for different types of swinger couples. They have rooms for beginners, voyeurs, private rooms, and a couple of general play areas.
This provides a great environment for both experienced swinger couples and newbies. We found that everyone could find something at the Leisure Time Club no matter what their experience level.
Membership is required in order to attend the Leisure Time Club. The cost of membership for a couple is $60 per year. Membership for single ladies is free. Single men can not get a membership. You will need both your ID and a valid Covid vaccination card for membership.
The Saturday night event fee is usually $90 for a couple and free for ladies. Once again, single men are not allowed to attend.
Connecticut Swinger Resorts
I have to admit that our favorite swinger venue is the swinger resort. We love hanging out nude at the hot tub or conversation pool and making new friends. There is nothing like relaxing with a drink in hand while surrounded by other swingers.
Unfortunately, there are no true Connecticut swinger resorts but swingers in Connecticut still have options. One option is to utilize some local nudist resorts to meet up with your swinger connections. Check out Connecticut Nude Beaches and Resorts for some local nudist options.
These nudist resorts have quite a different crowd from a swinger resort but some may find these spots of some use. Check out Naturist or Swinger Nude Resorts and Beaches for the difference between these types of places.
What we have done is meet up with other swingers at nudist resorts. You can still hang out in the nude at the hot tub and pool but you just can't play there. You have to wait and have fun once you get back to your room. Your options to meet other swingers are severely limited but you can still have fun with friends.
We would often use these resorts to meet up with friends that we met online at swinger sites like SLS (SwingLifestyle). We would make new friends online and then do our first meeting with them at the nudist resorts.
Another option for you if you are seriously interested in checking out some real first-class swinger resorts, is for Connecticut swingers to grab a flight to Florida and check out the incredible Florida swinger resorts. These are the swinger resorts that we truly love.
Local Connecticut Nudist Resorts
As I mentioned above, these places are not Connecticut swinger resorts but they can be great places for swingers to meet up. Here are some of the local nudist spots that you can use.
I have also included some nudist resorts from neighboring Massachusetts and Rhode Island.
Sun Ridge Resort
131 Calvin French Rd
Sterling, CT 06377
(860) 779-1512
https://sunridgeresortct.com/
Solair Recreation League
65 Ide Perrin Rd
Woodstock, CT 06281
(860) 928-9174
https://www.solairrl.com/
Dyer Woods Nudist Campgrounds
114 Johnson Road
Foster, RI 02825
401-397-3007
http://dyerwoodscampgrounds.com/
Berkshire Vista Resort
PO Box 1177
312 Kittle Road
Hancock, Ma. 01237
413-738-5154
http://www.berkshirevista.com/
Sandy Terraces Associates
570 Wakeby Rd
Marstons Mills, MA 02648
(508) 428-9209
http://www.sandyterraces.com/
Connecticut Swinger Groups
A great alternative to swinger clubs and swinger resorts is to use Connecticut swinger groups. These groups occasionally put on events throughout the year. These events can include things like house parties, hotel takeovers, and group trips.
Most of these groups communicate through social groups like SLS (SwingLifestyle) to organize events and meet up with fellow group members.
Club4Play
https://www.club4playparties.com/
Club4Play is a Massachusetts swinger group that is mostly a travel club that is basically an affiliate for a bunch of swinger travel/resort programs but they also put on a hotel takeover in Massachusetts annually.
I have included them as a Connecticut swinger group because their big annual hotel takeover is normally in West Springfield, MA. This is just a couple of miles north of the Connecticut border.
Last July, my wife and I attended the Club4Play Pool Party and Hotel Takeover in West Springfield, MA. This was probably the biggest swinger event of the year in New England.
We didn't hate the event but it was not one of our favorite swinger activities. We were hoping for that resort-type feel with their hotel takeover but it never really got to that level.
Club4Play took over the waterpark and the Clarion hotel in West Springfield. During the day at this event, the fun was focused on the waterpark that was located within the hotel. Unfortunately, due to local laws and hotel rules, everyone had to remain fully clothed at the pool party. No poolside play was allowed.
In the evening, there was a themed dance party. This was a great chance to mingle with a bunch of local swingers.
Later in the evening, there was a playroom that was open in one of the hotel rooms. We have been to a bunch of playrooms but my wife found this one to be a little creepy for us.
There was one person that worked with Club4Play that supervised the playroom. We have never run into a situation like this at a playroom where there is just some guy that basically works there who is sitting there and staring at you.
It may have been just a personality problem that we had with the guy that supervised the playroom. He had made my wife slightly uncomfortable before going to the playroom so when we saw him just sitting there supervising the room it was a total turn-off. This was the first time my wife did not want to use a playroom.
We are not saying that this event was a total bust. It was still a great opportunity to network with other New England swingers. It was just a little disappointing overall in the way things worked out at this Massachusetts swinger group event.
Meeting Up With Connecticut Swingers
There are a couple of online sites that Connecticut swingers use to meet up with other local swingers. These sites are SLS (SwingLifestyle) and AFF (Adult Friend Finder). We use these sites to meet the couples that we hook up with at the swinger clubs, swinger resorts, and sometimes just on our own.
SLS (SwingLifeStyle)

SwingLifeStyle.com
SLS is by far the biggest and most popular website for Connecticut swingers. This is the website where Connecticut swinger clubs and Connecticut swinger groups post all of their events. You can connect with other members that are going to these events ahead of time.
This website is free to join and check out but you will need to upgrade to use all of the messaging functions. SLS (SwingLifestyle) is a must for swingers that will be attending events and is the number one site I would recommend.
Adult Friend Finder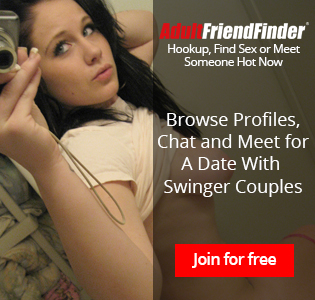 Adult Friend Finder is quite different than SLS (SwingLifestyle). It is more geared toward making individual connections with other swingers and not toward meeting others at events or clubs. AFF users tend to post a lot more public pictures. We use AFF to set up one on one swinger dates outside of events.
Important Note To Male Connecticut Swingers
When my wife and I first started in the swinger lifestyle, we found all kinds of articles dealing with the fears and insecurities of women but very little for men. I found that with many swinger couples the woman has the confidence and the swinger drive while the man has major worries that hold him back.
1. Erection Quality in the Swinger Lifestyle
Having fun in the swinger lifestyle is hard when you are worried about maintaining your erection. This was a problem that I had at one point. The libido was there and I wanted to perform but I could not get the erection that I needed.
If you have any concerns about erection quality, check out this article on at-home acoustic wave therapy. This type of revolutionary treatment has been used by the Hollywood elite for years. The Phoenix Device let me get rock-hard erections that gave me the confidence for the swinger lifestyle.
Penis Size and the Swinger Lifestyle
Like many men, I had always been worried about my penis size. When my wife wanted to get involved in the swinger lifestyle, my penis size anxiety increased.
Check out The Truth About Swinger Penis Size for information on this delicate subject. What is the average swinger's penis size, does penis size matter to swingers, how to make your penis appear bigger, and how to make your penis bigger (yes, this is scientifically possible with a little catch).
The Swinger Inferiority Fear
This fear had a lot to do with the previous two issues but I was very worried that my wife would find me sexually inferior after dabbling in the swinger lifestyle. Would my jealousies and insecurities get in the way of our having a fun time?
Read Male Swinger Insecurities for the story of how I overcame these fears.