My wife and I have had fun at swinger spots across the country. We have had a wonderful time checking out these spots including those in Georgia. That leads to the question, what is available for Georgia swinger clubs and Georgia swinger resorts?
Georgia swinger clubs and a Georgia swinger resort are available for local swingers. Unfortunately, these swinger spots are concentrated in the Atlanta area so there is little available elsewhere in the state. There are some additional Georgia swinger groups and travel options available.
So let's take a look at what is available for Georgia swingers. We will look at Georgia swinger clubs, Georgia swinger resort options, and Georgia swinger groups. If you are a man that is new to the swinger lifestyle be sure to check out the Important Note To Male Georgia Swingers section.
Georgia Swinger Clubs
We are absolutely in love with the swinger club experience. Swinger clubs provide a great opportunity for swingers to meet up with and play with other locals in the lifestyle. Luckily there are a couple of Georgia swinger clubs in Atlanta that provide for this fun opportunity.
Our favorite swinger clubs offer on-premise play like the Trapeze Club and The Loft do. This means that you have the chance to not only meet other Georgia swingers but to play with them right at the club. This has some obvious benefits.
If you are a local swinger, we highly recommend checking out these clubs. While clubs like these can be pretty wild, it is a no-pressure environment. If you are new to the lifestyle, you can stop in and check everything out without anyone pushing you to do anything.
In addition to these Georgia swinger clubs, there are some other nearby clubs in Florida, South Carolina, and Tennessee (there are no clubs in Alabama) that you can check out. We suggest checking out all of the clubs near you as you will meet a bunch of fun people and can make a bunch of little getaway weekends.
Trapeze Club
4470 Commerce Dr. SW
Atlanta, GA 30336
404-699-0100
https://trapezeclub.com/
An amazing Georgia swinger club located in Atlanta. This club is open Wednesday through Sunday from 8 pm to 3 am. It is open to singles and couples on all days except for Saturday. Saturday is for couples and single ladies only.
This club offers dining in addition to the swinger experience. They have dinner in the earlier hours of the evening followed by a breakfast buffet in the early morning.
This club is BYOB with several bars that can serve you the alcohol that you bring to the club. According to their website, the amenities of this club include:
15,000 square feet of amenities
Large, full-service buffet
Elevated community dining room with additional dining areas located around the club's main room
Central dance floor with hit music played by our in-house DJ
Open play area with private rooms to accommodate both couples and singles
Nudity is required in the playroom area but they do offer lockers to stash your belongings.
This is a highly rated club by most users. If this lifestyle is your thing, you really should visit this club.
We love visiting this club. It is truly great having a few drinks, going to play with some new friends, and then topping it off with the buffet. It can be an amazing experience.
To attend the club you will need to pay for a membership in addition to the nightly entry fees.
Membership rates are as follows. For couples, membership is $60 for two months or $360 for a year. For single women, membership is $50 for three months. Single men have to pay $100 per month.
The nightly fees for Wednesday, Thursday, and Sunday is $50 for couples, $100 for single men, and $40 for single women. On Fridays, the nightly fee is $80 for couples, $100 for single men, and $40 for single women. On Saturday, the nightly fee is $80 for couples and $40 for single women, and single men are not allowed in.
These fees may seem high but we have found that they are actually quite reasonable when you get used to the BYOB bar. We paid $60 for a two-month membership and $80 to get in so $140 total.
This is actually not bad when you compare it to a regular nightclub. You would still usually have an entry fee, the full bar tab at a regular nightclub (BYOB here, I just gave the bartender a $20 tip), the buffet is included so that is an additional saving, and this is not even mentioning the fun that you can have nowhere else.
The events for this Georgia swinger club are posted on their website and on SLS (SwingLifestyle). We will often sign up on SLS so that we can talk online with other couples attending Trapeze so that we can hopefully make some connections there.
The Loft
925 Bowen Street NW
Atlanta, GA 30318
(770) 861-3990
https://www.swingingatlanta.com/
This is another great Georgia swinger club in Atlanta. They are open seven days a week from 9 pm to 2 am on weekdays and 9 pm to 4 am on weekends.
This club is also BYOB and can serve your own alcohol to you.
We love going to this type of club. It provides a great alternative to the big club in town which is always great to have. You can usually meet a great group of swingers at a club like this.
The Loft's website lists its amenities as being:
Private VIP Rooms​
Voyeur Room
Loft Store
Free Parking
Free sodas and juices
4000 sq ft of play space
Fully equipped dungeon for BDSM play
Private & open playrooms
Private bath & shower
Locker room
Smoke-free facility w/ outside smoking party deck
​Large dance floor & 3 stripper poles
Our world-famous Sybian machines!
​Glory hole on the party deck​
Friendly, fun and diverse crowd
You are required to get a membership which is a very reasonable $10 for three months. In addition to the membership fee, you need to pay the event fee for whatever is going on for that night. Event fees typically run $50 for couples, $70 for single men, and $10 for single ladies.
The fees at this Georgia swinger club make for a very reasonable night out. With benefits.
Georgia Swinger Resorts
Swinger resorts are our absolute favorite swinger spots to visit and Georgia swinger resorts are no exception. There is nothing like relaxing poolside or at the hot tub in the buff with a bunch of Georgia swingers. Add a few drinks into the mix and you have the start to a great weekend.
There is only one Georgia swinger resort that is currently open. This is much more than what some states have. If you are curious about this lifestyle then this is a great way to check it out. While it may seem a little intense at first, you will meet a great group of people.
We highly recommend that Georgia swingers try out a spot like this at least once in their lives. It is a really great experience.
For a bigger selection of swinger lifestyle resorts, head down a little further south to check out the Top 5 Florida Swinger Resorts. These are some of the best swinger resorts in the country. If you want to check out the best swinger resort, you can check out Hedonism.
Another alternative to Georgia swinger resorts is to check out some of the local nudist resorts. These resorts do not allow for overt sexual activity at the resorts. But we have on occasion met up with other swingers at nudist resorts and played in private.
If you are interested in any local nudist resorts, you can check out Georgia Nude Beaches and Resorts. We still prefer swinger resorts but these nudist resorts will do in a pinch.
Mountain Creek Grove
97 Cedar Hollow Rd,
Cleveland, GA 30528
(706) 809-9681
http://mountaincreekgrove.net/
This Georgia swinger resort is a year-round swinger lifestyle resort located about a 1 1/2-hour drive north of Atlanta. This resort is definitely for swingers so expect to be in a sexually charged atmosphere.
Amenities include a pool, hot tub, clubhouse, themed events on many weekends, a poolside pavilion to get out of the sun, on-site playrooms, and the Charter House. The Charter House is a large adult-themed playhouse with a dungeon, lounge, private rooms, and group play areas.
The Charter House is open on select weekends so be sure to check before planning your trip. But even if it is not open there are still other play areas in the clubhouse.
We love this type of place. Just hanging out in the nude with other swingers in the hot tub. The atmosphere becomes so sexually charged and fun. It is definitely worth the trip to check it out.
This place generally receives very good reviews and is probably one of the best east coast swinger places north of Florida. A few negatives are that they do not serve food or alcohol but you can BYOB.
Day rates for this resort are $75 per couple. Hotel rooms are $185 per night which does include your day fees. There are also cabins available for $225 per night which does include your day fees. RV sites are available for $120 per night which does include your day fee.
Georgia Swinger Groups
A great alternative to swinger clubs and swinger resorts is to use Georgia swinger groups. These groups occasionally put on events throughout the year. These events can include things like house parties, hotel takeovers, and group trips.
Most of these groups communicate through social groups like SLS (SwingLifestyle) to organize events and meet up with fellow group members.
Savannah Party Group
Savannah, GA
https://savannahpartygroup.com/
The Savannah Party Group is a Georgia swinger group that puts on hotel takeover events in the Savannah area. Their events are for 21+ Georgia swingers. You can purchase tickets for the events through their website. It looks like they have events every couple of months.
These hotel takeovers are a ton of fun. You can rent a room right at the party and meet new swinger friends with an opportunity to go back to your room.
Meeting Up With Georgia Swingers
There are a couple of online sites that Georgia swingers use to meet up with other swingers. These sites are SLS (SwingLifestyle) and AFF (Adult Friend Finder). We use these sites to meet the couples that we hook up with at the swinger clubs, swinger resorts, and sometimes just on our own.
What we actually do is make some connections ahead of time before going on our trips. This helps to increase our chances of finding a nice compatible couple when we go to the resort or club.
SLS (SwingLifeStyle)

SwingLifeStyle.com
SLS is by far the biggest and most popular website for club and resort events. This is the website where Georgia swinger groups posts all of its events. You can connect with other members that are going to these events ahead of time.
This website is free to join and check out but you will need to upgrade to use all of the messaging functions. SLS (SwingLifestyle) is a must for swingers that will be attending events and is the number one site I would recommend.
Adult Friend Finder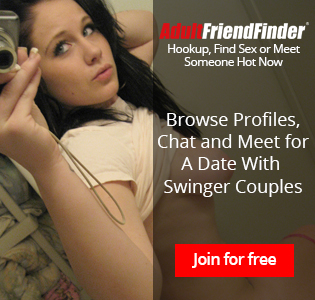 Adult Friend Finder is quite different than SLS (SwingLifestyle). It is more geared toward making individual connections with other swingers and not toward meeting others at events or clubs. AFF users tend to post a lot more public pictures. We use AFF to set up one on one swinger dates outside of events.
Important Note To Male Georgia Swingers
When my wife and I first started in the swinger lifestyle, we found all kinds of articles dealing with the fears and insecurities of women but very little for men. I found that with many swinger couples the woman has the confidence and the swinger drive while the man has major worries that hold him back.
1. Erection Quality in the Swinger Lifestyle
Having fun in the swinger lifestyle is hard when you are worried about maintaining your erection. This was a problem that I had at one point. The libido was there and I wanted to perform but I could not get the erection that I needed.
If you have any concerns about erection quality, check out this article on at-home acoustic wave therapy. This type of revolutionary treatment has been used by the Hollywood elite for years. The Phoenix Device let me get rock-hard erections that gave me the confidence for the swinger lifestyle.
Penis Size and the Swinger Lifestyle
Like many men, I had always been worried about my penis size. When my wife wanted to get involved in the swinger lifestyle, my penis size anxiety increased.
Check out The Truth About Swinger Penis Size for information on this delicate subject. What is the average swinger's penis size, does penis size matter to swingers, how to make your penis appear bigger, and how to make your penis bigger (yes, this is scientifically possible with a little catch).
The Swinger Inferiority Fear
This fear had a lot to do with the previous two issues but I was very worried that my wife would find me sexually inferior after dabbling in the swinger lifestyle. Would my jealousies and insecurities get in the way of our having a fun time?
Read Male Swinger Insecurities for the story of how I overcame these fears.