My wife and I have had fun at swinger spots across the country. We have had a wonderful time checking out these spots including those in North Carolina. That leads to the question, what is available for North Carolina swinger clubs and North Carolina swinger resorts?
In general, there is an impressive selection of North Carolina swinger clubs and even a North Carolina swinger resort. This offers a lot more choices than what you find in many southern states. Additionally, you will find North Carolina swinger groups that host events throughout the state.
So let's take a look at what is available for North Carolina swingers. We will look at North Carolina swinger clubs, North Carolina swinger resort options, and swinger groups. If you are a man that is new to the swinger lifestyle be sure to check out the Important Note To Male North Carolina Swingers section.
North Carolina Swinger Clubs and Resorts Table
The table below contains a listing of North Carolina swinger clubs and North Carolina swinger resorts:
It is obvious that North Carolina has a pretty good selection of swinger clubs and swinger resorts. I would say that you would have to travel to Florida in order to find a better selection of swinger lifestyle venues.
North Carolina swingers are very lucky to have so many options available to them. Many states only have one or two spots if they have any at all. Some of the North Carolina swinger clubs are full nightclubs and some are much more like regularly scheduled house parties but either way, we would try them all out.
First-time swingers can feel comfortable checking out these places as swinger clubs and resorts tend to be very low-pressure environments. You can hang out, talk to a few people, and just figure out if it is for you.
If you do decide that the swinger lifestyle is for you, the good news is that you can jump right in and have the opportunity to explore right away at these North Carolina swinger clubs or North Carolina swinger resorts.
North Carolina Swinger Clubs
North Carolina swinger clubs are a great way to meet up with local swingers. They provide a great spot to meet up with other like-minded couples and you can feel comfortable discussing the lifestyle openly. Most have onsite playrooms so that you can go make connections and play with others right at the club.
Most of these clubs post their events on SLS (SwingLifestyle) which is a great swinger lifestyle website. Since we often travel and visit clubs far from home, we often do not know a lot of people and we are not always the most out going people when in a new environment.
To help with this we use the event feature on SLS. We will sign up as attending the event on SLS which lets us see who else is attending and communicate with others that are going right on SLS. That way when we show up, we already have made some friends and have some things to talk about.
Club Ludus
5310 B Carolina Beach Rd,
Wilmington, NC 28412
(910) 399-6375
https://www.clubludus.com/
Club Ludus is a member-only North Carolina swinger club that is open to those that are 21+. This club has a full cash bar so it is not BYOB like many other swinger clubs.
Club Ludus is open Tuesday through Thursday from 4 pm to midnight, Friday from 4 pm to 2 am, and Saturday from noon to 2 am.
This is a great spot for those interested in the swinger lifestyle to meet like-minded people. This club is a favorite with local North Carolina swingers.
Membership can be easily obtained right at the door with just a valid ID. The membership rate is a very reasonable $20 yearly fee per person. This membership gets you into the club free of charge on most nights.
Saturday nights have an additional event fee that is usually around $20 for a couple, $10 for single women, and $25 for a limited number of single men.
This club offers amenities including a full bar, big screen TVs to watch your favorite teams, multiple Skills Games, Golden Tee Live Golf, pool tables, darts, great music, a dance floor, a private lounge area, and a private covered outdoor area for socializing.
The House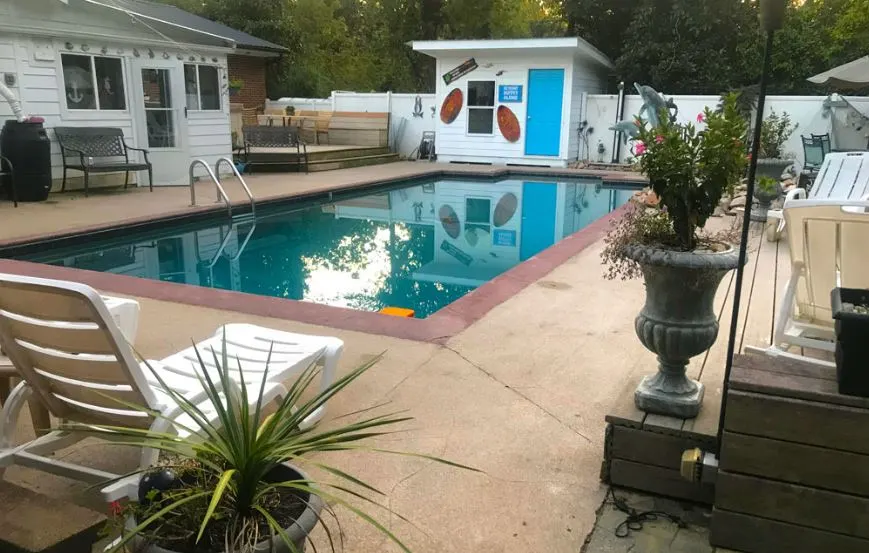 Raleigh, NC 27604
http://iltephouse.com/
I have included The House under North Carolina swinger clubs but it could also be considered a North Carolina swinger group. This is a regularly scheduled house party that you can attend by invite only but it is professionally run on a regular schedule with plenty of on-site facilities for swingers in North Carolina.
The whole house is clothing optional during events. On-site play is not required but there is definitely a lot of activity that does occur. We have found that if you go to a place like this with an open mind that you can have an amazing time.
The House typically has events on Fridays and Saturdays that run from 7 pm to 2 am. The Friday events are called "Female Fantasy Night" and invite a high ratio of single men (listed as 30 single men and 20 couples or single ladies). Saturday events are for couples and single ladies only (listed as 35 couples and 5 single ladies).
To get an invite to their parties all you need to do is visit their website and go to the reservations page. You just pick your party then submit your name, email, your username from a top swinger site like SLS (SwingLifestyle), a couple of photos, and whether you are a couple or a single lady.
Send that reservation request off and they will let you know if there is any room at the requested party.
The House is BYOB but there is no hard liquor allowed due to some local ordinances (beer and wine products only).
There is no membership required but you will need to bring an ID with you when you go to The House. Donations are not required but suggested donations are $40-$50 for couples, $15-$25 for single ladies, and $45-$55 for single men.
The House has plenty of amenities including an 8-person hot tub, a 16′ x 40′ in-ground pool and deck for outside seating, a large group area, playrooms, a stripper pole, a lap dance area, and a sex swing.
The address is given when your reservation is accepted but there are plenty of hotels close to The House and they will pick you up and drop you off at these hotels. They also have a few rooms to rent at The House.
Club Red Door
GASTONIA, NC
(704) 689-0440
[email protected]
https://www.clubreddoor.com/
Club Red Door is a member-only North Carolina swinger club. They are open on Fridays from 9 pm to 2 am and on Saturdays from 8 pm to 2 am.
This club is open to couples, single women, and a select number of single men. Email Club Red Door at the email above to get the address for your first visit. Single men must email to make sure that there is an opening for them on whatever night they are attending.
As a couple, we have had some great fun at these local swinger clubs. You can meet some great swingers in North Carolina.
The required membership is $10 per person per year. You can pay for that at the door. All you need is a valid ID and an email address to get your membership.
The entry fee for the individual evening events is $50 for couples, $20 for single ladies, and $75 for single men.
Club Red Door is a BYOB club. Due to state laws, you can only bring beer and wine products with you so no hard liquor. They have water and ice available along with some light munchies.
This club has 4,000 square feet of fun for North Carolina swingers. They have a dancefloor with a shadowbox, and five playrooms including a dungeon.
Hushhh Socials
Mebane, NC
https://www.hushhhsocials.com/
Another spot that I was unsure whether to classify as a North Carolina swinger club or a North Carolina social group. Their events are held at a private home which tends not to classify as a club. But they have regular events at a set location so I decided to classify them as a swinger club.
They host events to provide a venue for local North Carolina swingers to get together and play. We have found that these kinds of events are extremely fun and active.
These events are open to couples, single ladies, and a limited number of single men. They typically have Friday and Saturday events that start at 8:30 pm and go to 2 am.
A great feature of Hushhh Socials is that they will shuttle you to and from some of the local hotels so that you can relax and enjoy the evening.
Suggested donations are very reasonable at $25 for couples, $40 for single men, and free for women.
To RSVP for an event and get more detailed event information you can use the contact us page on their website. Once you submit the form on their website, you will receive additional information.
North Carolina Swinger Resorts
We love spending time at swinger resorts so we were really happy to find that there was a North Carolina swinger resort option available. We love swinger clubs but sitting naked in the hot tub at a swinger resort with a drink in our hand is still our favorite thing to do.
If you are from North Carolina, it is so nice to have these options close by. Most states do not have any swinger resorts available at all.
We highly recommend that North Carolina swingers try out a spot like this at least once in their lives. It is a really great experience. We just love the clothing-optional aspect of the swinger resorts. It just helps everyone to loosen up and drop their inhibitions.
For a bigger selection of swinger lifestyle resorts, head down a little further south to check out the Top 5 Florida Swinger Resorts. These are some of the best swinger resorts in the country. If you want to check out the best swinger resort, you can check out Hedonism.
Another alternative to North Carolina swinger resorts is to check out some of the local nudist resorts. These resorts do not allow for overt sexual activity at the resorts. But we have on occasion met up with other swingers at nudist resorts and played in private.
If you are interested in any local nudist resorts, you can check out North Carolina Nude Beaches and Resorts. We still prefer swinger resorts but these nudist resorts will do in a pinch.
Lucky Lovers
51 Black Bear Ln,
New Bern, NC 28560
(910) 459-1629
https://clubc3.com/
Lucky Lovers is a North Carolina swinger resort that is open to 21+ couples, single ladies, and single men that are accompanying a couple. This resort is clothing optional so expect to see some nudity if you visit there. This is definitely a swinger lifestyle spot so expect to make some friends.
North Carolina swingers are really lucky to have access to a place like this. Most states have nothing like this for swingers. We have made some of our best swinger connections hanging out naked by the pool. You make connections during the day and have some great experiences at night.
This 44-acre resort has all of the amenities that you would expect with a heated pool, spa, adult playrooms, walking trails, pool table, shuffleboard, clubhouse, cornhole, and more.
There are events every Friday and Saturday at ClubC3 which is the club located right in the resort. These events and the resort itself are all BYOB.
Day fees for Lucky Lovers are $50 every day except for Saturday. This gives you access to the resort from 9 am to 5 pm. On Saturday it is $60 for access from 9 am to 6 pm. These rates are for couples. Single women pay half and single men pay the same rate as couples.
Day fees do not cover night party events which must be paid for separately. Typical party fees are $60. They do offer an all-day Saturday pass for $100 and a two-day all-day weekend pass for $150.
Lucky Lovers has a number of different accommodation options. They have cabin/bungalow options that start at $120/night. Full Hookup RV sites start at $75 per night. Campsites start at $30 per night.
North Carolina Swinger Groups
Carolina Friends
Charlotte, NC
https://carolinafriends.com/
Carolina Friends is a North Carolina swinger group that puts on entire hotel takeover events in the Charlotte and Greensboro areas. These BYOB events can be a great way to meet up with swingers in your local area.
Friction Carolina
Raleigh, NC
https://www.frictionparties.com/
Friction Carolina is a North Carolina swinger group that puts on entire hotel takeover events in the Raleigh/Durham area. Unlike most swinger groups you need to create a profile and log in to their website to see all of their upcoming events or you can see a listing on SLS (SwingLifestyle).
Camelot Social Club
Charlotte, NC
https://camelotsocialclub.com/
Camelot Social Club is another North Carolina swinger group that does entire hotel takeovers. Their events seem to be pretty reasonably priced at $80 or under for a couple. They also have special rates on the hotel rooms in the hotels that host their events.
The Platinum Playhouse
STATESVILLE, NC
https://www.theplatinumplayhouse.com/
This North Carolina swinger group does it a little differently. They have their parties at a venue with a decorated ballroom. They will shuttle people back and forth between a local hotel and the venue. The cost of events is $50 for couples and $20 for single females.
Meeting Up With North Carolina Swingers
There are a couple of online sites that North Carolina swingers use to meet up with other swingers. These sites are SLS (SwingLifestyle) and AFF (Adult Friend Finder). We use these sites to meet the couples that we hook up with at the swinger clubs, swinger resorts, and sometimes just on our own.
What we actually do is make some connections ahead of time before going on our trips. This helps to increase our chances of finding a nice compatible couple when we go to the resort or club.
SLS (SwingLifeStyle)

SwingLifeStyle.com
SLS is by far the biggest and most popular website for club and resort events. This is the website where North Carolina swinger groups post all of their events. You can connect with other members that are going to these events ahead of time.
This website is free to join and check out but you will need to upgrade to use all of the messaging functions. SLS (SwingLifestyle) is a must for swingers that will be attending events and is the number one site I would recommend.
Adult Friend Finder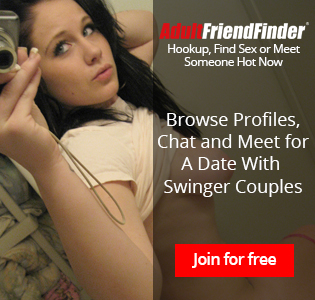 Adult Friend Finder is quite different than SLS (SwingLifestyle). It is more geared toward making individual connections with other swingers and not toward meeting others at events or clubs. AFF users tend to post a lot more public pictures. We use AFF to set up one on one swinger dates outside of events.
Important Note To Male North Carolina Swingers
When my wife and I first started in the swinger lifestyle, we found all kinds of articles dealing with the fears and insecurities of women but very little for men. I found that with many swinger couples the woman has the confidence and the swinger drive while the man has major worries that hold him back.
1. Erection Quality in the Swinger Lifestyle
Having fun in the swinger lifestyle is hard when you are worried about maintaining your erection. This was a problem that I had at one point. The libido was there and I wanted to perform but I could not get the erection that I needed.
If you have any concerns about erection quality, check out this article on at-home acoustic wave therapy. This type of revolutionary treatment has been used by the Hollywood elite for years. The Phoenix Device let me get rock-hard erections that gave me the confidence for the swinger lifestyle.
Penis Size and the Swinger Lifestyle
Like many men, I had always been worried about my penis size. When my wife wanted to get involved in the swinger lifestyle, my penis size anxiety increased.
Check out The Truth About Swinger Penis Size for information on this delicate subject. What is the average swinger's penis size, does penis size matter to swingers, how to make your penis appear bigger, and how to make your penis bigger (yes, this is scientifically possible with a little catch).
The Swinger Inferiority Fear
This fear had a lot to do with the previous two issues but I was very worried that my wife would find me sexually inferior after dabbling in the swinger lifestyle. Would my jealousies and insecurities get in the way of our having a fun time?
Read Male Swinger Insecurities for the story of how I overcame these fears.