My wife and I have been visiting swinger lifestyle resorts for some time now. We have visited all of the Florida swinger resorts including Paradise Lakes visits in 2021 and 2022. With our experience, we offer this Paradise Lakes Resort review and answer "Is the Paradise Lakes swinger resort worth a visit?"
Paradise Lakes Resort is a great resort to visit if you are interested in the clothing-optional swinger lifestyle. This resort is now totally geared towards swingers and offers great amenities including accommodations, Paradise Lakes playroom facilities, a relaxing environment, and great pricing.
So let's take a look at this option for taking a fun dip into the clothing-optional swinger lifestyle. A visit to this resort is a great escape from the vanilla world. Also, if you are a man that is new to the swinger world be sure to check out an Important Note To Male Paradise Lakes Resort Swingers.
Our Paradise Lakes Resort Review
We rate this resort very highly and recommend that you put it on your list of swinger lifestyle resorts to visit. Paradise Lakes Clothing Optional Resort definitely falls into the Top 10 swinger lifestyle resorts in the USA. Additionally, Paradise Lakes Resort is our top-rated swinger resort in Florida.
My wife and I first visited this resort in 2021 and immediately fell in love with the place. We found our stays at Paradise Lakes to be a lot more relaxing than our stays at other swinger lifestyle resorts. We returned to Paradise Lakes Resort in October of 2022 and had even more fun.
Since our first visit, Paradise Lakes resort has embraced the swinger lifestyle completely. It has added some great Paradise Lakes Resort playroom options and more swinger-themed events. If you love the swinger lifestyle, you will feel right at home in Paradise Lakes.
While this resort does have a lot of swinger lifestyle activities, it also has a very relaxed poolside atmosphere as well. This makes it a great place for people that are new to the lifestyle to check things out. You can just relax and take things in without feeling overwhelmed or out of place.
This made the whole experience to be incredibly fun and relaxing. We would take day trips to local places like Busch Gardens or the zoo. Then we would come back to Paradise Lakes to have some drinks, sun, swim, meet some really nice people, and have some playtime.
Combine all of this with the great pricing at Paradise Lakes Resort and you will find this a great resort vacation.
The people at Paradis Lakes are some of the nicest people that you will ever run into. People here went out of their way to make us feel at home.
The New Paradise Lakes Playrooms
A major highlight of your visit to Paradise Lakes Resort will be the Paradise Lakes playrooms. This is where you can really have a chance to fulfill your swinger lifestyle fantasies. Prior to 2022, Paradise Lakes did not have playrooms so we were really excited to check these out on our most recent visit.
There are three areas that make up the Paradise Lakes playrooms. There is the Paradise Lakes Playhouse, the Paradis Lakes upstairs playrooms, and the Paradise Lakes outdoor play deck. All of these different Paradise Lakes playrooms offer different play opportunities.
My wife and I have always had great luck in the playroom areas of both clubs and resorts and the Paradise Lakes playrooms were no exception. If you hang out and are open to new experiences, you will always find something fun and new to try in the playrooms.
The Paradise Lakes Resort Playrooms: The Playhouse
The major component of the Paradise Lakes Resort playrooms is the Playhouse area. This is a large area of playrooms that is open on the weekends. It is open on Fridays and Saturdays from 3 pm to 6 pm and 9 pm to 2 am. It is also open on Sundays from 3 pm to 6 pm.
This is a couples-only playhouse so this is a little different from many other play areas that let singles in. I think this adds to the atmosphere for couples and makes it a little easier to relax and play with other couples.
The playhouse area of the Paradise Lakes playrooms is a nudity-required area. This helps to keep everyone on a level playground. I know that we love being watched but that can be a little unnerving if those that are watching are fully clothed. This just helps to keep things more relaxed.
This new playhouse has all of the things that you would want. There is a group area and beds with sheer curtains to give just a tiny bit of privacy. Other features of the playhouse include restraints, swings, couches, TVs, a chair with stir-ups, and a saddle.
The Paradise Lakes Resort playroom playhouse is a great place to watch or participate in swinger fun. My wife and I started out watching in a place like this until we got comfortable. Once you get comfortable, you can move on to putting on your own shows, and then maybe inviting others to play with you.
When we entered the Paradise Lake Resort Playhouse, the first thing we found was a locker area so that you could undress and store your stuff. Right beyond the lockers was a bunch of fresh towels so that you would have something clean to lay or sit on.
As we entered the actual fun part of the Playhouse we found a large bed that was sectioned off by a sheer curtain. The next section was an area with a couple of couches that faced a large TV with porn playing.
Going further into the Paradise Lakes Playhouse, you find a group area that has a bunch of beds that are pushed together and rooms with a couple of sex swings (we saw these getting a lot of use). All of these areas are separated by sheer curtains so you can stay in the walkway area and see what is going on.
Our personal use of the Paradise Lakes Resort Playhouse involved some fun side-by-side play. We used the group bed with a couple that we met at the hot tub.
We stayed mostly with our partners but there was some touching with the other couple. They were fairly new to the lifestyle and this was one of their first experiences. I think it was a good start for them.
The Paradise Lakes Playrooms: Upstairs Playrooms
There is another Paradise Lakes playroom option that is available seven days a week and that is the upstairs playroom. This is a lot smaller than the playhouse and is basically three adjoining hotel rooms that were transformed into Paradise Lakes Resort playrooms.
The upstairs playrooms are open for play from 2 pm to 2 am seven days a week. This room makes it so you have a place to go all week long. Two of the rooms have beds and one has a couch and sawhorse for sexual play.
On our visit, we did not actually get a chance to play in this Paradise Lakes playroom area but we did see a lot of couples that did use the area. This area was open to couples and single men if they were with a couple.
We did see at least two MFM play sessions going on here so there were definitely some opportunities for single men.
The Paradise Lakes Playrooms: Outdoor Play Deck
This is one of our favorites. The play deck is an open deck overlooking the conversation pool area that is open 24 hours and seven days a week for play. My wife and I really loved this spot on those warm Florida nights.
We had some great soft swap experiences right out on the play deck in the evenings. It is so nice to be able to go right from the conversation pool or hot tub to the play deck right above.
This Paradise Lakes playroom area was really busy in the evenings but it was used some even during the daytime.
This area consists of some outdoor furniture sofas that are out under a covered deck. It is just great playing in this outside area.
We found it great fun to just go up in this area and watch others play in this area. You just have to check out this area.
The Paradise Lakes Resort Facilities
We found many of the facilities to be slightly dated but still kept in good condition. They have completed a bunch of recent renovations and continue to update the facilities. As a middle-class couple, we felt right at home here. Everything was nice but not overly fancy.
A list of amenities at Paradise Lakes Resort includes:
Four heated pools
large hot tub
indoor and outdoor bars
Daily activities include a mix of water volleyball, pickleball, karaoke, Wii bowling, billiards, and darts.
Fitness room
On-site restaurant
A full nightclub
Plenty of on-site walking areas
Large adult playhouse
Upstairs playroom
Outdoors play deck
The Paradise Lakes swinger resort poolside area is truly great here. There are a ton of tables and lounge areas poolside. It is easy to get some food or drink and just sit poolside taking it all in. This makes it really easy for a first-timer to get the feel of the place before jumping in.
When you are ready to explore a little more the new Paradise Lakes Adult Playhouse is the next place to check out. Additionally, there is the outdoor play deck where you can have fun on the upper deck overlooking the pool area.
Another wonderful part of Paradise Lakes is being able to walk around the whole clothing-optional community. Outside of the resort area is the huge Paradise Lakes Community that consists of hundreds of condominiums, houses, and RV lots.
The area is beautiful and completely gated and you have access to walking around the whole area. And it is all clothing optional.
Florida is the best place in the USA for swinger lifestyle resorts. If you are interested in seeing all that they have to offer check out Top 5 Florida Swinger Lifestyle Resorts.
If you are a man dealing with some of the insecurities that I know I felt when we started visiting swinger lifestyle resorts, be sure to check out the Important Note To Male Paradise Lakes Resort Swingers.
Accommodations at Paradise Lakes
When you stay at Paradise lakes swinger resort, there are a couple of different types of accommodations that you can get. The resort has hotel room accommodations that are right poolside in the resort area.
They have been working on upgrading these hotel room options and they are much nicer than they were a couple of years ago. However, the rooms still tend to be dated but well-maintained.
The big plus of the rooms is that you are steps away from all of the resort activities.
The other option is to use Airbnb or a similar service to rent out a condo or house that is located in the Paradise Lakes Community. These are privately owned housing and can offer a great alternative to hotel rooms. These accommodations tend to be newer and better maintained than the hotel rooms.
These Condos are not located right inside the resort but are all within a very short walk or golf cart ride from the resort.
For more information about the difference between the Paradise Lakes Resort and the Paradise Lakes community check out the Two Parts of Paradise Lakes Section below.
Pricing at Paradise Lakes Resort
We found that the pricing at Paradise Lakes was really great. The rooms tend to be pretty affordable (even more so if you use the Airbnb option). Food, drink, and resort fees are also very affordable at Paradise Lakes.
All of the hotel rooms at the resort are poolside which is something that you do not find at other resorts. A standard King-sized bed hotel room at Paradise Lakes Resort is $125 a night on weekdays and $165 on weekends.
We found that all of the food and drink prices were fairly reasonable and affordable. We mostly ate at the bar and were able to have a meal and a drink for under $20. The food was good and the drinks were pretty decent.
Some 2022 actual meal pricing examples are Quesadilla for $8.99, 16″ pizza$12.99, turkey wrap for $11.99, and a big breakfast for $12.99. So you can see that it is fairly inexpensive to eat at Paradise Lakes Resort.
Paradise Lakes Resort Membership Fees
Whether you get a resort hotel room or rent someone's condo, you will still need to pay the Paradise Lakes resort membership fees. Current daily resort fees for 2022 are $40 a day for couples on weekdays and $75 per day on weekends. Fees are less for single females and more for single males.
There are reduced fees for entry after 6 pm. This would be available if you stay in one of the Airbnb condos. If you stay at the resort hotel, you have to pay the full-day fee for each day of your stay. Below you will find a list of their fees for 2022.
You will find that these Paradise Lakes resort membership fees are quite reasonable for this type of resort.
The Average Age, Body Type, Penis Size, and Sex at Paradise Lakes
A major question that new visitors have is what do the other guests look like?
The answer is that basically every body type and age group can be found at Paradise Lakes Resort. The good news is that most people here did not seem to be really hung up on these things. We are a typical middle-aged American couple and we made friends with people of all age groups and body types.
We found that the average age was around 45 – 50 but went from people in their 20's up to people in their 70's. Body types ran the whole range from physically fit to very overweight but seemed to be in line with what you would normally find in the American population.
There was a good mix of the sexes at the resort. We would say that approximately 60% of the guests were men and 40% were women.
Another question that is commonly asked is about penis size at this type of resort. A lot of men are concerned about this prior to their first visit to a place like this.
If this concerns you, the good news is that it is not a big deal to most people. The bad news is that penis size at this type of resort tends to be bigger than what you find in the general population. Basically, it seems that men with bigger penises are more comfortable showing them in public.
To learn more about this issue, you can check out Penis Size at Nudist Resorts for more information.
Public Sex at Paradise Lakes Resort
Of course, you can find public sex going on in the Paradise Lakes playroom but what about the other areas?
We did not find that there was a lot of sexual activity at the pools or hot tub area at Paradise Lakes resort during the daytime. There was a lot of sexual talk going on but people do not openly participate in sexual activity out in the open.
If anyone got excited during the daytime, they would go to one of the Paradise Playrooms. The playrooms were not crowded during the daytime but there were quite a few people that went and visited.
After dark, everything changed. There was a lot of sexual activity at night at the conversation pool and the hot tub. There were a lot of blowjobs going on in both areas. When it came to actual sex, most would head off to one of the play areas but it was not a shock to see anything.
Where is Paradise Lakes Located?
The exact location and contact information for the Paradise Lakes swinger resort is:
2001 Paradise Lakes Blvd
Lutz, FL 33558
(866) 794-6683
https://paradiselakesresort.com/
This resort is about a 1/2 hours drive north of Tampa and the Tampa Airport (TPA). It is also less than an hour's drive from Clearwater Beach. Nearby attractions include Busch Gardens, The Florida Aquarium, The Lowry Park Zoo, and Raymond James Stadium (Tampa Bay Buccaneers).
The Tampa Bay area is considered by many to be the nudist capital of the United States. There are several other nudist resorts and attractions in the area of Paradise Lakes. These resorts include Lake Como Co-Op Inc, The Woods RV Resort-Clothing Optional, The Island Group, Inc., Riverboat Club Inc, and Caliente Club & Resorts.
Is this a Swinger or Naturist Resort?
When choosing a nudist spot, it is important to take into account what you are looking for. A naturist resort is a completely different experience from a swinger resort. Going to the wrong type may lead to some unexpected surprises for you.
There may be some confusion about Paradise Lakes resort being swing or naturist because it used to be more naturist but it is now definitely swinger. The naturist looks at nudity as a non-sexual experience that frees the individual from many of the stresses of modern society. To the swinger, nudity is all about the sexuality of the experience.
If you are interested in additional information about the different types of nudist locations, check out Naturist or Swinger Nude Resorts and Beaches.
Paradise Lakes resort is a swinger lifestyle resort that still has some naturists in the owner-occupied areas. Prior to 2009, Paradise Lakes was part of The American Association of Nude Recreation (AANR) which is definitely a naturist organization. Many of the residents from this time period still live there.
You will find a great blend of people from all different lifestyles here. We found everyone here to be very respectful and friendly whether they were swingers or naturists.
The Two Parts of Paradise Lakes Resort
There are two parts to Paradise Lakes resort. These are the Paradise Lakes Clothing Optional Resort and the Paradise Lakes Community.
The Paradise Lakes Community
These are the Condominiums, Houses, and RV spots in the gated community around the Paradise Lakes resort. These areas are all clothing-optional once you are inside the gate. These spots are privately owned and many can be rented separately from the Resort on Air BNB and similar sites. Renting these spots in the community can provide you with some great savings.
This part of the resort has more of a naturist vibe to it as many of the places are owned going back to when Paradise Lakes was part of The American Association of Nude Recreation (AANR).
The Actual Paradise Lakes Resort
The resort section of the resort is what the swinger is coming to visit. This section includes the hotel, bars, nightclubs, and all the amenities. This area is very socially active and is where you will find the swinger action if that is what interests you.
Meeting Up With Paradise Lakes Resort Swingers
There are a couple of online sites that Paradise Lakes resort swingers use to meet up with other swingers. These sites are SLS (SwingLifestyle) and AFF (Adult Friend Finder). We use these sites to meet the couples that we hook up with at the swinger clubs, swinger resorts, and sometimes just on our own.
What we actually do is make some connections ahead of time before going on our trips. This helps to increase our chances of finding a nice compatible couple when we go to the resort or club.
SLS (SwingLifeStyle)

SwingLifeStyle.com
SLS is by far the biggest and most popular website for club and resort events. This is the website where Paradise Lakes resort posts all of its events. You can connect with other members that are going to these events ahead of time.
This website is free to join and check out but you will need to upgrade to use all of the messaging functions. SLS (SwingLifestyle) is a must for swingers that will be attending events and is the number one site I would recommend.
Adult Friend Finder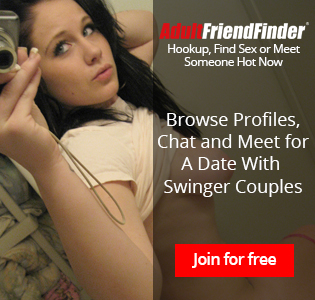 Adult Friend Finder is quite different than SLS (SwingLifestyle). It is more geared toward making individual connections with other swingers and not at meeting others at events or clubs. AFF users tend to post a lot more public pictures. We use AFF to set up one on one swinger dates outside of events.
Important Note To Male Paradise Lakes Resort Swingers
When my wife and I first started in the swinger lifestyle, we found all kinds of articles dealing with the fears and insecurities of women but very little for men. I found that with many swinger couples the woman has the confidence and the swinger drive while the man has major worries that hold him back.
1. Erection Quality in the Swinger Lifestyle
Having fun in the swinger lifestyle is hard when you are worried about maintaining your erection. This was a problem that I had at one point. The libido was there and I wanted to perform but I could not get the erection that I needed.
If you have any concerns about erection quality, check out this article on at-home acoustic wave therapy. This type of revolutionary treatment has been used by the Hollywood elite for years. The Phoenix Device let me get rock-hard erections that gave me the confidence for the swinger lifestyle.
Penis Size and the Swinger Lifestyle
Like many men, I had always been worried about my penis size. When my wife wanted to get involved in the swinger lifestyle, my penis size anxiety increased.
Check out The Truth About Swinger Penis Size for information on this delicate subject. What is the average swinger's penis size, does penis size matter to swingers, how to make your penis appear bigger, and how to make your penis bigger (yes, this is scientifically possible with a little catch).
The Swinger Inferiority Fear
This fear had a lot to do with the previous two issues but I was very worried that my wife would find me sexually inferior after dabbling in the swinger lifestyle. Would my jealousies and insecurities get in the way of our having a fun time?
Read Male Swinger Insecurities for the story of how I overcame these fears.
Nearby Resorts Related Articles
The following articles are on additional Florida swinger lifestyle resorts: