As a man that struggled with ED for years, I remember desperately wanting to have quality erections. I tried everything from the little blue pill to supplements and even prescription penis injections (ouch!) with little results. That is when I found my key to incredible erections in the Phoenix ED device.
The Phoenix ED device is an incredible method for men to enhance their erection quality. The at-home Phoenix device utilizes clinical strength targeted soundwaves (shockwaves) to improve your erection quality. My personal use of the Phoenix device completely reversed my erectile dysfunction.
So now let's take a look at the Phoenix ED device. We will look at what the Phoenix device is, how it works, what my situation was, what the Phoenix did for me, the cost of the Phoenix, how to save money on the Phoenix, the Phoenix at-home trial, and how the Phoenix let me embrace the swinger lifestyle.
Important Note: If you are considering the Phoenix Device be sure to check out our Current Phoenix Device Discount Codes article for some incredible codes that can save you some big money on your Phoenix Device. There is currently a $200 off discount code that is expiring very soon.
What is the Phoenix ED device?
The Phoenix device is an at-home device that uses Li-ESWT (Low-Intensity Extracorporeal Shock Wave Therapy) to help enhance erection quality. This device is easy to use, safe to use, does not require a prescription, and is relatively inexpensive when compared to other treatment methods.
The Phoenix shockwave device is an FDA-registered, Class 1 medical device. This is the same registration that clinical equipment receives. This same technology has been used successfully in clinics for more than a decade.
As we all know, poor blood flow is the leading cause of performance issues, like ED. The Phoenix shockwave device utilizes sound waves to enhance erection quality in two ways:
Safely dissolves plaque in existing vessels to promote improved blood flow.
Encourages the growth of new blood vessels to maximize blood flow.
The shockwaves are emitted by the wand-like device and into the shaft of the penis. You can hear the soundwaves but they are not that uncomfortable. The Phoenix device electronically guides the user to administer treatments to the correct area for the appropriate amount of time.
The video below offers a visual demonstration of what the Phoenix ED device does to enhance blood flow in the penis.
Results from the Phoenix ED device are not immediate but can become very apparent in as little as six treatments. The entire treatment protocol is for 120 days but many obtain amazing results much sooner.
This is the same technology that has been available to the rich and famous for years now. The most popular form of this treatment was known as GAINSWave.
The rich were receiving this type of treatment in professional medical settings at around $500 per session. So to go through one treatment cycle of 12 treatments in an office setting could cost you $6,000. Now the same technology is available to use from home with the Phoenix device at a fraction of the cost.
Did the Phoenix ED device work for me?
I achieved phenomenal results using the Phoenix ED device. I went from having an incredibly weak erection to now having very full and firm erections. This has made an incredible difference in my life.
I can not even begin to explain what a difference the Phoenix shockwave device made in my life. It allowed me to have something back that was lost forever.
Though my wife was extremely supportive of me when I suffered from ED, I was extremely hard on myself. The Phoenix let me get back the confidence that was missing. That confidence now shows in my sex life, my work life, and more. Erection quality can play a huge role in a man's overall confidence.
As you may have guessed from the name of the website (SwingerLifestyleGuide.com), I am active in the swinger lifestyle. To be active in this lifestyle erection quality can be extremely important but no matter what lifestyle you have every man deserves to have quality erections and the good sex life that goes with them.
Why I Needed the Phoenix shockwave device
I had suffered from erectile dysfunction for years prior to discovering the Phoenix ED device. My ED was probably caused by being overweight, high blood pressure, and diabetes. When my ED became severe, it really motivated me to change my lifestyle.
I lost 40 pounds, I got my blood pressure under control, and I got my diabetes under control. Unfortunately, this did not restore my erection quality.
I visited a number of urologists but they all seemed to have the same message. Try the prescription pills. If that doesn't work, do the prescription penis injections. If that doesn't work, get a penis implant.
The prescription pills (Viagra, Cialis, Levitra, Stendra) did little for me. The injections worked at first but became less effective over time. On top of that, pills and injections can be incredibly inconvenient and definitely a mood killer.
For obvious reasons, I really did not want to go the penis implant route. I understand that this operation can be a miracle for guys when all else has failed but I was not ready for it. The operation is not reversible and it will basically mean that the recipient will never have a natural erection again.
I really wanted to find some way to achieve a good quality natural erection again. Unfortunately, it seemed that all doctors and urologists were fixed on pills followed by injections followed by implant route.
Luckily before I went the implant route, I discovered the Phoenix shockwave device and it turned my life around. This device had the technology that let me regain erection quality like I had when I was much younger.
Does the Phoenix ED device work? My Actual Results
I remember when I first started my shockwave therapy. I had found out about this online and I had a lot of doubts about its effectiveness. As this was my last hope before giving serious consideration to going the penile implant route, I was committed to giving it a serious try.
Right prior to starting these treatments, I was able to obtain about an 80% erection by using prescription penis injections and a constriction band. This was effective enough to have sex but removed all spontaneity and a lot of the fun from having sex.
The first couple of treatments did not seem to do very much for me. I did not find them painful or difficult in any way. They just did not seem to do much for me. Around treatment number six was when I started to see results.
These results were not instantaneous or even dramatic at first. At about the sixth treatment mark, I found that I was able to obtain a usable erection with the prescription injections alone. At around the twelve treatment mark, I was able to obtain usable erections with just prescription oral medication (Cialis at the time).
Eventually, over a full six-month period, I was able to obtain full and firm natural erections. If you have not had ED then you have no idea what a wonderful feeling it is to achieve a natural erection again. I remember the excitement of waking up with morning wood for the first time in years.
I had ED that was pretty severe so many men will achieve results in a much faster time frame than I did. If you have less severe ED or are just looking for a tune-up in the performance area, you will probably see results in a few treatments.
Once I got to the point where I was having good-quality erections, I dropped my usage of the Phoenix ED device down to the level of only using it a couple of times a month. I refer to these as my "maintenance" treatments to keep me running at a performance level.
Does the Phoenix ED device work? Absolutely. I can say with 100% confidence that the Phoenix worked to give me back quality erections.
What does the Phoenix ED device cost?
The base cost of the Phoenix ED device is $879. I know this is expensive but there are a couple of ways to make it more affordable. See the promo code section below for details on how to save money on your Phoenix device.
As another option, Phoenix offers special financing that makes it possible to get your device for as low as $41 per month.
The Phoenix ED device cost is actually not that bad when you compare it to the alternative.
The cost per treatment session for the Phoenix ED device is $12.55. To see how this is calculated see the How many treatments do I get from the Phoenix ED device section below.
This is less than 3% of the cost of a similar treatment session if you received it at a medical office. When compared to the $500 cost of a GAINSWave or any other shockwave therapy session, this is an incredible deal.
I have used my Phoenix shockwave device for over 100 sessions since I bought it. If I had paid for these sessions at a medical office, I would have spent around $40,000 to $50,000 to get and maintain my results. I never would have been able to afford that kind of treatment.
Compare the cost of the Phoenix treatments to 2 1/2 years of any other treatment methods and you will be surprised. Quality supplements will be much more expensive, prescription meds will probably be more expensive, and injection therapy will definitely be more expensive.
This does not even begin to factor in the actual quality and effectiveness of the Phoenix ED device. When you take all of this into consideration, add in the 90-day guarantee and you really can't afford to not try the Phoenix.
How long does the Phoenix device last?
The Phoenix ED device is designed to deliver 70 full clinical strength treatments (about 1,000,000 shockwave pulses). It will still work after these 70 treatments but it may not be at full strength.
I have personally used my Phoenix for over 100 treatments and I do not feel any difference from treatment number one.
So, how long does the Phoenix device last? If you use Dr. Thompson's 120-Day Protocol which is in the Phoenix ED device user's manual as a guide for treatment, you will get about 2 1/2 years of use from your Phoenix device before seeing a decline in device performance.
But even if you only get the 70 treatments and you pay full price for the Phoenix (please don't do that), you are only looking at about $12.55 per treatment. Compare that to the $500 per treatment that you spend on an in-office Li-ESWT treatment like GAINSWave.
When you calculate your time savings on the office visits, the gas money to go to the office, the not-so-fun experience of some med tech that would rather be somewhere else running a wand across your penis than the money you save is even more.
How To Save Money With Phoenix Device Promo Codes
The Phoenix Device is a great value but it can still be expensive. You should never have to pay full price to try this incredible treatment for erection quality.
To find the currently available discount codes just visit Current Phoenix Device Discount Codes. This webpage is updated with the best available discount codes for the Phoenix Device. There is always a current code so there is no need to pay full price.
Using these Phoenix device promo codes is like a permanent Phoenix device sale.
Phoenix ED Device 90-Day Home Trial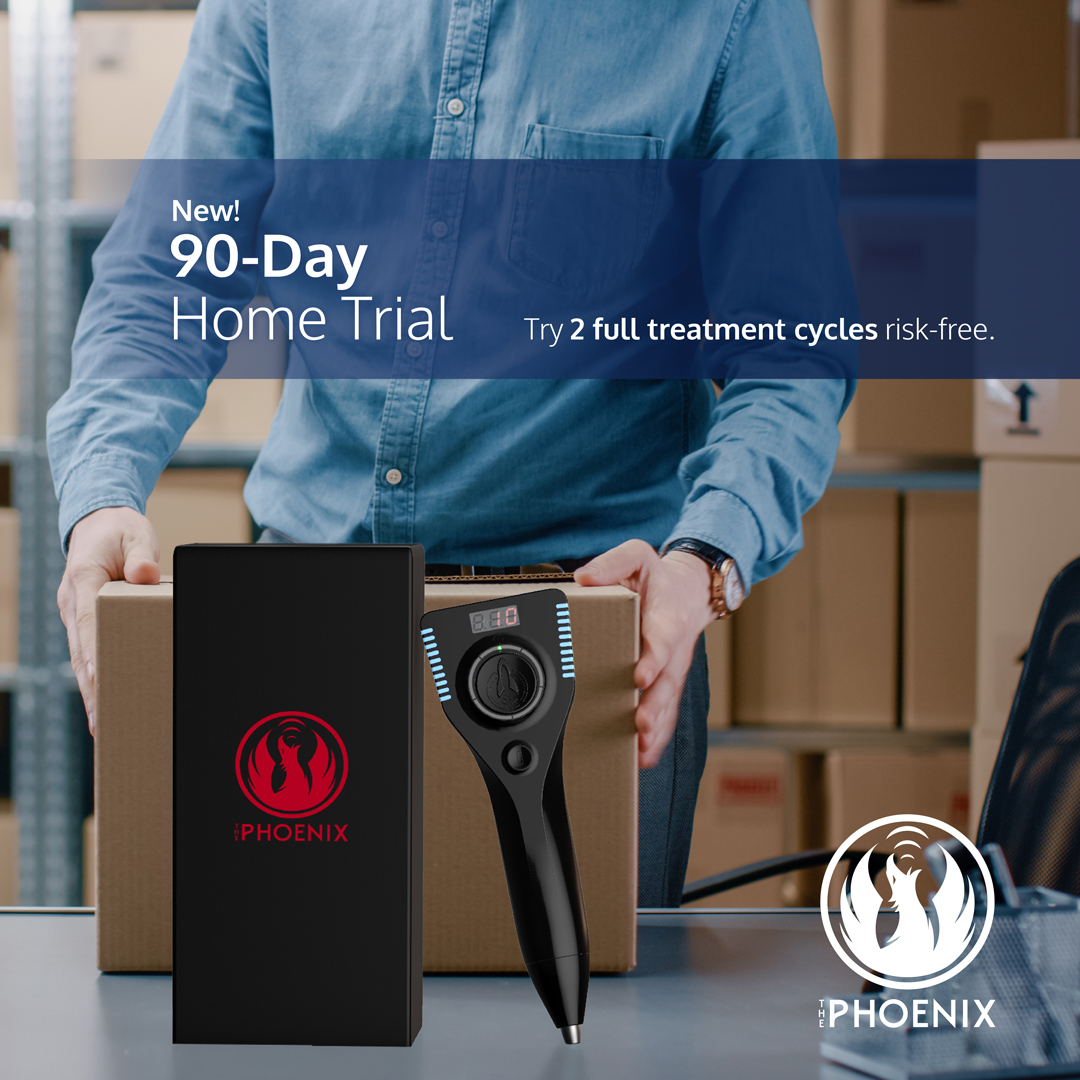 Since every man is different, I can not say that the Phonix shockwave device will work for everyone. Just like Viagra works for some men but did nothing for me, I am sure that some men will get minimal results from the Phoenix even though it did wonders for me.
As a matter of fact, the Phoenix device reports a 94% success rate from users. I am sure this is a much higher success rate than what you will find with any other ED treatment.
But the Phoenix device is an investment and that can be a little scary. To help ease your mind the Phoenix ED device now offers a 90-day home trial. This is an incredible way to try out this product and verify that it works for you.
You have 90 days from the date of delivery to return for a full refund. This is an incredible opportunity to try this incredible treatment program.
I know what it is like to have erection issues. I know the feeling when you start to feel that nothing is going to work for you and that you are just throwing your money away. Use this 90-day home trial to ease your mind and verify your results.
Don't go another day with erection issues if you can do something about it. I am not saying that it will work for everyone because nothing does. But it worked for me and thousands of other men. If it's not for you, return it within 90 days for a full refund.
Go to https://www.getmyphoenix.com/SwingerLifestyleGuide for more info on this 90-day home trial.
Do scientific studies show that the Phoenix ED device works?
The shockwave technology utilized by the Phoenix device utilized your body's own healing powers to enhance your erection quality. In my opinion, it seems obvious to me that this is a much healthier approach than any medications that you ingest or inject into your body.
Below you will find some studies detailing the benefits of this type of treatment for erection quality:
How do I use the Phoenix shockwave device?
The Phoenix ED device is extremely easy to use. When you first open the package it may seem a little intimidating but the built-in guides are easy to use. Just follow the user manual or videos to properly use this device.
What is an individual Phoenix device treatment cycle?
Each individual treatment cycle takes about 15 minutes to complete. Once you complete a treatment cycle, the device will lock you out for 36 hours. This prevents the user from overdoing their treatment process.
The following are the basic steps to a treatment cycle:
The Phoenix device needs to be plugged in in order to work. It does not need to be plugged in when not in use.
The device will run through its start-up cycle. The display will give you information on the number of times the device has been used. This lets you determine where you may be in the life cycle of the device. I have found the device to be effective for much longer than the advertised lifespan.
You can apply numbing cream to the penis if you feel that you need it. I do not find the treatment process to be painful at all but they provide some numbing cream to start out with if you feel the need.
Apply water-based lubricant to the tip of The Phoenix or on the penis. This helps the device move smoothly along the shaft.
Press the button to start the device. The device will have a light near the center indicating where along the shaft to use the device. There is one position along the top of the shaft and two positions on each side. You do not use the device on the bottom of the shaft where your urethra is.
The lights on the side will guide you in running the device along the shaft of the penis. Start at the top of the shaft just below the head of the penis. As the lights move down on the device, move the tip of the device down along the shaft. When the lights have gone all the way down, you should be at the bottom of your penis shaft where it meets the body.
The device will prompt you to take ten passes along the penis shaft. Once you have done this, it will shut off and prompt you to move on to the next position on your penis (two on each side of the shaft and one at the top of the shaft). You hit the start button and repeat twice on each of the five positions.
Once the therapy is completed, the device will lock out for 36 hours. This prevents anyone from overdoing it.
The video below demonstrates this process.
What is the Phoenix ED device recommended treatment protocol?
The Phoenix ED device user manual includes a treatment protocol that is recommended by Dr. Thompson. He recommends this course of treatment to maximize results. Using this treatment protocol, it is reported that 94% of users achieve positive results.
| | |
| --- | --- |
| Day | Protocol |
| 1-30 | Complete two treatments per week |
| 31-60 | Recovery period. No treatments. |
| 61-90 | Complete two treatments per week |
| 91-120 | Recovery period. No treatments. |
| 121+ | Complete cycles of maintenance treatments every 6-12 months. |
Phoenix ED device treatment protocol
My Story of the Phoenix Device and the Swinger Lifestyle
Whether you are involved in the swinger lifestyle or not, you may find this section to be very relevant to your sex life.
A few years ago my wife and I were discussing joining the swinger lifestyle. I was definitely interested in this lifestyle but my struggle with ED filled me with a lot of insecurity about this decision.
My poor erection quality had already left me feeling inadequate. I could only imagine how bad I would feel watching my wife fooling around with a fully functioning guy while I was sitting on the sidelines with some other woman all limp and disappointed.
This insecurity from my poor erection quality kept me from fully joining the swinger lifestyle for way too long. Once I found the Phoenix device and completed my treatment program. I was more than able to embrace this lifestyle without fear about my performance level.
Now I am in my mid-fifties and I can perform better than most men half my age. I can easily have sex multiple times per night. This is not with just an adequate erection but with a fully hard erection. I often say like when I was a teenager but I am not even sure if it was this good back then.
When you talk to swingers and ask what is the most attractive thing in a male swinger, they will usually say confidence. The Phoenix device will give you the confidence to know that you can perform.
Even if you are not in the swinger lifestyle, this ability to perform and the confidence that it brings will be attractive to the woman in your life. Don't sell yourself short when you can work to restore and maximize your natural erection ability.
My overall Phoenix ED device recommendations
I can not stress enough how much I recommend the Phoenix ED device to any man that wants to improve his erection quality. Erection quality can be such an important part of a man's emotional well-being. I know that when I suffered from ED that my whole life became a mess.
The Phoenix was phenomenal in restoring my erection quality when I had given up on everything else. Do not give up on having quality natural erections without trying this device.
With the 90-day home trial, you really owe it to yourself to try this device and see what type of natural erection you can achieve. I could not believe the results that I achieved. My sex life is now in a spot that I thought was impossible for me to achieve.
No matter what you choose to do about your erection quality, I wish you the best of luck and hope that you go out and enjoy your life to the fullest.