My wife and I have had fun at swinger spots in Rhode Island. We have had a wonderful time checking out these spots and playing in this state and across the country and love sharing our stories. That leads to the question, what is available for Rhode Island swinger clubs and Rhode Island swinger resorts?
In general, Rhode Island swingers have excellent options for swinger play. There are a couple of excellent Rhode Island swinger clubs available. There are no Rhode Island swinger resorts available but local swinger groups often hold hotel takeovers that create a temporary swinger resort.
So let's take a look at what is available for Rhode Island swingers. The Rhode Island swinger clubs, the swinger resorts, and the swinger groups that can make the fun happen. If you are a man that is new to the swinger lifestyle be sure to check out the Important Note To Male Rhode Island Swingers section.
Top Rhode Island Swinger Clubs
There are a couple of Rhode Island swinger clubs available to check out in the Electricity Social Club and Choice Social Club. These clubs offer Rhode Island swingers a great chance to meet up with like-minded people and have some fun.
Both Rhode Island swinger clubs offer opportunities for on-premise play which my wife and I truly love. This lets you meet up with tons of new people at the club and allows for things to progress without having to leave and go back to a hotel room.
If you are a local swinger, we highly recommend checking out these clubs. While they can be pretty wild, they are in a no-pressure environment. If you are new to the lifestyle, you can stop in and check everything out without anyone pushing you to do anything.
In addition to the Rhode Island swinger clubs, there are some other nearby clubs in Massachusetts and Connecticut that you can check out. We suggest checking out all of the clubs near you as you will meet a bunch of fun people and can make a bunch of little getaway weekends.
ELECTRICITY SOCIAL CLUB
122 Manton Ave
Right Tower, 2nd Fl
Providence, RI
https://www.electricitysocialclub.com/
The Electricity Social Club (ESC) is a Rhode Island swinger club located in Providence. ESC is open to couples, single women, and single men. This club is open on Friday and Saturday nights from 9 pm to 2 am.
This is a very large club for the New England area. They have a BYOB bar that provides mixers, a dance floor with a full sound and light system, a stripper pole, lockers, multiple private playrooms, a small dungeon area, a couple of group bed areas, a large lounge area, and a smoking room
The atmosphere at Electricity Social Club is very relaxed. The bar area is friendly and seems almost like a neighborhood bar but it changes quickly from there.
Off the bar area is the main room that has the dance floor and lounge area. This is where most hang out through the night. On our trips there, we have seen plenty of play going on right in the main area. As the night goes on this area can be very intense.
We had a great time in this lounge area both watching and playing.
One thing to be aware of at this Rhode Island swinger club is that this club does have a lot of single men. I would say that we found the gender split at ESC to be about 40% single guys, 50% couples, and 10% single women.
This concentration of single men can be good or bad depending on what you are looking for. My wife loves the attention she gets when we go to Electricity Social Club. It gets her juices flowing and revved up for a fun night.
You make event reservations online at the ESC website but pay at the door. The entrance fee for most events is $20 for single women, $100 for single men, and $70 for couples. A membership to ESC is required for entry and it is $20/year per person.
You can read our complete review of the Electricity Social Club here.
Choice Social Club
Providence, RI
(401) 274-3700
https://www.choicesocialclub.com/
Choice Social Club is another large Rhode Island swinger club. This 8000 sq foot swinger club offers is open to 21+ couples, single males and single females. They do balance out male and female attendees to events which will limit the number of single men
Choice Social Club is open most Saturday evenings from 8:30 pm to 2 am. They also occasionally have Friday evening events.
Their website describes their club as, "As an adult lifestyles club we attract people who identify as heterosexual, bisexual, transgender, and gay. Our members are interested in swing, voyeurism, exhibitionism, and fetish play (bd/sm, body worship, and just about anything else that's legal!)."
Amenities include a dance floor with a video wall, professional sound, and lighting, a BYOB bar, 14 private and semi-private playrooms (with specialty themes), a VIP area, a stripper pole, a BDSM area, lockers and showers, and a voyeur room.
We really loved this club and found it to be the best spot for us in New England to hook up with other couples. We found the Choice Social Club to be very clean and comfortable. The other guests here were just great and the Saturdays were a great social event.
My wife tends to let loose and enjoy herself at a swinger club like Choice Social Club because of how clean and professional the club is. It is impressive to see staff cleaning during the night as you do at Choice Social Club.
You need to have an annual membership which starts at $100 for single men, $65 for single women, or $45 for a couple. The typical fee to attend an event for a member is$100 for single men, $5(or free if you arrive early) for single women, or $90 for a couple.
You can read our complete review of Choice Social Club here.
Top Rhode Island Swinger Resorts
I have to admit that our favorite swinger venue is the swinger resort. We love hanging out nude at the hot tub or conversation pool and making new friends. There is nothing like relaxing with a drink in hand while surrounded by other swingers.
Unfortunately, there are no true Rhode Island swinger resorts but swingers in Rhode Island still have options. One option is to utilize some local nudist resorts to meet up with your swinger connections. Check out Rhode Island Nude Beaches and Resorts for some local nudist options.
These nudist resorts have quite a different crowd from a swinger resort but some may find these spots of some use. Check out Naturist or Swinger Nude Resorts and Beaches for the difference between these types of places.
What we have done is meet up with other swingers at nudist resorts. You can still hang out in the nude at the hot tub and pool but you just can't play there. You have to wait and have fun once you get back to your room. Your options to meet other swingers are severely limited but you can still have fun with friends.
We would often use these resorts to meet up with friends that we met online at swinger sites like SLS (SwingLifestyle). We would make new friends online and then do our first meeting with them at the nudist resorts.
Another option for you if you are seriously interested in checking out some real first-class swinger resorts, is for Rhode Island swingers to grab a flight to Florida and check out the incredible Florida swinger resorts. These are the swinger resorts that we truly love.
Local Rhode Island Nudist Resorts
As I mentioned above, these places are not Rhode Island swinger resorts but they can be great places for swingers to meet up. Here are some of the local nudist spots that you can use. If you want a full review of these nudist spots you can check out Rhode Island Nude Beaches and Resorts.
I have also included some nudist resorts from neighboring Massachusetts and Connecticut.
Dyer Woods Nudist Campgrounds
114 Johnson Road
Foster, RI 02825
401-397-3007
http://dyerwoodscampgrounds.com/
Berkshire Vista Resort
PO Box 1177
312 Kittle Road
Hancock, Ma. 01237
413-738-5154
http://www.berkshirevista.com/
Sandy Terraces Associates
570 Wakeby Rd
Marstons Mills, MA 02648
(508) 428-9209
http://www.sandyterraces.com/
Sun Ridge Resort
131 Calvin French Rd
Sterling, CT 06377
(860) 779-1512
https://sunridgeresortct.com/
Solair Recreation League
65 Ide Perrin Rd
Woodstock, CT 06281
(860) 928-9174
https://www.solairrl.com/
Rhode Island Swinger Groups
A great alternative to swinger clubs and swinger resorts is to use Rhode Island swinger groups. These groups occasionally put on events throughout the year. These events can include things like house parties, hotel takeovers, and group trips.
Most of these groups communicate through social groups like SLS (SwingLifestyle) to organize events and meet up with fellow group members.
Group Escapades
https://escapadesnewengland.com/
Group Escapades is mostly a Rhode Island swingers group though they do sometimes put on events in Massachusetts. They put on events like club takeovers. These events are geared mostly toward couples and single women.
Most of the Group Escapades events involve the takeover of the Platforms Night Club in Providence, Rhode Island. They organize their events on SLS (SwingLifestyle) which is a great place to check out what they have coming up.
Meeting Up With Rhode Island Swingers
There are a couple of online sites that Rhode Island swingers use to meet up with other local swingers. These sites are SLS (SwingLifestyle) and AFF (Adult Friend Finder). We use these sites to meet the couples that we hook up with at the swinger clubs, swinger resorts, and sometimes just on our own.
SLS (SwingLifeStyle)

SwingLifeStyle.com
SLS is by far the biggest and most popular website for Rhode Island swingers. This is the website where Rhode Island swinger clubs and Rhode Island swinger groups post all of their events. You can connect with other members that are going to these events ahead of time.
This website is free to join and check out but you will need to upgrade to use all of the messaging functions. SLS (SwingLifestyle) is a must for swingers that will be attending events and is the number one site I would recommend.
Adult Friend Finder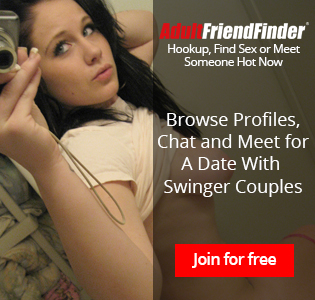 Adult Friend Finder is quite different than SLS (SwingLifestyle). It is more geared toward making individual connections with other swingers and not at meeting others at events or clubs. AFF users tend to post a lot more public pictures. We use AFF to set up one on one swinger dates outside of events.
Important Note To Male Rhode Island Swingers
When my wife and I first started in the swinger lifestyle, we found all kinds of articles dealing with the fears and insecurities of women but very little for men. I found that with many swinger couples the woman has the confidence and the swinger drive while the man has major worries that hold him back.
1. Erection Quality in the Swinger Lifestyle
Having fun in the swinger lifestyle is hard when you are worried about maintaining your erection. This was a problem that I had at one point. The libido was there and I wanted to perform but I could not get the erection that I needed.
If you have any concerns about erection quality, check out this article on at-home acoustic wave therapy. This type of revolutionary treatment has been used by the Hollywood elite for years. The Phoenix Device let me get rock-hard erections that gave me the confidence for the swinger lifestyle.
Penis Size and the Swinger Lifestyle
Like many men, I had always been worried about my penis size. When my wife wanted to get involved in the swinger lifestyle, my penis size anxiety increased.
Check out The Truth About Swinger Penis Size for information on this delicate subject. What is the average swinger's penis size, does penis size matter to swingers, how to make your penis appear bigger, and how to make your penis bigger (yes, this is scientifically possible with a little catch).
The Swinger Inferiority Fear
This fear had a lot to do with the previous two issues but I was very worried that my wife would find me sexually inferior after dabbling in the swinger lifestyle. Would my jealousies and insecurities get in the way of our having a fun time?
Read Male Swinger Insecurities for the story of how I overcame these fears.