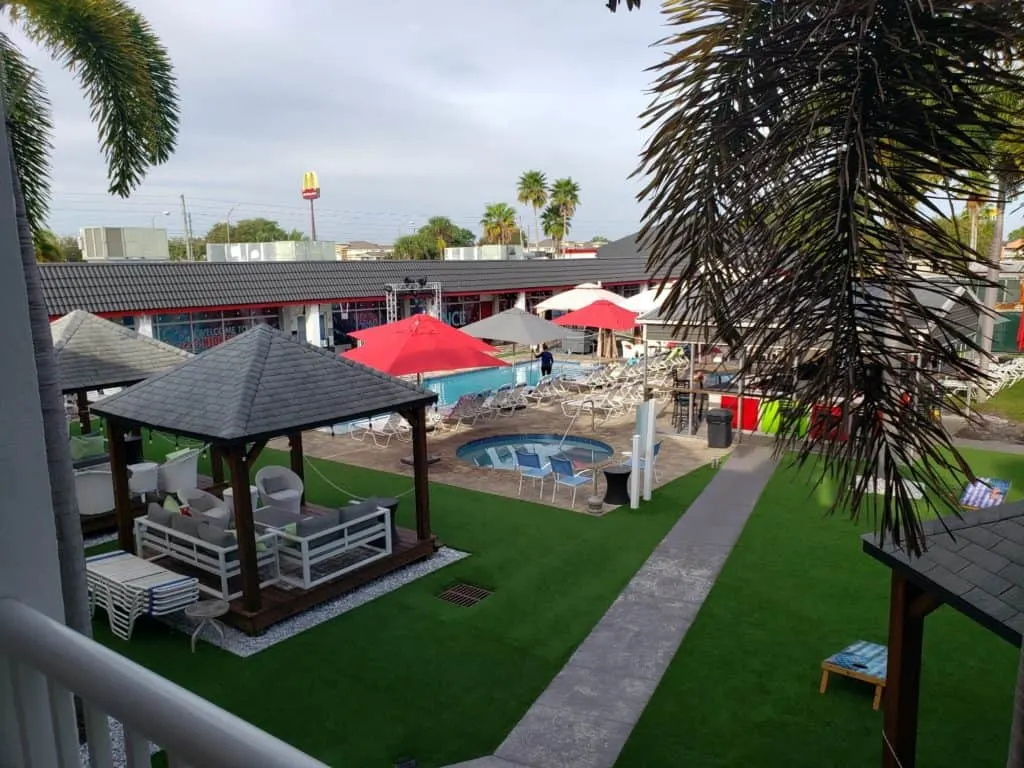 My wife and I have been visiting swinger lifestyle resorts for some time now. We have found that most of our favorite resorts are in Florida. With all of our travel experience, we offer this Secrets Hideaway review and answer the question "Is Secrets Hideaway swinger lifestyle resort worth a visit?"
Secrets Hideaway is a must-visit for any that are into the swinger lifestyle. Despite lacking many of the amenities that you would expect in a vacation resort, Secrets Hideaway makes up for it by catering to the swinger lifestyle. This Orlando spot is the actual happiest place on Earth for many.
So now let's take a look at what Secrets Hideaway has to offer. We will look at the resort amenities, accommodation options, the swinger lifestyle scene at the resort, and the pricing of the resort. If you are a man that is new to the swinger lifestyle be sure to check out the Important Note To Male Secrets Swingers section.
Secrets Hideaway Review
We visited Secrets Orlando in the spring of 2022. At this time, they were doing a lot of renovations and we look forward to going back once the renovations are done.
Overall, we give Secrets Hideaway Swinger Lifestyle Resort an above-average rating for those in the swinger lifestyle. We found that this resort had excellent swinger amenities including a really great playroom, a high-quality dungeon, and a great nightclub.
This Orlando swinger resort did have a couple of shortcomings that kept it from getting an excellent rating. These shortcomings were with the quality of some of the hotel rooms, the lack of resort amenities, and the quality of the restaurant facilities.
This clothing-optional resort is located in Kissimmee, Florida. This is near Disney, Universal, and all of the other travel destinations in Central Florida.
If you are looking for a high-class resort where you are pampered and feel like you are somewhere special, I would suggest trying some place like the Caliente. If you want a relaxing slower-paced resort then I would suggest Paradise Lakes.
But if your goal is to find a fun, loud, party atmosphere, and sexually charged swinger lifestyle group of people then Secrets Hideaway could be exactly what you are looking for.
If you are really into the swinger lifestyle then you need to try out Secrets Hideaway at least once due to the quality of the adult facilities. They have an excellent adult playroom and a high-quality adult dungeon. These two areas make the trip worthwhile on its own.
While there is not much different going on at Secrets Hideaway as compared to other swinger-lifestyle resorts, it may be a little intense if this is your first stop in this lifestyle.
There are not a lot of options for entertainment or relaxation at Secrets other than swinging activities. The guests here seem to embrace that and dive right into the swinger lifestyle.
Resort Facilities at Secrets Hideaway
The regular resort facilities and amenities are where Secrets Hideaway Swinger Lifestyle Resort is lacking. They are making investments and there are upgrade projects taking place so it could be improving greatly in the future. Overall, we give these resort facilities a rating of below average.
This resort is a converted hotel that is still in need of a lot of renovations. The facility is not dirty but just looks very dated in spots like the bathrooms, hotel rooms, and dining facilities. On our visit there, they also seemed to be very short-staffed which only made things seem worse.
A list of the resort amenities at Secrets Hideaway includes:
Conversation pool
two hot tubs
poolside tiki bar
On-site dining option
On-site nightclub
Adult Playroom
Adult Dungeon Facility
On-site adult store
A few things that are missing that you would expect at a resort would be no exercise room, no sit-down dining area (they currently have a tent with tables), no spa facility, no outside tables with chairs (lounge chairs only), and no walking trails.
The nightclub is really good at Secrets Hideaway. They have two bars inside with a decent sound and light show. The music is modern so don't be expecting any classic rock.
At this time they only have one relatively small pool available in addition to the two hot tubs. They are in the process of building a new large pool that will be in the central courtyard. This pool which should be available in the late fall of 2022 should greatly enhance the facility.
Once again, they make up for these shortcomings with their excellent swinger lifestyle facilities. Just that it feels more like a budget Motel 6 instead of a resort when it comes to the actual nonlifestyle facilities.
A Note About the Accommodations at Secrets Hideaway
There are two types of rooms at Secrets Hideaway. There are unrenovated hotel rooms and renovated condo units.
Both types of accommodations are still basically hotel rooms. The condo units are hotel rooms that have been sold off to individual owners.
The owners then update and renovate their units usually adding a bunch of personal touches. Condo owners can only stay in their units for a limited number of days and the units have to be available to rent out for the other days.
When you book from their website, you can pick the individual room that you are going to stay in. You will get to see pictures of the room. Just be a little leary of the ones that do not look new.
The unrenovated hotel rooms are generally less expensive but that does not necessarily make them a good deal. We rented one of the rooms and were very unhappy with the quality of the accommodations.
The pictures above are from one of these unrenovated rooms. It had been cleaned but did have issues like broken outlets, no working lighting in the bed area, slow draining toilet, and chipping around the tub. We do not expect five-star locations but were expecting a little more.
We checked out some of the renovated condo units and this was a totally different story. While not what I typically think of as a condo unit but they were still well done for the most part. They were definitely in better shape than the other rooms.
These rooms often have extra amenities for the swinger lifestyle like sex swings and stripper poles. If you can afford the upgrade, these special rooms will definitely make your stay much more enjoyable.
Some Things to Consider Before Booking
Florida is the best place in the USA for swinger lifestyle resorts. If you are interested in seeing all that they have to offer check out Top 5 Florida Swinger Lifestyle Resorts.
If you are a man dealing with some of the insecurities that I know I felt when we started visiting swinger lifestyle resorts, be sure to check out the Important Note to All Men Section.
The Adult Playroom at Secrets Hideaway Swinger Lifestyle Resort
The adult playroom is the top feature at Secrets Hideaway. The playroom is really big and offers numerous areas to explore the swinger lifestyle. You can not wear clothes in this area but you can wrap yourself in a towel if you want.
At the entrance to the playroom area is a locker room. Since you are not able to wear clothes or take your cell phone in, you will probably need a place to store these items.
You do have to pay for the lockers but it is a reasonable nightly fee of $8 for a small locker and $10 for a large locker. Each locker has a couple of towels in it.
There are some attendants at the entrance that you can ask any questions. While the adult playroom has several "call attendant" buttons, you do not see attendants rooming around, cleaning, or supervising as you do at some other playrooms.
Near the entrance, there is a large group shower area that you can use to clean up before or after using the playrooms. This area also has a big laundry bin to place dirty linens in.
Right next to this area are a bunch of shelves with clean sheets. You are expected to put down sheets on any area that you lay down or sit down on.
Then you are on to the fun parts of the Secrets Hideaway Playroom.
How the Playroom Work
The first group of rooms that you come to are five separate rooms with doors. These rooms have multiple beds and/or a bed and couch combo. The rooms have doors that you can shut but are equipped with windows to look in.
These rooms are meant so that you can put on a show or do some side-by-side play with another couple in the other bed. The general rule is if the door is open then you can go in the room to watch or start using another bed or couch in the room. If the door is shut then you can only look through the window.
No matter what, nobody is allowed to physically interact with another person without getting permission first. Failure to follow this one big rule will get you booted from the playroom immediately.
The next room that you come to is a large group play area. This area has several beds that are pushed together so that groups can play on them. This area also has a couple of couches to sit and watch from.
The last section has a number of beds that are closed off by sheer curtains. This allows you to play with a small degree of separation from everyone else. This section also has seating facing a large screen that plays porn. It is a good spot to play out any movie theater fantasies that you may have.
This playroom area is a lot of fun and stays pretty full on the weekend. There is plenty of activity to watch or participate in.
Playroom Hours
The playroom at Secrets Hideaway has the best hours of any of the big Florida resorts.
The playroom hours are as follows:
Monday thru Thursday – 730 pm to 2 am
Friday – 730 pm to 4 am
Saturday – noon to 5 pm and 730 pm to 4 am
Sunday – noon to 5 pm and 730 pm to 2 am
The Club Swinkster Dungeon at Secrets Hideaway Swinger Lifestyle Resort
Club Swinkster is a "dungeon" area at Secrets Orlando where people can explore their kinks in a safe environment. This is a lot less scary than how it may sound.
When we visited, my wife and I were pretty sure that this was not our thing. By the time we did a tour and talked to the people there, it still wasn't our thing but we could see how some could find it appealing.
First of all, there are no dangerous activities going on at Club Swinkster. This area is well supervised to make sure that everyone is a willing participant and that no one really gets hurt.
There are several different kinks that you can explore at Club Swinkster including light bondage, caging, teasing, light whipping, and peepholes. The attendants here will provide you with instructions on how to safely participate in all the activities.
The attendants here are great about taking you on a quick tour and explaining all of the different items in the room.
If this is something that you fantasize about then you will really want to try this out. If it is not something that you fantasize about, it is still worth taking the tour to see what it is all about.
Club Swinkster hours are as follows:
Monday – closed
Tuesday – 10 pm to 2 am
Wednesday – closed
Thursday – 9 pm to 1 am
Friday – 10 pm to 2 am
Saturday – 10 pm to 2 am
The Sex Scene at Secrets Hideaway Swinger Lifestyle Resort
This whole resort is just sexually charged at all times. It is a little strange because while this clothing-optional Orlando swinger resort does have some public nudity it is less common than at similar resorts.
This may be because there is so much activity going on in the playrooms. In addition, the playrooms are open more at this resort than at the other resorts.
The sex at Secrets Hideaway is not limited to the playrooms. Though less common than at some other swinger lifestyle resorts, there was some sexual activity going on both poolside and at the hot tubs.
The one thing that I did see at this Resort was there was a lot more partying going on in the rooms. These parties often led to much of sexual adventures happening in the rooms.
Most people were very friendly and it was very easy to get invited to a room party.
On our visit to Secrets Orlando, we found a great swinger sex scene. We had a great time in the playrooms. Everyone in the playrooms was very open and friendly. It was very easy to find another couple to share a room with us for some soft swap action.
The playrooms had a lot of group sex action going on at different times. The group area in the middle room was pretty much in constant use on Friday and Saturday nights. This resort was very open and you could easily find other interested couples with just a little effort.
The one disappointing part of the sex scene when we visited was the lack of nudity at the pool and hot tub. We find that this nudity just enhances the whole sexual experience. To be fair, it was unusually cold and windy during our visit which probably kept a lot from taking it all off.
Pricing at Secrets Hideaway Swinger Lifestyle Resort
The prices for accommodations at Secrets Hideaway vary greatly depending on what type of room you get.
The unrenovated rooms run from $65 on some weeknights to $125 on some weekend nights. The prices on the renovated condo rooms run from $120 per night on weekdays up to $255 per night on weekends.
Unless you are on an extreme budget, I highly recommend the renovated upgrade rooms. You can see pictures of all of these rooms on the reservation section of their website.
In addition to the room rates, you have to pay a membership fee (one month was $35 for a couple) and entry fees ($10 for a couple on Mondays up to $50 for a couple on Saturdays). Night event fees are in addition to this as well and they can run from $25 a night up to $50 a night.
So when my wife and I went and stayed for three nights, we had a $35 membership fee, $105 in resort fees, and $115 in event fees. Keep this in mind because it does add quite a bit to your total cost. You will find that these total fees are often less than the day fees at other resorts.
The food and drink prices at Secrets Hideaway were pretty good. We could get a beer and a mixed drink for around $12 in total. The food was reasonably priced as well.
Most breakfast, lunch, or supper meals were all in the neighborhood of $10.
If you could not find something on the menu that you liked there were multiple restaurants in the area including Denny's which is right next door.
Our review score for the pricing at Secrets Hideaway Swinger Lifestyle Resort is that the prices are pretty reasonable.
The Average Age, Body Type, Penis Size, and Sex at Secrets Hideaway
We found that the average age at Secrets Hideaway was a little younger than what we had encountered at some of the other resorts. While the age range was all over the place from the twenties to the sixties, the average age on weekends was probably around 40.
The average body type at Secrets Hideaway seemed to be right in line with what you would find in the general public. You could find all body types here.
This resort seemed to have the closest to a 50/50 mix of the sexes that we have encountered at swinger resorts. While most people were part of a couple, we found both single men and single women at the resort.
Another question that is commonly asked is about penis size at this type of resort. A lot of men are concerned about this prior to their first visit to a place like this.
If this concerns you, the good news is that it is not a big deal to most people. The bad news is that penis size at this type of resort tends to be bigger than what you find in the general population. Basically, it seems that men with bigger penises are more comfortable showing them in public.
To learn more about this issue, you can check out Penis Size at Nudist Resorts for more information.
Where is Secrets Hideaway Swinger Lifestyle Resort Located?
The exact location and contact information for Secrets Hideaway Resort is:
2145 E Irlo Bronson Memorial Hwy
Kissimmee, FL 34744
(844) 563-6969
https://www.secretsfl.com/

This Orland swinger resort is located right in the heart of the Central Florida resort area. It is close (within a 1/2 hour drive) to Disney, SeaWorld, and Universal Studios. There is basically an unlimited number of places that you can go and see while staying at this resort.
Meeting Up With Secrets Hideaway Swingers
There are a couple of online sites that Secrets Hideaway swingers use to meet up with other swingers. These sites are SLS (SwingLifestyle) and AFF (Adult Friend Finder). We use these sites to meet the couples that we hook up with at the swinger clubs, swinger resorts, and sometimes just on our own.
What we actually do is make some connections ahead of time before going on our trips. This helps to increase our chances of finding a nice compatible couple when we go to the resort or club.
SLS (SwingLifeStyle)

SwingLifeStyle.com
SLS is by far the biggest and most popular website for club and resort events. This is the website where Secrets Hideaway posts all of its events. You can connect with other members that are going to these events ahead of time.
This website is free to join and check out but you will need to upgrade to use all of the messaging functions. SLS (SwingLifestyle) is a must for swingers that will be attending events and is the number one site I would recommend.
Adult Friend Finder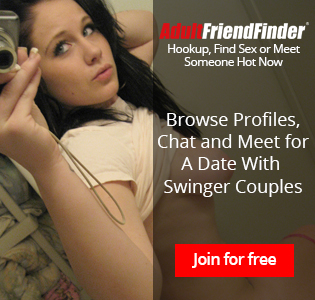 Adult Friend Finder is quite different than SLS (SwingLifestyle). It is more geared toward making individual connections with other swingers and not toward meeting others at events or clubs. AFF users tend to post a lot more public pictures. We use AFF to set up one on one swinger dates outside of events.
Important Note To Male Secrets Swingers
When my wife and I first started in the swinger lifestyle, we found all kinds of articles dealing with the fears and insecurities of women but very little for men. I found that with many swinger couples the woman has the confidence and the swinger drive while the man has major worries that hold him back.
1. Erection Quality in the Swinger Lifestyle
Having fun in the swinger lifestyle is hard when you are worried about maintaining your erection. This was a problem that I had at one point. The libido was there and I wanted to perform but I could not get the erection that I needed.
If you have any concerns about erection quality, check out this article on at-home acoustic wave therapy. This type of revolutionary treatment has been used by the Hollywood elite for years. The Phoenix Device let me get rock-hard erections that gave me the confidence for the swinger lifestyle.
Penis Size and the Swinger Lifestyle
Like many men, I had always been worried about my penis size. When my wife wanted to get involved in the swinger lifestyle, my penis size anxiety increased.
Check out The Truth About Swinger Penis Size for information on this delicate subject. What is the average swinger's penis size, does penis size matter to swingers, how to make your penis appear bigger, and how to make your penis bigger (yes, this is scientifically possible with a little catch).
The Swinger Inferiority Fear
This fear had a lot to do with the previous two issues but I was very worried that my wife would find me sexually inferior after dabbling in the swinger lifestyle. Would my jealousies and insecurities get in the way of our having a fun time?
Read Male Swinger Insecurities for the story of how I overcame these fears.
Nearby Resorts Related Articles
The following articles are on additional Florida swinger lifestyle resorts: