We have been in the swinger lifestyle for years and have truly loved our experiences. In that time, we have met so many single male swingers (bulls). Some have been great and some have been not so great. So what makes a great swinger lifestyle bull?
In general, what makes a great swinger lifestyle bull are the same things that make a person great in the vanilla world. Personality and respect are even more important than sexuality and good looks. There are tips that can definitely help a single male swinger have success and get to play.
So let's take a look at a few things that may help the single male swinger out. These are our tips and hints to help a bull have some success in the swinger world. We have also included tips on how a single male swinger can meet Swinger Couples Online to have fun and play with.
Single Male Swinger Guide
This single male swinger guide is made from the outlook of a swinger couple. This is what my wife and I look for and expect when we are looking for a swinger lifestyle bull. In talking to many other couples, we are really sure that our expectations are fairly common.
To make sure that we are all on the same page. In this article, we are defining a swinger couple as a male and female couple that is usually married or in a committed relationship. We are defining a bull as a single male swinger that is looking to have sex with the female of a couple with the consent of all involved.
There are all kinds of swingers out there that are looking for different things but we have found what we are looking for in a bull to be fairly common.
The good qualities of a single male swinger that can raise their chances of success are confidence without arrogance, a sense of humor, and a neat & clean appearance. Of course, looks can be important too but the things I mentioned before are even more important.
My wife always says that she loves "confidence without creepiness" when it comes to swinger bulls. When at a swinger club, resort, event, or even online, you should introduce yourself before moving into anything sexual.
The guys that stare at the women while touching themselves are generally seen as creepy and are not as likely to have success.
Instead, try a quick introduction followed up by a friendly wave, and a nod when you see a couple again through the evening. This is what creates familiarity and comfort for a swinger couple with a single male swinger.
We will take a more in-depth look at the things that single male swingers can do to increase their odds at swinger events. Of course, everyone is different but these are the things that we think make a huge difference.
Why Are Bulls Important To The Swinger Lifestyle?
We have found that bulls can be a great part of the swinger lifestyle. A little MFM action has been great for enhancing our sex lives. This type of play can be great for all of the people involved.
We are not into the male humiliation type aspect that is sometimes referred to as cuckolding. So our insights are all about incorporating the single male swinger as a short-term temporary partner in our relationship.
My wife loves how the single male swingers make her feel pretty, desired, and sexually charged. I love how these situations make my wife so sexually charged. The MFM action lasts for a short time but I, as the male partner, gain the benefits for weeks.
When your partner feels good about themselves, they become more sexually active and confident with you. I remember that when we first got started in the lifestyle my wife never believed me about her oral sex ability.
After a few MFM encounters and hearing what other men have to say, she now knows how incredible she actually is. This confidence in her ability has led to me getting a lot more blowjobs. I take that as a big win for me.
These are just some examples of the benefits that couples get from these relationships. Anything that makes the relationship better is just going to bring all kinds of benefits.
The single male swinger also gets plenty of benefits from these MFM relationships. They get to have sex with some incredibly beautiful and experienced women. They get to feel wanted and appreciated for their masculinity.
The bull gets to experience some incredible sex because the woman from the swinger couple is usually incredibly stimulated and is just performing sexually at her peak ability. I know my wife is usually incredible in bed but when in a highly stimulating situation she can kick it up another notch.
Some Different Single Male Swinger Situations
As we said most of this article is about single male swingers hooking up with a female in a consenting couple in which both are equal partners. This could mean things like an MFM threesome or the guy watching the action.
There are a couple of situations that can be quite different. These are what we will refer to as the BBC (Big Black Cock) situation and the Cuckold situation.
We have seen many couples that are in the BBC scene. This usually means all the same rules that we mention for everything else just that you need to do all the same things but also be black and have a big penis.
Most couples that are looking for BBC still want the same respect and friendliness that we mentioned but just a couple of extra inches on top of everything.
In the Cuckold situation, many couples are looking for a humiliation-type situation. This is not something that we have much experience with this but you can find an article about it here.
The Swinger Wife's Point of View
I think a common mistake that many single male swingers make is in assuming that swinger women are looking for someone to sexually satisfy them. This is an easy assumption to make but it would be usually wrong.
Most swinger women are in some really fun open relationships. They are sexually satisfied but are looking for unique circumstances or that spice of life that is known as variety. Another thing that is really big with swinger women is that wonderful feeling of being desired by others.
When my wife is looking for a swinger bull, she is looking for a man that makes her feel sexually wanted without feeling threatened or intimidated. We have been married for a long time and she knows that I desire her greatly. What she really wants sometimes is for other men to find her desirable.
Make your introductions first. Don't just jump into the compliments as that may seem a little creepy. Introduce yourself, make some small chat, and later on, you can make some compliments that will really get things going for you later on.
She wants the bull to take real notice of her. To speak to her and compliment her on her looks and sexuality. Don't stare at her and whack off. To her, this means that you are just looking for any woman to get you off. Say something that is directed just at her.
Try simple things like "You look lovely tonight.", "I just wanted to say that you have a beautiful smile.", or "You really light the room up by being here."
What you are really trying to do is make her feel special. In the swinging lifestyle world, any attractive female can get tons of guys to have sex with them. They are really looking for someone to make them feel good about themselves.
The Swinger Husband's Point of View
It is important to not forget about what the husband/boyfriend is thinking either. Like many other couples, my wife is not going to do anything with any single male swinger unless I am ok with the idea. If I don't like the guy then nothing is going to happen.
This doesn't mean that you have to become best buddies with the husband/boyfriend but you should take the time to introduce yourself and be respectful to the guy.
The swinger couple is a partnership and the single male swinger needs to recognize that both partners are part of the decision to play.
The biggest turn-off for the male partner and even to the female partner is any guy bragging about how much they are going to "rock the world" or something like that.
Remember that most swinger couples are not looking for an upgrade or someone with enhanced ability. They have great sex lives and are looking for someone to enhance their sex lives and add some variety. The bull is usually thought of as someone different and not someone better.
You need to keep things comfortable for all. We all like to have our egos stroked so engage the male with some small chat that makes him feel good. I have had some bulls give me some good comments like "Your wife is so sexy. You must be doing something right." or "I really admire your relationship with your wife. The two of you seem so confident and comfortable."
Make the guy feel like he is making a good decision by letting you into his relationship for a little bit.
The Single Male Swinger's Point of View
This next section is meant for the swinger couples and how they treat the bull. I have seen some couples that really do not treat single male swingers very well. Some swinger couples look at the single male swingers as annoyances or as disposable parts.
This is really unfair as the bull can play an essential role in the swinger lifestyle. Additionally, single male swingers are people just like the rest of us and should be treated with the same respect and dignity that we are all looking for.
The swinger lifestyle is all about respecting and accepting people and their pursuit of what makes them happy and this should include the bulls.
When a single male swinger approaches a couple, they should take the time to acknowledge him and say hello. Even if you are not looking for a single man to join you that evening, it doesn't hurt to talk for a few minutes.
That being said it is in the interest of both the couple and the single male swinger to not let things drag out too much.
After exchanging pleasantries for a bit, there is nothing wrong with saying that you are actually looking for another couple or single women tonight so you are going to move along and talk to some of them. Doing this politely keeps both you and him from wasting a whole night on something that is going nowhere.
If you are a couple that does not enjoy having swinger bulls around, find a club or event that is couples only. There are plenty of them around. Don't blame a guy for showing up to an event that was open to single men.
If it is a club or resort, the single male swingers probably spent a ton of money to get in as a single guy and their payment helps to keep these places running for everyone.
So as long as the bull is being respectful, treat him like he belongs there.
How Bulls Can Find Swinger Couples
So you want to be a swinger bull but don't know how to get started. The easiest way is to go to a local swinger resort or swinger club. There are more of these around than you might think. Many of these places have different rules when it comes to single male swingers.
In general, most clubs are open to single male swingers on most nights other than Saturday nights. For most clubs, Saturday nights are for couples only.
Check out our listing of clubs and resorts by state. Just enter your state into the search box to find out what is available in your state or go to or state by state category to see what information we have for your state.
Additionally, you can check out the section below about how to use some online swinger sites to increase your odds of having success as a single male swinger.
Meeting Up With Swingers Online
There are a couple of online sites that single male swingers use to meet up with swingers couples. These sites are SLS (SwingLifestyle) and AFF (Adult Friend Finder). These two sites can really help you to make connections with swinger couples and increase your odds of making a connection.
SLS is a great site to meet swinger couples that are going to a club, resort, or event that you are planning on attending. This site is where people going to these events let others know that they are going. This gives you an opportunity to make that connection.
AFF is geared more towards swinger bulls meeting swinger couples outside of formal events. This is where you can introduce yourself to couples and arrange to meet them for some play.
SLS (SwingLifeStyle) for Swinger Bulls

SwingLifeStyle.com
SLS is by far the biggest and most popular website for swinger club and swinger resort events. This is the website where swinger groups post all of their events. You can connect with other members that are going to these events ahead of time.
This website is free to join and check out but you will need to upgrade to use all of the messaging functions. SLS (SwingLifestyle) is a must for single male swingers that will be attending events and is the number one site I would recommend.
All you do is go to the resort, club, or event listings on SLS. Click on the event that you will be attending and view who else is attending. Find the couples that interest you and send them a message introducing yourself.
The more couples that you make a connection with the better your chances will be to hook up at the event. The same rules apply online. Be respectful and present yourself well. Don't make your first message a dick picture.
Adult Friend Finder for Single Male Swingers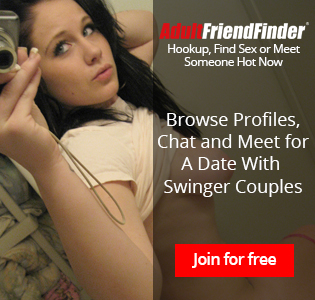 Adult Friend Finder is quite different than SLS (SwingLifestyle). It is more geared toward making individual connections with other swingers and not toward meeting others at events or clubs. AFF users tend to post a lot more public pictures. We use AFF to set up one on one swinger dates outside of events.
A swinger bull can use AFF to message swinger couples in the area and see if they can establish a connection. Once again, be respectful and reach out to a bunch of couples in your area.
This can be a numbers game so don't be upset if you don't get responses. Just keep messaging different couples (of course, don't message anyone that asks you not to). Send sincere and pleasant messages and you may be surprised by the number of people that are willing to meet up with you.
You will find that there are a lot of single males on AFF but you can really stand out with a good profile that shows you as a well-dressed, neat, and respectful man. No need to start out with a dick picture. If they are interested in that, they will ask. This alone will make you stand out from the crowd.
The Best Kept Secret Of Male Swingers
I have been in the swinger lifestyle for years and I just love it. My wife and I have had the best time and it has been great for our relationship. In that time, I have come across a tool that has helped me to enjoy the swinger lifestyle so much.
We all know that erection quality is essential for men in the swinger lifestyle. There is nothing worse than being in a great situation and not being able to rise to the occasion. Additionally, there is nothing better than being able to rise to the occasion over and over.
That is where the Phoenix Device comes in. This is a great at-home device that uses acoustic wave therapy to enhance your erection quality. This is the type of treatment that the rich and famous including porn stars have used for years to improve their erection quality.
It used to cost thousands of dollars and have to be done in a clinical setting but now it is affordable for most of us middle-class guys and can be done at home. This device really changed my sex life around and gave me the confidence to fully embrace the swinger lifestyle.
The Phoenix doesn't just mask erection quality issues like Viagra or Cialis. It actually works to improve blood flow in the penis. This device restored my natural erection ability to a level that I never thought I would achieve.
For my full story with the Phoenix device just read The Phoenix ED Device: How I achieved incredible erections.