Swinger hotel takeovers are becoming more and more popular all around the country. A swinger hotel takeover is a fun event when a swinger group takes over a local hotel for some great adult play. You can now find these swinger events in almost every state.
Why are these swinger hotel takeovers becoming so popular?
What are swinger hotel takeover events and how do you find them?
We have been in the swinger lifestyle for several years now and we just love traveling and attending swinger events. One of our favorite events is swinger hotel takeovers. These takeovers give swingers an opportunity to meet and play with others with similar interests.
Before attending one of these events, it is important to know what they are, how to find a swinger hotel takeover, types of takeovers, what to expect when you stay, common misconceptions about swinger events, the future of these events and some important note for male swingers that are attending.
What is a Swinger Hotel Takeover?
A swinger hotel takeover is when a swinger group puts on a swinger event at a regular local hotel and takeover either the complete hotel or a portion of the hotel for the event. During the takeover, there will be great swinger activities like ballroom parties, pool parties, room parties, playrooms, and more.
When I refer to swingers, I am referring to couples and singles that engage in sexual activity with people other than their normal relationship partners. So at a swinger hotel takeover, you will probably encounter a lot of sexual activity.
If you are new to this lifestyle, do not worry. These swinger events are low-pressure environments and no one is going to make you feel like you have to do anything that you are not comfortable with.
Basically, the swinger hotel takeover will turn a vanilla hotel into a swinger resort for a weekend. This can be a great opportunity for local swingers, especially in areas that may not have a lot of swinger clubs or swinger resorts.
These swinger hotel takeovers are incredible events for the swinger community. They give you an opportunity to participate in the swinger lifestyle and be able to stay over right on site. This is much better than a swinger club or swinger house party event where you need to drive home at the end of the night.
If you make a connection with another swinger or swinger couple, you are not on a timetable before the club playrooms close. You can either play in the takeover playrooms or go back to your room and take it slow. It also allows for a couple to have some adult beverages without worrying about who is driving.
These events give you so many more opportunities to play than a regular swinger club or party. These events will often draw well 100-200 swinger couples and sometimes more. The bigger the crowd, the easier it is to find a good match to play with.
Most swinger hotel takeovers are two-day events (Friday and Saturday). Early arrival is on Fridays and there are usually limited activities on Friday evenings. There is usually just a social mixer to meet the other swingers.
Saturday is usually the big day with some day events (like pool parties) and an evening dance event in the ballroom. Later in the evening, playrooms and sexual fun will be the focus of the event for all of those interested.
How to find a swinger hotel takeover
The easiest way to locate a swinger hotel takeover is through the use of swinger lifestyle websites. These websites can give you a ton of information on any of these events that are happening in your area.
Our favorite website to find these events is SLS (SwingLifestyle). This website has the most extensive listing of swinger groups that are hosting swinger hotel takeovers. On SLS, you can use the clubs section located in the left menu to search any state for active swinger groups hosting hotel takeovers.
Clicking on the details button will take you to more in-depth details of the event.
You can also use the SLS groups tab at the bottom of the homepage to see any hotel takeovers that may be near where you live.
Another swinger website where you locate hotel takeover information is SDC. This website does not usually have as much information on it as SLS has but it has a different interface that some enjoy more. We greatly prefer SLS but use both websites to find all of the local hotel takeovers.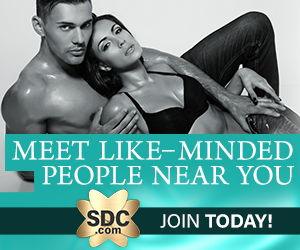 We personally use SDC to both research swinger events and meet individual swingers in our area. This is not the best website in either of these areas but it is the best swinger website in balancing these two areas of interest.
Types of hotel takeovers
Swinger hotel takeovers are usually themed around holidays. Luckily there is a holiday basically every month so you do not have to wait too long for an event. If they can't find a holiday there are always summer pool parties and generic winter-themed parties.
Each party will have a theme and many people will dress to match the theme. Examples of themes are green St Patty's Day parties, red Santa & Elf parties, beach parties, Halloween parties, formal New Year's parties, and basically anything you can think of.
You do not need to dress with the theme in order to attend the party but it definitely makes things more fun.
Another distinction in types of hotel takeovers is whole hotel takeovers vs partial takeovers. The distinction is exactly as it sounds. A whole hotel takeover is when the swinger group takes over the whole hotel. A partial takeover is when they just take over a floor or set of rooms.
We highly recommend the whole hotel takeover parties as they tend to be a lot more fun. With the whole hotel takeovers, everything is more relaxed and they let the swingers have more fun as you do not have to worry about offending other guests.
Also, there tends to be a lot more fun at the pool if it is all swingers there as opposed to behaving around a family.
What happens during a swinger lifestyle hotel takeover?
We have had some great experiences at swinger hotel takeovers. To give you an idea of how things go, I am going to describe our experience at our last swinger hotel takeover. This was an incredibly great but fairly typical event and was the New Year's Eve Takeover put on by Club4PlayParties in Peabody, Massachusetts.
We heard about this event from a listing that we had found on SLS(SwingerLifeStyle). We went to the website for the swinger group that was hosting the event and a hotel room and event tickets.
To help increase our odds of meeting up with a couple at the event, we used SLS to put ourselves on a list of people that were attending the event. This also let us see who else was attending the event so that we were able to message back and forth with them.
We messaged a bunch of couples and made some good connections before going to the swinger hotel takeover. This gave us people to look for when we got there and something to talk about.
Friday Night at the Swinger Hotel Takeover
We arrived at the hotel on Friday night. For Friday night, the takeover was only on one floor of the hotel, and for the whole hotel on Saturday.
Friday's events started with everyone meeting at a restaurant near the hotel to have dinner. At the dinner, we met up with John and Michelle who were a very sexy swinger couple that we had met on SLS.

SwingLifeStyle.com
After having dinner, we went back to the hotel for a room crawl and pajama glow party. Some people decorated their rooms and it was a great way to meet all kinds of swingers.
After having a few drinks and playing some beer pong, we got invited back to John and Michelle's room along with another couple. We had a few more drinks there and things led to some fun. The three women all ended up on the bed and started playing with each other.
They all got naked and were going down on each other. It was such a beautiful thing. They were all so sexy and hot. We guys loved watching them and soon got more than excited.
The girls had us guys come up by the bed and soon they started giving blowjobs. We started with our partners but we soon were changing partners with the girls going from guys and then back to each other. I have to admit that it didn't take too long for me to ejaculate.
It was a big blur of oral action but everyone seemed to have a great time. After we had all had some fun we eventually went back to our own rooms being very satisfied.
Saturday Night at the Swinger Hotel Takeover
There were a ton of fun events on Saturday. The first event was a ladies-only social. I wish I knew more about this event but my wife hasn't given me a lot of details. The lady's social was followed by a pre-party. This was a great chance to meet more swingers and catch up with everyone from the previous night.
The Saturday evening event was a formal dress New Year's Eve party. This was held in the ballroom of the hotel and had a really classy feel to it.
The Saturday evening fun started off with Swinger Feud which was a fun twist on Family Feud. The game was incredibly fun to watch and play.
The rest of the evening in the ballroom was full of dancing to some great music and hanging out with a few hundred swingers. It was a great time dancing with my wife. We also danced with a bunch of other couples.
Following a midnight toast, the dancing started to die down a little as everybody moved on to the after-party in the hospitality suite and playrooms.
We got up to the after-party a little late because my wife got talking to some people in the ballroom. By the time we got up to the playrooms, all of our friends from the previous night were busy with others. We did not want to interfere so we found an unoccupied bed to have some fun.
My wife and I started fooling around on the bed. We took off all of our clothes and my wife started going down on me. After a while, I notice a couple standing near us and watching us. My wife and I switched positions and I started going down on her.
After a few minutes, she motioned the couple towards us as I continued to eat her out. When they came over, she started to give the guy a blowjob while the woman started kissing my wife's breasts. My wife was moaning pretty hard and she really went to town on the guy.
The woman asked if she could take a turn going down on my wife and I happily moved out of the way. She started going down on her while she wiggled her naked ass in the air. I was so hot watching them so I asked if it was ok to have sex with her.
She gave me an immediate yes so I put on a condom and started pounding her from behind while she was going to town on my wife. My wife was squirming and moaning while she sucked on the guy. The guy couldn't help himself and he blew a load in her mouth. She swallowed it all down like a champion.
My wife loves making people cum and it really excites her so she started to get incredibly excited. Watching her and hearing her was just incredible and I blew a huge load.
This whole situation made my wife have an incredible orgasm while the other woman ate her out. We then switched back to having sex with our own partners while being side by side on the bed. We love having sex with each other after fooling around with another couple.
We all ended up finishing up and heading our own ways in a little bit. It was an incredibly hot night for us but even though we did exchange names, I can not remember who this other couple was.
We went back to our room thoroughly satisfied from the night.
What are some misconceptions about swinger hotel takeovers?
If you are new to the swinger lifestyle, you may have some misconceptions about what goes on at a swinger hotel takeover or any swinger event. These are social events and just like everything else in society, there are rules and expectations.
While sex and swapping are an important part of swinger events, it is not all about sex. Most swingers are really into meeting all of the other fun and interesting swingers. We can have a successful night at a swinger event without having sex. The sex is just a great bonus.
Also, pretty much everyone in the swinger lifestyle has rules and it is important to respect the rules of others. Before playing with someone, find out what their boundaries and rules are.
For example, even though we have been in the lifestyle for years, my wife and I only play together. Part of our enjoyment is watching and hearing each other when we play. Not everyone has this rule and others have different rules like oral sex only (soft swap) or no kissing.
The biggest and most important rule at any swinger event is getting consent before doing anything with anyone. Consent should never be assumed and just because you had consent at one point earlier does not mean you have it now.
I know it can be difficult but just because some hot wife has her ass shaking in the air means that you can touch her. Some people just want to be watched so make sure that get permission. Swinger hotel takeovers all have a zero-tolerance policy on not getting consent. You will get booted if you don't ask for consent.
The future of swinger lifestyle hotel takeovers
The future looks great for swinger hotel takeovers. Now that the Covid era seems to be in the rearview mirror, there are more and more of these events showing up everywhere.
We live in the New England area which has very few swinger lifestyle options. There are very few clubs and absolutely no lifestyle resorts.
But we can find swinger lifestyle hotel takeovers showing up every month. These events are selling out quickly, which means that more and more of them will be scheduled. We have made so many friends at these events and everyone keeps coming back.
In our travels around the country and by looking at SLS (SwingLifestyle), we see that the same is true everywhere. We think that after everyone was in lockdown for so long that we all just want to get out and play.
Important Note To Male Swingers
When my wife and I first started going to swinger hotel takeovers, we found all kinds of articles dealing with the fears and insecurities of women but very little for men. I found that with many swinger couples, the woman has the confidence and the swinger drive while the man has major worries that hold him back.
1. Erection Quality in the Swinger Lifestyle
Having fun in the swinger lifestyle is hard when you are worried about maintaining your erection. This was a problem that I had at one point. The libido was there and I wanted to perform but I could not get the erection that I needed.
If you have any concerns about erection quality, check out this article on at-home acoustic wave therapy. The Hollywood elite has used this type of revolutionary treatment for years. The Phoenix Device let me get rock-hard erections that gave me the confidence for the swinger lifestyle.
Penis Size and the Swinger Lifestyle
Like many men, I had always been worried about my penis size. When my wife wanted to get involved in the swinger lifestyle, my penis size anxiety increased.
Check out The Truth About Swinger Penis Size for information on this delicate subject. What is the average swinger's penis size, does penis size matter to swingers, how to make your penis appear bigger, and how to make your penis bigger (yes, this is scientifically possible with a little catch).
The Swinger Inferiority Fear
This fear had a lot to do with the previous two issues but I was very worried that my wife would find me sexually inferior after dabbling in the swinger lifestyle. Would my jealousies and insecurities get in the way of our having a fun time?
Read Male Swinger Insecurities for the story of how I overcame these fears.