My wife and I have been in the swinger lifestyle for quite a while now and just love visiting swinger resorts and clubs. Every so often we come across a lesser-known swinger event that is a real gem. The Playground RI (Rhode Island) is definitely one of those hidden gems.
The Playground RI is a swinger house party that is held every week in Providence. This house party has the amenities that any Rhode Island swinger would want. This little-known swinger spot is a great way to meet other Providence swingers and get the chance to play right on-site.
So let's take a look at the Playground swinger house party. We will look at what the Playground RI is, our review, how to get into the party, our Playground Providence experience, Playground demographics, alternative spots for Providence swingers, and some important tips for Male Providence swingers.
What is the Playground RI?
A swinger house party is when a homeowner hosts a party at their home for swingers to meet up and have some fun. The Playground RI is a swinger house party in Providence, RI that does this every week. This gives Providence swingers a great chance to meet up and even play together.
This Providence swinger house party is open to couples, single ladies, and single men that are 21+. They do try to limit single men so that the ratio is not out of control, but plenty of single men and single ladies were at the Playground RI.
This house party is held in a private residence every Saturday night from 8 pm to 2 am. The parties are BYOB but they do have ice and refrigerators available. They do have some snacks, soda, and water available for free.
The house is set up for swinger fun with a bunch of private playrooms, group playrooms, a dungeon, a doctor's office, a dancefloor, a massage room, a glory hole, lockers, and more. There are four levels to the Playground Providence with 4,000 square feet of swinger amenities.
This is a private party and you need to make a reservation to attend (more on this later). There are no membership fees or admission fees as this is not a club (a very important distinction). They do ask for a donation at the door to help cover the house party costs. A $50 donation is appropriate for couples.
To find out how to attend one of these parties check out the How We Found Out About The Playground Swinger House Party section for all the details.
Our Playground Providence Review
Our Playground Providence Review score is that this is a must-visit for any Providence swingers. We absolutely loved our time at the Playground RI and plan on going back many times.
I have to admit that we were not sure what to think when we first walked into the house. It is neat and clean but is not exactly a modern facility. It is a large residential house that is probably around 100 years old. It is spread out over 4 floors with a narrow staircase that connects the floors (there are additional fire exits).
So it looks quite different that what you may be used to if you have visited other swinger clubs or resorts. Once you accept it for what it is, that is when the fun starts.
The party hosts were amazing. They arranged for us to have a quick tour of the whole house including the playrooms and dungeon. They took the time to answer all of our questions and did their best to make us feel comfortable.
The layout of the house actually made it really easy to meet other Providence swingers and strike up a conversation. Everyone here was very talkative and we made so many new friends. With very little effort you can have plenty of friends that you will know when you to the playrooms.
We loved the setup of the playrooms in this swinger party house. The themed playrooms were scattered throughout the four floors of the house. It was like a treasure hunt to find all of them and check out the themes.
We really loved the group playrooms on the fourth floor. You can not wear clothes in the group playrooms. You can wear a towel or even lingerie but not actual clothing. Everyone we saw went naked with a towel wrapped around them. The Playground has lockers and fresh towels outside of the playrooms.
The two main rooms of the group playrooms are open to couples, single ladies, and single men. This is where a lot of the single men hung out. These rooms stayed busy for most of the night from 10 pm til 2 am.
Off to the right of the group playrooms mentioned above was the couple's playroom. This room was for couples only which is a nice touch if you need a break from the single men.
These group playrooms were very active and it was incredibly easy to find play partners at the Playground.
The one possible negative of the Playhouse RI was that it may be a little too much for some new swingers. Everyone was very friendly and no one was pushy but the swinging is very much out in the open with lots of nudity and people asking if you want to join.
A great time but maybe not for the first time out in the swinging world unless, of course, you feel really adventuresome.
To find out more about the fun we had at the Playground RI check out the Our Playground Swinger House Party Experience section.
How We Found Out About The Playground Swinger House Party
We found out about the Playground swinger house party on a wonderful website for swingers known as SLS (SwingLifestyle). This is a great website for finding swinger parties and clubs across the country.
We found the Playground RI events listed in the SLS Groups section located at the bottom of the home page. When you look at the section on SLS, it will bring up events that are closest to your location. I really suggest that you check this out for your area. You will be amazed by what you might be missing.
If you do not live close to Providence, you may have to click on More Events to expand the list until you see the events at the Playground. If you live a significant distance from Providence and are still interested in the Playground RI, you can temporarily edit your Profile location to Providence, RI and this will bring up the Playground near the top of the list.
You can then click on the link for the party that you are interested in to get information on the Playground Providence event and how to attend.
Find the event that you would want to attend and text the hosts at the number given to RSVP your spot. You will need to RSVP as walk-ins are not allowed.
Our Playground Swinger House Party Experience
As I mentioned above, we had a great time at this Providence swinger house party. We arrived fairly early at around 8:15 pm. We placed our drinks in one of the refrigerators (premixed white Russians) and took the house tour. This tour was fun and informative.
After the tour, we went up to the 2nd floor and started talking to a few couples up by the dancefloor area. One of the couples we met was a couple that we will call Mike and Kim. They were fairly new couples that were just starting to explore the swinger lifestyle. We had a great time talking with them and we told them that we were hoping to catch up with them later.
Right around this time, I got a text from John and Andrea telling me that they had arrived at the party. John and Andrea were a couple that we had been chatting with on SLS (SwingLifestyle). When we signed up as attending this party, we saw them listed as attending and we had messaged them. We got along well on SLS and exchanged phone numbers so we could catch up at the party.
We went on a walk around the house with John and Andrea. We checked out the basement area which has the BDSM dungeon. There was not much going on down here so we went into the massage room which was next to it.
We hung out in this room for quite a while and had fun talking to everyone coming in and out of the room. This room had the Sybian in it and we got to see someone use it. If you have not seen one before, it is like a giant vibrator on steroids.
After a while, we decided to head up to the Playground Providence group playrooms with John and Andrea to see what was going on. On our way up the stairs, we ran into Mike and Kim and asked them if they wanted to come along. They agreed and we made our way up to the top floor.
Once we got there, we all grabbed some lockers and got undressed. We wrapped up in towels and headed into the group playrooms. We watched for a few minutes in the rooms that allowed single guys. We saw a lot of women blowing multiple guys and getting laid.
Eventually, we made our way to the couple's only playroom. Once we got here, we had a quick discussion about what everyone was comfortable with. Mike and Kim said that they did not want to do any full swap as they were not sure about that yet. We were good with that.
We started on separate beds with the women going down on each of their guys. After a few minutes, my wife went over and started to help Kim with Mike. The girls were kissing and touching each other as they went down on him. I guess he wasn't used to this because he ejaculated in about one minute.
At this point, my wife went over to help Andrea with John while Kim came over and started going down on me. I am not sure how long everything took but my wife and Andrea finished up with John.
At this point, the three girls all started playing with each other while the guys watched. It was incredibly hot watching the three of them. They took turns going down on each other, kissing breasts and making out. Before too long all of us guys were ready to go again.
We all went back to our regular partners and had side-by-side sex on the beds. It was not a full swap night but this was incredibly hot. We all got done within a few minutes of each other and everyone seemed to be very pleased with the situation.
We left the Playground RI playrooms and went back downstairs to get some drinks. We chatted and laughed for most of the night. Toward the end of the night, my wife pointed out that she thought it was unfair that I had only ejaculated once.
She wanted to go back up to the playrooms so we said goodnight to everyone and headed back up to the playrooms. This time she wanted to go to the group playrooms with the single guys.
When we got there, she pushed me down on the bed and started to go down on me. We drew a crowd of single guys as she took care of me. She had no interest that night in doing anything that night with the single guys but the audience just gives her a little extra enthusiasm.
She was so good that I had no problem ejaculating. She looked up at her audience of single guys and had that satisfied look on her face. I asked her if she wanted to do anything and she said that she was all set. On her way out of the Playground Providence playrooms, she gave her audience a few touches and jerks along with a few "Maybe next time" comments.
By this point, it was almost time to leave. We went back down to the first floor and chatted with people down there. We had a great night and are planning on keeping in touch with all of our new friends.
Where is the Playground Providence located?
I will not give the exact location of the Playground Providence as it is a private residence with a party by invite only. However, it is located in a residential neighborhood that is in the Oakland Avenue Historic District of Providence. It is not too far from the Roger Williams Medical Center.
When you sign up for an event by texting the number listed on SLS (SwingLifestyle), they will text back to you all of the party details including the address.
Playground RI Demographics
We found the demographics at this Providence swinger house party to be pretty similar to what we found at the local Providence swinger clubs. I would guess that the average age was in the 45-50 years old range but there was actually a good mix of the 20s all the way up to the late 60s.
I would say that the couples and single ladies were 80% white with the other 20% being a mix of Black, Hispanic, and Asian. The single men were probably 80% Black with the remaining 20% being white.
To answer the always-present penis size question. The guys that were a part of a couple at Playground RI seemed to be slightly larger than average. The single guys at Playground Providence seemed to be significantly above average.
Fusion Friday At The Playground
The occasional Friday night event at the Playground Providence is a different type of event than the Saturday event. While some swingers go to the Friday events, the Friday Fusion events are geared more toward the BDSM/Kink crowd with a little cross-dressing/transexual mixed in.
If you are just into the swinger lifestyle, you will find a better crowd for you at the Saturday night events.
Alternative Spots for Providence Swingers
Providence swingers have the best selection of swinger spots in all of New England. I would even say that Providence swinger clubs and events are truly top-notch and compare well with larger venues in Florida.
My favorites will always be the swinger resorts like Hedonism but if I had to pick among the swinger clubs and parties, I would be happy with the choices in Providence.
There are two swinger clubs that are great alternative spots for Providence swingers. The Playground RI is a great spot but you can try out the Electricity Social Club (ESC) or Choice Socia Club if you are looking for a different swinger scene in Providence. Click on the club links for our full reviews.
Meeting Up With Providence Swingers
There are a couple of online sites that Providence swingers use to meet up with other swingers. These sites are SLS (SwingLifestyle) and AFF (Adult Friend Finder). We use these sites to meet the couples that we hook up with at the swinger clubs, swinger resorts, and sometimes just on our own.
What we actually do is make some connections ahead of time before going on our trips. This helps to increase our chances of finding a nice compatible couple when we go to the resort or club.
When we went to the Playground Providence, we signed up as attending the event on SLS and started communicating with other SLS members going to the event. This is how we made the connection with the couple that we met up with at this house party.
Making these connections ahead of time helps to make sure that you will have a great time at any swinger house party.
SLS (SwingLifeStyle)

SwingLifeStyle.com
SLS is by far the biggest and most popular website for club and resort events. This is the website where Playground Providence posts all of its events. You can connect with other members that are going to these events ahead of time.
This website is free to join and check out but you will need to upgrade to use all of the messaging functions. SLS (SwingLifestyle) is a must for swingers that will be attending events and is the number one site I would recommend.
Adult Friend Finder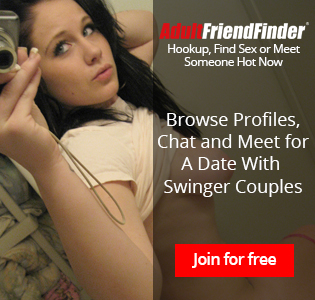 Adult Friend Finder is quite different than SLS (SwingLifestyle). It is more geared toward making individual connections with other swingers and not toward meeting others at events or clubs. AFF users tend to post a lot more public pictures. We use AFF to set up one on one swinger dates outside of events.
Important Note To Male Playground RI Swingers
When my wife and I first started in the swinger lifestyle, we found all kinds of articles dealing with the fears and insecurities of women but very little for men. I found that with many swinger couples, the woman has the confidence and the swinger drive while the man has major worries that hold him back.
1. Erection Quality in the Swinger Lifestyle
Having fun in the swinger lifestyle is hard when you are worried about maintaining your erection. This was a problem that I had at one point. The libido was there and I wanted to perform but I could not get the erection that I needed.
If you have any concerns about erection quality, check out this article on at-home acoustic wave therapy. This type of revolutionary treatment has been used by the Hollywood elite for years. The Phoenix Device let me get rock-hard erections that gave me the confidence for the swinger lifestyle.
Penis Size and the Swinger Lifestyle
Like many men, I had always been worried about my penis size. When my wife wanted to get involved in the swinger lifestyle, my penis size anxiety increased.
Check out The Truth About Swinger Penis Size for information on this delicate subject. What is the average swinger's penis size, does penis size matter to swingers, how to make your penis appear bigger, and how to make your penis bigger (yes, this is scientifically possible with a little catch).
The Swinger Inferiority Fear
This fear had a lot to do with the previous two issues but I was very worried that my wife would find me sexually inferior after dabbling in the swinger lifestyle. Would my jealousies and insecurities get in the way of our having a fun time?
Read Male Swinger Insecurities for the story of how I overcame these fears.