Swinger websites like SwingLifestyle (SLS) have played a vital role in our lifestyle journey through the years. In this SwingLifeStyle review, we will look at the role of SLS in making swinger connections and answer the question "Is SwingLifeStyle worthwhile for those in the swinger lifestyle?"
In general, we have found SwingLifeStyle to be the best swinger website. SwingLifeStyle (SLS) offers a ton of information and resources to those involved in the swinger lifestyle. This information on SLS makes this world much easier to navigate, especially for newbies.
So let's take a look at this swinger website. We believe that SLS is essential for anyone in the swinger lifestyle. Even at the free level, this website provides great information about swinger events in your area or any place that you may be visiting. Using SwingLifestyle has dramatically increased our ability to find great play partners on our nights out.
What is SwingLifeStyle (SLS)?
SwingLifestyle is a website dedicated to helping the members of the swinger lifestyle community make connections with each other. SLS has swinger profiles, swinger club listings, swinger events listings, hot dates, and more.
SLS is free to join and try out but some of the popular functions are limited to paid members. We always found that this website was a great resource even at the free level. Everyone that is actively involved in the swinger lifestyle should take advantage of the free membership at the very least.
The whole point of SwingLifeStyle.com is to make it easier for swingers to meet up and make connections. This website succeeds in doing this very well. This is the premier website for information on swinger lifestyle clubs, resorts, and swinger events.
You can check out the A Recent SwingLifeStyle Experience section for an example of how this swinger website can enhance your swinger life.

SwingLifeStyle.com
Our Overall SwingLifeStyle Review
Our overall SwingLifestyle review is that this swinger lifestyle website is a great resource for those involved in the lifestyle. SLS is our #1 pick amongst the swinger websites and is the tool we use the most to make our swinger lifestyle connections.
We have found that this website offers the best combination of price, ease of use, real users online, and the ability to make real-world connections in the swinger community. If you are part of the swinger lifestyle community, SLS is an essential part of your swinger toolkit.
My wife and I have been swingers for quite a while now and we continue to use SwingLifeStyle.com almost every day.
We have used this SwingLifeStyle on numerous occasions to make those special connections that have led to real-life meetings and play with other couples. If you are looking to meet other real swingers, there is no better website than SLS.
While most swinger websites are just a collection of different profiles, SLS has a huge listing of real-life swinger clubs, swinger events, swinger parties, and more. It then lets members connect with other swingers that will be attending events in their area.
This really helps swingers get out and actually meet some other swingers in the real world. This is so much better than the endless online talk that you find on most other swinger websites.
SwingLifeStyle Pros and Cons
Just like anything else, SwingLifestyle has some Pros and Cons. While we think that SLS is the best swinger website that is available, this does not mean that it is perfect. So let's take a look at some of these positives and negatives.
SLS Positives
SwingLifestyle is the best swinger website currently available. This website does the best job of connecting individual swingers from across the country.
They are the go-to source to find swinger events across the country. You can find a state-by-state listing of swinger clubs and resorts. Additionally, you can find listings of swinger events and parties near you. These listings are much more extensive and easily accessible than you will find anywhere else.
You can check out the profiles of swingers that are attending these events. This tends to lead to you seeing more active swinger profiles than you see on other websites. The profiles tend to be more accurate with fewer fake profiles because SLS users are actually going to be meeting you at events.
Additionally, the cost of SLS is much more reasonable than pretty much any other swinger website. You can check it out for free, but if you decide that you want all of the features you will find that it is fairly inexpensive. There is even a lifetime membership that is pretty reasonable.

SwingLifeStyle.com
SLS Negatives
Like other swinger lifestyle websites, SLS will occasionally have some technical difficulties that can be frustrating. Some examples are occasionally slow-loading pages or notifications not working correctly. For the most part, the website works pretty well but the little things can sometimes be frustrating.
One other little negative of SwingLifeStyle is that when looking at the Hot dates or Events section on the home page, you need to change your profile location in order to check other areas than where you live. You only need to do this in this section and do not need to do this with clubs. Once again, not a major issue but does make an extra step.
Is SwingLifeStyle Legit?
The SwingLifestyle website is completely legit. I have used this website for years and given them my credit card information to pay for memberships without having any problems. I have never had any reason to have concerns over the security of my information.
I have also found the clubs and events listed on SwingLifeStyle to be legitimate. It is a great source of quality information on these places.
Of course, you will find some people making fake profiles on SLS but this is the same story that you find on any of these swinger or dating websites. Some people enjoy making fake profiles for some reason. You can usually spot these people because they are obviously too good to be true.
Additionally, I have found a lot fewer fake profiles on SLS than on other websites. I get responses from almost everyone that I try to contact and have found them to be legitimate swingers. This website is definitely geared toward swinger couples.
SwingLifeStyle Pricing
While there is a lot that you can do with SwingLifestyle (SLS) at the free level, you get the most features when you take advantage of the premium membership. SLS has very reasonable rates for its premium membership. It is a real bargain compared to other swinger lifestyle websites.
The SwingLifeStyle membership rates are $24.99 per month, $49.99 for three months, $99.99 for twelve months, or $199.99 for the unlimited lifetime membership.
Like many people, I started with a monthly membership and decided to love it. I ended up going with a twelve month after that and then eventually went with the lifetime membership when I decided that I couldn't go without it.
SwingLifeStyle Features At The Free Level
There are some great features on SwingLifestyle (SLS) that you can use at the free level. The two biggest of these free features are the club listings and events listing.
In addition to these great features, you will have access to swinger stories and the member search function. These features are even better with paid membership but are still great to check out at the free level.
Like all other swinger websites, you can not communicate with other individual swingers on SLS at the free level. But what makes SLS special is that you can find a bunch of information about places to meet other swingers in real life including swinger clubs, resorts, and swinger group events.
SLS Clubs Section
One of our favorite free features of SLS is the Clubs section. A click on the "clubs" tab in the home page left menu will take you to the state-by-state listing of swinger clubs and swinger groups.
Once you get into the club section, you can just click on any of the states and see a listing of all the swinger clubs or swinger groups in the state. You can then click on any clubs or groups to see a listing of upcoming events.
We have talked to many swingers that were amazed to find out that there were some great lifestyle clubs nearby that they were not even aware of.
We use this feature all the time to this day to find new clubs whenever we travel. If you are new to the swinger lifestyle, this is a great way to find out what is in your area for swinger events.
This feature gets even better at the premium level because you can message others that are going to be attending the same club events as you are.
SLS Groups Section
This feature is a little similar to the SLS clubs section listed above but has events listed for all of the swinger groups in your area. These swinger groups have swinger activities but are not permanent commercial locations like a swinger club.
These events can be even better than the clubs sometimes and include things like house parties, hotel takeovers, and underground clubs. Outside of the resorts, we have had the most fun at this type of location.
You can find the event listings on your home page of SLS. Just click on the event and it will take you to the details of the swinger event and give you some info on how to attend. If you want to get involved in the swinger lifestyle and meet others then this function is incredibly valuable.
Once again, this function becomes even better at the premium level because you will have the opportunity to communicate with those other swingers that are going to these events.
SwingLifeStyle Premium Features
While there are a lot of features at the free level, the fun really starts when you look at the SwingLifestyle premium features. The most important feature at the free level is the ability to message other users. This feature really gives a boast to the club and event functions as you can communicate with others that may be attending something that you are visiting.
In addition to the messaging feature, there are a bunch of other like the hot dates page which helps you to plan your lifestyle options. The SLS forums are also a premium feature that contains a ton of information and hookup information for those trying out the swinger lifestyle.
There are many other options and you will keep finding new stuff all the time.
Messaging other SLS members
This feature sounds kind of basic but it is actually much bigger than that. Like all other swinger websites, the premium membership of SLS lets you message other users.
You can search for members in your area using filters like couples, singles, sexual preference, distance from you, last time online, in a certain geographical location, and more. You can then message those members and strike up a conversation.
Additionally, you can join a swinger chat room and have conversations with online swingers from across the country. This is kind of hit or miss but can be a great time if you are bored and want to just have some sexy talk.
The biggest bonus with the messaging feature on SwingLifeStyle and what sets this swinger website apart from the others is that you can easily message other swingers that are going to an event that you are attending.
In the free section, I talked about looking at clubs and swinger events in your area. You can look at those events and see who is going and then message them.
This sounds simple but it has been so important to our success in the swinger lifestyle. When we decide that we are going to a party or club, we look to see who else is going to be there from SLS. We then will start messaging them to see if we can start up a conversation with some of them that we find interesting.
By starting this conversation ahead of time, we have people looking for us and people that we are looking for when we get to the event. This will dramatically improve your success rate of meeting other swingers when you already have that connection and have people set up ahead of time to talk to.
These chats do not need to be too in-depth or be really sexual (but sometimes they are). By just starting the conversation, you have that connection that gets you halfway to having some play with another couple.
SwingLifeStyle Hot Dates Section
This SwingLifeStyle section is often overlooked but can make your swinger lifestyle a lot easier to manage. Go to this section and you can immediately see in a calendar view swingers in your area that are looking to hook up and swinger events that are coming up.
You can click on the dates or the events to see what is happening. The dates are usually swingers in your area that are looking to hook up with other swingers on that particular night. You can check out what they have to say and message them to see if you want to set up a meeting.
The events are clubs or swinger group events on that night. Just click on the event and see what it is all about. From the event page, you will find out how to attend the event and be able to contact other swingers that are attending the event.
This is just a great format to plan your time and have fun. We have used this feature so many times to figure out what to do on a free night.
A Recent SwingLifeStyle Experience We Had
We recently had an excellent swinger experience that was greatly enhanced by our use of SwingLifeStyle (SLS). This experience was from a swinger hotel takeover in Hampton, NH.
I was checking out the SLS Groups tab and came across a listing for this hotel takeover. Clicking on the event, I got the information on the takeover and instructions on how to sign up for the event.
We love this type of event so went ahead and signed up for the event. This event was a couple of hours' drive north of us, so we probably would not have ever heard of it without using SLS.
After signing up for the event, I went back to SLS and put myself down as attending the event. I then began to look at who else was attending the event.
I found a number of couples that were attending the event to be very appealing and I messaged them to say hi and let them know that we were going to be at the event. We opened up our face pictures on SLS to most of these couples once we knew we were interested in them.
Most of the couples that I messaged responded and we were able to have some online conversations to get to know each other and say hi.
These conversations and introductions are great. This gave us a bunch of people that were looking for us at the hotel takeover.
When we got to the hotel takeover, we met up with a lot of the swinger couples that we met online including Josh and Cherrie. We were at the clothing-optional pool event on Saturday and they recognized us from our SLS pictures.
We hung out and talked for about an hour. Eventually, we had to head out but told them that we were hoping to catch up with them later in the evening. We saw them a few more times through the night at the dance event. We would smile, wave, and even hug.
After the dance ended we went back to the pool to relax and ran into Josh and Cherrie again. With this late-night meeting, things became a little more fun. My wife and Josh began touching and kissing each other. Cherrie and I were not going to be left out so we did the same.
As things got a little hotter and we all were getting a little more excited, we decided to go back to our room to play.
When we got back to our room, Cherrie and my wife began to make out and play on one of the beds. They were really hot and took turns going down on each other.
Eventually, once the two of them decided that they had got Josh and me to the point where we were going to explode, they lined up at the edge of the bed and started to wiggle their butts in the air.
Josh got behind my wife and started to fuck her really hard. Not to be outdone, I got behind Cherrie and did the same.

SwingLifeStyle.com
Everything became kind of a blur but eventually, we ended up with Josh doing my wife doggie style while she ate out Cherrie. I was standing at the edge of the bed watching all of this while Cherrie gave me an incredible blowjob.
It was just incredible. The harder Josh did my wife, the more she went to town on Cherrie, and the deeper Cherrie sucked on my dick.
Eventually, Josh finished up and we ended up switching around with me doing Cherrie while she licked my wife, and she sucked Josh. At this point, it didn't take long for me to totally explode.
The two girls kept playing for a bit while Josh and I just really appreciated watching them. Eventually, as we finished up we all decided to shower and go back down to the pool to relax.
We had a great evening with these two swingers from SLS and we hope to play with them again.
SwingLifeStyle.com Alternatives
We believe that SwingLifestyle.com is the overall best swinger website that is available but there are some other swinger websites that we use as well. These websites do some things better than SLS and are quality websites.
Adult Friend Finder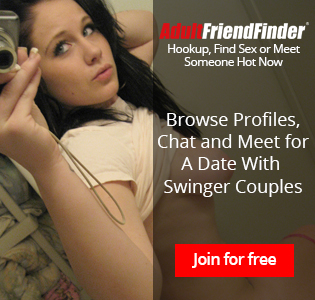 Adult Friend Finder is quite different thanSwingLifestyle. It is more geared toward making individual connections with other swingers and not toward meeting others at events or clubs. AFF users tend to post a lot more public pictures. We use AFF to set up one on one swinger dates outside of events.
AFF has a lot more singles that post there but also a lot more fake profiles than what you find on SLS. We have used this website to meet up with some of our favorite couples but you need to be a little more aware when using it.
This is definitely the best website if you live in a rural area that would have few clubs or events. You will find a lot of people on this website that want to meet up with swingers even in these areas. You can join for free and see what it has to offer.
SDC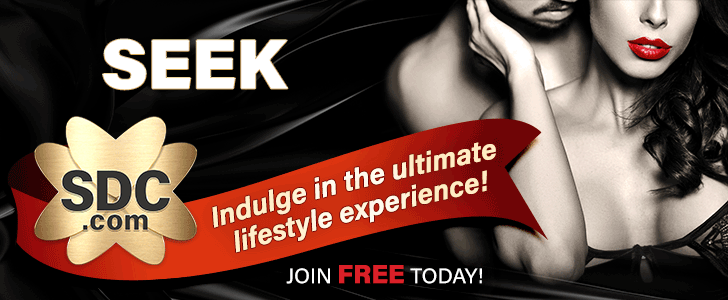 SDC has a lot of features similar to what you find on SwingLifeStyle but it does it in a different format. I prefer the way that the information is presented on SLS but many people prefer the SDC format.
While a lot of the information is similar on both websites, you will find some swinger lifestyle places that are listed on one website and not on the other. We use both websites but are obviously heavily invested in the lifestyle.
You can join the website at the free level and see if it is for you.
Important Note To Male Swingers
When my wife and I first started going to swinger events and meeting other swinger couples, we found all kinds of articles dealing with the fears and insecurities of women but very little for men. I found that with many swinger couples, the woman has the confidence and the swinger drive while the man has major worries that hold him back.
1. Erection Quality in the Swinger Lifestyle
Having fun in the swinger lifestyle is hard when you are worried about maintaining your erection. This was a problem that I had at one point. The libido was there and I wanted to perform but I could not get the erection that I needed.
If you have any concerns about erection quality, check out this article on at-home acoustic wave therapy. The Hollywood elite has used this type of revolutionary treatment for years. The Phoenix Device let me get rock-hard erections that gave me the confidence for the swinger lifestyle.
Penis Size and the Swinger Lifestyle
Like many men, I had always been worried about my penis size. When my wife wanted to get involved in the swinger lifestyle, my penis size anxiety increased.
Check out The Truth About Swinger Penis Size for information on this delicate subject. What is the average swinger's penis size, does penis size matter to swingers, how to make your penis appear bigger, and how to make your penis bigger (yes, this is scientifically possible with a little catch).
The Swinger Inferiority Fear
This fear had a lot to do with the previous two issues but I was very worried that my wife would find me sexually inferior after dabbling in the swinger lifestyle. Would my jealousies and insecurities get in the way of our having a fun time?
Read Male Swinger Insecurities for the story of how I overcame these fears.