We all enjoy some fun in the sun and spending the day at Haulover nude beach can definitely fit into that category. We recently returned from a trip to this beach and feel ready to give a Swinger Lifestyle Guide review of this beautiful beach. Which leads to the question how does this beach fit in with the swinger lifestyle?
In general, Haulover Nude Beach is definitely a fun spot to visit and we do recommend checking it out. However, this is not a place that lends itself easily to the swinger lifestyle. For the most part, this is a spot to catch some sunshine without the worry of tan lines and not to have adult fun.
So let's take a look at what Haulover Nude Beach has to offer for those into the swinger lifestyle, what it has to offer in general, and what you can expect to find at this beach.
What is the Haulover Beach Swinger Lifestyle Scene?
Since it is a public beach, the Haulover Beach swinger lifestyle scene is virtually non-existent. Public sex is not allowed on the beach and sexual acts can lead to you being kicked out or even arrested. During our visits here, we did not see anyone breaking these rules at all.
The main reason that sexual activity is not allowed is that there is a possibility of children being on the beach. Families are allowed to visit here though a signed waiver is needed for children. We have not ever seen children here but it is possible for them to show up.
If you are looking for fun in the sun with the opportunity to explore the swinger side, I would suggest visiting a swinger resort. As a matter of fact, the Rooftop Resort is a swinger resort that is located nearby. We were staying at this resort when we visited this beach.
We were able to visit the beach with some swinger friends that we met at the resort. But this would not be a good spot to try to meet other swinger couples.
What Kind of People Do You Find at Haulover Nude Beach?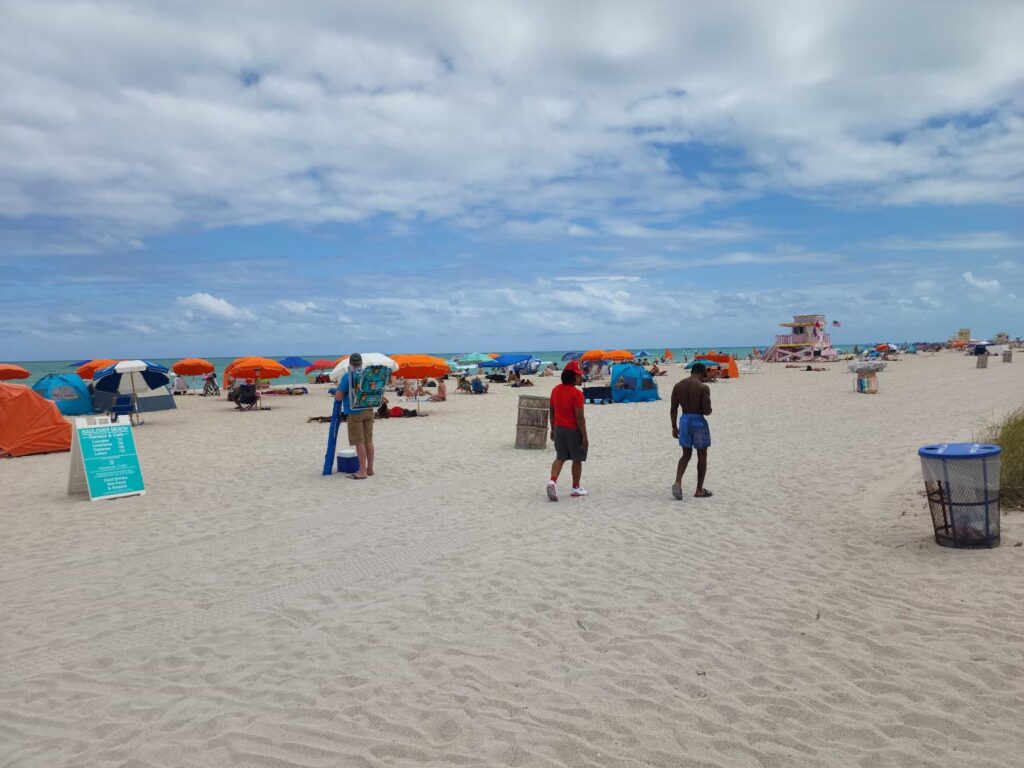 The simple answer is that you will encounter all kinds of different people at Haulover Nude Beach. But there are definitely some trends that you will encounter.
What is the Male to Female Ratio at Haulover Nude Beach?
We found that the nude beachgoers were predominantly men. We found that about 75% of the people were men. About half of the people are either single men or small groups of men.
The remaining half were mostly male/female couples. We only observed one single female at the beach and just a few female couples.
What is the Average Age at Haulover Nude Beach?
In general, the average age at Haulover Nude Beach was right around 40 years old. I would say that couples were mostly in the 45-55 years old range. Singles and same-sex groups tended to be a little younger at around 35-40 years old.
What was the Typical Body Type at Haulover Nude Beach?
You will find all the different body types at Haulover Nude Beach. This went all the way from the gym bodies to those on the overweight side. There was a slight tendency to be a little more fit than the average population but not extremely so.
No matter what body type you have, you will not feel out of place here.
What About Typical Penis Size at Haulover Nude Beach?
This does not really matter but it is still a question that men ask especially if they have not spent time in a nude setting. No matter what size you are nobody is going to really care. We saw men of all different shapes and sizes at Haulover Nude Beach.
That being said we do find that men at nude beaches tend to be slightly larger on average than the general public. This is just our personal observations vs accepted studies on the subject and observations from our swinger activities.
This is not an extreme difference but we feel that nudist men (especially swingers) tend to have a larger penis. We hypothesize that this is because men with a larger penis are less bashful about having it on display at a nude resort or beach.
What is Haulover Nude Beach?
Haulover nude beach is probably the most popular nude beach in the USA. It is located in Miami on the northernmost section of Haulover Beach. It is a public beach and is free for all to use.
Haulover Beach (both nude and boring sections) is about 1.5 miles long. The nude section is the northern 0.4 miles of the beach. There are restroom and foot shower facilities located at the entrance to this section. Nearby public parking is available for a minimal fee and is a short walk from the nude section of the beach.
There are beach lounges, cabanas, and umbrella rental options available at the beach. There is also a food truck on the nude beach with some drink options. This option along with the nearby restroom facilities make it easy to enjoy a full day in the sun here.
This is a great spot to visit if you are checking out any of the local tourist areas. This beach is close to Miami Beach and the Hollywood Beach area. We stayed right in Hollywood beach and took a quick Uber to this area.
Haulover Nude Beach General Information
Haulover Beach has a lot of general information located online. Their website has good information on parking and current conditions.
10800 Collins Ave,
Miami Beach, FL 33154
(305) 947-3525
https://www.miamidade.gov/parks/haulover.asp