My wife and I have had fun at swinger spots across the country. We have had a wonderful time checking out these spots including those in Tennessee. That leads to the question, what is available for Tennessee swinger clubs and Tennessee swinger resorts?
Tennessee swingers have access to the best selection of clubs and resorts north of Florida. There are multiple Tennessee swinger clubs, a couple of Tennessee swinger resorts, and some Tennessee swinger groups available. There are plenty of options to play in Tennessee.
So let's take a look at what is available for Tennessee swingers. We will look at Tennessee swinger clubs, Tennessee swinger resort options, and Tennessee swinger groups. If you are a man that is new to the swinger lifestyle be sure to check out the Important Note To Male Tennessee Swingers section.
Tennessee Swinger Clubs and Resorts Table
The table below contains a listing of Tennessee swinger clubs and Tennessee swinger resorts:
| | | |
| --- | --- | --- |
| Name | Location | Type |
| Eros Knoxville | Knoxville, TN | Swinger Club |
| CLUB GENESIS | Memphis, TN | Swinger Club |
| Club Chemistry | Madison, TN | Swinger Club |
| Destiny's Dance Socials | Maryville, TN | Swinger Club |
| Pleasure Lake Resort | Sparta, TN | Swinger Resort |
| Pandora's Forest Resort | Crossville, TN | Swinger Resort- Currently Closed |
As you can see from the table above, Tennessee has a pretty good selection of swinger clubs and swinger resorts. I would say that you would have to travel to Florida in order to find a better selection of swinger lifestyle venues.
Swingers in Tennessee should feel pretty fortunate to have this many places to try out. Some of them are full nightclubs and some are much more rustic or quaint but either way, we would try them all out.
First-time swingers can feel comfortable checking out these places as swinger clubs and resorts tend to be very low-pressure environments. You can hang out, talk to a few people, and just figure out if it is for you.
If you do decide that the swinger lifestyle is for you, the good news is that you can jump right in and have the opportunity to explore right at these Tennessee swinger clubs or Tennessee swinger resorts.
Tennessee Swinger Clubs
A great option for any Tennessee swinger would be to try out one of the Tennessee swinger clubs. These clubs provide places for swingers in Tennessee to meet up and play on-site.
We love these spots because they give you a chance to go and see if you can make a new connection with some other swinger couples. If you do find a spark, you can go to an adult playroom and have some fun right there.
We think Tennesse swinger clubs are also a great place for new Tennessee swingers to check things out. You may think that sounds like jumping into the deep end but it isn't. The clubs are very low-pressure. You can just hang out and see what is going on.
Once you check it out and chat with some people, you can make a better decision about yourself and the swinging lifestyle.
If you want to travel a little, you can always check out swinger clubs in neighboring Kentucky, Virginia, North Carolina, Georgia, Alabama, Mississippi, Arkansas, and Missouri.
CLUB GENESIS
5367 Knight Arnold Rd,
Memphis, TN 38115
901 303 8599
This is a BYOB Tennessee swingers club with a permanent physical location in Memphis. They are a membership-only club for 21+ couples, single women, and single men. They are open on Saturdays only from 8 pm to 2 am.
Club Genesis has a dancefloor, DJ, and onsite adult playrooms for fun right at the club.
The entrance fee for Club Genesis is $50 for couples, $80 for single men, and $10 for single women. Club Genesis accepts cash only at the door.
In addition to the entrance fee, you will need to have a membership. You can get your membership right at the door but you need to bring your ID.
The is only one membership option for single men which is $20 for a weekend. For couples, you can choose from $20 for a weekend, $60 for three months, and $100 for six months. For single women, you can get either a weekend or three months for $20.
Club Genesis posts its upcoming events on its website and on SLS (SwingLifestyle).
Eros Knoxville
815 S Central St,
Knoxville, TN 37902
(865) 686-5014
https://erosknoxville.com/
This is a fabulous Tennessee swinger club located in Knoxville. They are open every Friday and Saturday evening from 8 pm to 2 am. This BYOB lifestyle club is open to 21+ couples, single ladies, and a limited number of single men.
This club has a BYOB bar (they can serve the alcohol that you bring with you back to you), a dance floor, a lounge, and adult playrooms. This is a place for some swinger lifestyle action. Nudity is allowed in the playrooms and the lounge.
This club receives very good reviews and would be an excellent option for those looking to meet other Tennessee swingers. Clubs like this are a great way to see if this lifestyle is for you.
To attend the club, you will need a membership. Membership is $15 per month. This fee is the same whether you are a couple, a single female, or a single man. Membership application is done right on their website.
In addition to the membership, there is an entrance fee. On Fridays, the entrance fee is $25 for a couple, $10 for a single woman, and $25 for a single man. On Saturdays, the entrance fee is $50 for a couple, $10 for a single woman, and $60 for a single man.
Tennessee Temptations posts its upcoming events on its website and on SLS (SwingLifestyle).
Club Chemistry
1249 Northgate Business Pkwy,
Madison, TN 37115
(731) 337-5249
https://chemistrygold.com/sessions/new
We really debated about which classification to give Club Chemistry. It is a lot like a Tennessee swinger group but has very regularly scheduled events like a Tennessee swinger club.
Club Chemistry has events on most Friday and Saturday nights. These events have the feel of a nightclub with music and on-premise play. They are a BYOB club that helps make for an affordable night out.
Club Chemistry has membership requirements that are a little more difficult than a normal club. You must be sponsored by an existing couple who will attend your first event with you and you must have a verified membership on SLS (SwingLifestyle), AFF (Adult Friend Finder), or a similar site.
Club Chemistry posts its upcoming events on SLS (SwingLifestyle). You can also see who is attending these events on this website to help make some early connections.
Destiny's Dance Socials
1028 Williamson Chapel Road
Maryville, Tenn., 37801
(865) 898-8098
https://destinyssocials.wixsite.com/destinysdancesocials
Destiny's Dance Socials is a relatively small Tennessee swinger club that is loved by many of its regulars. This is a members-only club that is open on Saturdays from 8 pm to 2:30 am. This is an 18+ club but is BYOB for those 21 and over.
Destiny's offers a ton of amenities for a little club. Outside, they have outdoor seating, a pool area, a picnic table area, and a fire pit. Inside, they have play areas, glory sheets, a dance pole, black lights, mirrored walls, a buffet, nonalcoholic drinks/mixers, and TVs.
Destiny's does have some limited overnight accommodation and camping availability that you can call and ask about.
We have personally not been to this place but we would love to check out Destiny's Dance Socials. This is the type of place that we have really enjoyed in the past.
The yearly membership fee for Destiny's is $120 per year for couples or single guys. For single ladies, the membership fee is $50. There is an at-the-door donation request for individual nights.
Destiny's posts all of their event on SLS (SwingLifestyle). You can find out there what the event theme is and who will be attending the events.
Tennessee Swinger Resorts
We love spending time at swinger resorts so we were really happy to find that there were some Tennessee swinger resort options available. We love swinger clubs but sitting naked in the hot tub at a swinger resort with a drink in our hand is still our favorite thing to do.
If you are from Tennessee, it is so nice to have these options close by. If you are from somewhere else, you will find that these Tennessee swinger resorts can be an excellent vacation option. This area of the country is beautiful so you can explore the area during the day and swing at night.
We highly recommend that Tennessee swingers try out a spot like this at least once in their lives. It is a really great experience.
For a bigger selection of swinger lifestyle resorts, head down a little further south to check out the Top 5 Florida Swinger Resorts. These are some of the best swinger resorts in the country. If you want to check out the best swinger resort, you can check out Hedonism.
Another alternative to Tennessee swinger resorts is to check out some of the local nudist resorts. These resorts do not allow for overt sexual activity at the resorts. But we have on occasion met up with other swingers at nudist resorts and played in private.
If you are interested in any local nudist resorts, you can check out Tennessee Nude Beaches and Resorts. We still prefer swinger resorts but these nudist resorts will do in a pinch.
Pandora's Forest Resort & ClubPandora
Pandora's Forest is currently closed. We will update you as we find out more information.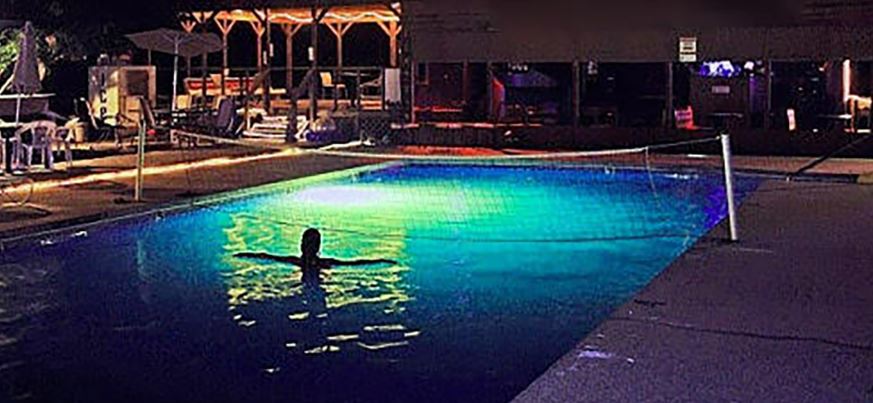 Pandora's Forest Resort & ClubPandora
80 Timberline Rd
Crossville, TN 38571
(931) 277-3077
https://pandorasforest.com/
This is a gem amongst the Tennessee lifestyle resorts. While a lot more rustic than the major Florida Swinger Resorts, this is a great local option. If you keep this in mind and appreciate it for what it is, you will truly love your visit to Pandora's Forest.
This is a resort that caters to the swinger crowd so be prepared for what you will encounter. It is clothing optional and for 21+ couples only.
Resort facilities and amenities include on-site cabins, an in-ground heated pool, a nightclub, a large covered hot tub, food, a poolside bar, a fitness area, and more.
This resort receives very good reviews and has a lot of return visitors. Check out their calendar for all of their resort events.
Overnight accommodations include rustic cabins starting at $89.99/night, RV sites starting at $52.50/night, and camping sites starting at $30/night.
Daily resort fees are not included in overnight fees and range from $40/day (Sunday through Thursday), $69/day (Friday and Saturday), and $80 on holidays. Daily resort fees are per couple and singles are not allowed.
In addition to resort fees, you must have a very reasonable membership. Membership fees start at $10/week and go up to $100/year.
Pleasure Lake Resort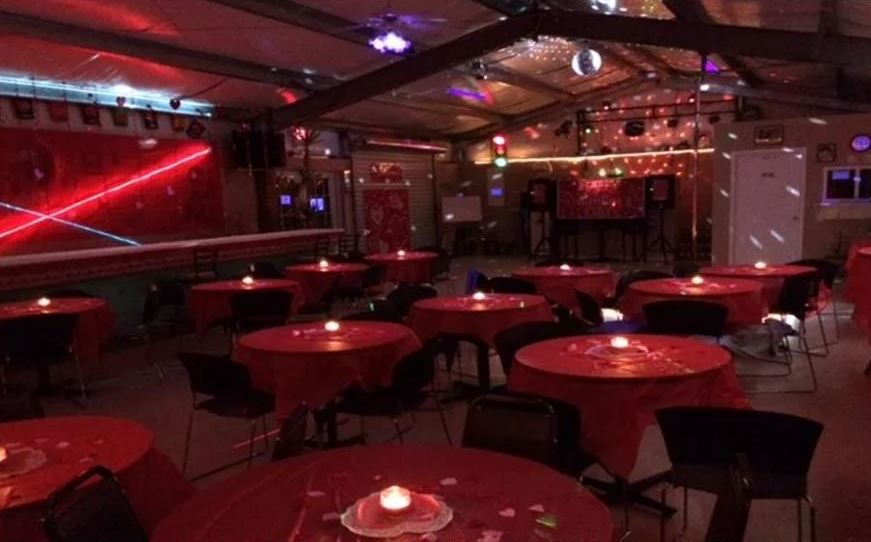 Pleasure Lake Resort
266 Comanche Ln,
Sparta, TN 38583
(615) 464-8180
https://www.pleasurelakeretreat.com/
This is another small Tennessee swinger resort. It is a little rustic but has a lot of small-time charm and fun. Some of the best times are in these small resorts where you get to know all of the guests.
This resort caters to the 21+ swingers crowd but allows both couples and singles. This is truly a little swinger lifestyle hidden gem.
This resort receives very good reviews from users. It may be a little rustic and small but the swingers that visit have a very high opinion of the place.
Resort amenities and facilities include a clubhouse, pool, small poolside restaurant (limited hours), hot tub, playhouse, and bonfire area.
We love this little swinger resort getaway. These are the stays that we find incredibly relaxing and fun. You will meet some great friends with benefits.
They offer several different overnight accommodations that are fairly basic but very reasonable. Cabin rentals start at $90/night, RV sites at $60/night, and camping at $35/night.
Grounds fees are not included in overnight accommodation fees. Daily ground fees are $60/day for couples, $75/day for single males, and $35/day for single females.
Tennesse Swinger Groups
These are groups for Tennessee swingers that organize events but do not have a physical location that they own. They will put on swinger events at other venues. These can be awesome events but just be a little wary.
Some are just promoting travel packages but do not put on many events. This being said, these groups have some hotel takeovers and club takeovers that can be a blast. Below are some of these groups for Tennessee swingers.
Tennessee Temptations
Johnson City, TN
https://tntempt.com/
This is a Tennessee swingers group that offers excellent club-like experience events. Tennessee Temptations hosts these themed events about once every month.
These events have all of the club amenities that we love. Tennessee Temptations has a 3000 square foot facility with a dancefloor, DJ, a stripper pole, a BYOB bar with complimentary mixers, adult playrooms, and a hotel shuttle.
In order to sign up for Tennessee Temptation events, you need to have a membership. Membership application is fairly easy and done right on their website.
Couples, single females, and a controlled amount of single men are allowed to attend Tennessee Temptations events.
Club Chemistry
Murfreesboro, TN
http://www.clubcravex.com/
Club Chemistry is a Tennessee swinger group that hosts hotel events. They will take over a number of hotel rooms which they will set up as playrooms and party rooms. The events that they put on are very reasonably priced.
You can sign up for events and get more details on SLS (SwingLifestyle). Once you sign up you get hotel information then you can even get your own room to make an overnight stay of it.
Vibe
Nashville, TN
https://www.partiesbyvibe.com/sessions/new
The Vibe is another Tennessee swinger group that puts on Hotel events usually in the Nashville area. In order to attend their events, you will need to sign up through their website. Once signed up, you can get specific event information.
Exotic Desires
Knoxville, TN
http://www.exoticdesiressocialclub.com/
Exotic Desires is another Tennessee swinger group that puts on hotel events. Their events are usually at the Clarion Inn. They have a food banquet, dancefloor, adult play areas, and provide a great opportunity to meet other local swingers.
All of this is offered at pretty reasonable prices when they have their events.
Meeting Up With Tennessee Swingers
There are a couple of online sites that Tennessee swingers use to meet up with other swingers. These sites are SLS (SwingLifestyle) and AFF (Adult Friend Finder). We use these sites to meet the couples that we hook up with at the swinger clubs, swinger resorts, and sometimes just on our own.
What we actually do is make some connections ahead of time before going on our trips. This helps to increase our chances of finding a nice compatible couple when we go to the resort or club.
SLS (SwingLifeStyle)

SwingLifeStyle.com
SLS is by far the biggest and most popular website for club and resort events. This is the website where Tennessee swinger groups posts all of their events. You can connect with other members that are going to these events ahead of time.
This website is free to join and check out but you will need to upgrade to use all of the messaging functions. SLS (SwingLifestyle) is a must for swingers that will be attending events and is the number one site I would recommend.
Adult Friend Finder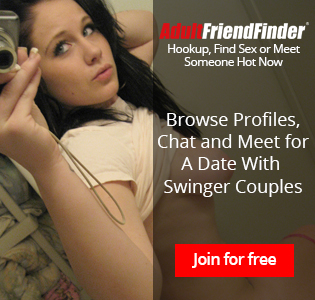 Adult Friend Finder is quite different than SLS (SwingLifestyle). It is more geared toward making individual connections with other swingers and not toward meeting others at events or clubs. AFF users tend to post a lot more public pictures. We use AFF to set up one on one swinger dates outside of events.
Important Note To Male Tennessee Swingers
When my wife and I first started in the swinger lifestyle, we found all kinds of articles dealing with the fears and insecurities of women but very little for men. I found that with many swinger couples the woman has the confidence and the swinger drive while the man has major worries that hold him back.
1. Erection Quality in the Swinger Lifestyle
Having fun in the swinger lifestyle is hard when you are worried about maintaining your erection. This was a problem that I had at one point. The libido was there and I wanted to perform but I could not get the erection that I needed.
If you have any concerns about erection quality, check out this article on at-home acoustic wave therapy. This type of revolutionary treatment has been used by the Hollywood elite for years. The Phoenix Device let me get rock-hard erections that gave me the confidence for the swinger lifestyle.
Penis Size and the Swinger Lifestyle
Like many men, I had always been worried about my penis size. When my wife wanted to get involved in the swinger lifestyle, my penis size anxiety increased.
Check out The Truth About Swinger Penis Size for information on this delicate subject. What is the average swinger's penis size, does penis size matter to swingers, how to make your penis appear bigger, and how to make your penis bigger (yes, this is scientifically possible with a little catch).
The Swinger Inferiority Fear
This fear had a lot to do with the previous two issues but I was very worried that my wife would find me sexually inferior after dabbling in the swinger lifestyle. Would my jealousies and insecurities get in the way of our having a fun time?
Read Male Swinger Insecurities for the story of how I overcame these fears.