My wife and I have been visiting swinger clubs for some time now including the Trapeze Club Fort Lauderdale. With all of our experiences, we offer this Trapeze Club Fort Lauderdale review and answer the question "Is the Trapeze Club Fort Lauderdale worth a visit?"
Trapeze Club Fort Lauderdale is one of the top swinger clubs in the country. The Trapeze Club is the top-rated Florida swinger club as rated by SwingerLifestyleGuide This club has great club dancing, good playrooms, and an incredible buffet that helps make a unique experience.
So let's take an in-depth look in our Trapeze Club review. We will look at our overall impression, our take on the Trapeze Club playrooms, the buffet, Trapeze Club costs, our experience at this club, the club demographics, some tips for male swingers, and more.
Our Overall Trapeze Club Fort Lauderdale Review
Our overall Trapeze Club Fort Lauderdale review is that this club is one of the best swinger clubs in the country. We found that the club maintained both a sexy and upscale atmosphere that made it a great time.
We found that the Trapeze Club had a ton of opportunities to play with others. The playrooms stayed busy all night long and there was always something to check out.
The actual nightclub part was great as well with a great selection of music (heavy on the Latin beat). We had a great time dancing and watching some of the other clubgoers that were truly great dancers.
The buffet was great so don't bother going out to eat before hitting Trapeze. You will not leave hungry. There is nothing like fooling around, going out to grab a bite to eat to recharge, and going back into the playrooms for more.
The crowd at the Trapeze Club had a lot of really great-looking people and probably the best group of dancers that we have ever encountered.
We found that the club had a good mix of single men on the nights that they were allowed. There were many more couples than single men so it did not have that overwhelming feeling that clubs can sometimes have.
The play experience was awesome and we detail that more in the Our Trapeze Club Experience section.
Our Trapeze Club review is that this club is a must-visit for any swinger in the Miami/Fort Lauderdale area. It is our favorite swinger club in Florida and one of the top swinger clubs in the country.
Trapeze Club Fort Lauderdale Playrooms
The Trapeze Club Fort Lauderdale has a bunch of different playrooms to offer. We found the playrooms here to be very active and very fun. Like all playrooms, consent is key, and never assume that anyone has invited you to play.
We found that the playroom areas here got active pretty early on and there were people there and playing within a couple of hours of the club opening. The playrooms stayed active right up to closing.
Entering the Playroom Area
The playroom area is located off from the main dancefloor/lounge area and you are not allowed to wear clothes into the area. There is a locker room area right at the entrance where you can take off your street clothes.
Towels are provided which you can wrap around yourself and the locker room attendant can lock up your belongings.
The attendant will write your locker number on your club wristband when they lock up your locker. When you return from the playrooms the attendant is right there to let you back into your locker. The whole system was quick and easy. You do not need to bring your own lock.
Once you enter the playroom area, you will first come to a BYOB bar for that area. If you drop off your alcohol at this bar, you can pick up drinks here.
Just remember that you can't be in this area with street clothes so it may not work for you if you are uncomfortable just wearing a towel in the main club area and you plan on going back and forth between the dance club and playroom area.
The Actual Playrooms
To the right of the entrance is a few couch-type areas where a lot of couples would sit and watch what was going on. I did not see a lot of sex going on here but there were a lot of blow jobs going on.
Next to this area was a nice room that had a darkened window looking out onto the club area. You could still see through the window in both directions but you had to get up within a few feet to see clearly. This room had a long bed-type area that was big enough for multiple couples and a slightly shorter area big enough for two couples.
This room stayed busy for most of the night with a lot of couples putting on shows and multiple women putting on shows for each other. A lot of the single men would hang out in this room and would get some invites to join.
Around the corner to the right of the bar was a group play area that was busy all night as well. A lot of couples would play here with some interaction between couples. Single men would occasionally get invites in this area as well.
This area had multiple beds with many that were set up together for group play. Additionally, there were some long couch areas so that you could sit and watch what was going on.
In the middle of the playroom area behind the bar, there were six private playrooms with three on each side of the bar. These rooms had a bed and you could shut the door for some privacy.
To the left of the bar were some additional seating areas but this was not as busy as the rest of the playroom areas.
The playroom areas were pretty clean but there was no bedding down and you would have to use your towel if you wanted to lay on something. There were cleaning supplies available but sometimes you had to look a little for them and we did not see anyone cleaning during the night.
Trapeze Club Costs
We found that the Trapeze Club cost was pretty reasonable when you take into account what you get for it. There are a couple of costs to take into account when you go here. There is a membership cost and the actual event cost.
You are required to get a membership before attending an event but you can do this right at the door. There are a couple of kiosks right at the doorway to sign up with. Just enter your name, address, email, phone number, and id information at the kiosk.
Once you are signed up you will pay the cashier for the membership. The membership rates are:
| | | | |
| --- | --- | --- | --- |
| Length of Membership | Couples | Single Ladies | Single Men |
| One Month | n/a | n/a | $110 |
| Two Months | $70 | n/a | n/a |
| Three Months | n/a | $50 | n/a |
| One Year | $420 | n/a | n/a |
Trapeze Club Fort Lauderdale Membership Cost
In addition to your membership, you will need to pay for the nightly event at the club. The nightly event rates are:
| | | | |
| --- | --- | --- | --- |
| | Couples | Single Ladies | Single Men |
| Wednesday and Thursday | $60 | $40 | $110 |
| Friday | $90 | $40 | $110 |
| Saturday | $90 | $40 | not permitted to attend |
| Sunday | $60 | $40 | $110 |
Trapeze Club Fort Lauderdale Nightly Event Fee
The prices may seem a little high at first but not when you compare it to a night out at another club. The BYOB bar a Trapeze will save you a ton of money. Additionally, you will get both a dinner and breakfast buffet with your admission.
My wife and I went to this club for two nights, we spent $70 for a membership and $150 for two event admissions. The $220 total cost was much lower than what we would have paid to go to another club after paying for drinks (bar tab for two nights usually around $150), meals (four meals easily $200) plus whatever it would be to get into the club.
If you actually live locally and use your membership, then it would be an even better deal.
The Trapeze Club Buffet
A great feature of the Trapeze Club for swingers is the buffet. Nothing goes better with great sex than great food and you will find both at Trapeze Club Fort Lauderdale.
Each night there is a dinner buffet and a breakfast buffet. The dinner buffet is served from opening until around midnight. The breakfast buffet is served from after midnight to just before closing.
The food at the buffet was actually very good. The selection at the buffet is not great as there are only a few options but the quality was excellent.
You can check their website for what is specifically offered each night for dinner but there is usually a couple of entrees to pick from along with a couple of sides. Some examples of dishes from the buffet are Herb Roasted Chicken, Honey Baked Ham W/ Raisin Sauce, Garlic & Rosemary Roast Pork Loin, etc…
The breakfast buffet is pretty consistent with bacon, sausage, an omelet bar, hash browns, coffee, and pastries. It is really great to fool around and go out and hit the breakfast buffet to recharge and go again.
The Trapeze Club Fort Lauderdale Other Amenities
The Trapeze Club Fort Lauderdale amenities are geared for swingers. They keep it basic with the big focus being on playrooms and food. In addition to the playrooms and buffet, you will find a really nice dancefloor with a live DJ that keeps the music going.
They seemed to strike a nice balance of having loud and fun music but just at the noise level that you could still talk to someone without having to shout in their ear. The music was much quieter in the playrooms.
The main club area also had plenty of seating around so that you could sit and check things out. There was some bar-type seating along with some couch-type seating.
Our Trapeze Club Experience
We had a great time at the Trapeze Club. I am going to give you the details of both the mundane and wild aspects of our first visit.
We arrived at the club around 9 pm. It took about 10 minutes to get our membership and pay our entrance fee. We went in, dropped off our vodka at one of the bars, and grabbed a quick drink. We had cranberry and vodka all night long.
After taking a quick look around, we hit the buffet as we were hungry from our trip. The line was really short for the buffet and we got served quickly and the food was great.
After eating we grabbed another drink and hit the dance floor for a bit. We really loved the music and watching all of the great dancers really got us in the mood.
We went off to the playrooms to check everything out. We wandered around for a bit and watched a lot of couples that were fooling around. Everything seemed to excite my wife so she kind of took charge.
She took me to the room that had a large window facing the club. She had me lay down on the bed area in front of the window, stripped off her towel, bent over, and started going down on me.
As she performed on me, she started to notice a couple watching from the other side of the window and it really got her hot. She looked behind her and waved toward a couple of single guys that were watching her from behind.
They came up behind her and started to touch her while she continued to blow me. After a few minutes, she asked me if she could take care of the other two guys. I was game for it.
She had the two of them lie down on the couch and she started jerking and blowing them. I got behind her and started having sex with her. She went to town on the two guys and it seemed like she had both of them climaxing within a couple of minutes. I had a massive orgasm in her as she was finishing up the second guy.
That whole experience was awesome. She said goodbye to her new friends and we headed back out into the club.
We danced again for a bit and then hit the buffet again for breakfast. This whole buffet after-sex experience was just awesome. While we were eating, we met another couple that we had seen in the playrooms.
We got talking and hit it off pretty well. As the night was getting late, I just went ahead and asked if they wanted to hit the playrooms together. They agreed and we went in together.
We got one of the private playrooms and went in together. This other couple was fairly new to the swinging lifestyle and was a little timid about what they wanted to do. This was fine with us and we went with their comfort level.
We went with some soft swapping. My wife went down on him while the other lady returned the favor to me. After a few minutes, we switched with the guys going down on the women. Once the women were all excited, we switched back and had sex with our own partners.
It was not too wild but we had a great time. I think it was a good experience for the other couple as they were new to the lifestyle. We ended up going back out to the club with the other couple and danced for a while and had a couple more drinks.
Overall, it was not a terribly wild night but it was still a great time.
Trapeze Club Demographics
We found that the Trapeze Club had a really diverse group of customers. This diversity always makes for a great time. In general, we found the people here to be fitter and better looking than the general public.
We saw people from all age groups but I would say the average age was around 45. This is a really rough breakdown but I would say about 10% are in their 20s, 20% in their 30s, 30% in their 40s, 20% in their 50s, 15% in their 60s, and 5% older
On the night that was open to single men, I think the ratio was around 75% couples, 20% single men, and 5% single women. On Saturday night, it was around 90% couples and 10% single women.
We saw people of all races at the Trapeze Club. Of course, being in the Miami area, there was a high Latino presence. It was not uncommon to hear Spanish being spoken but as an English-only couple, we had no issues.
The women at this club tended to be very pretty. I would say that this club had the best-looking women that I have ever encountered at a club.
People always ask about how well-endowed the men were at the clubs we go to. We found that the men that were naked at Trapeze Club Fort Lauderdale were way above average in penis size. Check out The Truth About Swinger Penis Size for information about swinger penis size.
How The Trapeze Club BYOB Bar Works
The first time that you go to a club like the Trapeze Club you may be wondering how the BYOB bar works. The good news is that it is really easy and will save you a ton of money.
When you pay your admission to the Trapeze Club, they will put a sticker on your alcohol with your membership number on it. They will also give you an admission bracelet with your membership number on it.
Once inside, you drop off your alcohol at one of the three bars. Whenever you want to get a drink, just go to the bar that has your alcohol. Show the bartender your membership number on your wristband and ask them for your drink. Tips for the bartenders are expected.
Trapeze Club has two bars in the main club area and one in the playroom area.
The bar has all of the standard mixers like cranberry juice, orange juice, and soda. If you want anything else out of the ordinary, you can bring it in and they will label it just like they do your alcohol.
Where Is Trapeze Club Fort Lauderdale Located
Trapeze Club Fort Lauderdale is actually located in Tamarac, Florida. They are in a little strip mall area that is about 10 miles from downtown Fort Lauderdale. The actual address is:
5213 FL-7,
Tamarac, FL 33319
(954) 730-8121
https://trapezeclubs.com/
If you are coming from out of town, there are a few hotels nearby but we found the Tamarac LaQuinta Inn to be the most convenient. This inn was located right across the road from the Trapeze Club and was an easy walk.
This made it easy to have a good time and not worry about driving.
The strip mall that has the Trapeze Club also has a liquor store so you can pick up your BYOB alcohol right there.
The Trapeze Club Dress Code
The Trapeze Club does enforce its dress code so keep this in mind when you are attending.
For women, the code is to wear sexy clubwear with no pajamas, beach wear, or beach sandals.
For men, the code is to wear a collared shirt and dress shoes with no T-shirts, shorts, hats, sweatpants, flip-flops, no ripped or baggy clothing, cargo pants, backpacks, flashy jewelry, sports attire, sunglasses, sneakers, construction boots or sandals.
The full dress code can be found here.
Meeting Up With Fort Lauderdale Swingers
There are a couple of online sites that Fort Lauderdale swingers use to meet up with other swingers. These sites are SLS (SwingLifestyle) and AFF (Adult Friend Finder). We use these sites to meet the couples that we hook up with at the swinger clubs, swinger resorts, and sometimes just on our own.
What we actually do is make some connections ahead of time before going on our trips. This helps to increase our chances of finding a nice compatible couple when we go to the resort or club.
When we went to Trapeze Club Fort Lauderdale, we used SLS to make some friends ahead of time. We signed up as attending the event on SLS and started communicating with other SLS members going to the event. We ended up spending most of the night and then playing with one of these couples.
SLS (SwingLifeStyle)

SwingLifeStyle.com
SLS is by far the biggest and most popular website for club and resort events. This is the website where the Trapeze Club Fort Lauderdale posts all of its events. You can connect with other members that are going to these events ahead of time.
This website is free to join and check out but you will need to upgrade to use all of the messaging functions. SLS (SwingLifestyle) is a must for swingers that will be attending events and is the number one site I would recommend.
Adult Friend Finder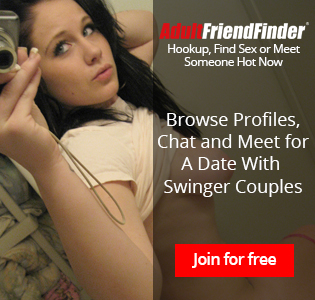 Adult Friend Finder is quite different than SLS (SwingLifestyle). It is more geared toward making individual connections with other swingers and not toward meeting others at events or clubs. AFF users tend to post a lot more public pictures. We use AFF to set up one on one swinger dates outside of events.
Important Note To Male Trapeze Club Swingers
When my wife and I first started in the swinger lifestyle, we found all kinds of articles dealing with the fears and insecurities of women but very little for men. I found that with many swinger couples the woman has the confidence and the swinger drive while the man has major worries that hold him back.
1. Erection Quality in the Swinger Lifestyle
Having fun in the swinger lifestyle is hard when you are worried about maintaining your erection. This was a problem that I had at one point. The libido was there and I wanted to perform but I could not get the erection that I needed.
If you have any concerns about erection quality, check out this article on at-home acoustic wave therapy. This type of revolutionary treatment has been used by the Hollywood elite for years. The Phoenix Device let me get rock-hard erections that gave me the confidence for the swinger lifestyle.
Penis Size and the Swinger Lifestyle
Like many men, I had always been worried about my penis size. When my wife wanted to get involved in the swinger lifestyle, my penis size anxiety increased.
Check out The Truth About Swinger Penis Size for information on this delicate subject. What is the average swinger's penis size, does penis size matter to swingers, how to make your penis appear bigger, and how to make your penis bigger (yes, this is scientifically possible with a little catch).
The Swinger Inferiority Fear
This fear had a lot to do with the previous two issues but I was very worried that my wife would find me sexually inferior after dabbling in the swinger lifestyle. Would my jealousies and insecurities get in the way of our having a fun time?
Read Male Swinger Insecurities for the story of how I overcame these fears.