My wife and I have been visiting swinger clubs and swinger resorts for some time now including Miami Velvet. With all of our experiences, we offer this Miami Velvet review and answer the question "Is the Miami Velvet swinger club worth a visit?"
Miami Velvet is a nightclub that emphasizes dancing and has some swinger activity on the side. We found that Miami Velvet was a fun dance club but not a good spot to meet other swingers as the noise and crowd levels of this club make it difficult to meet other swingers.
So let's take a look at our Miami Velvet experience. We will look at our overall Miami Velvet review, the Miami Velvet playrooms, Miami Velvet costs, amenities, our experience at this swinger club, the location, alternative spots, and more.
Our Overall Miami Velvet Review
Our overall Miami Velvet review was that we were rather disappointed in this swinger club. We found it to be more of a dance nightclub with some playrooms than a swinger club with a dance floor. It was not that there was anything wrong with the club just that it did not fit with how we see the swinger lifestyle.
Our favorite part of the swinger lifestyle is meeting all kinds of people from across the country and making some good connections. Unfortunately, at Miami Velvet the dancing is foremost and the club is so loud that there is no way to actually meet anyone new and carry on any type of conversation.
Unlike most other swinger clubs, we did not encounter any open group play anywhere in the club. We actually saw very few other clubgoers that even were naked or partially naked during the night. This is very different from other swinger clubs.
If you are looking for a dance club that has a few swinger amenities, then this might be your place. We just found it a really tough place to make any new connections. If you were looking to go out with some friends that you already knew, Miami Velvet might work as you could dance, have fun and see what happens.
We think that others ran into the same problems as we did not see any other couples involved in any group play at Miami Velvet. The private playrooms saw some action throughout the night but it seemed to be all individual couples that came to the club together were using them.
Another negative about Miami Velvet was that the staff did not seem to be very attentive to details in the club. When we arrived as first-timers (they knew this because we did our initial membership application) there was no welcome to the club or any info given to help figure out the flow of the club.
They just took our payment and let us in. Once in the club, the staff did not enforce a lot of rules very well. There were a bunch of people that were taking pictures and videos even though this was against the posted rules.
As swingers with school-age kids and professional jobs, we value our anonymity and did not like this aspect very much.
The pricing seemed to be rather high at this club in comparison to many other swinger clubs. The night before we had visited Trapeze Fort Lauderdale and paid about the same for a much more active swinger scene and two buffet meals.
There are also some positives to Miami Velvet. The crowd was mostly young and good-looking. The music was very upbeat with a great light show.
This club drew a really large crowd so the dance atmosphere must have been great for a lot of the people. I think a lot of the people there met up with others that they already knew for a night of dancing. So probably this club was a lot more fun as a local than as a visiting tourist.
The Miami Velvet swingers club is open on Fridays from 8 pm to 4 am and on Saturdays from 8 pm to 5 am.
The Miami Velvet Playrooms
We found the Miami Velvet playroom situation to be a little different from what we have found in most clubs. This club had a great number of playrooms but they were almost all set up as private individual playrooms.
There were two main sets of playrooms. Both of these playroom areas were located down a hallway that came off the main club area. This hallway also provided access to the locker room and bathrooms.
The first set of playrooms located on the left of the main hallway had around a dozen rooms. Unlike the other playroom area, you could wear your normal clothing in this area.
Of these rooms, all except for one were private playrooms. There was a locking door in each of these private playrooms. Each room had a bed and a darkened window so that you could see a little into the adjacent playroom.
These private playrooms seemed to stay busy for most of the night. With couples going into a room for some fun. We did not observe many groups or foursomes enter these rooms as it was mostly individual couples.
In addition to the private playrooms, this area had an additional group playroom area that was equivalent to around four beds pushed together. We did not see this group playroom get used at all.
There is a second Miami Velvet playroom area that is located to the right of the hallway. You need to go through the locker room area to get to this playroom. You can not wear clothing in this area. You can change in the locker room and use the provided towels in this area.
This area has several private playrooms similar to the other side but also had some open lounge areas where some open action can occur. This area started off really slow at the beginning of the night but did seem to pick up some as the night went along.
We did not see a lot of group action on this side either. We mostly saw couples enter and go into one of the private rooms. Later in the evening, we saw some couples engaging in oral sex in the lounge area, but in general, everything stayed pretty tame in these areas.
Miami Velvet Costs
A big component of your Miami Velvet cost is your club membership. This membership is required to attend an event at Miami Velvet. The membership application is easily done on a tablet at the door when you first attend. It only takes a couple of minutes to complete the process.
In order to obtain a membership you will need to be at least 21 years of age, have a valid ID, and abide by the dress code. You can use your credit card to pay for membership or entry fees but there is an additional $4 charge when a credit card is used.
One great feature at Miami Velvet is that they offer a free one-night membership to visiting tourists unless it is on a big event night (Halloween, New Year's Eve, etc…). We took advantage of this during our visit.
| | | | |
| --- | --- | --- | --- |
| Membership Duration/Type | Couple | Single Lady | Single Man |
| A one Time Tourist Visit (some exclusions) | Free | Free | Free |
| One Month | $50 | $10 | $100 |
| Two Month | $50 | n/a | $150 |
Miami Velvet Membership Cost Table
In addition to your membership, you will also need to pay an event fee for the night as part of your Miami Velvet cost.
| | | | |
| --- | --- | --- | --- |
| | Couple | Single Lady | Single Man |
| Friday | $65 | $10 | $100 |
| Saturday | $85 | $25 | not allowed on Saturdays |
Miami Velvet Event Costs
Miami Velvet is a BYOB club so the actual cost of a night out is not as bad as it may sound. I know we save a ton of money when we go to BYOB events as opposed to a cash bar.
Miami Velvet Amenities
In addition to the playrooms and BYOB bar, there are some other Miami Velvet amenities.
This club has a really great sound system, a light show, and dance areas in the club. We found that most of the clubgoers were really into the dance scene at this club and they all seemed to be having a great time with the music selection and dance opportunities. There are a couple of stripper poles in the club for those that like to put on a show while dancing.
Miami Velvet has locker rooms and showers for guests. This can be really convenient if you have some extra fun or even to clean up for some fun if you get all sweaty while dancing.
There is also a pool table room that stayed pretty busy through the evening.
One thing that I would suggest checking out is one of the foam parties at Miami Velvet. When they do this event they take one of the large rooms and just pump a ton of foam into the room. There is all kinds of dancing and fun in this room that is absolutely packed with foam.
When we visited the club in December of 2022, the website mentioned a breakfast buffet. Miami Velvet does not have a buffet and this mention has since been removed from their website.
Our Miami Velvet Experience
You are going to find our experience at the Miami Velvet swinger club to be very tame in comparison to most of our other travels. We had a really hard time getting into the flow of things with this club.
While we thought it was a vibrant dance club atmosphere, we found it to be a difficult place to make swinger connections.
Once we got into the club, we knew that it was going to be a difficult night. We are going to sound old but the dance music was playing so loud that it was difficult to have any sort of conversation with others in the main club area.
We met a few couples in the club and started to have conversations. The issue was that you could not have any type of group conversation as you had to have your ear right up near the person's mouth to hear anything.
Another issue that we ran into was that it was very difficult to get a drink. The layout of the club made it so that many people hung out in the bar area. When you wanted to get a drink, it was really difficult to even get a spot at the bar to get a bartender's attention.
We eventually went to one of the lounge areas outside of the playrooms and hung out there for a while. We saw a few coupled go into the private playrooms but no one was using any of the group areas or doing anything out in the open.
This was a huge difference from most other swinger clubs that we had been to. As the night went on, we saw things pick up but not to the point of getting wild.
We tried out the back playroom area that you could not wear clothes into. As a matter of fact, the locker room area where you take your clothes off and grab your towels was the area where we saw the most nudity.
Once we got into the back playroom area, we saw mostly couples going off to private playrooms together. We saw one couple in the lounge area that was getting a blow job.
We ended up going back to the main club and dancing for the rest of the night. The dance atmosphere was fun and we had a good time with that aspect of the evening.
Miami Velvet Demographics
We found the Miami Velvet demographics quite different from what we have encountered at other swinger clubs. The most glaring difference was that the average age at Miami Velvet seemed to be significantly younger than other clubs or resorts.
I would estimate the average age to be around 33 years old. My rough guess on an age breakdown would be 30% in their 20s, 30% in their 30s, 25% in their 40s, 14% in their 50s, and the remaining 1% older. So this was a definitely younger crowd.
We saw people from every racial group but there was definitely a heavy presence of mostly White and Latino people. There was a lot of Spanish spoken at this club but it was not difficult to communicate if you are English only.
We saw all body types at Miami Velvet but the crowd tended to be more fit than what you would find in the general public. This tended to be a very good-looking crowd here with both the men and the women.
People always ask about how well-endowed the men were at the clubs we go to. Unlike most clubs, we can not answer this with Miami Velvet as we saw very few people walking around naked.
If you want more information about what we have found out about penis size at swinger resorts and clubs, check out The Truth About Swinger Penis Size.
How The Miami Velvet BYOB Bar Works
The first time that you go to a club like Miami Velvet you may be wondering how the BYOB bar works. The good news is that it is really easy and will save you a ton of money.
When you pay your admission to the Trapeze Club, they will put a sticker on your alcohol with your membership number on it. They will also give you an admission bracelet with your membership number on it.
Once inside, you drop off your alcohol at the bar. Whenever you want to get a drink, just go to the bar that has your alcohol. Show the bartender your membership number on your wristband and ask them for your drink. Tips for the bartenders are expected.
Miami Velvet only has one large bar. This bar gets very crowded on a Saturday night and it can take a long time to get a drink.
The bar has all of the standard mixers like cranberry juice, orange juice, and soda. If you want anything else out of the ordinary, you can bring it in and they will label it just like they do your alcohol.
Miami Velvet Location
Miami Velvet is located in Miami in the vicinity of the airport. It is located in a commercial building that is right on NW 36th Street. The actual address is:
Miami Velvet
3901 NW 77th Ave,
Miami, FL 33166
(305) 406-1604
https://miamivelvet.com/
It is pretty easy to get to this Miami swinger club as it is not too far off I-95. When we visited, we stayed at the La Quinta Inn by Wyndham Miami Airport North which was about a 5-minute walk from Club Miami.
This was an easy location to stay at with a McDonald's, Denny's, and a liquor store all within walking distance.
Miami Velvet Alternatives
We had a good time at Miami Velvet but it was not our favorite swinger spot. There are a bunch of other great swinger spots in Florida which are great Miami Velvet Alternatives.
Our favorite spots are swinger resorts and Florida has a bunch although most are quite a drive from Miami. You can check out our Top 5 Florida Swinger Resorts for more information on these spots.
For alternatives close to Miami, I would recommend the Rooftop Resort which is Hollywood Beach. This is a great fun spot but it is only really active on Saturday nights.
A great alternative is the Trapeze Club Fort Lauderdale which is actually in Tamarac. This is a little drive from Miami but it is the top swinger club in Florida. This club is open Wednesday thru Sunday and you just need to check out the buffet.
The Miami Velvet Swinger Club Dress Code
The Miami Velvet swinger club dress code calls for upscale club wear. This is defined as sexy for the ladies and classy for the men.
They specifically say no tank tops, shorts, sandals, due rags, caps, hats, or jerseys. On the night that we were there, we saw all kinds of club wear and would definitely say that it was not formal wear. Everyone looked good but we saw ripped jeans and tee shirts.
We attended on a Saturday foam night which allowed beach wear so they may be more formal on other nights.
Meeting Up With Miami Swingers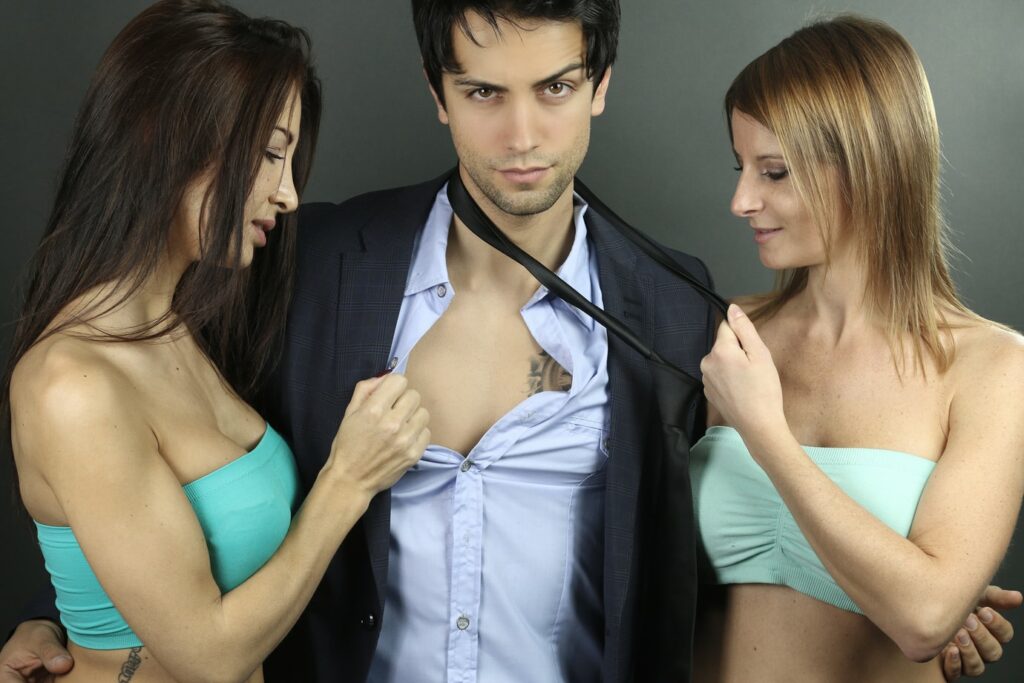 There are a couple of online sites that Miami swingers use to meet up with other swingers. These sites are SLS (SwingLifestyle) and AFF (Adult Friend Finder). We use these sites to meet the couples that we hook up with at the swinger clubs, swinger resorts, and sometimes just on our own.
What we actually do is make some connections ahead of time before going on our trips. This helps to increase our chances of finding a nice compatible couple when we go to the resort or club.
Miami Velvet does not have a listing on SLS (SwingLifestyle) like most other swinger clubs throughout the country. This should have been a warning to us that the swinger lifestyle may not have been their top priority.
SLS (SwingLifeStyle)

SwingLifeStyle.com
SLS is by far the biggest and most popular website for club and resort events. This is the website where Miami Velvet posts all of its events. You can connect with other members that are going to these events ahead of time.
This website is free to join and check out but you will need to upgrade to use all of the messaging functions. SLS (SwingLifestyle) is a must for swingers that will be attending events and is the number one site I would recommend.
Adult Friend Finder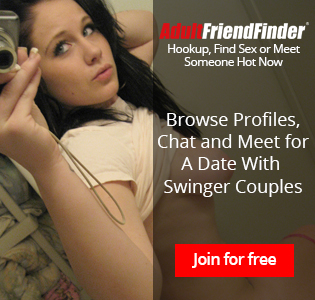 Adult Friend Finder is quite different than SLS (SwingLifestyle). It is more geared toward making individual connections with other swingers and not toward meeting others at events or clubs. AFF users tend to post a lot more public pictures. We use AFF to set up one on one swinger dates outside of events.
Important Note To Male Miami Velvet Swingers
When my wife and I first started in the swinger lifestyle, we found all kinds of articles dealing with the fears and insecurities of women but very little for men. I found that with many swinger couples the woman has the confidence and the swinger drive while the man has major worries that hold him back.
1. Erection Quality in the Swinger Lifestyle
Having fun in the swinger lifestyle is hard when you are worried about maintaining your erection. This was a problem that I had at one point. The libido was there and I wanted to perform but I could not get the erection that I needed.
If you have any concerns about erection quality, check out this article on at-home acoustic wave therapy. This type of revolutionary treatment has been used by the Hollywood elite for years. The Phoenix Device let me get rock-hard erections that gave me the confidence for the swinger lifestyle.
Penis Size and the Swinger Lifestyle
Like many men, I had always been worried about my penis size. When my wife wanted to get involved in the swinger lifestyle, my penis size anxiety increased.
Check out The Truth About Swinger Penis Size for information on this delicate subject. What is the average swinger's penis size, does penis size matter to swingers, how to make your penis appear bigger, and how to make your penis bigger (yes, this is scientifically possible with a little catch).
The Swinger Inferiority Fear
This fear had a lot to do with the previous two issues but I was very worried that my wife would find me sexually inferior after dabbling in the swinger lifestyle. Would my jealousies and insecurities get in the way of our having a fun time?
Read Male Swinger Insecurities for the story of how I overcame these fears.