My wife and I have had fun at swinger spots across the country. We have had a wonderful time checking out these spots, meeting new people, and sharing our stories. That leads to the question, what is available for Alabama swinger clubs and Alabama swinger resorts?
In general, Alabama has a lot of swinger options for a state that does not have any swinger clubs or swinger resorts. There are a bunch of active Alabama swinger groups that host events and parties that help make up for the lack of Alabama swinger clubs and Alabama swinger resorts.
So let's take a look at what is available for Alabama swingers. We will look at Alabama swinger clubs, Alabama swinger resort options, and Alabama swinger groups. If you are a man that is new to the swinger lifestyle be sure to check out the Important Note To Male Alabama Swingers section.
Alabama Swinger Clubs
Due to a lot of factors including state laws and local ordinances, there are no regular Alabama swinger clubs. However, there are still a lot of alternatives that are available to Alabama swingers that are looking for the swinger club experience.
Swinger clubs are usually nightclubs for swingers that provide amenities for swingers like playrooms. To be considered a swinger club we are looking for a nightclub with a permanent location and regular hours of operation. These clubs offer a great opportunity for local swingers to connect and play.
While there are no official Alabama swinger clubs, there are a number of Alabama swinger groups that put on club-like events. These events are great though they can be a little more expensive than a club event and they do not have regular schedules.
Another option that is open to swingers in Alabama that are looking for swinger clubs is to check out the clubs in neighboring states. Florida has a ton of swinger options. Additionally, Alabama swingers can check out the club options in Georgia, Tennessee, and Mississippi.
Alabama Swinger Resorts
We have found that swinger resorts are our favorite spots to visit. There is nothing more relaxing than sitting poolside or in the hot tub with a drink with a bunch of other swinger couples. As a bonus, these resorts are clothing optional so most of the swingers are completely nude.
Unfortunately, there are no Alabama swinger resorts but there are still some good options.
One option is to check out some of the Alabama nudist resorts. These resorts do not cater to the swinger lifestyle as overt sexual behavior will get you kicked out.
What we have done before is meet up with other swinger couples at these nudist-type resorts and then do all of our playing behind closed doors. It is not perfect but it does offer an alternative to real swinger resorts.
Another option is to check out the hotel events put on by Alabama swinger groups. These groups will sometimes do hotel takeovers that will almost turn a hotel into a mini swinger resort for a weekend.
Another better alternative is to take a short trip to some real swinger resorts. Neighboring Florida has some of the best swinger resorts in the country. You can always check out some other swinger resorts in neighboring Georgia.
Perhaps the best swinger resort option is to make a real vacation out of it and go check out swinger paradise at Hedonism in Jamaica. This is just the most swinger fun that you can have anywhere.
Alabama Swinger Groups
These Alabama swinger groups are the best options available for swingers in Alabama. They are all pretty active and provide good opportunities to meet up and play with other swingers. We have also found that these groups provide you with the chance to make some great friends in this community.
Pleasures Club
Attalla, AL
https://www.outlawzincparties.com/
The Pleasures Club is an Alabama swinger group that has special events like hotel takeovers. These themed events are open to couples, single women, and select single men.
Pleasures Club lists its events on SLS (SwingLifestyle). This allows you to network with other members attending these events. We highly recommend this networking prior to attending these events.
We like going and having at least two couples that we plan on saying "hi" to. That doesn't mean that we are definitely going to play with them but just that we have someone to meet and talk to. Often they will introduce us to another couple that we find interesting.
Gem's Club
Birmingham, AL
https://www.gemsclub.co/
Gem's Club is an Alabama swinger group for 21+ married swingers. You have to apply for membership and they are somewhat selective about their members. The application process includes submitting a picture and having a referral from another Gem's Club member that has actually met the applicant couple.
Gem's Club will usually put on a couple of hotel events each month. These events are usually pretty well attended and feature all kinds of swinger fun like stripper poles and playrooms. You will find Gem's Club events listed on their website and on SLS.
The application process may sound a little daunting if you are new to the swinger world but don't let it put you off. All swingers started out new at some point.
We found the hardest part is getting that referral if you don't know anyone. We used SLS to meet up with some couples. Be honest when meeting up, tell them that you are looking for info and a reference for the group.
Most will meet with you with no expectation of play and who knows maybe you will hit it off and something will happen anyways.
The Adult Social Clubs
Mountain Brook, AL
https://adultsocialsgroup.wixsite.com/
The Adult Social Club is an Alabama swinger group that has events in Alabama and Florida. These are usually small events that are put on by individual members. These events are usually hotel parties or house parties and are typically smaller than a takeover-type events.
Swingers in Alabama can sign up for these events by utilizing the attend event function on SLS. This is also a great way to network with other Alabama swingers that are attending.
We have found that these small events can be great but can also be a little intense. We would suggest them more for experienced swinger couples and maybe not the best first-time experience.
Seductions
Birmingham, AL
https://www.seductionparties.club/
This is another Alabama swinger group that does hotel takeover events. The events that they have are big hotel events with a lot of Alabama swingers attending. You can make reservations including the hotel rooms right on their website.
Like all of these groups, they list their events on SLS to get maximum exposure to the swinger community.
We personally love these hotel events. We like being able to have a hotel room so that we have a place to go when we make some new friends at an event like this.
Wicked Intentions
Athens, Al
https://wickedintentionsclub.com/
This is an Alabama swinger group that puts on hotel events throughout the year. These events are for 21+ swingers in Alabama and you need to sign up for them through SLS (SwingLifestyle).
You need to sign up ahead of time to attend these BYOB events. They usually allow for couples, single ladies, and a limited number of single men.
We have found that these BYOB events can save you a ton of money. Cash bars can easily add up to some serious money in a short amount of time. When I do a BYOB event, I will tip the bartender $20 for the night.
Meeting Up With Alabama Swingers
There are a couple of online sites that Alabama swingers use to meet up with other swingers. These sites are SLS (SwingLifestyle) and AFF (Adult Friend Finder). We use these sites to meet the couples that we hook up with at the swinger clubs, swinger resorts, and sometimes just on our own.
What we actually do is make some connections ahead of time before going on our trips. This helps to increase our chances of finding a nice compatible couple when we go to the resort or club.
SLS (SwingLifeStyle)

SwingLifeStyle.com
SLS is by far the biggest and most popular website for club and resort events. This is the website where Alabama swinger groups posts all of its events. You can connect with other members that are going to these events ahead of time.
This website is free to join and check out but you will need to upgrade to use all of the messaging functions. SLS (SwingLifestyle) is a must for swingers that will be attending events and is the number one site I would recommend.
Adult Friend Finder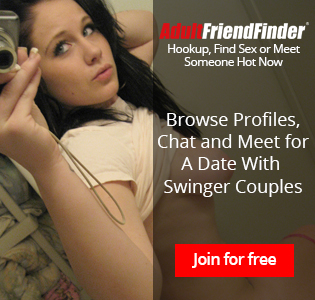 Adult Friend Finder is quite different than SLS (SwingLifestyle). It is more geared toward making individual connections with other swingers and not toward meeting others at events or clubs. AFF users tend to post a lot more public pictures. We use AFF to set up one on one swinger dates outside of events.
Important Note To Male Alabama Swingers
When my wife and I first started in the swinger lifestyle, we found all kinds of articles dealing with the fears and insecurities of women but very little for men. I found that with many swinger couples the woman has the confidence and the swinger drive while the man has major worries that hold him back.
1. Erection Quality in the Swinger Lifestyle
Having fun in the swinger lifestyle is hard when you are worried about maintaining your erection. This was a problem that I had at one point. The libido was there and I wanted to perform but I could not get the erection that I needed.
If you have any concerns about erection quality, check out this article on at-home acoustic wave therapy. This type of revolutionary treatment has been used by the Hollywood elite for years. The Phoenix Device let me get rock-hard erections that gave me the confidence for the swinger lifestyle.
Penis Size and the Swinger Lifestyle
Like many men, I had always been worried about my penis size. When my wife wanted to get involved in the swinger lifestyle, my penis size anxiety increased.
Check out The Truth About Swinger Penis Size for information on this delicate subject. What is the average swinger's penis size, does penis size matter to swingers, how to make your penis appear bigger, and how to make your penis bigger (yes, this is scientifically possible with a little catch).
The Swinger Inferiority Fear
This fear had a lot to do with the previous two issues but I was very worried that my wife would find me sexually inferior after dabbling in the swinger lifestyle. Would my jealousies and insecurities get in the way of our having a fun time?
Read Male Swinger Insecurities for the story of how I overcame these fears.