My wife and I love visiting swinger resorts across the country. During that time we found that Florida swinger resorts are the best in the country. That begs the question, what is available for the top 5 Florida swinger resorts?
In general, Florida swinger resorts are some of the best in the country. The Top 5 Florida swinger resorts offer a variety of different swinger lifestyle experiences. First-time swingers and experienced swingers can find a resort to fit their needs in Florida.
So now let's take a look at what is available for Florida swinger resorts. Including the 2023 Update that puts a new resort in the top spot. If you are a man that is new to the swinger lifestyle be sure to check out the Important Note To Male Florida Swingers section.
Table of The Top 5 Florida Swinger Resorts
The following table contains information on our Top 5 Swinger Lifestyle Resorts in Florida including our resort ratings.
Table of Top 5 Florida Swinger Lifestyle Resorts and Ratings
Rankings have been updated for the current 2023 situations with the playrooms at the Caliente Resort for swingers. Caliente Resort drops from the #1 spot down to #3.
There is an excellent selection of Florida swinger lifestyle resorts. This list of the top five resorts is actually a list of all current resorts in Florida. This may not seem like a lot but this is more than you will find in other states.
These Florida swinger resorts are all high-quality resorts, especially when compared with what you will find outside of Florida. If you are interested in the swinger lifestyle, you really need to visit all of these resorts.
These resorts are all a good time whether you are new to the lifestyle or have been at it for a while. If you are new to this, there is no need to fear. You can go to these resorts and just take it all in. There is no pressure to participate in anything. You can proceed or not proceed at your own pace.
Florida Swinger Resort Scoring
All of the Florida swinger resorts have a few review scores to help you decide where you would like to go. There are three categories and an overall score for each Florida swinger resort.
The resort amenities score gives you an idea of how the resort does with general amenities that are not tied to the swinger lifestyle. The lifestyle amenities score grades how the resort does in accommodating the needs of adults interested in the swinger lifestyle. The third area of scoring is in the area of overall resort pricing.
A Few Things to Note For Florida Swingers
A few related articles may be of interest before visiting any of these Florida swinger resorts.
A lot of people interested in hitting the swinger lifestyle resorts are also very interested in nude beaches. To see what Florida has to offer in this area check out Top Florida Nudist Beach Guide.
One thing that concerns men before visiting a swinger lifestyle resort for the first time is the question of penis size. To find out more check out Penis Size at Nudist Resorts.
Additionally, if you are a man that is new to the swinger lifestyle. Be sure to check out the Important Note To Male Florida Swingers section. This section explains some of the early anxiety I felt before my first visits to Florida swinger resorts and how I dealt with it.
Now onto the Top 5 Florida swinger resort breakdown.
1. Paradise Lakes Resort
2001 Paradise Lakes Boulevard,
Lutz, Florida 33558
(813) 949-9327
https://paradiselakesresort.com/
Paradise Lakes Resort Overall Rating: B+
Paradise Lakes moves into the #1 spot due to the issues at nearby Caliente Resort and all the upgrades at Paradise Lakes in 2022.
Paradise Lakes Resorts holds a special place in the hearts of my wife and me. This was the first clothing-optional resort that we ever visited. It is still one of our favorites.
We found that this Florida swinger resort is not quite as intense as some of the other resorts. It is easier to relax and actually vacation. There are still plenty of options to enjoy some lifestyle fun but there are also options to just spend some relaxing time in the sun.
This place may seem a little dated with some of the facilities but they continue to work on upgrading and improving the facilities. They have just added a great couples-only playhouse which is a lot of fun.
This is a must-visit for anyone that is into the swinger lifestyle. This resort is located very close to Caliente and we often combine our visits with the two resorts. Often staying at Paradise Lakes and spending a night or two at the Caliente.
Paradise Lakes Resort General Amenities Rating: B
This Florida swinger resort offers a wide range of amenities that make for a great stay. This is not a real fancy resort and a lot of the facilities look a little dated. For the most part, it is clean and well-maintained.
Amenities at Paradise Lakes Resort include:
Four heated pools
large hot tub
indoor and outdoor bars
Daily activities include a mix of water volleyball, pickleball, karaoke, Wii bowling, billiards, and darts.
Fitness room
On-site restaurant
A full nightclub
Plenty of on-site walking areas
New Playroom adult Area
The pools are all very nice. It is easy to get caught up in a game of nude water volleyball during the day. It is easy to find people to hang out with or you can spread out on your own.
The on-site restaurant offers a good assortment of pub-like fare that is actually very good. There is not a wide variety of food but the service is good and you can eat at a table inside, at the outdoor bar, or at a table poolside.
Our favorite part of the resort was the ability to walk around the whole Paradise Lakes community. Outside of the resort, Paradise Lakes is a clothing-optional community filled with hundreds of condominiums and homes.
You can walk around this beautiful community clothed or naked. The people are incredibly friendly.
Paradise Lakes Resort Swinger Lifestyle Amenities: A
Paradise Lakes has some new and exciting lifestyle amenities for Florida swingers. They have added a great couples-only playhouse. This is a nudity-required area that has multiple rooms for adult play.
The different sections of the playhouse are closed off with red sheer curtains, for privacy. There are beds, restraints, swings, couches, TVs, a chair with stir-ups, and a saddle.
The adult playhouse is open Fri-Sat 3-6 pm and 9 pm-2 am. Also, on Sunday 3-6 pm. This is a really new facility and is a big upgrade on Paradise Lakes.
Additionally, this Florida swinger resort has an additional playroom with hours seven days a week and an outdoor play deck that is open 24/7 for Florida swingers to play at all hours of the day.
The conversation pool and hot tub here are great places to meet up with new couples. Sexual activity is not as common in these areas as they are at the Caliente and Secrets but it is still a great place to get things started
There are places to play at Paradise Lakes no matter what time it is. If you have not been here recently be sure to check things out as it is a huge upgrade from previous years.
Paradise Lakes Resort Pricing: A
Pricing is the area where Paradise Lakes resort stands out. This Florida swinger resort is the most affordable of the swinger lifestyle resorts in Florida.
All of the hotel rooms at the resort are poolside which is something that you do not find at other resorts. A standard King-sized bed hotel room at Paradise Lakes Resort is $125 a night on weekdays and $165 on weekends.
The other option is that you can find numerous condos for rent on Airbnb that are located in the Paradise Lakes community for significantly less. It is an easy walk from these condos to the resort area. Additionally, many of these condos include the use of a golf cart for easy transport.
Whether you get a resort hotel room or rent someone's condo, you will still need to pay the daily fees at Paradise Lakes. Current daily resort fees for 2022 are $40 a day for couples on weekdays and $95 per day on weekends. Fees are less for single females and more for single males.
There are reduced fees for entry after 6 pm. This would be available if you stay in one of the Airbnb condos. If you stay at the resort hotel, you have to pay the full-day fee for each day of your stay.
Meals and drinks are extremely reasonable at Paradise Lakes. You can get a meal for less than $15. Drinks are less expensive than normal bar prices. As a couple, my wife and I were able to eat and drink all night at Paradise Lakes Resort and have a total bill of well under $100.
You can see our full review of Paradise Lakes including our experiences, detailed pricing, and more click here.
2. Secrets Hideaway Resort & Spa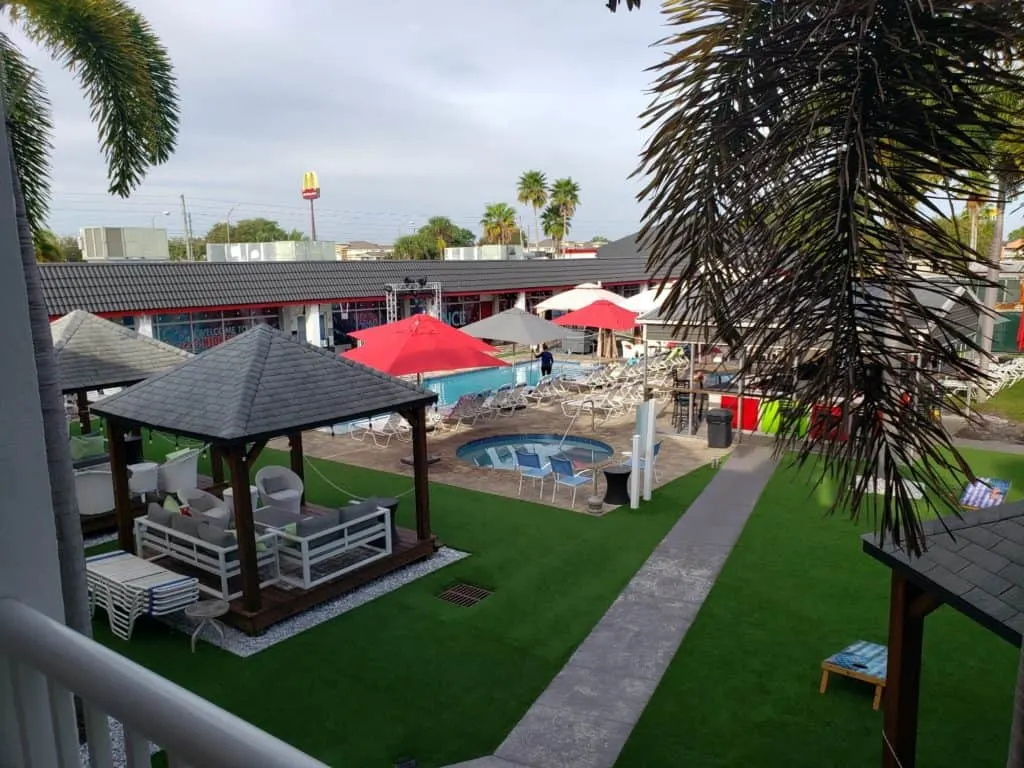 2145 E Irlo Bronson Memorial Hwy
Kissimmee, FL 34744
844-563-6969
https://www.secretsfl.com/
Secrets Hideaway Overall Rating: B
Secrets Hideaway is a clothing optional swinger lifestyle resort located in the Orlando, Florida area. This Florida swingers resort has a lot of swinger amenities but the resort itself is undergoing a lot of upgrades. While not as nice as the Caliente, it is a must-visit for anyone into the swinger lifestyle.
Hopefully, as they complete these upgrades the regular resort amenities will catch up to the swinger lifestyle amenities at Secrets. This resort has excellent facilities for the swinger lifestyle including a huge playroom and dungeon.
Secrets Hideaway General Amenities Rating: C
This Florida swingers resort is a converted hotel that is undergoing extensive renovations. You will find that the rooms at this resort can be a little rougher than those at other resorts so you need to be careful when picking your rooms.
Picking rooms here is a little more challenging than at many resorts. Many of the rooms are actually considered condos and can be quite unique. See the complete review of Secrets for more details.
They are currently working on installing a large heated conversation pool that will dominate the central courtyard. This will be an upgrade to their current pool facilities. This is expected to be done at some point in the summer of 2022.
Currently, there is only a small conversation pool and two small hot tubs are available in the courtyard. The courtyard also has a bar located near the pool and hot tubs. The courtyard has a lot of lounge chairs but no tables and chairs if you want to eat and drink poolside.
The resort has a small restaurant with seating in a tent area. The food here was not fancy but was not bad for a pub-like fare.
The resort also has a nightclub with a dance floor, a light show, and two bars. This club is pretty nice if you like the loud dance club atmosphere.
As far as the other amenities go, you are not going to find them at Secret's Hideaway. There are no walking trails, saunas, exercise rooms, or anything like that. Many of the facilities seem to be quite dated and in various states of disrepair.
I am not saying that the resort facilities are totally gross or anything. Just that they were comparable to what you would find at a motel with a two-star rating on Expedia.
Secrets Hideaway Swinger Lifestyle Amenities: A
This is where Secrets Hideaway really shines. They have some truly excellent swinger lifestyle facilities. These facilities include a giant adult playroom and a fully equipped dungeon. Florida swingers will find that Secrets is a great place to play.
From our stay here, it seemed that pretty much everything was allowed poolside and in the hot tub area. During the evening hours, it was not uncommon to see couples having sex in this area. Clothing was still optional in this area and the swimsuit-to-nudity ratio was about 50/50.
The playroom at Secrets Hideaway was really awesome. Nudity is required in this area. There were multiple rooms with two or more beds for side-by-side play. There was a large group room with multiple beds that were pushed together. A small simulated theater area is also in this playroom in case that is your fantasy.
The playroom here did not seem to be as well maintained as the one at the Caliente but it was still reasonably well maintained. Clean sheets were plentiful and the facilities seemed to be in good condition. A group shower area was available to clean up before or after activities.
A major swinger lifestyle asset of Secrets Hideaway is the dungeon area. This dungeon is known as Club Swinkster and it was incredibly interesting. This is a place where you can explore light bondage and other kinks like teasing and light whipping.
Club Swinkster has a staff that is there to ensure that everyone is safe and willing to participate. They offer guidance and were very instructive.
This was personally not our thing but we found it completely fascinating. The facilities in Club Swinkster were kept very clean and everything seemed to be in great condition. If you were considering trying this out, I would highly recommend this place.
Secrets Hideaway Pricing: B+
The pricing of rooms here is a little difficult to understand without some background. This Florida swinger resort is a converted hotel with cheaper unrenovated hotel rooms and more expensive renovated condo rooms for rent. To find out more about the types of rooms be sure to read our full review here.
This being said there is a wide range in pricing for the rooms. The unrenovated rooms run from $43 on some weeknights to $125 on some weekend nights. We rented this type of room and my wife was very unhappy with it. Everything was rather old and in disrepair.
On the other hand, we checked out some of the renovated condo rooms and they were incredible. The prices on these rooms run from $120 per night on weekdays up to $255 per night on weekends.
Unless you are on an extreme budget, I highly recommend the renovated upgrade rooms. You can see pictures of all of these rooms on the reservation section of their website.
In addition to the room rates, you have to pay a membership fee (one month was $35 for a couple) and entry fees ($10 for a couple on Mondays up to $50 for a couple on Saturdays). Night event fees are in addition to this as well and they can run from $25 a night up to $50 a night.
So when my wife and I went and stayed for three nights. We had $105 in resort fees and $115 in event fees. It just seemed like a lot of additional fees.
Food and drinks were very reasonable at Secrets Hideaway. Most meals were in the $10 range and mixed drinks were in the $7 to $8 range.
You can see our full review of Secrets Hideaway including our experiences, detailed pricing, and more click here.
3. Caliente Club & Resorts
21240 Gran Via Blvd
Land O Lakes, FL. 34637
813-996-3700 Ext. 0
https://calienteresorts.com/
Caliente Resort Overall Rating: B- (temporary score)
The Caliente is by far the biggest and nicest Florida swinger resort. The resort itself will remind you of some tropical destinations. The scenery and amenities will remind you of the big resorts in Jamaica or Cancun like Hedonism.
This Florida swinger resort is truly beautiful with the pool area setting up tropical scenery including a lagoon with a waterfall. You will feel like you are really someplace special when you are here. It is a really first-class place.
The action here at the Caliente is first-rate. This is the place to go if you want to find other couples to hook up with. The whole place just oozes sexuality and really puts everyone in the mood.
See the Caliente Resort Swinger Lifestyle Amenities section on why this resort has a temporary score reduction.
Caliente Resort General Amenities Rating: A
This clothing-optional resort has a ton of amenities. It is a great spot for people new to the swinger lifestyle and for those that have a lot of experience. You can meet a ton of Florida swingers and swingers from all over the country.
The facilities here are top-notch. Everything is maintained in a very clean tropical setting. You will be amazed by the waterfall in the 1/4 acre Lagoon Pool.
This is the type of place where you will feel like you are really getting away from it all and taking a vacation from the real world.
The Caliente's Amenities include:
Dining Room
Tiki Bar
Sauna
Oversized Hot Tub
Pickle Ball/Tennis Courts
24 Hour Gym
2 Water Volleyball Pools
Oversized Conversation Pool
Sand Volleyball Courts
Sports Bar
Yoga Room
1/4 Acre Lagoon Pool with Waterfall
Tiki Pool
Outdoor Showers
Gratto Bar
Steam Room
Dining Room
2 Mile Walking Trail on Property
The Adult Playroom
Caliente Swinger Lifestyle Amenities: D 2023 Temporary Score
As of February 2023, this is a temporary score as the playrooms have been shut down at the Caliente Resort. There is apparently some disagreement with the county on permitting some updates to the playrooms. This shutdown has been ongoing for months.
With the playrooms shut down, people will still play at the conversation pool and hot tub areas after dark. However, this is not a good substitute for having open playrooms. The remainder of this section is based on our review of when the playrooms were open. This lack of playrooms leads to the D score in this section.
Previous Review
This place definitely throws off the Florida swinger resort vibes. The conversation pool and hot tub on the upper deck are full of people actively making new friends after dark. This may be a little overwhelming if you are new to the lifestyle but there is no need to be afraid.
This is the only Florida swinger resort where we saw a bunch of actual activity outside of the playroom area. Most resorts only have sexual activity in the playrooms but it is very common in the upper deck area.
The Caliente does a great job of keeping everything feeling safe. There is helpful staff and security all over the place and people do not step over the line. People will approach you and say hi but they will also leave you alone if you do not show interest.
The adult playroom at the Caliente is a lot of fun. This is a place where you can interact with others and play out your fantasies. You can watch or be watched as you engage in sexual activities. You can ask others to join or play side by side on the many beds.
The best part of the playroom at the Caliente is how clean and well-kept the facilities are. The staff cleans up immediately after a bed is vacated and you feel like you are in a clean and safe environment. My wife is very much a clean freak and this is the one playroom that she feels comfortable with at all times.
Caliente Pricing: B
While this is our favorite Florida swinger resort, it is a little bit on the pricey side. The hotel rooms start at a reasonable $150 per night on weekdays but this does not include your resort pass. On weekends you will find the hotel room price moves up dramatically to $230 per night.
There are also one-bedroom and two-bedroom condos available. These are more expensive than hotel rooms but can save you money if you utilize the kitchen to save on meals. The one drawback of these condos is that they were a little bit farther away from the resort facilities than the hotel rooms.
The day passes which are not included in your accommodations are $125 per day for a couple. You can money on this if you do partial day passes. We usually did the after-6 p.m. pass which was when all the action was happening. These passes can be as low as $27 for a couple after 6 on a weekday.
We found that the food and drinks at the Caliente were moderately priced. Things were not cheap but not as expensive as you might think. You can get a meal for around $20 and a mixed drink for around $10.
You can see our full review of the Caliente including our experiences, detailed pricing, and more click here.
4. The Rooftop Resort
1215 North Ocean Drive
Hollywood FL 33019-3310
(954) 925-0301
https://www.rooftopresort.com/
The Rooftop Resort Overall Rating: C+
Located right off the boardwalk for Hollywood Beach there is a lot to love about the Rooftop Resort. This clothing-optional resort has stunning views, the people are fun and there are a lot of swinger lifestyle activities to be found.
As far as location goes, this is my favorite Florida swinger resort in regard to the surrounding area attractions. This resort is located less than a block from the famous Hollywood Beach boardwalk and a short drive from the nude Haulover Beach.
Unfortunately, some of the other areas of review hold this Florida swinger resort back from being at the top of the list. A huge factor dragging this resort down is that it is typically very dead with the exception of Saturday nights. Still, this swinger resort is well worth checking out on a Saturday night.
The Rooftop Resort General Amenities Rating: D
It is hard to classify the Rooftop Resort as an actual Florida swinger resort. It is more of a hotel with an on-premise swinger club. Some of the common resort features that it is missing include on-site dining, exercise room, on-site full bar, and room service.
They do make up for this in a number of different ways. Although they do not have a traditional cash bar, they do have a BYOB bar. They will mix drinks using your own alcohol and serve them back to you for no charge.
Though they do not have on-site dining. They do offer continental breakfast on the weekend. In addition, they have rooftop cookouts on different nights of the week. The local area is full of dining options that are open at all hours so you do not need to worry about starving.
They do have a great on-site nightclub with a sound system and a light show. This is located in the central atrium of the hotel which has a retractable roof. It is very nice looking. All of the hotel rooms look down onto this atrium area.
My wife and I are avid walkers so we do like our resorts to have hiking trails. The Rooftop Resort does not have these or exercise facilities but you can make up for it by walking along the boardwalk and nearby Hollywood Beach.
Amenities offered by the Rooftop Resort include:
Heated Rooftop Pool with Ocean and Intracoastal Views
Well Equipped Video Playrooms
Scandinavian Style Sauna
Retractable Roof For Rain Or Shine Fun
FREE Wi-Fi Throughout The Property
Weekend Continental Breakfast
Hollywood Boardwalk Location with Restaurants Galore
Minutes to Haulover Nude Beach
Weekend nightclub with music and light show
The location and views are what save the Rooftop Resort from getting a lower rating in this category.
The Rooftop Resort Swinger Lifestyle Amenities: B
During the daytime at this Florida swinger resort, you will find that the rooftop is the center of all activity.
The heated pool is clothing optional and is located on the rooftop with those fantastic views. The people at this pool seemed to be younger and fitter than what you may encounter elsewhere. There was less sexual activity taking place in this pool area when compared to Caliente or Secrets.
Unfortunately, this Florida swinger resort does not have a hot tub on the rooftop to go along with the heated pool.
The Rooftop Resort has three small playroom areas that are located off of the nightclub area. These areas are very small when compared to the playroom areas of either the Caliente or Secrets. They did seem to get a lot of action on a weekend night.
One of the playrooms even has a sauna in it. There was even some action going on there if you can handle sex in a 120-degree room.
One problem that we found with the Rooftop Resort was that there seemed to be a lot of single guys lurking around. Most swinger lifestyle resorts do a pretty good job of controlling the number of single guys but they seemed to have less control at the Rooftop Resort.
So the swinger lifestyle amenities are a little more limited here than at some of the other bigger resorts.
The Rooftop Resort Pricing: B+
The rooms at the Rooftop Resort may seem a little pricey but they are not when you look at the prices of hotels in the Hollywood Beach area. Basically, any accommodations in the Hollywood Beach area are going to run around $200 a night.
The rooms at the Rooftop Resort come in a variety of types. The standard rooms are two double beds and run from $199 a night on weekdays to $259 a night on weekends. The deluxe room which has a king or queen bed run from $219 a night on weekdays to $289 a night on weekends.
These prices at this Florida swinger resort are pretty reasonable for the area. This resort is located right off the beach and is within easy walking distance of the beach and boardwalk.
You can not compare the prices of food or drink at the Rooftop Resort because they do not really offer these items. While you can actually save money with the BYOB bar, it is somewhat of an inconvenience. There are plenty of food options in the area in a bunch of different price categories.
You can see our full review of Rooftop Resort including our experiences, detailed pricing, and more click here.
TopSecret Resort of Orlando
3155 S John Young Pkwy
Orlando, FL 32805
1-407-627-0126
2023 Update: This resort is not going to be opening as a swinger resort. We will keep you updated as information becomes available.
We have not been able to visit this new Florida swinger resort as it is still undergoing massive renovations. We are looking to provide a full review once it opens.
Meeting Up With Florida Swingers
There are a couple of online sites that can help you meet up with other swingers before going to the Florida swinger resorts. These sites are SLS (SwingLifestyle) and AFF (Adult Friend Finder).
What we actually do is make some connections ahead of time before going on our trips. This helps to increase our chances of finding a nice compatible couple when we go to the resort or club.
SLS (SwingLifeStyle)

SwingLifeStyle.com
SLS is by far the biggest and most popular website for club and resort events. This is the website where Florida swinger resorts posts all of its events. You can connect with other members that are going to these events ahead of time.
This website is free to join and check out but you will need to upgrade to use all of the messaging functions. SLS (SwingLifestyle) is a must for swingers that will be attending events and is the number one site I would recommend.
Adult Friend Finder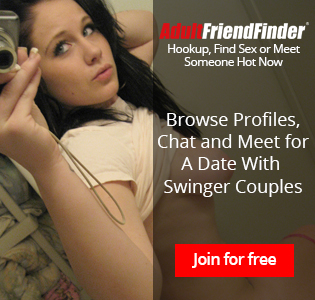 Adult Friend Finder is quite different than SLS (SwingLifestyle). It is more geared toward making individual connections with other swingers and not at meeting others at events or clubs. AFF users tend to post a lot more public pictures. We use AFF to set up one on one swinger dates outside of events.
Important Note To Male Florida Swingers
When my wife and I first started in the swinger lifestyle, we found all kinds of articles dealing with the fears and insecurities of women but very little for men. I found that with many swinger couples the woman has the confidence and the swinger drive while the man has major worries that hold him back.
Dealing with these issues is what gave me the confidence to make my initial visits to the Florida swinger resorts and get started in the lifestyle.
1. Erection Quality in the Swinger Lifestyle
Having fun in the swinger lifestyle is hard when you are worried about maintaining your erection. This was a problem that I had at one point. The libido was there and I wanted to perform but I could not get the erection that I needed.
If you have any concerns about erection quality, check out this article on at-home acoustic wave therapy. This type of revolutionary treatment has been used by the Hollywood elite for years. The Phoenix Device let me get rock-hard erections that gave me the confidence for the swinger lifestyle.
Penis Size and the Swinger Lifestyle
Like many men, I had always been worried about my penis size. When my wife wanted to get involved in the swinger lifestyle, my penis size anxiety increased.
Check out The Truth About Swinger Penis Size for information on this delicate subject. What is the average swinger's penis size, does penis size matter to swingers, how to make your penis appear bigger, and how to make your penis bigger (yes, this is scientifically possible with a little catch).
The Swinger Inferiority Fear
This fear had a lot to do with the previous two issues but I was very worried that my wife would find me sexually inferior after dabbling in the swinger lifestyle. Would my jealousies and insecurities get in the way of our having a fun time?
Read Male Swinger Insecurities for the story of how I overcame these fears.