Hotspot Parties in Pierson Florida is one of those hidden swinger club gems that we love. In this Hotspot Parties review, we will explore why we loved this place when we made our 2023 visit. So what makes Hotspot Parties such a great swinger spot?
Hotspot Parties in Pierson Florida is a great swinger club and a must-try for any Florida swinger. At first glance, this swinger spot might not look like the most classy club around. But if you give Hotspot Parties a try, you will not regret it. Hotspot Parties is a truly amazing swinger experience.
So let's take an in-depth look at our Hotspot Parties review. We will look at our overall impression, the club amenities, the costs, our Hotspot Parties experience, the club demographics, some tips for male swingers, and more.
Our Overall Hotspot Parties Review
Our overall Hotspot Parties review is that this is a great swinger club/party and that you should not skip it if you are in the area. We were unsure what to expect when we went to this party but ended up having the best time that we had ever had outside of a swinger resort.
We found out about Hotspot Parties on SLS (SwingLifestyle) which is our favorite place to find out about swinger clubs, parties, resorts, and events. SLS had all the information that we needed to find out about upcoming events at Hotspot Parties.
To be honest, when we first pulled up to Hotspot Parties we thought that maybe we had made a mistake. From the road, this spot is not what you would expect for one of Florida's best swinger party spots.
The building looked rather dated and the large fence surrounding the property was rather intimidating. To me, it looked like an old drive-in theater or maybe even a well-kept auto salvage yard. We were nervous but decided to give it a try and we are sure glad that we did.
Once you are inside the fenced-in area, your perception of Hotspot Parties will soon change. Inside, you will find some great facilities and some even better swingers. The crowd here was warm and inviting.
There were people from all different age groups and demographics but they had one thing in common. They were all incredibly fun.
We had a few drinks, we danced a bit, we hung out naked in the pool and hot tub, and we made a ton of friends. We got to see a ton of hot Florida swingers play with each other and by the end of the evening, we even joined in on the action.
Hotspot Parties is a great place to let go of your inhibitions and have some fun. If you are a new swinger or just checking things out, this is a great low-pressure place where you can wander around and check things out. If you are an experienced swinger, this is a great place to meet other swingers with tons of great amenities to enjoy your time.
The facilities were not brand new but everything was well-maintained and clean. My wife can be a neat freak and refuse to play if the spot does not meet her standards but she had no problem with Hotspot Parties.
So the main takeaway from our Hotspot parties review is that it is definitely worth checking out. The pools and hot tub give it that resort atmosphere in a club environment. We just loved it.
For information on Florida Swinger Resorts check out: Top 5 Florida Swinger Resorts
For information on more Florida swinger clubs be sure to check out: Top Florida Swinger Clubs
What is Hotspot Parties Pierson Florida?
Hotspot Parties in Pierson Florida is a great on-premise swinger party. This means that it is a party that allows for nonmonogamous couples to have sex right on-site. These swinger parties will have plenty of naked and scantily clad swingers in attendance.
If you are unfamiliar with the swinger lifestyle, you will want to make sure that you know what you are getting into before going. Hotspot Parties are a blast but make sure that you know what is going on.
As with all swinger parties, you only participate in activities that you want to join. No one is going to make you do anything and most importantly permission is never implied. Always ask for permission before touching or playing with anyone.
The parties are on Saturday nights and run from 8 pm to 3 am. Once you arrive at the party and get inside the gates, you are in a clothing-optional area so expect to see a lot of nudity.
The Hotspot Parties Outdoor Area
Right near the entrance are some large locker room areas so you can store your stuff and change if you want to. Be sure to bring your own lock to secure your stuff.
Coming in from the outside you will see the two large hot tubs that are under a big Tiki hut. We made some good use of this area during our visit. Past the hot tubs is the large heated outdoor heated pool with foam cannon. Both of these areas were full of fun naked people on our visit.
Additional features that you will find outside are some great seating and lounging areas. This section has outdoor couches and day beds to lounge and even have some fun.
You will also find some propane firepits which are great for sitting around and making new Hotspot Parties friends. Past the seating area is a large outdoor covered smoking area.
The Hotspot Parties Indoor Area – The first floor
When you walk inside, you see why Hotspot Parties is a Pierson Florida swinger club. The first floor includes the area where you can drop off your drinks if you bring any. Hotspot Parties like many swinger events is a BYOB event.
You bring your alcohol in with you and they have a free soda fountain, bottled water, and juices that you can use as mixers or you can bring your own mixers. They have a large refrigerator to store your drinks and plenty of ice and cups.
This area where you can store your drinks has some tables and a lot of people gather here especially early on in the evening. This area also had a pool table that people used early on.
The food area is right off the drink area. Hotspot Parties actually had a great selection of snack food available. This is all free with admission and includes finger food, pizza, meatballs, cheese, veggies, and more. They had a great selection for an event of this type.
If you go past the food area there is a hallway that leads to a few adult sex playrooms. These were more private and intimate than the playrooms upstairs.
On the other side of the 1st-floor lounge area was the large disco dance area. This area had the lights and music that you would expect for a swinger club and of course the stripper pole. The music system plays throughout the party but is loudest here.
Right off the disco is the large BDSM room known as Veronica's closet. We are not into the BDSM scene that much but this room stayed pretty popular throughout the night.
The Hotspot Parties Indoor Area – The second floor
The second floor at Hotspot Parties was almost entirely playrooms. This is where a lot of the fun happened throughout the night.
There are three group/orgy rooms. These are rooms with beds right out in the open so that you can have multiple people join in on the fun. Permission is always required but when you see people playing here it can be a good indication that they are looking for others. But always ask permission before touching anyone.
In addition to the group/orgy areas, there are several smaller play areas right off these rooms. These are open to view but have a chain that you can put across the entryway. This is a great way to have fun and put on a little show for those who want to watch or to watch others having some fun.
The Other Amenities at Hotspot Parties
Hotspot parties have a bunch of other little features that I have not mentioned. They have free overnight stays in RVs (no hook-ups) or tents. There is a photo area so you can take pictures of yourself and your new friends if they agree (phones/cameras are not allowed in other areas for obvious reasons).
There is a body glow paint station and plenty of black lights throughout this Pierson Florida swinger club so that people can notice your artistry.
There are plenty of bathrooms throughout the facility so we did not come across the long lines that you may encounter at other spots. There were group and private showers available as well.
One major thing was that there were plenty of towels available throughout the night. You could use these for both play and for the pool.
The whole place had air conditioning throughout (indoors) and seemed to be pretty clean and well-maintained. All beds had rubberized sheets with cleaning supplies available in appropriate areas. You could clean an area and use a fresh towel to ensure cleanliness.
All of this is on 30 acres of gated property with a security fence. You can enjoy your evening doing what you want where you want.
Hotspot Parties Age and Demographics
There was a great variety of Florida swingers at Hotspot Parties from various age groups and demographics.
The ages at this Florida club ran from people in their 20s up to people in their early 70s. I did think that the crowd on the night that we went was a little on the younger side. I would say that the average age was probably around the early 40s.
We met people from all races and backgrounds at Hotspot Parties. Like most swinger events, the main demographic was middle-aged, middle-class white and white. However, there were a few from all different groups including Black, Hispanic, and Asian.
I would say that no matter who you are you would not feel out of place at Hotspot Parties.
Where are Hotspot Parties?
Hotspot Parties is located in Pierson, Florida. It is located in a gated area off the road. To be honest, if you were driving by during the day you would never suspect that it was a Pierson Florida swinger club. The actual location information is:
Hotspot Parties
925 N Us Hwy 17
Pierson, FL 32180
(386) 490-6465
https://hotspotparties.com/
Are there any nearby hotels?
Unfortunately, there are no hotels that are within walking distance of Hotspot Parties. You can make arrangements to stay right on the grounds of Hotspot Parties and stay in a tent or RV (no hookups) but you will have to drive a bit to stay in a hotel.
The following hotels are the closest to Hotspot Parties:
Hotel Pierson
107 S Volusia Ave
Pierson, FL 32180
(386) 749-1577
Astor Bridge Marina and Motel
1575 FL-40,
Astor, FL 32102
Phone: (386) 749-4407
https://www.astorbridgemotelandmarina.com/
At Home Express Tangerine Inn
3870 North U.S. 17
DeLand, FL 32720
(386)277-2241
http://www.delandmotels.com/
This next one is an interesting choice. Why not combine your visit to Hotspot Parties with a visit to a nudist resort? There is a big difference between a swinger spot and a nudist resort but both can be fun. For more details on this difference check out: Naturist or Swinger Nude Resorts and Beaches
There is a local nudist resort that you can stay at that has some cabin rentals in addition to tent and RV spots.
Sunny Sands Nudist Resort & Mobile Home Park
499 Alpha Pkwy
Pierson, FL 32180
(386)749-2233
http://www.sunnysands.com/
The Cost of Hotspot Parties
The cost of Hotspot Parties makes it a real bargain. A couple can get in for only $65 and a single man is only $85. There is a discount of $5 for cash payments at the gate. If you factor in that Hotspot Parties is a BYOB location you can see the real bargain.
Where else can you have a few drinks, food, and entertainment for only $65 as a couple? The price isn't even that bad for a single guy.
Our Hotspot Parties Story
As I mentioned earlier, we had a great time at Hotspot Parties. We arrived early and met so many great people. We spent much of the evening out on the patio just having some drinks and talking to other swinger couples but eventually, we made our way to the pool and hot tubs.
We had a great time in the pool. Many of the people we had socialized with earlier had made their way here as well. Most people were completely naked which helps to add to the sexual fun. Additionally, they had the foam cannon going off and we find that naked people and foam are a good combination.
After some fun and flirting, a big group of us decided to hit the hot tubs. When we went there everything became rather crowded pretty quickly. My wife and I were not able to sit next to each other comfortably so we ended up on separate sides of the hot tub.
We were both carrying on separate conversations and having a good time. It was getting later in the evening so I did not think that anything was probably going to happen that evening.
That is when I noticed my wife and a girl whom I will call Monique starting to kiss and touch on the other side of the hot tub. Knowing that it is best to watch these things play out without interfering, I watched them and became increasingly excited.
At this point, my wife and Monique got out of the hot tub. My wife came up and told me that they were going up to one of the playrooms and asked if I wanted to join. Of course, I could not get the yes out of my mouth fast enough.
We went upstairs to one of the chained-off playrooms off from one of the main group areas. Along the way, my wife explained that Monique was interested in exploring things with another woman.
Monique was in a relationship with another man who was not at the party and was not interested in doing anything with another man at this time. She just wanted to play with my wife and didn't mind if I watched and played with my wife but did not want any sexual interaction between me and her.
Of course, this was fine with me and it is always great to clearly spell out any rules that people have before having fun.
Once we got to the playroom, we started out with Monique going down on my wife while I watched for a bit. As I got more and more excited, I got on the bed close to my wife so she could give me a blow job.
We had put the chain across the entryway to the room and we drew quite a crowd to watch what was going on.
After a while of this fun, my wife switched with Monique and my wife went down on Monique. I loved to see this because my wife has an incredible ass. So while she was going down on Monique, she had this ass shaking in the air.
I got behind my wife and started doing her doggie style while she went down on Monique. This was so much fun banging my wife like this while Monique moaned and squirmed from my wife's tongue. I found this just too exciting and before too long I had a massive orgasm in her.
This let me stand back and just watch the two ladies for a while longer. It wasn't too long before Monique was having her own orgasm. Monique was about to go back down on my wife when it became clear that the place was closing down.
We quickly finished up laughing about how we had shut the place down. We gave each other some goodbye hugs and headed our separate ways.
We had a good time and the bonus for me was that when we got back to the hotel room my wife was still horny and wanting more.
Pro Tip: Meeting Other Swingers At Hotspot Parties Pierson Florida
In order to make the most of your trip to Hotspot Parties Person Florida, you need to find and interact with other swingers. So, how do you do that?
There are a couple of online sites that swingers use to meet up with other swingers. These sites are SLS (SwingLifestyle) and AFF (Adult Friend Finder). We use these sites to meet the couples that we hook up with at the swinger clubs, swinger resorts, and sometimes just on our own.
What we actually do is make some connections ahead of time before going on our trips. This helps to increase our chances of finding a nice compatible couple when we go to the resort or club.
SLS (SwingLifeStyle)

SLS is by far the biggest and most popular website for clubs like Hotspot Parties. This is the website where swinger resorts, swinger clubs, and swinger house parties post all of their events. You can connect with other members who are going to these events ahead of time.
This website is free to join and check out but you will need to upgrade to use all of the messaging functions. SLS (SwingLifestyle) is a must for swingers who will be attending events and is the number one site I would recommend.
Adult Friend Finder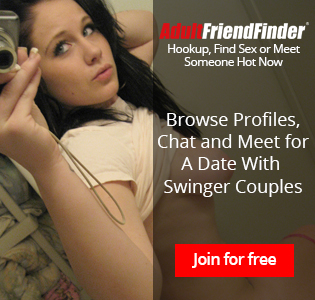 Adult Friend Finder is quite different than SLS (SwingLifestyle). It is more geared toward making individual connections with other swingers and not at meeting others at events or clubs. AFF users tend to post a lot more public pictures. We use AFF to set up both event meetups and one-on-one swinger dates outside of events.
Important Note To Men Considering the Swinger Lifestyle
One major disadvantage of the swinger lifestyle for men is our fears and insecurities. We are supposed to be tough and fear nothing but we have a lot of fears when we are thinking about being in a situation where we may be compared to other men.
When my wife and I first started in the swinger lifestyle, we found all kinds of articles dealing with the fears and insecurities of women but very little for men. I found that with many swinger couples, the woman has the confidence and the swinger drive while the man has major worries that hold him back.
Sexual Performance in the Swinger Lifestyle
Having fun in the swinger lifestyle is hard when you are worried about your sexual performance. This was a problem that I had at one point. The libido was there and I wanted to perform but it was not as easy to get it up as it was when I was younger.
If you have any concerns about your sexual performance, check out this article on at-home acoustic wave therapy. The Hollywood elite has used this type of revolutionary treatment for years. The Phoenix Device let me perform like a porn star and gave me the confidence for the swinger lifestyle.
Penis Size and the Swinger Lifestyle
Like many men, I had always been worried about my penis size. When my wife wanted to get involved in the swinger lifestyle, my penis size anxiety increased.
Check out The Truth About Swinger Penis Size for information on this delicate subject. What is the average swinger's penis size, does penis size matter to swingers, how to make your penis appear bigger, and how to make your penis bigger (yes, this is scientifically possible with a little catch).
The Swinger Inferiority Fear
This fear had a lot to do with the previous two issues but I was very worried that my wife would find me sexually inferior after dabbling in the swinger lifestyle. Would my jealousies and insecurities get in the way of our having a fun time?
Read Male Swinger Insecurities for the story of how I overcame these fears.