We love traveling around and checking out swinger clubs wherever we go. We recently made our 2023 trip to the Defy Lifestyle Club in Pompano Beach Florida. In this Defy Lifestyle Club Review, we will go over the features of this club along with our experiences.
In general, we did not find the Defy Lifestyle Club to be a very exciting swinger club. The facilities were good, the place was clean, and the staff was friendly, but the place was empty for multiple nights. It is hard to be a swinger couple when no one else is there.
So let's take an in-depth look at our Defy Lifestyle Club review. We will look at our overall impression, our take on the Defy Lifestyle Club playrooms, Defy Lifestyle Club costs, our experience at this club, the club demographics, some tips for male swingers, and more.
What is the Defy Lifestyle Club?
The Defy Lifestyle Club is an on-premise Pompano Beach swinger club. This means that this is a club for people involved in the swinger lifestyle with playrooms and dedicated areas for men and women that are in open sexual relationships to have sex with each other.
This does not mean that you are required to have sex or that anyone will try to make you have sex while you are there. It just means that you will be around other people that are interested in having open sexual relationships.
Defy Lifestyle Club is open to couples, single women, and single men on most nights. On Saturday nights, single men are not allowed to attend.
Additionally, Defy Lifestyle Club provides areas known as playrooms where you can have these sexual encounters if you find a compatible couple or individual.
Defy Lifestyle Club is a members-only club. You will need to apply for and pay for a membership in order to attend any events. You can start a membership application online but must pay for that membership at the door.
Additionally, there are nightly entry fees that you will need to pay. See the Defy Lifestyle Club Costs section for more details.
This is a BYOB club that does not sell alcohol. When you go there for the night, you bring your own alcohol with you which can be a huge money saver.
You turn over your alcohol and their bartender will use your alcohol to make your drinks for you all night long. They provide all the mixers. All you have to do is tip the bartender. This can be a great money saver.
This Pompano Beach swinger club has three main areas. There is a bar/lounge/dancefloor area where most people hang out for the night. There is also a locker room area and the highlight of the evening is always the large playroom area.
Our Defy Lifestyle Club Review
We love local swinger clubs like Defy Lifestyle Club but that does not mean that we can always give them great reviews. This club has a lot of positives but also had one big negative when we went there.
The positives of our Defy Lifestyle Club review are that this club was very clean, had up-to-date facilities, a friendly staff, and great swinger playrooms for fun. We are big on the clean part and this club definitely fits our standards.
The big negative that we have from our Defy Lifestyle Club review was that there was just almost nobody there on the nights that we went. This does not seem to be a fluke as many of the local swingers that we talked to had run into the same experience here.
While it is still possible to have fun at a lifestyle club when few are there, it is a lot easier to find a good time when there is a crowd to mingle with and have fun. Hopefully, over time, this club will build up more of a following and will see their attendance increase.
Our overall Defy Lifestyle Club review is that this club is ok for a visit but should not be at the top of your list for clubs to attend. If you are in the area and looking for fun, we would check out Trapeze or Rooftop Resort first.
That being said, you should still give Defy a try. With a few more swingers going there, this place could be great.
Where is the Defy Lifestyle Club Located?
The Defy Lifestyle Club is located in Pompano Beach, Florida. They are located in the back corner of a little strip mall. During the daytime, you would not have any idea that the club was there. Club signing is only visible at the door during their hours of operation.
Their actual address and contact information is:
Defy Lifestyle Club
1000 E Sample Rd,
Pompano Beach, FL 33064
(954) 783-4741
https://clubdefy.com/
Defy Lifestyle Club Hours of Operation:
Wednesday: 9 pm to 4 am
Thursday: 9 pm to 4 am
Friday: 9 pm to 4 am
Saturday: 9 pm to 4 am
Defy Lifestyle Club Facilities
The facilities at Defy Lifestyle Club are actually very nice. This club is set in a small strip mall location and everything here looks to be fairly new and updated.
Main Bar and Dancefloor
When you first enter the door, you will come to a small counter area. This is where you can complete your membership information and pay for both your membership and nightly entry fee.
Beyond the front counter area, you will enter the large area that contains the main bar, dancefloor, and lounge area. The main bar was well-staffed on the nights that we went. This is a BYOB bar so they will serve the alcohol that you bring in to you along with free mixers.
The dancefloor was not very big but could probably accommodate 30-40 people. It had a stripper pole along with typical club lighting. The music we heard was typical club music for this area.
There was not a lot of seating in this area but it was more than enough for those in attendance on the nights that we went. This area also had a small selection of snacks that were available. The bathrooms were also located right off this area.
Locker Room and Shower
The locker room area is right off the main bar and dance floor area. This area had plenty of space to store your belongings. This was also the area where you could grab towels to take along with you into the playrooms.
There is also access to the group shower from the locker room area. This shower was a very nice glassed enclosure that was a great place to clean up after some fun. You can also access the showers from the playroom area.
The Defy Club Playrooms
When you enter the Defy Club Playrooms, the first thing you will encounter is the large open group room. This room has a bar, additional seating, and some beds for playing. This is a great room to watch and be watched. We thought that this area was well done and looked very classy.
There are four private playrooms off the main playroom area. These rooms have beds for playing with those that you may meet. The rooms have doors that you can either close for privacy or leave open if you are interested in having others join you or watch you.
The main playroom area also has a bar. Unfortunately, this was closed on both nights that we went there, but this must be nice when it is open.
Defy Lifestyle Club Costs
There are two major costs involved in attending an event at the Defy Lifestyle Club. The first is your membership, and the second is your nightly entry fee.
You can complete your membership application right at the door when you attend your first evening at Defy.
The membership price for Defy Lifestyle Club is as follows:
| | |
| --- | --- |
| Couples | 2 months for $50 or 1 year for $200 |
| Single Men | 1 month for $100 or 2 months for $175 |
| Single Ladies | 3 months for $30 |
Defy Lifestyle Club Membership rates
In addition to the membership at Defy, there is also a nightly entry fee that you will need to pay in order to get in. The amount of the entry fee varies based on whether you are a couple, a single man, or a single lady.
Day
Couples
Single Men
Single Ladies
Wednesday
$60
$100
$20
Thursday
$60
$100
$20
Friday
$80
$100
$20
Saturday
$80
single men are not
allowed on Saturdays
$20
Nightly event fees at Defy Lifestyle Club
Once you get inside, the only other expense that you may have is tipping the bartender. This is a BYOB facility that will save you a ton of money on your drinks. Just remember to tip the bartenders.
Our Experience at this Pompano Beach Swinger Club
When we checked out the Defy Lifestyle Club in early 2023, we had a generally disappointing time due to the place being mostly empty on the nights that we went. We did go on a Thursday night and a Friday night so did not get the Saturday night experience which is usually the busiest night at most places.
Also at the time we went to Defy, they were not advertising on SLS (SwingLifestyle) which limited our ability to connect with the other swingers that were there ahead of time. They are now listing their events on SLS which should make it easier to connect with other Defy swingers ahead of time.
Our Thursday Night Experience Defy Club
The Thursday night that we went on was absolutely dead. When we showed up, the membership process at the door was extremely easy and the staff was great. We did the tour and got situated at the bar. We arrived early so were not expecting much then but as the night went on we realized that it was just slow.
That night there were only about four other couples that showed up during the whole evening. We never really found any compatible couples and ended up going to the playrooms by ourselves to check it out.
The only other people in the playrooms were a lesbian couple that having fun on the larger bed in the group room. We picked a spot on a couch area near them and started to fool around. We were hoping that one of us or both of us would get an invite but it didn't happen unfortunately.
We ended up with my wife giving me an incredible blow job while I watched a couple of lesbians play. That is what I love about the swinger lifestyle.
On a night that we fail completely, I get a great blowjob from a hot woman while watching two young lesbians play with each other. My failure nights are just incredible by my pre-swinger standards.
Our Friday Night Experience at Defy Lifestyle Club
We went back on a Friday night with the hopes of finding a better crowd. There were definitely more people there but still only 15-20 couples and a few single men that came in the whole evening. Once again the staff was great but we had a hard time finding people to connect with.
We did however have a little more luck. We did come across two couples in a playroom that was doing a soft swap. We stood there for a while watching and eventually got motioned over to join.
We ended up with the three ladies kneeling in a circle on the floor. The three guys and eventually another single guy (not sure where he came from) ended up moving around the ladies while they took turns giving us head.
The ladies were all troopers and kept going until every guy had blown a load. PRO TIP: Try to hold off as long as you can before cumming. I was able to be the last man to cum so I ended up with all three ladies working to finish me off.
We eventually learned that one of the couples was fairly new to the lifestyle and this fits their comfort level which is fine with us. It was not the most exciting lifestyle experience we have ever had but it was enjoyable.
So even with the limited crowd, you can still have some fun.
Why the Defy Lifestyle Club May be Improving
When we first planned our trip, I was surprised that Defy Lifestyle Club did not list their events on SLS (SwingLifestyle). This is the swinger website where most clubs and resorts list their events on. We always use it to make connections before hitting a swinger club.
Since our trip in early 2023, we now see that Defy Lifestyle Club is using SLS to list its events. This should help with drawing more sexy Florida swingers to the club.
Pro Tip: Meeting Other Swingers At Defy Lifestyle Club
In order to make the most of your trip to Defy Lifestyle Club, you need to find and interact with other swingers. So, how do you do that?
There are a couple of online sites that swingers use to meet up with other swingers. These sites are SLS (SwingLifestyle) and AFF (Adult Friend Finder). We use these sites to meet the couples that we hook up with at the swinger clubs, swinger resorts, and sometimes just on our own.
What we actually do is make some connections ahead of time before going on our trips. This helps to increase our chances of finding a nice compatible couple when we go to the resort or club.
SLS (SwingLifeStyle)

SLS is by far the biggest and most popular website for clubs like Defy. This is the website where swinger resorts, swinger clubs, and swinger house parties post all of their events. You can connect with other members that are going to these events ahead of time.
This website is free to join and check out but you will need to upgrade to use all of the messaging functions. SLS (SwingLifestyle) is a must for swingers that will be attending events and is the number one site I would recommend.
Adult Friend Finder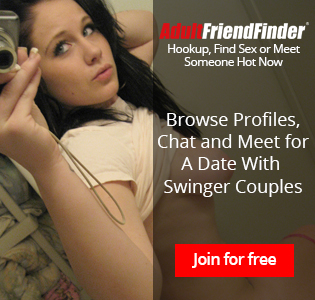 Adult Friend Finder is quite different than SLS (SwingLifestyle). It is more geared toward making individual connections with other swingers and not at meeting others at events or clubs. AFF users tend to post a lot more public pictures. We use AFF to set up one on one swinger dates outside of events.
Important Note To Men Considering the Swinger Lifestyle
One major disadvantage of the swinger lifestyle for men is our fears and insecurities. We are supposed to be tough and fear nothing but we have a lot of fears when we are thinking about being in a situation where we may be compared to other men.
When my wife and I first started in the swinger lifestyle, we found all kinds of articles dealing with the fears and insecurities of women but very little for men. I found that with many swinger couples, the woman has the confidence and the swinger drive while the man has major worries that hold him back.
Sexual Performance in the Swinger Lifestyle
Having fun in the swinger lifestyle is hard when you are worried about your sexual performance. This was a problem that I had at one point. The libido was there and I wanted to perform but it was not as easy to get it up as it was when I was younger.
If you have any concerns about your sexual performance, check out this article on at-home acoustic wave therapy. The Hollywood elite has used this type of revolutionary treatment for years. The Phoenix Device let me perform like a porn star and gave me the confidence for the swinger lifestyle.
Penis Size and the Swinger Lifestyle
Like many men, I had always been worried about my penis size. When my wife wanted to get involved in the swinger lifestyle, my penis size anxiety increased.
Check out The Truth About Swinger Penis Size for information on this delicate subject. What is the average swinger's penis size, does penis size matter to swingers, how to make your penis appear bigger, and how to make your penis bigger (yes, this is scientifically possible with a little catch).
The Swinger Inferiority Fear
This fear had a lot to do with the previous two issues but I was very worried that my wife would find me sexually inferior after dabbling in the swinger lifestyle. Would my jealousies and insecurities get in the way of our having a fun time?
Read Male Swinger Insecurities for the story of how I overcame these fears.