Hey everyone, this is Chris here from Swinger Lifestyle Guide. My wife and I just got back from the Rooftop Resort on Hollywood Beach in Florida. We had a great time and are looking to share with everyone our Rooftop Resort review.
This clothing-optional resort is located right next to Hollywood Beach, Florida. This resort is designed to cater to swingers. Whether you are a first-time swinger or an experienced pro, there are plenty of things to check out at the Rooftop Resort.
There are both some good and bad points about this swinger spot. We will do our Rooftop Resort review by answering a lot of questions that people have before making their first visit to this swinger resort. If you are a man that is new to the swinger lifestyle be sure to check out the Important Note To Male Rooftop Resort Swingers section.
What is the Rooftop Resort?
The Rooftop Resort is basically a hotel in Hollywood, Florida that caters to the needs of swingers. This resort is clothing optional with playroom areas available for public sex. Visitors to this resort are not required to be naked or to have sex but you do need to realize that you will see this type of activity.
The Rooftop resort offers overnight rooms, day rooms, day passes and night passes if you want to check out what is happening, Amenities include beautiful views of Hollywood Beach and the intercoastal waterway, a rooftop pool, and lounging area, rooftop adult play area, nightclub, three inside adult play areas, and sauna.
What Is Great About Rooftop Resort?
We really enjoyed our stay at the Rooftop Resort. We found that a Saturday at this resort was a phenomenal experience. The crowd was fun and exciting. The couples and singles were very good-looking and very active.
The sexual activity was great. The adult playrooms were active all night long and it is really easy to find other singles and couples that were willing to have some fun.
The general location of the resort is awesome. You will find tons of things to do in the area beyond adult fun. It is great to have this option when you decide to come up for air and take a little time off from the swinging activity at the Rooftop Resort.
What is the Big Negatives of the Rooftop Resort?
The one big negative of the Rooftop Resort is that it is dead for most of the week. The only night of the week where the nightclub is open is on Saturday nights. All of the other nights are much slower and the facilities are only open to those staying at the resort.
On these nights, you may find a small crowd out and about at the pool but more than likely there will be no one out. So unless you are planning on going with a group of friends, there is not much of a guarantee of having fun on a weekday night.
The Rooftop Resort is fairly active during the daytime at the pool on Saturdays and Sundays but is pretty slow for most of the remainder of the week.
So this is a great spot only on Saturday and Sunday during the day. There is a possibility for fun on the other days but it is nothing like Saturday night.
The other big negative is that there is no on-site restaurant available and no on-site bar that serves alcohol. There are plenty of restaurants nearby and you are welcome to BYOB. They even offer bartenders on Saturdays and Sundays that will serve you the alcohol that you bring to the resort.
What are the Rooftop Resort Rules?
There are not a lot of rules to remember at the Rooftop Resort but there are a few.
This resort is clothing optional but of course, this is not everywhere on the property. The lobby and parking lot areas require clothing as they may be visible to the general public.
Smoking and vaping are allowed only in the rooftop area. Though we did see some vaping going on in the nightclub area.
You are not supposed to have sex in the pool or the poolside area. You are only supposed to have sex in the designated playroom areas and the hotel rooms. However, we did observe a lot of sexual activity going on in the pool area, especially after dark.
The biggest rule at any place like this is that no means no. You do not join in with anyone unless invited. If someone is putting on a public display then feel free to watch.
However, just because someone is putting on a show it does not mean that they want you to join. Feel free to watch and enjoy but do not join unless asked.
There are a couple of areas that you can watch and perhaps join. There are the playrooms. Two of the playrooms are open to couples and singles. One playroom is open to couples only.
The other area is the hotel rooms. All of the rooms have large windows that face the atrium where the nightclub is located. Many use these windows to put on a show for any of their fellow resort goers that are passing by. Some even invite observers into their rooms.
What Are The Rooftop Resort Prices?
The Rooftop Resort has fairly reasonable prices. The room rates include your passes so you have 24-hour access to the pool and all of the playrooms.
What are the Day/Night Pass rates?
Day Passes are available for the hours between 10 am and 5 pm. For Monday through Thursday, these passes are $40 for couples, $20 for single women, and $70 for single men. For Friday through Sunday, these passes are $60 for couples, $30 for single women, and $100 for single men.
Night Passes are available on Saturdays from 9 pm to 3 am. These passes are $60 for couples, $30 for single ladies, and $100 for single men.
What are the Room rates?
The rates for the Rooftop Resort are as follows:
| | | | |
| --- | --- | --- | --- |
| Standard Room | Mon-Thurs | Fri-Sunday | Holidays |
| Standard Rooms | $219 | $259 | $359 |
| Deluxe Rooms | $239 | $289 | $389 |
| Premier Themed Suites | $289 | $359 | $449 |
Given that the Rooftop Resort is located right in the heart of the Hollywood Beach area, I think that the prices here are very reasonable. For comparison, the Margaritaville Resort which is located right next door has rooms that are around $500 per night.
The Rooftop Resort is much less expensive and has naked people and sex.
I recommend getting a Deluxe room as they have a larger bed (king or queen vs 2 doubles in the standard room. Additionally, the deluxe rooms have refrigerators and microwaves whereas the standard rooms do not.
What Kind of People Go to the Rooftop Resort?
The real simple answer is that we saw all kinds of people at the Rooftop Resort. You will see fat people, skinny people, old people, young people, all different races, all different sexual preferences, couples, singles, and just about every combination of these.
I will try to give some more specific answers below. The answers that I am giving are based on a four-night stay at the Rooftop Resort so other long weekends may differ.
What was the Average Age at the Rooftop Resort?
You will meet people from all age groups at the Rooftop Resort. The age of people varied but there were some definite trends that we saw.
Most couples seemed to be middle-aged. I would say that 80% of them fell into the 40-59 age range. While we found that there were some older couples there, we did not see much in the way of younger couples. This seems to be the typical age range for a swinger resort.
Most singles appeared to be much younger. I would say that 80% fell into the 21-35 age range for both men and women.
This would be a good place to mention that on club nights (Saturdays) you will find that the people are around 70% couples and 30% singles. On other nights and during the day, it is about 90% couples.
What Body Types Will I See at the Rooftop Resort?
We saw all different body types at the Rooftop Resort but there were a few general trends that we found. Once again this is a generalization, we saw everything from guys that must live in the gym to guys that must live at the buffet line and everything in between.
The couples seemed to have bodies that fell in line with what you would find in the general public. As I stated above, most couples were middle-aged so had what you would expect for middle-aged people. Most had a few extra pounds (of course not this author) but not on the extreme side.
We did find that the typical single female tended to be a little on the heavier side. Not in the extreme but obviously above average in the weight area.
The single men seemed to be a lot more fit than any of the other groups. While not appearing to be extremely athletic, they were much more trim than any of the other groups.
What About Penis Size at the Rooftop Resort?
If you are an experienced swinger, you know that this is not a big deal but I remember being very concerned about this when I first started this with my wife. In general, you will find all different penis sizes at the Rooftop Resort.
You will find that penis size may run a little above average for those that are nude at this resort. I think that this may be that men with larger penises feel a little more confident about letting it all hang out.
Additionally, the young single men at the resort seem to have a much larger-than-average penis. I think that there is a reason for this. The young men that tend to come here are the ones that will be successful in hooking up with a couple or the woman of the couple.
When these couples are looking for a single man, it is often to fulfill some fantasy involving a young man with a large penis. Often this is a fantasy involving a young black man with a big penis. This gives the young men that fit this category an excellent chance to have fun at this resort.
When you give these young men a high success rate then they tend to show up in greater numbers.
If you are part of a couple, then you do not have as much to worry about. There seems to be much less of a focus on penis sizes when picking out couples to partner with.
A good article about penis size at nude resorts can be found here.
Rooftop Resort Pictures
Pictures of Couples' Playroom
Pictures of the other Playrooms
Pictures of the Nightclub and Atrium
Outside Pictures of the Rooftop Resort from the intercoastal waterway.
How Do Swingers Hook up at the Rooftop Resort?
There are several ways to hook up at the Rooftop Resort. You can use multiple methods or choose the one that works for you.
How Can Couples Hook up at the Rooftop Resort?
If you are part of a couple and looking for another couple, the Rooftop Resort does offer an adult playroom that is open to couples and single ladies only (no single men). Many of the couples in this room are looking for other couples to play with.
You can always be bold and straight-up and ask to join another couple. We tend to take the more laid-back approach. If we see an interesting couple, we tend to watch for a while and see if we get invited to join. We will also start to fool around close to the couple we are interested in and see what happens as things move along.
During the day, you can find a lot of couples at the pool on the rooftop. This is a great place to meet and introduce yourself. You will find most of these couples to be very open and friendly. Almost everyone is here to meet up with new couples and have a little fun.
On Saturdays, we found the nightclub to be fun but it is hard to meet and talk to couples there due to the music and commotion. If you had met and joked with couples earlier at the pool, you will find it easier to engage with them at the nightclub.
You can use the rooftop pool conversations to set up your evening. Sometimes these poolside conversations turn into an immediate invite to play. The playrooms are available all day long and of course, there are the hotel rooms.
Our favorite method of finding people is putting on a display through the hotel window. My wife and I would have sex in our hotel room with the window curtains open. People will cruise around the atrium checking out the action going on in the rooms.
For many couples, putting on the show is fun enough on its own but you can take it much further. You will draw a crowd to watch you. Many single men and some couples will show interest in joining, you can then invite those who you find interesting to come in and join.
How Can Singles Hook-Up at the Rooftop Resort
I am going to be talking mostly about single men because single women (unicorns) can join in with just about any couple. Women just need to show the slightest possible interest and they will be invited to join.
Single men on the other hand have to work a little harder (no pun intended) to get an invite. The most important thing for a single guy to remember is that they need to be respectful. There is not a bigger turn-off for a couple than a pushy single guy. Even if my wife finds him attractive, she will immediately shut down if he is overly aggressive.
The successful single men seem to be the ones that are friendly and talkative with the couples at the resort. If the couple likes you, they are much more likely to invite you to join them in some fun.
If you see a couple putting on a show in one of the playrooms, you can sometimes get an invite if you just show some interest. The single guys will often stand near the couple watching while touching themselves. This display of attention will get the men an invite.
Another method at the Rooftop resort is the hotel window method mentioned in the section above. You can check out the open hotel windows for customers putting on a show. Just like in the playrooms, you can watch and show some attention. This will lead to some invites.
What Is Available to do near the Rooftop Resort?
The Rooftop Resort is located in the heart of the Hollywood Beach area. It is right across the road from the intercoastal waterway and only a block from the actual beach.
The area has tons of shops, restaurants, all kinds of beach activities, live free concerts at the Hollywood Beach Theater, only a few miles from Haulover Nude Beach, and a fun water taxi ride from Fort Lauderdale Beach.
You can make a nice couples vacation out of your stay at the Rooftop Resort in addition to having some swinger fun.
What is the Rooftop Resort Contact Info?
You can contact the Rooftop Resort at:
1215 North Ocean Drive
Hollywood FL 33019-3310
https://www.rooftopresort.com
Phone:
+1 (954) 925-0301
Lobby Hours:
Sunday through Friday 10:00 AM – 5:00 PM
Saturday 10:00 AM – Midnight
What Is The Overall Rooftop Resort Review Score?
Below is our table showing the overall resort review score for the Rooftop Resort.
| | |
| --- | --- |
| Area of Review | Score |
| Overall Score | C+ |
| Swinger Amenities | B |
| General Resort Amenities | D |
| The Crowd | C |
| Cleanliness | C |
| Staff | C |
| Pricing | A |
| Location | A |
Rooftop Resort Review Score Table
We give the Rooftop Resort an overall score of C+. This resort is worth the visit but there are much better resorts out there to try. It is worth visiting at least once or multiple times if you live in the area but would probably not be at the top of the list.
The Rooftop Resort receives a B for swinger amenities. There are several playrooms that are fairly active on a Saturday night. This would receive an A if these rooms were active all of the time but basically, these rooms are dead on other nights.
With General Resort Amenities the grade is D. This is due to the lack of an on-site restaurant (though there are a lot of close-by restaurants), they lack a full-service bar (BYOB service bar only), no hot tub or fitness room.
They score a C in the crowd area. While this resort is hopping on Saturdays all day and Sundays during the day, it is an absolute ghost town on most other days.
The Rooftop Resort gets a C for cleanliness. The rooms were very clean and in good shape. However, we did not like the way that the playrooms were maintained. No linens were provided and guests were expected to use towels. There was no cleaning taking place during the night and was only cleaned in the morning.
The Staff receives a score of C. The staff we encountered were friendly and helpful but the resort seemed to be severely understaffed. We did not need security at any point but they did not have the presence that you see at other resorts.
Pricing receives an A. While the rooms at the Rooftop Resort are not cheap, you will find that these rooms are extremely reasonable for the Hollywood Beach area. Day and night passes are reasonable for busy days.
The Location score for the Rooftop Resort receives an A. This location is great. It is right off the beach and Hollywood Boardwalk. There are tons of opportunities in the area for walking, beach-going, shopping, restaurants, boat tours, and more. Also, the Rooftop Resort is close to Haulover Nude Beach.
Making Swinger Connections Before Going
There are a couple of online sites that can help with meeting up with other swingers. We will often use these sites before going to a resort like the Rooftop Resort. We will try to make some connections ahead of time to increase our odds of having a night of fun play.
These sites are SLS (SwingLifestyle) and AFF (Adult Friend Finder). We use these sites to meet the couples that we hook up with at the swinger clubs, swinger resorts, and sometimes just on our own.
SLS (SwingLifeStyle)

SwingLifeStyle.com
SLS is by far the biggest and most popular website for swinger clubs, swinger resorts, and events. These places post all of their upcoming events on SLS. You can then connect with other members that are going to these events ahead of time.
This website is free to join and check out but you will need to upgrade to use all of the messaging functions. SLS (SwingLifestyle) is a must for swingers that will be attending events and is the number one site I would recommend.
Adult Friend Finder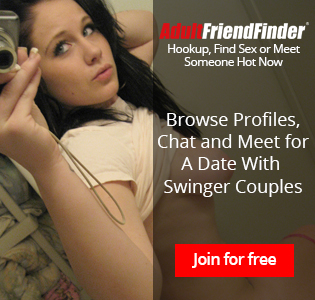 Adult Friend Finder is quite different than SLS (SwingLifestyle). It is more geared toward making individual connections with other swingers and not toward meeting others at events or clubs. AFF users tend to post a lot more public pictures. We use AFF to set up one on one swinger dates outside of events.
Important Note To Men Going To The Rooftop Resort
When my wife and I first started in the swinger lifestyle, we found all kinds of articles dealing with the fears and insecurities of women but very little for men. I found that with many swinger couples, the woman has the confidence and the swinger drive while the man has major worries that hold him back.
Erection Quality in the Swinger Lifestyle
Having fun in the swinger lifestyle is hard when you are worried about maintaining your erection. This was a problem that I had at one point. The libido was there and I wanted to perform but I could not get the erection that I needed.
If you have any concerns about erection quality, check out this article on at-home acoustic wave therapy. The Hollywood elite has used this type of revolutionary treatment for years. The Phoenix Device let me get rock-hard erections that gave me the confidence for the swinger lifestyle.
Penis Size and the Swinger Lifestyle
Like many men, I had always been worried about my penis size. When my wife wanted to get involved in the swinger lifestyle, my penis size anxiety increased.
Check out The Truth About Swinger Penis Size for information on this delicate subject. What is the average swinger's penis size, does penis size matter to swingers, how to make your penis appear bigger, and how to make your penis bigger (yes, this is scientifically possible with a little catch).
The Swinger Inferiority Fear
This fear had a lot to do with the previous two issues but I was very worried that my wife would find me sexually inferior after dabbling in the swinger lifestyle. Would my jealousies and insecurities get in the way of our having a fun time?
Read Male Swinger Insecurities for the story of how I overcame these fears.
Nearby Resorts Related Articles
The following articles are on additional Florida swinger lifestyle resorts: