We love traveling around and checking out all of the great swinger clubs and resorts. We made a recent trip to the Eyz Wide Shut Swingers Club in Tampa and offer this Eyz Wide Shut Swingers Club review and hope to answer the question "Is Eyz Wide Shut a good swinger club for Tampa swingers?"
In general, we found that Eyz Wide Shut swinger club was a good but not great swingers club. We found that this Tampa swingers club had nice facilities but had a setup that made it difficult to meet and play with other swingers. Tampa swingers have other options that may work better.
So let's take a look at the Eyz Wide Shut Swingers Club. We will look at our overall review of the club areas, our experience at Eyz Wide Shut, club costs, club locations, Eyz Wide Shut club demographics, alternative spots for Tampa swingers, and some important tips for Male Tampa swingers.
Our Eyz Wide Shut Swingers Club Review
Our overall Eyz Wide Shut Swingers Club review is based on our visit to this club in January of 2023. We went on a Saturday night which is usually the busiest night for a swinger club. This 21+ club is generally considered to be a top Florida swinger club.
We found that the club was well-maintained and clean. There was no rundown or dangerous vibe that you get at some swinger clubs. The staff was friendly and helpful. They answered every question that we had during our visit.
Eyz Wide Shut Swingers Club has two main areas that you can visit. Those are the nightclub and the playroom area. You can buy admittance to the nightclub only or to the nightclub and playrooms. They place a wristband on to show what areas you have access to.
The Eyz Wide Shut Swingers Club NightClub Area
The nightclub area has a dancefloor, cash bars, seating, a game room, an erotic art museum, and a fenced-in outdoor smoking area. This area of Eyz Wide Shut Swingers Club opens much earlier than the playrooms do so you will need to plan your evening accordingly.
To enter the nightclub area you need to go through security which consists of a metal detector. This adds a little safety to your evening and was quick and easy to go through.
The nightclub area was clean and well-maintained. The music selection was a good selection of dance music. They kept the volume at a level that it was still possible to carry on a conversation if close together.
The game room area was nice and the erotic museum was actually pretty fun to see. The game room had a bar, pool table, foosball table, and air hockey. The erotic museum was a collection of erotic art (a lot of giant carved penises), magazines, photos, and popular culture items that are interesting to look at.
We had a couple of minor complaints about the nightclub area. The first was that most seating was at tables. There was limited couch or group setting areas to sit in. This really limited your ability to approach other Tampa swingers. In order to approach other swingers you would have to walk up to their table and start talking.
The other complaint was that the cash bar was rather expensive. We are used to most clubs being BYOB so it is a slight shocker whenever we have to pay for our drinks at the cash-only bar. We ordered a domestic beer and a White Russian each round and it ran us $19 per round so this did add up quickly for the night.
So while there was nothing wrong with the nightclub area, it was still rather expensive and not the best environment to meet other swingers. It would be fun to meet up with other swingers that you already knew at this location just hard to meet new people.
The Eyz Wide Shut Swingers Club Playroom Area
Eyz Wide Shut Swingers Club has playrooms so you can meet other swingers and play (fool around) with them right there at the club. The only problem with this is that the playrooms are located in a separate part of the building from the nightclub area.
You need to exit the building completely and re-enter through a different door to access the playrooms. The playrooms have security at the entrance and you have to pass through another metal detector and turn in all cell phones prior to entry.
This can be a process so it does detract from the natural flow of the evening. This is done in order to comply with local licensing so this is very unlikely to change.
The Eyz Wide Shuts playrooms consist of several private themed playrooms, two group playrooms, and a dungeon. Single men are not allowed into the group playrooms and can only enter the private playrooms if invited.
Unlike many other club playrooms, there are no lockers to store your clothes in. You get undressed at the area that you are going to play in and place your clothes on the floor.
The private playrooms are off a hallway and have windows to the hallway if you want to put on a show. You can close the doors or leave them open. Even if you leave the door open, others are expected to get permission before entering an occupied playroom.
At the end of the hall with the playrooms is the voyeur room. This is a room with one-way windows looking into one of the group playrooms. Single men are allowed into this room to check out the action in the group room.
The group playrooms are a great area for couples and single ladies to have fun. The first room has a few beds and couches that people can play on or watch what is going on in the room. The tendency seems to be that the beds were for sex and the couches for blowjobs.
The second room consists of a bunch of different beds. This is the room that the voyeur room looks in on. This room seemed to be busier with couples using almost all the beds.
The playrooms were equipped with plenty of clean linen and towels. There was some staff on hand but you were expected to put clean sheets down when you went to play and then put the dirty sheets in one of the laundry bins when done. This seemed to work pretty well.
The playrooms seemed to get pretty active with couples once they opened. The issue that we ran into was that there was very little interaction between couples in these playrooms. We did not see any people that appeared to be playing with other couples or doing anything outside of their regular relationship.
This would be a good playroom experience for someone who is new to the swinger lifestyle as it would give you a good chance to look and feel comfortable about having sex in front of others without feeling any pressure to swap.
The one group that I felt bad for was the single men. There was not much for them to do in the playrooms. They seemed to be pretty much limited to the voyeur room unless invited by a couple to join in a private room. I think that it would be really difficult for a single guy to get some action here unless he came with a couple.
Our Eyz Wide Shut Swingers Club Experience
We got to Eyz Wide Shut Swingers Club on a Saturday night at around 8:30 pm. We were able to get signed up for our membership and get inside the club very quickly and easily. The nightclub was very empty at that time and we had no trouble getting some drinks and finding a table.
We did the playroom tour at 9:30 pm. This is offered to new members so that they can check out the playrooms prior to their opening. The staff that did the tour were very friendly and informative.
After the tour, we went back to the nightclub for a few drinks. We checked out the erotic art displays which we found very interesting.
As we are not the most outgoing people, we did have a really hard time meeting any new people in the nightclub. Everyone seemed to stay pretty much at their own tables. There was very little dancing or interaction going on between people.
At around 11:30 pm, we decided to go check out the Eyz Wide Shut playrooms. When we went in there were a few private playrooms in use. We watched the action for a little bit through the windows but nobody had left their doors open.
We went down to the voyeur room to check it out. There were a couple of single guys there that were watching the group room through the one-way glass. There was not much going on in there at the time so we decided to go see if we could spice it up a little.
We went to the group room that faces the voyeur room and found an empty spot on a bed facing the window. There were a few other couples in the room that were fooling around but they were not near the windows.
We put down some clean sheets and took off our clothes. My wife started out by giving me some great head. We were right next to the one-way window to the voyeur room and she just gets really enthusiastic when she thinks she has an audience.
After a few minutes, we switched over to 69. She told me afterward, that she would keep looking right at the window to the voyeur room while going down on me. She wanted whoever was in there to feel like she was looking at them.
She then switched to reverse cowgirl so that she could stare at the voyeurs while riding me. She would rub her tits and pull on her nipples while looking at the voyeur room. She was so hot and I ejaculated in a really short time.
After we finished up, we cleaned up our linen and got dressed. We went to the voyeur room to see who was in there. We found that four single men were in there and they all seemed to be really grateful and horny when they saw her.
A couple of them were touching themselves and she gave them a couple of playful strokes. This evening she did not feel like a gangbang and was really looking for a couple swap so we did not stay in this room for too long. I told her on the way out that those poor guys would be thinking of her all night long.
We went back to the couple's group rooms. We watched a bunch of other couples fooling around and we would start to play next to them. However, we did not get any invites to play with anyone else.
Eventually, we gave up on playing with another couple and went back to the group room near the voyeur window. We had sex once again near the window. We did it doggy style this time so that she could look at the window while getting nailed.
Not finding other couples to play with seems to be normal for these playrooms as we did not see any swapping going on. So we had no play with other couples but we still had a great time with each other. She found it really exciting to play in the group window near the voyeur window.
Eyz Wide Shut Swingers Club Location and Hours
The Eyz Wide Shut Swingers Club is located in a commercial area of Tampa. It is surrounded by car dealerships. We felt perfectly safe in this area. The actual location information is below.
Eyz Wide Shut Swingers Club
8504 E Adamo Dr,
Tampa, FL 33619
(813) 620-1234
https://eyzwideshut.com/
The hours for the Eyz Wide Shut Nightclub are as follows:
Mon-Wed: Closed
Thursday: 6 pm to 2 am
Friday: 7 pm to 3 am
Saturday: 7 pm to 3 am
Sunday: 4 pm to 12 am
The hours for the Eyz Wide Shut Playrooms are as follows:
Mon-Wed: Closed
Thursday: 10 pm to 2 am
Friday: 11 pm to 5 am
Saturday: 11 pm to 5 am
Sunday: 8 pm to 12 am
Eyz Wide Shut Swingers Club Costs
In order to attend any events, you will need an Eyz Wide Shut membership. It is easy to sign up for this membership right at the door. All you need is an ID and you can do it in a couple of minutes.
Membership rates are $30/month for a couple, $25/month for single ladies, and $60/month for single men. There is an annual membership rate of $159 that is available for couples only.
In addition to your membership, you will also need to pay your nightly event fee. The fee will vary depending on if you want to go to the nightclub only or if you want the nightclub and playrooms.
| | | | |
| --- | --- | --- | --- |
| | Couples | Single Ladies | Single Men |
| Thursday Nightclub only | Free | Free | $11 |
| Thursday Nightclub and Playrooms | $25 | $15 | $40 |
| Friday Nightclub only | Free | Free | $28 |
| Friday Nightclub and Playrooms if purchased before 10 pm | $25 | $15 | $100 |
| Friday Nightclub and Playrooms if purchased after 10 pm | $65 | $15 | $100 |
| Saturday Nightclub only | $25 | $12 | $38 |
| Saturday Nightclub and Playrooms if purchased before 10 pm | $50 | $15 | $125 |
| Saturday Nightclub and Playrooms if purchased after 10 pm | $90 | $15 | $125 |
| Sunday Nightclub only | Free | Free | Free |
| Sunday Nightclub and Playrooms | $25 | $15 | $40 |
Eyz Wide Shut Swingers Club Pricing Table
You can pay your membership and entry fees by credit card at the door. The bar inside the club is cash only.
Alternative Swinger Fun For Tampa Swingers
We did not have a horrible time at Eyz Wide Shut but there are other options available to Tampa swingers that may be a little more fun. This is not to say that you should never try this club out. We love checking out new places and you will probably like Eyz Wide Shut just there are some other places that we enjoyed more.
The two big places to check out are Paradise Lakes and Caliente. These are both swinger resorts that are located just a few miles north of Tampa. They are both clothing-optional spots that have nightclubs, pools, hot tubs, and playrooms. They are basically a swinger paradise.
We love both of these places and highly recommend them.
Eyz Wide Shut Swingers Club Demographics
We found that the demographics at Eyz Wide Shut swingers club were very similar to most swinger clubs. The average age was probably around 45 with people ranging from their 20s up to late 60s.
A rough guess would be that about 90% of the customers appeared to be white. The remaining 10% were non-white and of different ethnicities.
To answer the always-present penis size question. The guys at Eyz Wide Shut seemed to be larger than average but not as big as you normally encounter at the local swinger resorts.
Eyz Wide Shut Swingers Club Dress Code
The Eyz Wide Shut Swingers Club dress code seemed to be a little less strict than what you might encounter at other swinger clubs. The dress code called for business casual but allow for jeans and sneakers.
The prohibited items are hats, flip-flops, shabby clothing, and men's shorts.
Meeting Up With Tampa Swingers
There are a couple of online sites that Tampa swingers use to meet up with other swingers. These sites are SLS (SwingLifestyle) and AFF (Adult Friend Finder). We use these sites to meet the couples that we hook up with at the swinger clubs, swinger resorts, and sometimes just on our own.
What we actually do is make some connections ahead of time before going on our trips. This helps to increase our chances of finding a nice compatible couple when we go to the resort or club.
When we went to the Eyz Wide Shut Swingers Club, it was a last-minute decision and we didn't use SLS to make some friends ahead of time. Usually, we signed up as attending the event on SLS and started communicating with other SLS members going to the event.
Not using SLS ahead of time may have been part of the reason that we did not make that personal connection and play with some Tampa swingers when we visited Eyz Wide Shut.
SLS (SwingLifeStyle)

SwingLifeStyle.com
SLS is by far the biggest and most popular website for club and resort events. This is the website where Eyz Wide Shut Swingers Club posts all of its events. You can connect with other members that are going to these events ahead of time.
This website is free to join and check out but you will need to upgrade to use all of the messaging functions. SLS (SwingLifestyle) is a must for swingers that will be attending events and is the number one site I would recommend.
Adult Friend Finder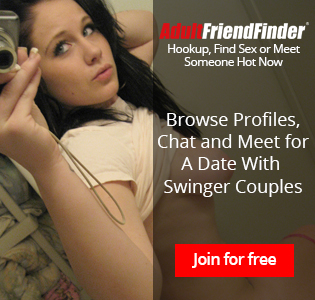 Adult Friend Finder is quite different than SLS (SwingLifestyle). It is more geared toward making individual connections with other swingers and not toward meeting others at events or clubs. AFF users tend to post a lot more public pictures. We use AFF to set up one on one swinger dates outside of events.
Important Note To Male Eyz Wide Shut Swingers
When my wife and I first started in the swinger lifestyle, we found all kinds of articles dealing with the fears and insecurities of women but very little for men. I found that with many swinger couples, the woman has the confidence and the swinger drive while the man has major worries that hold him back.
1. Erection Quality in the Swinger Lifestyle
Having fun in the swinger lifestyle is hard when you are worried about maintaining your erection. This was a problem that I had at one point. The libido was there and I wanted to perform but I could not get the erection that I needed.
If you have any concerns about erection quality, check out this article on at-home acoustic wave therapy. This type of revolutionary treatment has been used by the Hollywood elite for years. The Phoenix Device let me get rock-hard erections that gave me the confidence for the swinger lifestyle.
Penis Size and the Swinger Lifestyle
Like many men, I had always been worried about my penis size. When my wife wanted to get involved in the swinger lifestyle, my penis size anxiety increased.
Check out The Truth About Swinger Penis Size for information on this delicate subject. What is the average swinger's penis size, does penis size matter to swingers, how to make your penis appear bigger, and how to make your penis bigger (yes, this is scientifically possible with a little catch).
The Swinger Inferiority Fear
This fear had a lot to do with the previous two issues but I was very worried that my wife would find me sexually inferior after dabbling in the swinger lifestyle. Would my jealousies and insecurities get in the way of our having a fun time?
Read Male Swinger Insecurities for the story of how I overcame these fears.