What is Fantasyland Tampa like?
Is Fantasyland Tampa any good for swingers?
What does Fantasyland Tampa cost?
Fantasyland Tampa does offer some alternative fun for swingers in the area. This place may not be for most swinger couples as it is a little rougher around the edges but it does provide a spot for some. We really suggest knowing what you are getting into before visiting Fantasyland Tampa as a swinger couple.
In a rush?
Fantasyland Tampa can be a great spot for some Tampa swingers to fulfill their fantasies. If your swinger fantasies involve your wife or girlfriend with a bunch of guys, then Fantasyland Tampa may be your place to go.
Fantasyland Tampa is not the fanciest swinger spot but it is very affordable. You can stop in here and maybe live out a few fantasies for a fraction of the price of a swinger club or resort.
That being said, we would much rather spend an evening at one of the great Tampa swinger resorts. We find the amenities and clientele to be more to our liking at the resorts.
What is Fantasyland Tampa?
Fantasyland Tamp is an adult superstore located in Tampa. For Tampa swingers, the main attraction at Fantasyland Tampa would be the adult theater and arcade area. This is a spot where nudity and sexual activity are allowed for singles and couples.
You can encounter a lot of sexual activity at Fantasyland including women and couples.
This spot is quite different than the normal swinger spots that we review and we want to throw out some cautionary advice to our regular readers.
You will find Fantasyland Tampa to be overwhelmingly full of single men. When we visited, it was over 90% male. This may work if you are looking for multiple men but it makes it extremely difficult if you are looking for a woman or a couple.
You will also find that the customers at an adult shop theater like Fantasyland Tampa are quite different than what you would find at a swinger resort or swinger club.
The crowd and amenities at Fantasyland may be a little rougher around the edges than what you find at swinger resorts and swinger clubs but they were all still friendly and respectful. Not all can afford to go to clubs and resorts every weekend so Fantasyland does give you an alternative.
This store is open 24 hours a day. Of course, the best times to find a lot of people here are on Friday and Saturday nights.
Fantasyland is divided into several areas including the porn shop, adult theater, adult arcade, and pool room.
Fantasyland Tampa Porn Shop
When you enter Fantasyland, you are in the porn shop area. They sell your typical adult merchandise. The selection here was a lot more limited than I thought it would be but for some reason, I thought this place would be huge. They have everything that you would expect with vibrators, dildos, etc…
You pay the cashier in this area for your ticket to get into the Fantasyland Adult theater and arcade.
Fantasyland Tampa Adult Theater
The entrance to the Fantasyland Tampa Adult Theater is right off the porn shop's main room. You enter a corridor area that leads into the main adult theater area. This is basically a large room with a big screen playing porn.
The walls of the main theater area are lined with several couches. This is a good area for a couple to put on a show if they want to draw a bunch of single men in right up close.
People will also hang out in this room if they are waiting for things to happen. Any half-decent-looking woman will draw a big crowd in this area with plenty of men watching carefully for any action.
Right before the main theater area is a large playroom with a bed and sofa. This room also has a large window to the adult theater area. The door to this room does lock so you can use this room to put on a show for the people in the main adult theater area.
Two smaller playroom-type areas are in the back of the main theater area. I did not see these in use on our trip to Fantasyland but they would give you some amount of privacy if you met someone there you found interesting.
Fantasyland Tampa Adult Arcade
This is the typical porn shop video booth arcade. There are about a dozen small porn video arcades with gloryholes in between the booths. We did not see any women in this area and it does seem like you are most likely to encounter other men on the other side of the gloryhole here.
You can basically go into this area, put on some porn in your booth, and either put your dick through the hole or wait for someone to put one through to your side. If you are not bisexual, you really want to make sure you know what is going on here because there is no guarantee that it is a woman who will be sucking you.
I am not bi-sexual so we tend to not ever use these booths unless we are meeting a woman who we know is on the other side.
Your admittance to this area is covered by your price of admission to the adult theater area.
Fantasyland Pool Room
This is a room with pool tables and a few TVs. The TVs had some porn going as well as some sporting events. This is a no-play social area to just kind of hang out in.
Fantasyland Tampa Cost
The basic cost for Fantasyland Tampa is $25 for either a couple or a single. This gets you admission to the adult theater and the arcade area.
Hotels near Fantasyland Tampa
The two closest hotels near Fantasyland Tampa are
Country Inn & Suites by Radisson
4750 N Dale Mabry Hwy, Tampa, FL 33614
(813) 517-8580
Econo Lodge Airport
4732 N Dale Mabry Hwy, Tampa, FL 33614
(813) 874-6700
Both of these hotels are about a half mile away from Fantasyland and can be walked easily in under 15 minutes.
Is Fantasyland Tampa any good for swingers?
Fantasyland Tampa is great for what it is. It is a low-cost spot where swingers can go and try to live out their fantasies. It is not classy or glamorous. You will not always encounter the sexiest of swingers here. There are fairly limited females that show up at this place.
But if you do not want to spend a lot of money then this may be the place. Let's say you have a fantasy of watching your girlfriend blow a group of guys then you could easily fulfill it here. Just go to the adult theater and have her start blowing you.
In a matter of minutes, you will have a bunch of guys standing around you and stroking their dicks. You can then pick and choose who you interact with.
The rules at Fantasyland are the same as it is for other spots. No means no and you must ask and receive permission in order to touch. We found the guys here to be respectful and able to understand these rules.
This is obviously not the best spot to find another couple to play with but it is possible if you spend some time here. This is a quick and easy spot to live out the female with multiple guy fantasies.
The alternatives may be much classier but they are very much more expensive. If you just want to get down and dirty on a budget then Fantasyland Tampa may be your spot.
Fantasyland Tampa Demographics
On the night that we went to Fantasyland Tampa, over 90% of the people there were men. There were only two women there including my wife. The racial mixture was probably around 50% white, 30% Black, and 20% Hispanic.
The age range went from 21-70 with the majority being between 30-55.
One interesting note was that we noticed that the penis size at adult theaters tends to be a little smaller than what you encounter at swinger clubs and resorts.
My wife still thought that the penis size at Fantasyland Tampa was a little larger than average but not what you encounter at the local swinger resorts.
Check out Penis Size at Nudist Resorts article for more information on what you encounter for penis size at these resorts.
Fantasyland Tampa Alternatives
There are some great Fantasyland alternatives in the Tampa area. As a matter of fact, the Tampa area is one of the best areas in the country for swingers. Here are some articles on some great swinger spots in the Tampa area.
The Tampa area is home to some of the best swinger resorts in the country. We really believe that there is nowhere better to be than naked in the conversation pool at a warm swinger resort.
These swinger spots are all much better swinger alternatives, especially to find couples or women but they are also much more expensive than a spot like Fantasyland.
Paradise Lakes Resort Review: Swinger fun in paradise
2023 Caliente Resort Review: Swinger oasis in Florida
Eyz Wide Shut Swingers Club Review: Is this club great for play?
Fantasyland Tampa Location
Fantasyland Tampa is located right in Tampa close to the Tampa airport and Raymond James stadium. The actual location information is:
4715 N Lois Ave,
Tampa, FL 33614
(813) 873-7564
https://www.facebook.com/FantasylandAdultTampa/
Our Fantasyland Tampa Experience
I do drag my wife around with me to check out all of these locations and she is a good sport about it. However, she would much rather be poolside at a swinger resort than at some adult theater. That being said, we both thought that Fantasyland Tampa was a decent experience.
When we got to Fantasyland, we checked out the adult arcade but since we were not meeting anyone there we did try one of the booths. She would rather see who she is blowing and I am very cautious about the anonymous blowjob. I don't care what others do but I want to be sure that it is a woman on the giving end for me.
We then checked out the adult theater section. We saw that there was another couple sitting in the couch area of the main theater area. We did not find them to be very attractive but they were nice enough to talk to for a bit.
They asked us if we wanted to play with them but my wife told them that she had something else in mind. She told the other lady to follow her lead.
She pushed me back on the couch and pulled down my pants and started blowing me. The other lady started doing the same thing with her boyfriend. It did not take a couple of seconds for there to be a big group of guys standing around and watching them.
They were all very respectful and nobody tried to touch her in any way. Some of them were stroking themselves while watching but still did not try to touch her. It looked like the other couple got the same respect.
Once she had me completely hard, she checked out the crowd and picked out a couple of guys that she thought were nice-looking. She told them to follow her to the big room with the window.
We went in with those two and locked the door. She told them to take their clothes off and lie down on the bed with their heads toward the window. She said that she was going to be good to them but if they moved that she would be all done with them.
She stripped down naked and got in between the two of them and started sucking and jerking them. Once she got busy, I got in behind her and started having sex with her. A couple of times one of the guys would start to move towards her and she would say No and they would lay right back down.
She went back and forth between the two guys and drew a big crowd at the window. She is so talented when she does this stuff. She had both of them cumming before I even finished doing her doggie style.
She looked back at me with the cum all over her face and I was done in a few seconds. I bet we were only in the room for 10 minutes and she had all three guys done.
She cleaned up with the wipes that we always take with us and even wiped the two guys down for them. They just seemed to be awe-struck by her talents. As soon as we were done and dressed, we made a beeline for the door because there were so many guys just asking for a chance.
Once again, everyone was respectful but she really wanted to get back to her pool and sun.
Meeting Up With Tampa Swingers
There are a couple of online sites that Tampa swingers use to meet up with other swingers. These two sites are SLS (SwingLifestyle) and AFF (Adult Friend Finder).
Fantasyland Tampa swingers can use these sites to help make swinger connections in a couple of ways. One of these websites is great for making connections before traveling for a swinger club, resort, or event. This helps to increase our chances of finding a nice compatible couple when we go to one of these places.
The other website is best for making connections with individual Tampa swinger couples or singles that you can meet one on one locally.
We have done this many times and have had some great fun doing this. Remember to be smart and always meet in public spots and be smart but with a little common sense, you will meet some incredible swingers.
SLS (SwingLifeStyle)

SwingLifeStyle.com
SLS is by far the biggest and most popular website for club and resort events. This is the website where Tampa swingers can meet other swingers at any swinger club or resort that you might visit. You can connect with other members that are going to these events ahead of time.
This is great when you are traveling because when you show up you will already know some other swingers. This website has club listings that let you list yourself as going to a club, resort, or event. You can also see who else has signed up as going.
So even when you are going somewhere for the first time, you will already have made a few connections. Having someone to meet up with and say hi can make the evening much more comfortable and fun.
This website is free to join and check out but you will need to upgrade to use all of the messaging functions. SLS (SwingLifestyle) is a must for swingers that will be attending events and is the number one site I would recommend.
Adult Friend Finder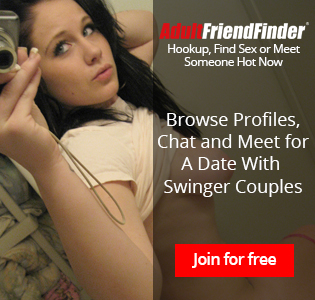 Adult Friend Finder is quite different than SLS (SwingLifestyle). It is more geared toward making individual connections with other swingers and not toward meeting others at events or clubs. AFF users tend to post a lot more public pictures. We use AFF to set up one on one swinger dates outside of events.
This is a great website to meet local Tampa swingers to meet up right in the area. There are a bunch of local Tampa swingers on this website. Fantasyland Tampa might be a nice spot to meet up with other local swingers if you made a connection.
Important Note To Male Fantasyland Tampa Swingers
When my wife and I first started in the swinger lifestyle, we found all kinds of articles dealing with the fears and insecurities of women but very little for men. I found that with many swinger couples, the woman has the confidence and the swinger drive while the man has major worries that hold him back.
1. Erection Quality in the Swinger Lifestyle
Having fun in the swinger lifestyle is hard when you are worried about maintaining your erection. This was a problem that I had at one point. The libido was there and I wanted to perform but I could not get the erection that I needed.
If you have any concerns about erection quality, check out this article on at-home acoustic wave therapy. The Hollywood elite has used this type of revolutionary treatment for years. The Phoenix Device let me get rock-hard erections that gave me the confidence for the swinger lifestyle.
Penis Size and the Swinger Lifestyle
Like many men, I had always been worried about my penis size. When my wife wanted to get involved in the swinger lifestyle, my penis size anxiety increased.
Check out The Truth About Swinger Penis Size for information on this delicate subject. What is the average swinger's penis size, does penis size matter to swingers, how to make your penis appear bigger, and how to make your penis bigger (yes, this is scientifically possible with a little catch).
The Swinger Inferiority Fear
This fear had a lot to do with the previous two issues but I was very worried that my wife would find me sexually inferior after dabbling in the swinger lifestyle. Would my jealousies and insecurities get in the way of our having a fun time?
Read Male Swinger Insecurities for the story of how I overcame these fears.