My wife and I love visiting swinger lifestyle clubs all across the country. We made a 2023 visit to Minglers Swinger Club to find out what it was all about and how the scene was there. So how was it and what was our 2023 Minglers Club for swingers review?
Minglers Swinger Club, while not as modern or meticulously maintained as some other venues, proved to be a safe and enjoyable option. Despite its comparative simplicity, it offers a decent experience in the vibrant landscape of Florida's abundant swinger opportunities.
So let's take an in-depth look at our Minglers Club review. We will look at our overall impression, the club amenities, the costs, our Minglers Daytona Beach experience, the club demographics, some tips for male swingers, and more.
What is Minglers Daytona Florida?
Minglers Club in Daytona Beach Florida is an on-premise swinger club. This means that it is a club where swinger couples can have sex right on location. These couples can have sex with other couples, singles, or each other right at the club. Of course, this means there will be plenty of nudity.
We found out about Minglers on SLS (SwingLifestyle) which is our favorite place to find out about swinger clubs, parties, resorts, and events. Not only does SLS have all the information about upcoming events at Minglers Club, but it also lets you make connections with the swingers going to the events before you even go.
If you are unfamiliar with the swinger lifestyle, you will want to make sure that you know what you are getting into before going. Minglers Club is a great spot to try out the lifestyle if you are an experienced veteran or a total newbie.
As with all swinger parties, you only participate in activities that you want to join. No one is going to make you do anything and most importantly permission is never implied. Always ask for permission before touching or playing with anyone.
The club is open on Friday nights from 8 pm to 2 am and on Saturday nights from 8 pm to 4 am. This club is a members-only, BYOB club for those that is open to 21+ couples, single ladies, and a limited number of single men.
The Minglers Club Amenities
Minglers Club has a great deal of amenities to offer. They have onsite parking which is always a big plus. You enter the parking area off from Loomis Avenue and the entrance to the club is right off the parking area.
Once you enter this spacious swinger club that has over 8500 square feet of space, you will come to the front desk and check-in area. This is where you pay the maintenance fee for entry and take care of your membership if it is your first visit.
There are a couple of features right off the desk check-in area. There are some lockers, a bathroom area, a food/snack area, and the entrance to a huge playroom area. This playroom was where we had most of our fun and is really good sized with tons of beds for fun as couples or groups. To hear about our fun here check out the Our Minglers Club Story section.
Additionally on the first floor was the fetish/dungeon-type area which was not overly large but had the typical fetish equipment. There was some room to play in this area as well but we did not see anyone utilizing the area during our visit.
There was also a doorway out to a jacuzzi area. This was not open during our visit and has apparently not been open for a while.
Up on the 2nd floor is where you will find the large bar/dancefloor area. The dancefloor area had a decent sound system and a light show. Right off the dancefloor area was a pool table that stayed busy for most of the night.
This area also had a few tables and some seating. During the early part of the evening this area was the busiest area of the club. As the night progressed, more people would find their way to other areas and to the playrooms.
The self-serve bar area was right off the dancefloor and had refrigerated space for your drinks. There was plenty of bottled water, ice, soda, and juice for mixing. Right off the bar area is a covered outside smoking area for all of you who smoke.
The remainder of the upstairs had a number of different adult playrooms. These rooms stayed pretty quiet on Friday night but were pretty active on Saturday night.
The second floor also had some additional bathroom areas.
Our Overall Minglers Club for Swingers Review
In our Minglers Club for Swingers review, we find it to be a commendable local option nestled in the vibrant atmosphere of Daytona Beach. While it may not quite match up to some of Florida's premier swinger clubs, it is still a quality option for Daytona Beach swingers or visitors to the area.
Positive Highlights of Minglers Daytona Beach
Minglers Daytona Beach boasts several positive aspects that contribute to a delightful experience. The prime location, coupled with a welcoming staff and a vibrant community of swingers, makes it an attractive choice for locals and visitors alike. Our weekend at Minglers was marked by a blend of fun and comfort, with the club offering a distinct and enjoyable atmosphere.
Exploring Daytona Beach's Diversity: Known primarily for Spring Break and racing events, Daytona Beach takes on a new dimension with the inclusion of swinger activities. During our off-peak visit, we secured a favorable hotel rate, allowing us to savor the beach and tourist attractions before immersing ourselves in the nighttime swinger fun at the club.
Attentive Staff and Friendly Swingers: Minglers Club distinguishes itself through its attentive staff, who guided us through the premises and ensured a seamless experience. Throughout the evening, the staff's presence was notable but unintrusive. Equally noteworthy were the fellow swingers, who were not only friendly but actively engaged in making newcomers feel welcomed and part of the community.
Additionally, we found Minglers to be very reasonably priced and easy to attend. We were able to complete our membership application right at the door in just a few minutes. We were able to pay very conveniently by credit card as well.
Clubs like Minglers are BYOB which can save you an incredible amount over attending a club with a cash bar. This makes a night out less expensive than almost any other alternative.
Areas for Improvement at Minglers Swinger Club
However, Minglers Club is not without its drawbacks. The most conspicuous issue lies in the dated facilities, giving an impression of having been last renovated roughly two decades ago. The age of the amenities raises concerns, making you feel like it is dirty even when thoroughly cleaned.
Another notable concern is the relatively sparse crowd on the nights of our visit. Friday was particularly quiet, with only around 20 attendees, and while Saturday showed improvement, the overall turnout was still modest. These factors might impact the overall atmosphere, especially for those seeking a more bustling social environment.
However, it is important to note that our visit to Minglers Club was not during Spring Break, a race weekend, or any of the many other special events that happen in Daytona Beach. We are sure that this club is much more lively on these weekends.
Despite these considerations, we firmly believe that the drawbacks should not deter Daytona Beach swingers from exploring Minglers Club. The club offers a safe and enjoyable experience, and its presence is a boon for the local swinger community.
We encourage swingers in the area to support this establishment, recognizing that many areas do not have a dedicated swingers club in the region. Minglers Club, with its unique charm, remains a valuable addition to the Daytona Beach swinger scene.
Minglers Swinger Club Age and Demographics
We found the age range and demographics at Minglers to be similar to what you find at most Florida swinger clubs. We came across swingers of all ages from in their mid-20s to their mid-70s. Overall, we would say that the average age was in the mid-50s which is a little higher than at other Florida clubs.
As far as demographics go, we found that the majority of club attendees were white. This club seemed to be a little less racially diverse than what we had encountered at other Florida clubs. On the weekend we were there, it was probably at least 90% white. We really missed that diversity that you find at the other clubs.
Where is Minglers Swinger Club?
Minglers Swinger Club is located right on Route 1 in Daytona Beach and is actually only about a couple of blocks from the water and less than a mile from the beach.
Minglers Club
500 S Ridgewood Ave,
Daytona Beach, FL 32114
(321) 458-1053
https://www.minglerssocialclub.com/
Are there any nearby hotels?
There are a ton of hotels in Daytona Beach. But here are a few hotels that are located within walking distance of Minglers Club (0.5 miles or less).
Raintree Motel (0.1 miles from Minglers)
530 S Ridgewood Ave, Daytona Beach, FL 32114
(386) 252-3698
https://www.daytonabeach.com/listings/raintree-motel-%26-apartments/35/
Sunset Inn (0.2 miles from Minglers)
544 S Ridgewood Ave, Daytona Beach, FL 32114
(386)255-4500
https://sunsetinndaytona.com/
Host Inn Daytona Beach (0.5 miles from Minglers)
315 Bellevue Ave, Daytona Beach, FL 32114
(386) 257-5900
https://www.daytonabeach.com/listings/host-inn/74/
Royal Inn (0.5 miles from Minglers)
810 S Ridgewood Ave, Daytona Beach, FL 32114
(386) 255-7536
https://www.royalinndaytonabeach.top/
The Cost of Minglers Daytona Beach
The cost of Minglers Daytona Beach is very straightforward. When you go to the club, you will pay a maintenance fee to get in. This maintenance fee covers your membership and admittance into the club for that evening.
The maintenance fee cost is very reasonable and is the same on both Friday and Saturday nights. The fee is $50 for couples, $10 for a single lady, and $80 for a single man ($60 if sponsored by a couple). That is it for costs associated with attendance. This is very reasonable for a swinger club.
Minglers Swinger Club accepts both cash and credit cards so it is extremely convenient.
Special events may have special pricing but these prices are correct for most nights.
As far as membership goes, you can fill out all the information quickly and easily at the club when you go. There is no need to do anything ahead of time.
Our Minglers Club Story
We had a great time on our visit to the Minglers Club in Daytona. We went down for the weekend and hit the club on Friday and Saturday.
Our Friday Night at Minglers Club
On our first night at Minglers, we had a relatively uneventful night. The club was pretty empty and we were kind of tired from traveling. We took the tour and got introduced by the staff to some of the regulars.
Everyone was very pleasant and we had a great time talking with everyone. The crowd was a little on the older side that night and we really just did not find anyone that we were that interested in playing with.
The one thing that turned out to be a huge positive was that we met a young lady that we will call Amy. She made it clear that she was not interested in playing with anyone that night but was just there to meet people. That was fine with us and we chatted with her for quite a bit.
We ended up calling it an early night on Friday and probably went back to the motel at around 12:30 a.m. As I said we were tired from traveling and probably we would have found something fun to do there if we had not been so exhausted.
Our Saturday Night at Minglers Club
Saturday night turned out to be much more fun for us at Minglers Club. We had a great day exploring Daytona Beach during the day, had supper, and actually took a nice nap before going. We were well-rested and ready for some fun.
The crowd at Minglers Club was a little younger on Saturday and we were in more of a fun mood so that was a great combination. We mingled and met some people and even danced a bit.
Eventually, we saw our friend Amy from the night before. She said she had someone that she wanted us to meet. She took us by the hands and led us over to David and Christy to introduce us.
David and Christy were brand new to the swinger lifestyle and had never actually done any swinger activity. This was their first trip to Minglers Club as well. They were rather young and in their mid-20s. Amy said that since we were in our thirties we would be a good match (we are actually quite a bit older than that but did not correct her).
We ended up talking with David and Christy for a couple of hours. We really hit it off and had a great time chatting and laughing. At some point, Amy disappeared but we do owe her a big shout out.
David and Christy were new to the lifestyle but they seemed to have a good understanding of everything. They had an excellent relationship and were just looking for the right couple to go all the way with.
We knew that the mutual attraction was there but could tell that they were still a little uncertain. We suggested going down to the big playroom on the first floor.
Once there, we told them that we would take one bed and that they could take the one next to us. That way we could start fooling around separately. If once we got started, they felt like joining in, they could just slide on over toward us.
My wife and I got started with her performing oral sex on me. This quickly switched to us doing 69. A quick glance at David and Christy doing the same. After a few minutes, my wife got on top of me and started riding me.
I looked over and saw that David and Christy had stopped and were watching us. I waved them over and David came over by himself and stood by my wife. She turned her head and started sucking on him. She rode me while sucking him for a few minutes.
I could see Christy touching herself on the other bed. I signaled my wife and she got off me and asked David if she wanted to do her. He eagerly accepted and started doing her doggie style.
I went over by Christy and asked her if it was okay if I touched her. She said yes and I started touching and kissing her. After a few minutes, I pushed her back on the bed and went down on her. After a few minutes, I asked her if we could have sex.
She said she was quite nervous as I was quite a bit larger than the others she had been with (see The Truth About Swinger Penis Size for more information about this) but that she really wanted to. I promised to start out really gently and she agreed to try.
I got on her and very slowly put it in her. I slid it in and out slowly at first but as she became accustomed to it I started to go faster. Once she was used to having sex with me, I asked her if she wanted to be on top so that she could watch David.
She eagerly accepted and we switched positions. Christy rode up and down on top of me while she watched her husband eagerly having sex with my wife. The harder he pumped it with her the more excited and wetter she became.
David started watching Christy and you could tell that it really did it for him. He ejaculated soon after Christy got on top of me. Within moments of his cumming, I could feel her quiver and get so wet as she had her orgasm.
We continued on for quite a while but eventually switched back to our own partners to finish out the evening. They seemed to be like us in that they enjoyed finishing the evening with each other. I love finishing with my wife and I got to on this night.
This was a great fun ending to our visit to the Minglers Club.
Minglers Club Alternatives
The two best alternatives to Minglers Dayton Beach that are within an hour and a half drive are Secrets Hideaway Resort and Hotspot Parties. We have been to both of these places and would highly recommend them.
Secrets Hideaway is a fun Florida-style swinger resort and can be a lot more pricey. Hotspot Parties is a fun Saturday night-only affair that we thought was fabulous.
Florida is the best place in the United States for swinger clubs and swinger resorts. To check out our complete listing of swinger clubs you can read Top 5 Florida Swinger Resorts: Fun play in the sun. To check out Florida swinger clubs read Top Florida Swinger Clubs and Swinger Groups.
Pro Tip: Meeting Other Swingers At Minglers Club Daytona Florida
In order to make the most of your trip to Minglers Club Daytona Florida, you need to find and interact with other swingers. So, how do you do that?
There are a couple of online sites that swingers use to meet up with other swingers. These sites are SLS (SwingLifestyle) and AFF (Adult Friend Finder). We use these sites to meet the couples that we hook up with at the swinger clubs, swinger resorts, and sometimes just on our own.
What we actually do is make some connections ahead of time before going on our trips. This helps to increase our chances of finding a nice compatible couple when we go to the resort or club.
SLS (SwingLifeStyle)

SLS is by far the biggest and most popular website for clubs like Minglers Swinger Club. This is the website where swinger resorts, swinger clubs, and swinger house parties post all of their events. You can connect with other members who are going to these events ahead of time.
This website is free to join and check out but you will need to upgrade to use all of the messaging functions. SLS (SwingLifestyle) is a must for swingers who will be attending events and is the number one site I would recommend.
Adult Friend Finder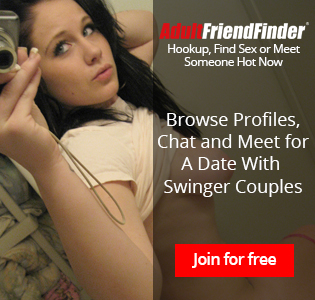 Adult Friend Finder is quite different than SLS (SwingLifestyle). It is more geared toward making individual connections with other swingers and not at meeting others at events or clubs. AFF users tend to post a lot more public pictures. We use AFF to set up both event meetups and one-on-one swinger dates outside of events.
Important Note To Men Considering the Swinger Lifestyle
One major disadvantage of the swinger lifestyle for men is our fears and insecurities. We are supposed to be tough and fear nothing but we have a lot of fears when we are thinking about being in a situation where we may be compared to other men.
When my wife and I first started in the swinger lifestyle, we found all kinds of articles dealing with the fears and insecurities of women but very little for men. I found that with many swinger couples, the woman has the confidence and the swinger drive while the man has major worries that hold him back.
So what steps did I take to gain the confidence to succeed at a club like Minglers Swinger Club?
Sexual Performance in the Swinger Lifestyle
Having fun in the swinger lifestyle is hard when you are worried about your sexual performance. This was a problem that I had at one point. The libido was there and I wanted to perform but it was not as easy to get it up as it was when I was younger.
If you have any concerns about your sexual performance, check out this article on at-home acoustic wave therapy. The Hollywood elite has used this type of revolutionary treatment for years. The Phoenix Device let me perform like a porn star and gave me the confidence for the swinger lifestyle.
Penis Size and the Swinger Lifestyle
Like many men, I had always been worried about my penis size. When my wife wanted to get involved in the swinger lifestyle, my penis size anxiety increased.
Check out The Truth About Swinger Penis Size for information on this delicate subject. What is the average swinger's penis size, does penis size matter to swingers, how to make your penis appear bigger, and how to make your penis bigger (yes, this is scientifically possible with a little catch).
The Swinger Inferiority Fear
This fear had a lot to do with the previous two issues but I was very worried that my wife would find me sexually inferior after dabbling in the swinger lifestyle. Would my jealousies and insecurities get in the way of our having a fun time?
Read Male Swinger Insecurities for the story of how I overcame these fears.