So the two of you have made the big decision to try out the swinger lifestyle and now you are looking for a way to get started. The first time you hook up as a new swinger couple can be scary. The best way to handle this is to find a situation in which the two of you will be comfortable as first-time swingers.
The good news is that you have already done the hardest part. The most difficult part of becoming a swinger couple is having the initial discussion with your partner. Once the two of you know that you want to take this step into the swinger lifestyle, you need to decide how to go forward.
There are many different ways to go forward as a new swinger couple but we have found the best way is to use swinger resorts. These swinger resorts allow new couples to deal with many first-time fears and uncertainties. So now let's look at some first-time concerns and how visiting a swinger resort can help you get past them.
New Swinger Couple First-Time Concerns
Many new swinger couples have similar concerns. These concerns can prevent the two of you from getting started with the swinger lifestyle. You do not need to avoid these concerns as there are usually ways to manage them.
The first major concern that many couples have is that many want to maintain their anonymity. Many couples have children and families that they do not want to find out about their new swinger lives. These couples want to make sure that their first time is safe and out of the public spotlight.
Another concern is the fear of anything new. All of us are uncomfortable when we are trying out new things. The first time swinging can feel a lot like that awkward high school first date. You know how you want it to turn out but are unsure what path to take to get there.
Perhaps the biggest fear is the worry about how you and your partner will react to the first time swinging. Will your partner be upset or uncomfortable? Will you be upset or uncomfortable? What if one of you doesn't like it or one of you likes it too much?
If you have these concerns, you are not alone. These concerns are common. The big thing is to acknowledge these concerns. Talk about it with each other and take steps to minimize these concerns.
You can take steps to minimize these concerns and help ensure that your first time as a new swinger couple is an enjoyable experience for both of you.
The Best Place for First-Time Swingers
You can conquer a lot of these first-time fears by picking the right sport for your first swinger adventures. We found that the best spot to start out was at some of the swinger resorts. A lot of you may say that this sounds like diving into the deep end of the pool but hear us out on this.
Swinger resorts can help to address many of the first-time swinger concerns that you may be feeling.
Staying Anonymous as a First-Time Swinger
You can choose to visit a swinger resort that is far away from where you live. If you travel away from home, that takes out a lot of the concerns about remaining anonymous.
Since most swinger resorts are located in great vacation spots like Florida, Jamaica, Cancun, etc…, it is easy to just tell everyone you are taking a romantic getaway.
These locations also give you the chance to do some other things besides the swinger activities. This may sound stupid but going out sightseeing and similar activities may help relieve some of the pressure and nerves that you feel when contemplating your first time swinging.
Once you are all checked in to the resort, it is up to you when you discuss your names or where you are from. Many swingers use fake names when introducing themselves.
Many of these swingers have friends and family that they don't want to share the activities with.
Swinger Resorts for First-Time Swingers
First of all, you will find that swinger resorts are a very low-pressure environment that gives you a chance to observe the swinger lifestyle and talk to active swingers. When my wife and I first got started swinging, we found out so much by just sitting in the hot tub at a swinger resort and talking to other swingers.
For many new swingers, it is easy to relax poolside or in the hot tub and just take it all in. By seeing what goes on around you and talking to people, it is much easier to become relaxed and comfortable with the swinger environment.
You will find that the people here are often willing to share how they got started out swinging and what they have learned about each other along the way. My wife and I used this experience to become comfortable with the whole swinger lifestyle before jumping in completely.
You learn that the other swingers at these resorts are just normal people like you that are trying to have a little fun in life. You will find that nobody is pressuring anyone to participate in any activities so you can just take your time and explore the whole scene together.
This is just a great way for a couple to ease into the whole swinger scene and make sure that they are comfortable with it. Using adult playrooms, hot tubs, and conversation pools are great ways to get a first-hand look at the swinger lifestyle.
This way, you and your partner can get over the awkwardness of the first time. Additionally, you can get a better idea of what the swinging lifestyle is for both of you. We find it more fun than you would ever imagine but it is not for everyone.
Adult Playrooms for New Swinger Couples
The next thing that you can check out as a new swinger couple is the adult playrooms of these resorts. These adult playrooms let you try out different things at your own pace.
The adult playrooms are not as scary as they might sound. These are rooms that have some amenities to help fulfill adult fantasies. These amenities can include group beds, rooms with windows so that others can watch, rooms with multiple beds for swapping or side-by-side with other couples, and swings or other sexual aids.
You can use these playrooms to just observe what is going on. People expect and want to be watched in these rooms. This is a good way for a new swinger couple to get the juices flowing.
One of the easiest ways to take the first step is to put on a show in one of the playrooms. Many of these resorts have playrooms with doors and windows. You can fool around in one of these rooms and people will watch.
If you close the door, everyone will stay outside and watch through the window. If you leave the door open, people will come into the room and watch. Some may ask to join or start using another bed in the room but people are respectful and will not try to join you without being asked.
If you feel really comfortable with the playroom scene. You can ask to join a couple or often if you just watch and look interested you will get an invite.
These playrooms make it very easy to work into playing with others at your own pace. You can take it really slow or just jump right into the action.
Swinger Resort Hot Tubs for New Couples
Another great spot for new swinger couples is the hot tubs and conversation pools at swinger resorts. Hanging out in these spots is not only a great spot to meet other couples but a great place to learn a lot about the swinger lifestyle.
Most of the hot tubs and conversation pools are clothing optional or nudity required at the swinger resorts. This nudity helps to add to the sexual atmosphere in these spots. Additionally, you will find that this nudity can make conversations easier as it puts everyone on an even footing.
You will find that most people at the swinger hot tubs and conversation pools are extremely friendly and more than willing to start up conversations with you. These conversations can easily turn into more if you find a couple that you find interesting.
First-Time Swingers Using the Resort Room Window
Another method that will allow you to ease into the swinger couple lifestyle is the use of your resort room window. This method depends on the layout of the swinger resort that you visit.
Many resorts have rooms that face the inner courtyard or atrium of the resort. Many will use these rooms as an opportunity to put on a show for fellow swingers at the resort. My wife and I will use this method often.
We will leave the window shades open and fool around. When other swingers pass by they will often stop to watch the show. If they look interesting to us we will invite them in.
This is an easy way to start out because you do not need to invite anyone in if you don't want to. You may just start out with the fun of just putting on a show. This can be very stimulating on its own.
One thing to be aware of is that this can also draw single men in addition to couples. This is something that you will have to get used to as a new swinger couple. While not as much of an issue as your might think, most resorts do have a few single men kicking around.
But just remember, it is your room and you are in charge. Invite in only who you want to invite in. We have always found that everyone at these resorts will respect what you decide to do.
Questions or Comments
We hope that you have found this guide helpful. Please leave any questions or comments and we will answer them as soon as possible.
We have also included below some information on a number of great swinger resorts that you can utilize to start out your new swinger couple lifestyle.
Great Resorts for New Swinger Couples
Below is a list of some great resorts that first-time swingers can visit:
Caliente
21240 Gran Via Blvd,
Land O' Lakes, FL 34637
(813) 996-3700
https://calienteresorts.com/
Our complete review of the Caliente can be found here. Side note this is where we had our initial real experience as first-time swingers.
Paradise Lakes Resort
2001 Paradise Lakes Blvd,
Lutz, FL 33558
(866) 794-6683
https://paradiselakesresort.com/
Our complete review of Paradise Lakes Resort can be found here.
Secrets Hideaway Resort & Spa / Club Secret
2145 E Irlo Bronson Memorial Hwy,
Kissimmee, FL 34744
(844) 563-6969
https://www.secretsfl.com/
Our complete review of Secrets Hideaway can be found here.
Rooftop Resort
1215 North Ocean Drive
Hollywood FL 33019-3310
(954) 925-0301
https://www.rooftopresort.com
Our complete review of the Rooftop Resort can be found here.
Hedonism II Resort
Rutland Point,
Negril, Jamaica
(855) 400-9514
https://www.hedonism.com/
Our complete review of Hedonism II can be found here.
Temptation Grand Miches
Carr. Miches – Higüey km. 2
Miches 24000, Dominican Republic
+52 998 193 2389
https://www.temptation-experience.com/
Our complete review of Temptation Grand Miches can be found here.
Making Swinger Connections Before Going
There are a couple of online sites that can help the new swinger couple with meeting up with other swingers. We will often use these sites before going to a resort like the Rooftop Resort. We will try to make some connections ahead of time to increase our odds of having a night of fun play.
These sites are SLS (SwingLifestyle) and AFF (Adult Friend Finder). We use these sites to meet the couples that we hook up with at the swinger clubs, swinger resorts, and sometimes just on our own.
SLS (SwingLifeStyle)

SwingLifeStyle.com
SLS is by far the biggest and most popular website for swinger clubs, swinger resorts, and events. These places post all of their upcoming events on SLS. You can then connect with other members that are going to these events ahead of time.
New swinger couples will find a ton of information on this site including club locations, groups, and other local swingers.
This website is free to join and check out but you will need to upgrade to use all of the messaging functions. SLS (SwingLifestyle) is a must for swingers that will be attending events and is the number one site I would recommend.
Adult Friend Finder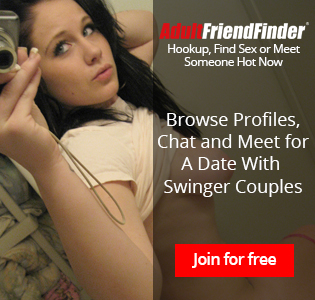 Adult Friend Finder is quite different than SLS (SwingLifestyle). It is more geared toward making individual connections with other swingers and not toward meeting others at events or clubs. AFF users tend to post a lot more public pictures. We use AFF to set up one on one swinger dates outside of events.
This is the site we used when we were a new Swinger couple. It is a lot to take in but you will definitely meet people in your area that want to play.
Important Note To First-Time Swinger Men
When my wife and I first started in the swinger lifestyle, we found all kinds of articles dealing with the fears and insecurities of women but very little for men. I found that with many new swinger couples, the woman has the confidence and the swinger drive while the man has major worries that hold him back.
Erection Quality in the Swinger Lifestyle
Having fun in the swinger lifestyle is hard when you are worried about maintaining your erection. This was a problem that I had at one point. The libido was there and I wanted to perform but I could not get the erection that I needed.
If you have any concerns about erection quality, check out this article on at-home acoustic wave therapy. The Hollywood elite has used this type of revolutionary treatment for years. The Phoenix Device let me get rock-hard erections that gave me the confidence for the swinger lifestyle.
Penis Size and the Swinger Lifestyle
Like many men, I had always been worried about my penis size. When my wife wanted to get involved in the swinger lifestyle, my penis size anxiety increased.
Check out The Truth About Swinger Penis Size for information on this delicate subject. What is the average swinger's penis size, does penis size matter to swingers, how to make your penis appear bigger, and how to make your penis bigger (yes, this is scientifically possible with a little catch).
The Swinger Inferiority Fear
This fear had a lot to do with the previous two issues but I was very worried that my wife would find me sexually inferior after dabbling in the swinger lifestyle. Would my jealousies and insecurities get in the way of our having a fun time?
Read Male Swinger Insecurities for the story of how I overcame these fears. These are issues that we dealt with as a new swinger couple.