We recently made our first visit to the Electricity Social Club (ESC). Even after visiting tons of swinger resorts and swinger clubs, we find it exciting to go to new places to see if they were worth a visit. So is the Electricity Social Club a good swinger club to visit?
In general, we found that the Electricity Social Club was a good swinger club to visit. While ESC is not as polished as some other swinger clubs and resorts, it has a great clientele and staff. Visitors to this Rhode Island swingers club will find plenty of action to keep them interested.
So let's look at what you can expect on a visit to the Electricity Social Club, the overall sex scene, the Electricity Social Club playrooms, the customers, and our overall impression of the club. If you are new to the swinger lifestyle be sure to check out the Important Note To Male New York Swingers section.
Our Electricity Social Club Review
We really enjoyed our visit to Electricity Social Club. This is not the best swinger club in the world but it is a pretty good spot for the New England area. We think that any swinger could have an enjoyable time on a visit to this club.
We did find that ESC had a lot of single men so you need to be aware of that before going. We found all of the men to be very respectful but this is not the type of club where you are going to find many single female swingers.
Additionally, we did not find that most of the couples at Electricity Social Club seemed to be interested in playing with other couples. I think that most couples that looking for couples go to the other swinger club in Providence (see our review of Choice Social Club).
But if you are a single guy or a couple that is making the night all about the lady, then ESC is probably for you. I know that my wife likes feeling sexy and turning men on, and then I get to enjoy it as she takes her excitement out on me. That makes a visit to ESC more than worth the trip.
The Electricity Social Club playrooms offer a lot of options whether you want to be an exhibitionist, play in group settings, or even if you want some privacy.
You will find the Electricity Social Club prices to be very reasonable. It is BYOB so even with buying your alcohol, a couple can do a whole night out for under $100. This club is also open more than other local clubs as it is open on both Fridays and Saturdays from 9 pm to 2 am.
So we recommend that if you are in the Providence area, you give ESC a try. Swingers will have a good time here and make some new friends.
The Electricity Social Club Playrooms
ESC is an on-premise swinger club. This means that the Electricity Social Club playrooms are used for on-site sexual encounters between members. If you love the swinger lifestyle as we do, you are probably big fans of these on-site adult playrooms.
At Electricity Social Club, play is allowed pretty much anywhere in the club. Most people were hanging out in the main room which has the dancefloor as well as couches. People were playing in this room all night long. The only room that we didn't see anyone playing in was the actual bar.
The ESC Playrooms: The main room
The main room which is located right off the bar area is one big group Electricity Social Club playroom. I would guess that this is about 40'x30′ in size. This huge room has a bunch of couches around the outer wall.
One corner of the room is dedicated to the dancefloor and stripper pole. The rest is areas for couples and singles to meet. People were on these couches playing all night long. Usually, it was just oral sex but there was more that went on as well.
During our visit, there were a lot of sexy single ladies on the dancefloor. I was under the impression that some worked there but some were visitors. My wife had a good time chatting and getting to know some of these ladies.
The couch areas stayed pretty occupied with couples and single men. We found that the single men were pretty respectful and did not interfere with any couples unless invited. But if you started fooling around as a couple, you were sure to draw in some single guys to watch you.
The Electricity Social Club Playroom: The Dungeon
ESC Providence does have a small dungeon room. This room is located right off the bar area. This room has a rack and a BDSM saw horse for use. They also have a few gentle whips laying around.
This room did not have a lot of action but we did see some couples doing some gentle whipping in this room.
The Electricity Social Club Playroom: The ESC Side Room
I am not sure if this playroom has an official name but it is a smaller group Electricity Social Club playroom off from the side of the bar. This room had a couple of beds in it for people to use. The room had extra sheets for the beds so you could make sure that you had clean ones on the bed.
This room was not always busy but we did find couples playing in here at different times.
The Electricity Social Club Playroom: The Exhibitionist Beds
In a little hallway behind the bar, there are two beds where people can put on an exhibitionist show. There is a velvet rope that you can put across the doorway to indicate for others to stay back. Alternatively, you can leave the rope down to indicate that you may want company.
We saw couples putting on some shows here on a couple of different occasions. This was a pretty good setting if you liked to be watched. The rope was only a few feet from the bed so the observers were really close to the action.
The Electricity Social Club Playroom: The Private Playrooms
This Rhode Island swingers club has some unique private playrooms. The private Electricity Social Club playrooms are located at the end of the entrance hallway.
When you enter this area you are met by an attendant that will lead you and your party to a private playroom. There are about 10 of these private playrooms containing single beds.
The unique thing about these playrooms is that the area is not open to other club patrons. Most other resorts and clubs that we have gone to have playrooms that allow guests to wander around and check out the action through windows or open doors (if that is what the people inside want).
This is not the case at the Electricity Social Club. These are all self-contained playrooms that give the people inside total privacy. This is a nice option to have because if you do want to put on a show you have the group playrooms and the exhibitionist beds to use.
Since this club has a lot of single men usually, it is nice to have the private Electricity Social Club playrooms to get away to for a minute as a couple.
I know that once my wife got all hot and bothered from teasing a bunch of guys (well maybe a little more than teasing), we went back to one of these rooms for some really great sex.
The Electricity Social Club Sex Scene
This is what all of us think about when we think about a Rhode Island swingers club. We want to know what the sex scene is like. We found that the Electricity Social Club had a very active sex scene when we were visiting. Everything was pretty quiet when the club first opened but by 11 pm it was rocking.
Most of the action took place in the main group playroom. There were a number of fairly hot single women dancing on the dance floor which kind of set the mood. I think some of them worked there so they were not really into the guys but were very playful with my wife. Some flirting and touching among the women.
There were quite a few single guys at the club the night we went. They were all very respectful and seemed to keep their distance unless someone indicated they were interested. With any indication of interest, they were immediately Johnny on the Spot.
As the night wore on, more of the couples began to use the couches to put on some oral sex shows. This would really pique the interest of the single men and they would watch the couples while maintaining their distance by staying back 3-4 feet.
Eventually, some of the couples would invite some of the single men to join in and get oral sex from the women. I saw one woman blow 3-4 different guys while her husband watched. The whole scene was very sexy and everyone seemed to be having a really good time.
As the night went on, more women from the couples began to perform oral sex on single guys.
I saw couples having sex in the main group room a few times but they did not invite any other couples or singles to join them. I also did not see any couples sexually interact with other couples but I do not know what went on in the private playrooms.
I also saw other couples putting on some very sexually exciting shows in the exhibitionist beds later in the evenings.
Our overall impression of the Electricity Social Club sex scene was that it was mostly geared toward getting couples involved with single men. ESC did this in a fun and non-threatening way for couples.
The sex scene here was definitely worth checking out. While not as active as the playrooms at the big Florida swinger resorts, there was still plenty of action here. Everything was laid back and everyone seemed to enjoy the sex scene.
Electricity Social Club Demographics
We found that the Electricity Social Club demographics were fairly diverse. Many of the stats depended on what group you were talking about.
The Providence swingers at this club were around 50% couples, 45% single men, and 5% single women.
I would say that the average age of the couples was 40-50 years old. Some were in their 20s and the oldest was probably in their late 60s. There were fewer older swingers than we had encountered at other places.
For the single men and the single ladies, the average age was younger. I would say that most were between 30-40 years old. With as young as 21 and probably as old as 50.
We found the crowd at Choice Social Club to be fairly good-looking. For those that always ask, we found that the men that were naked at the club tended to have much larger penises than what is found in the general public. Check out The Truth About Swinger Penis Size for information about swinger penis size.
Your First Visit to Electricity Social Club
When we stepped out of the UBER at 122 Manton Ave., I have to admit that I wasn't sure that we were in the right place. There were no signs outside and it just looked like an old factory. We almost decided to turn around and go back to the hotel. Luckily, we didn't do that because we had a great night.
The actual location information for ESC is:
122 Manton Ave,
Providence, RI 02909
https://www.electricitysocialclub.com/
When you pull into the Electricity Social Club parking lot, you are looking for the tower on the right-hand side. Go through the doors and up to the third floor. You will then need to go through a security check and pay your entrance fees to get into the actual club.
Electricity Social Club Prices
The fees involved in a visit to ESC are your membership and entry fees. Membership fees are $20 a year per person or $100 for a lifetime membership. Entry fees are $20 for single women, $70 for couples, and $100 for single men. You will also need a valid state ID to enter.
The lady collecting the fees at the door was very sexy and nice. She was a great way to start off the evening.
ESC has a BYOB bar with free mixers if you want to drink. So our first stop was to drop off some vodka at the bar. The bartender was amiable and got us set up right away with some good drinks.
ESC has a dance floor with a stripper pole, two group playrooms, around 10 private playrooms, a smoking room, exhibitionist beds, and a small dungeon to play in. This is a fairly good-sized club.
Electricity Social Club Alternatives
There are not a lot of swinger clubs in New England but there are a few alternatives to Electricity Social Club. You can check out club options in the neighboring states of Massachusetts and Connecticut.
Additionally, Providence swingers have another swinger club available to check out in Choice Social Club. Swingers will find Choice Social Club different as it is geared much more towards couples without the single men's presence.
Check out our Choice Social Club Review for more details.
Our Overall Review of The Electricity Social Club
While not as fun as a big swinger resort like Hedonism II, we found the Electricity Social Club was a good time. This Rhode Island swingers club has pretty good action especially if you are looking to add a single guy to your relationship.
The facilities at ESC Providence were pretty good and the prices were not too bad. If you live local, you can do a night out here pretty reasonably. If you live out of the area, hotels in this area can be pretty pricey so be prepared to pay around $200 to stay anywhere near the club.
If you are contemplating the swinger lifestyle, this may be a good club to just go see if it is for you. The group playrooms will have people playing so you can watch and decide if you would enjoy it. If you just watch, no one is going to bug you so it is a great opportunity to see what is going on.
For more local swinger clubs and groups check out Rhode Island Swinger Clubs and Resorts.
Making Swinger Connections Before Going
There are a couple of online sites that can help with meeting up with other swingers. We will often use these sites before going to a resort like the Electricity Social Club. We will try to make some connections ahead of time to increase our odds of having a night of fun play.
These sites are SLS (SwingLifestyle) and AFF (Adult Friend Finder). We use these sites to meet the couples that we hook up with at the swinger clubs, swinger resorts, and sometimes just on our own.
SLS (SwingLifeStyle)

SwingLifeStyle.com
SLS is by far the biggest and most popular website for swinger clubs, swinger resorts, and events. These places including ESC Providence post all of their upcoming events on SLS. You can then connect with other members that are going to these events ahead of time.
This website is free to join and check out but you will need to upgrade to use all of the messaging functions. SLS (SwingLifestyle) is a must for swingers that will be attending events and is the number one site I would recommend.
Adult Friend Finder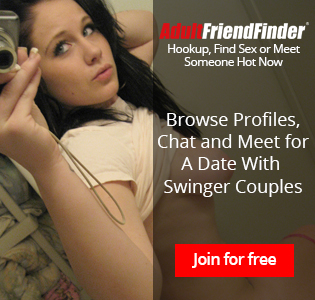 Adult Friend Finder is quite different than SLS (SwingLifestyle). It is more geared toward making individual connections with other swingers and not at meeting others at events or clubs. AFF users tend to post a lot more public pictures. We use AFF to set up one on one swinger dates outside of events.
Important Note To Men Going To The Electricity Social Club
When my wife and I first started in the swinger lifestyle, we found all kinds of articles dealing with the fears and insecurities of women but very little for men. I found that with many swinger couples, the woman has the confidence and the swinger drive while the man has major worries that hold him back.
Erection Quality in the Swinger Lifestyle
Having fun in the swinger lifestyle is hard when you are worried about maintaining your erection. This was a problem that I had at one point. The libido was there and I wanted to perform but I could not get the erection that I needed.
If you have any concerns about erection quality, check out this article on at-home acoustic wave therapy. The Hollywood elite has used this type of revolutionary treatment for years. The Phoenix Device let me get rock-hard erections that gave me the confidence for the swinger lifestyle.
Penis Size and the Swinger Lifestyle
Like many men, I had always been worried about my penis size. When my wife wanted to get involved in the swinger lifestyle, my penis size anxiety increased.
Check out The Truth About Swinger Penis Size for information on this delicate subject. What is the average swinger's penis size, does penis size matter to swingers, how to make your penis appear bigger, and how to make your penis bigger (yes, this is scientifically possible with a little catch).
The Swinger Inferiority Fear
This fear had a lot to do with the previous two issues but I was very worried that my wife would find me sexually inferior after dabbling in the swinger lifestyle. Would my jealousies and insecurities get in the way of our having a fun time?
Read Male Swinger Insecurities for the story of how I overcame these fears.