We recently made our first visit to the Electricity Social Club (ESC). Even after visiting tons of swinger resorts and swinger clubs, we find it exciting to go to new places to see if they were worth a visit. So is the Electricity Social Club a good swinger club to visit?
In general, we found that the Electricity Social Club was a good swinger club to visit. While ESC is not as polished as some other swinger clubs and resorts, it has a great clientele and staff. Visitors to this Rhode Island swingers club will find plenty of action to keep them interested.
So now let's look at what type of action you can expect to find on a visit to the Electricity Social Club, the overall sex scene, the playrooms, what the customers were like, and our overall impression of the club. If you are a man that is new to the lifestyle be sure to check out the Common Concerns of Men section.
Our First Visit to Electricity Social Club
When we stepped out of the UBER at 122 Manton Ave., I have to admit that I wasn't sure that we were in the right place. There were no signs outside and it just looked like an old factory. We almost decided to turn around and go back to the hotel. Luckily, we didn't do that because we had a great night.
The actual location information for ESC is:
122 Manton Ave,
Providence, RI 02909
https://www.electricitysocialclub.com/
When you pull into the Electricity Social Club parking lot, you are looking for the tower on the right-hand side. Go through the doors and up to the third floor. You will then need to go through a security check and pay your entrance fees to get into the actual club.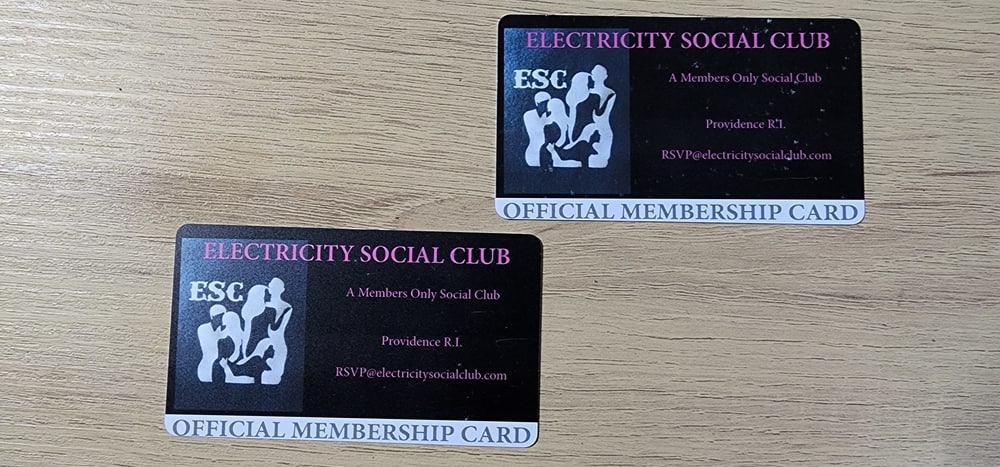 The fees involved in a visit to ESC are your membership and entry fees. Membership fees are $20 a year per person or $100 for a lifetime membership. Entry fees are $20 for single women, $70 for couples, and $100 for single men. You will also need a valid state ID to enter.
The lady collecting the fees at the door was very sexy and nice. She was a great way to start off the evening.
ESC has a BYOB bar with free mixers if you want to drink. So our first stop was to drop off some vodka at the bar. The bartender was very friendly and got us set up right away with some good drinks.
ESC has a dance floor with a stripper pole, two group playrooms, around 10 private playrooms, a smoking room, exhibitionist beds, and a small dungeon to play in. This is a fairly good-sized club.
The Electricity Social Club Sex Scene
This is what all of us think about when we think about a Rhode Island swingers club. We want to know what the sex scene is like. We found that the Electricity Social Club had a very active sex scene when we were visiting. Everything was pretty quiet when the club first opened but by 11 pm it was rocking.
Most of the action took place in the main group playroom. There were a number of fairly hot single women dancing on the dance floor which kind of set the mood. I think some of them worked there so they were not really into the guys but were very playful with my wife. Some flirting and touching among the women.
There were quite a few single guys at the club the night we went. They all were very respectful and seemed to keep their distance unless someone indicated that they were interested. With any indication of interest, they were immediately Johnny on the Spot.
As the night wore on, more of the couples began to use the couches to put on some oral sex shows. This would really pique the interest of the single men and they would watch the couples while maintaining their distance by staying back 3-4 feet.
Eventually, some of the couples would invite some of the single men to join in and get oral sex from the women. I saw one woman blow 3-4 different guys while her husband watched. The whole scene was very sexy and everyone seemed to be having a real good time.
As the night went on, more women from the couples began to perform oral sex on single guys.
I saw couples having sex in the main group room a few times but they did not invite any other couples or singles to join them. I also did not see any couples sexually interact with other couples but I do not know what went on in the private playrooms.
I also saw other couples putting on some very sexually exciting shows in the exhibitionist beds later in the evenings.
Our overall impression of the Electricity Social Club sex scene was that it was mostly geared towards getting couples involved with single men. ESC did this in a fun and non-threatening way for couples.
The sex scene here was definitely worth checking out. While not as active as the playrooms at the big Florida swinger resorts, there was still plenty of action here. Everything was laid back and everyone seemed to enjoy the sex scene.
The Playrooms at Electricity Social Club
ESC is an on-premise swinger club. This means that the club playrooms are used for on-site sexual encounters between members. If you love the swinger lifestyle as we do, you are probably big fans of these on-site adult playrooms.
The ESC Main Group Playroom
The Electricity Social Club main group playroom is a large room located right off the bar area. I would guess that this is about 40'x30′ in size. This huge room has a bunch of couches around the outer wall.
One corner of the room is dedicated to the dancefloor and stripper pole. The rest is areas for couples and singles to meet.
During our visit, there were a lot of sexy single ladies on the dancefloor. I was under the impression that some worked there but some were visitors. My wife had a good time chatting and getting to know some of these ladies.
The couch areas stayed pretty occupied with couples and single men. We found that the single men were pretty respectful and did not interfere with any couples unless invited.
The ESC Side Playroom
I am not sure if this playroom has an official name but it is a smaller group playroom off from the side of the bar. This room had a couple of beds in it for people to use. The room had extra sheets for the beds so you could make sure that you had clean ones on the bed.
This room did not get a lot of action during our visit but it looked like it could be very active on a busier night.
The Exhibitionist Beds
In a little hallway behind the bar, there are two beds where people can put on an exhibitionist show. There is a velvet rope that you can put across the doorway to indicate for others to stay back. Alternately, you can leave the rope down to indicate that you may want company.
The Dungeon
ESC Providence may be the only club in the area with a small dungeon. This room is located right off the bar area. This room has a rack and a BDSM saw horse for use. They also have a few gentle whips laying around.
This room did not have a lot of action but I am sure it varies with the events going on that night.
The Private Playrooms
This Rhode Island swingers club has some unique private playrooms. These playrooms are located down at the end of the entrance hallway. When you enter this area you are met by an attendant that will lead you and your party to a private playroom. There are about 10 of these private playrooms containing single beds.
The unique thing about these playrooms is that the area is not open to other club patrons. Most other resorts and clubs that we have gone to have playrooms that allow guests to wander around and check out the action through windows or open doors (if that is what the people inside want).
This is not the case at the Electricity Social Club. These are all self-contained playrooms that give the people inside total privacy. This is a nice option to have because if you do want to put on a show you have the group playrooms and the exhibitionist beds to use.
Our Overall Review of The Electricity Social Club
While not as fun as a big swinger resort like Hedonism II, we found the Electricity Social Club was a good time. This Rhode Island swingers club has pretty good action especially if you are looking to add a single guy to your relationship.
The facilities at ESC Providence were pretty good and the prices were not too bad. If you live local, you can do a night out here pretty reasonably. If you live out of the area, hotels in this area can be pretty pricey so be prepared to pay around $200 to stay anywhere near the club.
If you are contemplating the swinger lifestyle, this may be a good club to just go see if it is for you. The group playrooms will have people playing so you can watch and decide if you would enjoy it. If you just watch, no one is going to bug you so it is a great opportunity to see what is going on.
Common Concerns of Men
I know when my wife and I were first thinking about getting into the swinger lifestyle, I had a bunch of concerns that kept me from joining in. Eventually, I conquered these concerns and now love this lifestyle.
There are all kinds of articles that look at the concerns of women but few that look at the concerns of men. Here are a few resources to address these concerns.
The Jealousy Factor
This is a big concern with most men. We are all for the swinger idea of some other hot chick giving us a blow job but when it comes to watching our wife getting nailed by someone else that can be a different story.
Sometimes it can be that you are worried about being jealous or maybe you think it is wrong to not feel jealous. Either way, it can be a powerful emotion.
The answer is in embracing what is called compersion. This is the sense of pleasure and arousal that a person gets from seeing the pleasure and arousal of their partner. This is the opposite of jealousy or envy and is more than just the arousal from watching. This is the feeling of joy when your partner is excited and enjoying things.
You can find a good article on the jealousy factor and developing compersion here.
My Erection Quality
This was perhaps my biggest issue with joining the swinger lifestyle. I had erection issues and I thought that I had no place in this lifestyle if I couldn't perform. This also contributed to my jealousy issue above because I already felt inadequate due to my other issues.
When you have these issues, your first step should be to visit a doctor. But what do you do when then treatments are failing you or you just are not getting the erection quality that you want.
I found that my answer was to try acoustic wave therapy. This treatment utilizes patented FDA-registered tech and it just worked for me when everything else had failed. If you want to have quality erections again, don't give up without trying this. It gave me the confidence to embrace the swinger lifestyle.
Penis Size
Like many men, I was really concerned about my penis size. We wanted to check out the clothing-optional swinger resorts but I was really concerned about how I would measure up. I am not going to be like everyone else and just tell you to not worry about it.
If you are worried about your size going to a swinger resort is not going to make you feel better because the guys at these resorts tend to have bigger penises. This is not universally true but it is a general truth.
Why is this? I think because these guys are more comfortable showing it off and tend to go more than those on the smaller end of the scale. Check out this article on Penis Size at Nudist Resorts for more info.
So what do you do if you feel a little on the short side?
First of all, you can try to just get over it. It really is not the top concern of most women. Check out The Real Truth About Penis Size to see what women are really concerned about.
If you can't get over it, there is actually a way to increase your penis size. No matter what anyone says, there is a scientifically researched and proven method to enlarge the penis. This is not through the use of magic pills, lotions, or any other quick and easy fix.
The use of penis traction devices is the only way that works but it takes time and effort. To be clear, you will not double your size of anything close to that. If you put in months of effort, you may gain about an inch of length and some girth.