My wife and I love traveling the country and checking out all of the swinger spots and events. We love meeting all of the great people like West Virginia swingers. So, what is available for West Virginia swinger clubs and West Virginia swinger resorts?
West Virginia swingers have limited options in 2023. There is currently one West Virginia swinger club that is open. There are no West Virginia swinger resorts but these are easily accessible by travel. There are some online options that will help West Virginia swingers with the swinger lifestyle.
So let's take a look at what is available for West Virginia swinger clubs, West Virginia swinger resort options, West Virginia swinger group options, how to meet swingers in West Virginia, and a section on dealing with male swinger insecurities.
West Virginia Swinger Clubs
Swinger clubs are a great way to get started in the swinger lifestyle. These clubs are low-pressure environments where you can take a good look at this lifestyle and see if it is for you. Once you check it out, you can think it over or dive right in.
Most swinger clubs have on-premise play. This means that they have rooms or areas that are set up for West Virginia swingers to have sexual encounters with other swingers. This can make for some pretty erotic nights at these places.
Licensing limitations due to the sexual nature of the clubs mean that most of these clubs are BYOB. This sounds like a negative but it can actually be a big positive. This can save you a ton of money. I know as a couple we often save around $100 per night by the club being BYOB versus cash bar (5 drinks apiece at around $10 per drink).
There is one excellent West Virginia swinger club which is the Riverside Club. This highly-rated club is a must-visit for any West Virginia swinger. There are additional excellent options in the neighboring states of Pennsylvania, Maryland, Virginia, Kentucky, and Ohio.
The Riverside Club
24500 Huntington Rd,
Gallipolis Ferry, WV 25515
(304) 576-4220
https://swingclubwv.com/
Riverside Club Hours:
Saturday: 8 pm to 3 am
Sunday-Friday: Closed
The Riverside Club is an on-site play West Virginia swinger club. This club is a member-only BYOB club that is open to Couples, single men, and single ladies that are 21+.
These on-site clubs are our favorite type of clubs. You have a chance to go and interact with local swingers. You can talk, dance, and can even play right there at the club if things go really well.
Clubs like the Riverside Club are great for beginners as well. This is an extremely low-pressure environment. You can meet people and check out the scene with no pressure to actually participate in anything. You will probably see some great things but you do not have to join in.
This club has weekly themed events. You can find out about the upcoming events on their website or on SLS (SwingLifestyle). We prefer to check out SLS because you can use that website to make connections with other West Virginia swingers that may be attending the event.
Amenities for the West Virginia swinger club include a BYOB bar, dancefloor, multiple playrooms, a stripper cage, some limited overnight accommodations, free soft drinks, free food, and free water.
The reviews for the Riverside Club are overwhelmingly positive. Most people find the ownership, staff, and patrons to be exceptionally friendly and helpful.
You do need a membership to attend the club and this is easily done. You fill out the online application at their website. Once you verify your email address, you will receive a member number. On your first trip to Riverside Club, you verify your ID and pay your membership fee to receive your permanent membership.
The one-year membership fee for the Riverside Club is $50 for couples, $50 for single men, and $50 for single ladies.
In addition to your membership fee, you will need to pay an entry fee for the night that you are attending. The entry fee is usually $50 for couples, $70 for single men, and free for single ladies but can vary for special events.
You can rent one of the playrooms for an overnight stay for only $60. These rooms are limited and you can't crash in them until the club is closed. It is not usually an ideal stay but will work if you are having a lot of fun or can't drive.
West Virginia Swinger Resorts
We truly love swinger resorts. We find that they are the best places to meet other swingers and have a great time. Let's face it, is there anything better than kicking back in a hot tub, adult beverage in hand with a bunch of naked swingers?
It helps that most swinger resorts are in tropical or warm weather areas though there are a few scattered across the rest of the United States.
Unfortunately, there are no West Virginia swinger resorts but there are still some options for West Virginia swingers. It is easy to catch a flight out of Charleston or your nearest airport and hit up some of the fabulous Florida resorts.
To see what is available in Florida for the Delaware swinger check out Florida Swinger Resorts: Fun play in the sun.
If you really want to have the ultimate swinger resort experience, we highly recommend that you check out Hedonism in Jamaica. This is our all-time favorite swinger resort experience.
Another option that West Virginia swingers have for resorts is to visit a West Virginia nudist resort. These resorts do not allow public sexual activity like swinger resorts but they can still be fun. We have gone to resorts like this with couples that we met on AFF(AdultFriendFinder).
This gave us a public place to meet these people. We could enjoy a naked day together in the pool and hot tub. Once we were ready to play, we could go to our rooms.
West Virginia Swinger Groups
Swinger groups are groups that hold swinger events but do not have a permanent location like a club or resort. These groups will often take over a normal vanilla club or resort and turn it into a swinger spot for the day.
These events can be a great deal of fun. We have had fantastic times at some of these takeovers.
Unfortunately as of 2023, there are no active West Virginia swinger groups but there are a lot of them in neighboring states. Check out Pennsylvania, Maryland, Virginia, Kentucky, and Ohio for more options.
Meeting Up With West Virginia Swingers
There are a couple of online sites that West Virginia swingers use to meet up with other swingers. In a state like West Virginia with limited options, these websites can be even more important. These two sites are SLS (SwingLifestyle) and AFF (Adult Friend Finder).
West Virginia swingers can use these sites to help make swinger connections in a couple of ways. One of these websites is great for making connections before traveling for a swinger club, resort, or event. This helps to increase our chances of finding a nice compatible couple when we go to one of these places.
The other website is best for making connections with individual West Virginia swinger couples or singles that you can meet one on one locally.
We have done this many times and have had some great fun doing this. Remember to be smart and always meet in public spots and be smart but with a little common sense, you will meet some incredible swingers.
SLS (SwingLifeStyle)

SwingLifeStyle.com
SLS is by far the biggest and most popular website for club and resort events. This is the website where West Virginia swingers can meet other swingers at any swinger club or resort that you might visit. You can connect with other members that are going to these events ahead of time.
This is great when you are traveling because when you show up you will already know some other swingers. This website has club listings that let you list yourself as going to a club, resort, or event. You can also see who else has signed up as going.
So even when you are going somewhere for the first time, you will already have made a few connections. Having someone to meet up with and say hi can make the evening much more comfortable and fun.
This website is free to join and check out but you will need to upgrade to use all of the messaging functions. SLS (SwingLifestyle) is a must for swingers that will be attending events and is the number one site I would recommend.
Adult Friend Finder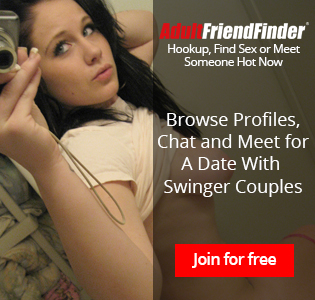 Adult Friend Finder is quite different than SLS (SwingLifestyle). It is more geared toward making individual connections with other swingers and not toward meeting others at events or clubs. AFF users tend to post a lot more public pictures. We use AFF to set up one on one swinger dates outside of events.
This is a great website to meet local West Virginia swingers to meet up right in the state. There are a bunch of local West Virginia swingers on this website.
Important Note To Male West Virginia Swingers
When my wife and I first started in the swinger lifestyle, we found all kinds of articles dealing with the fears and insecurities of women but very little for men. I found that with many swinger couples, the woman has the confidence and the swinger drive while the man has major worries that hold him back.
1. Erection Quality in the Swinger Lifestyle
Having fun in the swinger lifestyle is hard when you are worried about maintaining your erection. This was a problem that I had at one point. The libido was there and I wanted to perform but I could not get the erection that I needed.
If you have any concerns about erection quality, check out this article on at-home acoustic wave therapy. The Hollywood elite has used this type of revolutionary treatment for years. The Phoenix Device let me get rock-hard erections that gave me the confidence for the swinger lifestyle.
Penis Size and the Swinger Lifestyle
Like many men, I had always been worried about my penis size. When my wife wanted to get involved in the swinger lifestyle, my penis size anxiety increased.
Check out The Truth About Swinger Penis Size for information on this delicate subject. What is the average swinger's penis size, does penis size matter to swingers, how to make your penis appear bigger, and how to make your penis bigger (yes, this is scientifically possible with a little catch).
The Swinger Inferiority Fear
This fear had a lot to do with the previous two issues but I was very worried that my wife would find me sexually inferior after dabbling in the swinger lifestyle. Would my jealousies and insecurities get in the way of our having a fun time?
Read Male Swinger Insecurities for the story of how I overcame these fears.